New York Lager
| Nørrebro Bryghus
BA SCORE
82
good
14
Reviews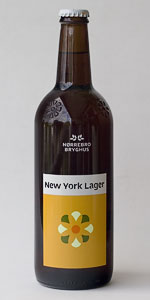 BEER INFO
Brewed by:
Nørrebro Bryghus
Denmark
noerrebrobryghus.dk
Style:
American Pale Lager
Alcohol by volume (ABV):
5.30%
Availability:
Year-round
Notes / Commercial Description:
A traditional underfremented American pilsener from the pre-prohobition days.
Added by ToolHead on 02-06-2004
Reviews: 14 | Ratings: 37
3.18
/5
rDev
-10.4%
look: 3.5 | smell: 3 | taste: 3.25 | feel: 3.5 | overall: 3
400ml on-tap at Mama Ludbas restaurant, Copenhagen (44 Danish Krone):
A basic & fairly average pale lager overall here, this one was drinkable but fairly light overall for the most part. There was some nice malts & a little sweetness in short bursts throughout but not much else grabbed my attention & it seemed too much like a regular macro lager for my liking; I can't imagine it's one I'll go for again to be honest.
419 characters
4.24
/5
rDev
+19.4%
look: 4.25 | smell: 4 | taste: 4.25 | feel: 4.25 | overall: 4.5
The colour is yellow with a tint of gold (6 EBC), the liquid is clear. The three finger head is off-white and compact; it leaves thick lacing on the glass while sinking down.
The smell is sweet with bitter-fruity notes of grapefruit, orange peel, green bananas and a touch of wine gums. Highly balanced.
The taste is highly balanced, too: Sweet clean malts with a touch of caramel, grapefruit hops, smooth bitterness and hints of oranges and peach candy. Light to medium body. The aftertaste brings some alcohol, citric peels, biscuits and lemons. Balance? Yes. Lingering bitter-fruity notes in the finish.
The carbonation is strong (like a lager carbonation is supposed to be), the small long-lived bubbles are fresh. The liquid is semi-smooth.
I had this beer back in 2006 and gave it a raving 4,42 review. 10 years later, it is still a great interpretation of the modern pale lager.
893 characters
3.47
/5
rDev
-2.3%
look: 3 | smell: 3.5 | taste: 3.5 | feel: 3.5 | overall: 3.5
Craft lager in a can. I must be dreaming.
Deep golden color. Medium carbonation but the head struggles for stability. Color tends slightly to amber putting it at the darker end of the spectrum.
Full on malty aroma. Big sweet character brings diacetyl to mind. Not convinced that's what it is but that's the impression I get. Hard to pick much on hops. Maybe a light floral bouquet but it's minimal. That big malt character is what it's about.
Nice but I'm hesitant about that possible diacetyl.
Thankfully my worries are unfounded. No big butter bomb here. Full on malt character goes nearly unchecked. Bitterness is there but the malt character is much bigger than you expect from the 5.2% abv. Not unbalanced but leaves a lasting impression.
Mouthfeel is just on that line of being slick without going over. Again though heavier than you expect. Overall it's a nice lager and probably exactly how they wanted it to turn out. However I feel cutting back the malt character would go a long way to making tis much more enjoyable.
1,033 characters
3.65
/5
rDev
+2.8%
look: 4 | smell: 4 | taste: 3.5 | feel: 3.5 | overall: 3.5
Clear dark amber colour with a thick, fluffy, off-white head. Good head retention.
Light hoppy aroma with some light malt. Simple.
Crisp malt with some light earthy hop notes. Moderate bitterness. Slightly metallic.
Medium-light body with moderately-high carbonation. Decent.
A nice enough lager but it lacks the clean, crisp nature of something like Brooklyn Lager.
370 characters

3.08
/5
rDev
-13.2%
look: 3.5 | smell: 3 | taste: 3 | feel: 3.5 | overall: 3
Grabbed the can from the IBS in Perth. Pours a copper colour, loose head. Caramel on the nose, some hops, a little metallic.
This is clearly an attempt at a Brooklyn Lager clone. Its similar but a little thinner (less rich), more metallic and not as hoppy.
I'll get a chance to visit this brewery in Sept - ill reserve final judgement until then!
349 characters
3.15
/5
rDev
-11.3%
look: 3.5 | smell: 3.5 | taste: 3 | feel: 3 | overall: 3
This pours a clear dark amber colour with a dense slightly off white head that doesn't want to hang around for long.
On the nose it's a big hit up front of grassy hops and then that gives way to some sweet bready malts. There's just a touch of diacetyl too.
Wow really surprised by the taste. I was expecting something crisp but it's quite sweet and cloying. I can get the bitterness hiding in there but to me it's totally overwhelmed by the caramel maltiness. It's not bad, just not what I was expecting.
Medium bodied and a little cloying.
Not sure about this one. A little put off by the malt profile when I was expecting a crisp lager. Unusual.
652 characters

3.85
/5
rDev
+8.5%
look: 3.5 | smell: 3.5 | taste: 4 | feel: 4 | overall: 4
40cl bottle purchased from the Vinmonopolet in Stavanger. Consumed in my hotel room as I spend my final days in Norway. Doing a final Scandinavian beer blitz. Bottle has a best before date of 12.07.12. Bottled on 12.05.11. Pours a deep gold/orange color, clear in appearance. Roughly a finger of white foam caps the beer and then dissipates quickly. Not much in the way of lacing here. Level of carbonation appears rather low. Poured into a tulip snifter style glass.
The aroma is grassy and hay-like with some ripe fruit and a mild sweet scent from the malt.
This is a well balanced lager, and nuanced as well. Good malt backbone that transitions into a more floral/fruit profile from the Cascade hops. I can taste some citrus--trace of grapefruit. Finishes with a brown bread taste and some lingering sweetness.
Mouthfeel provides a buttery smooth ride and a crisp finish. Overall, there is much more at work here in this beer than your ordinary lager. Kind of like a lager on steroids. A surprising find and a job well done.
1,030 characters
3.1
/5
rDev
-12.7%
look: 3 | smell: 3 | taste: 3 | feel: 4 | overall: 3
Pours deep amber with a small, quickly fading head.
Nose shows sweet malt and spicy, fruity hops. Bit grassy too.
Similarly malty flavours, a fair whack of bready and caramel characters really show through. Pretty much a bock.
Nice moderate carbonation, could be a little higher.
279 characters
3.74
/5
rDev
+5.4%
look: 2.5 | smell: 3.5 | taste: 4 | feel: 3.5 | overall: 4
On tap at the brewhouse in Copenhagen. From notes.
A - Deep red pour with a thing cap of white head and medium carbonation. No lacing and a faint cap of retention. Bright.
S - Nice hop aroma with a good maltiness to compliment. Well balanced in the aroma. Fruity from the hop notes and also a dark fruit sort of malty aspect. Interesting.
T - Fresh hoppy goodness. Malt is nice as well as it balances and does not add a bready aspect, but a nice fruity sort of date or raisin character. Both elements come out really well together and are both fairly strong for the ABV. Tasty.
M - Nice tingly carbonation. Lightish body leans toward light end of the spectrum. A tad watery. Bitter and also a little sweet in the finish.
D - I could session this. A well crafted lager for sure with no flaws that I could see. A tad more body would help though.
848 characters
3.93
/5
rDev
+10.7%
look: 4 | smell: 3.5 | taste: 4 | feel: 3.5 | overall: 4.5
This brew pours a see through burnt very light amber hue almost like a nice sunset with decent carbonation that leaves behind a frothy two finger head that quickly dissaptes and leaves a rim of lacing,the aroma is sweet bready malts,toffee,caramel and honey,it has a medium bodied mouthfeel which is medium carbonated and a little sticky which exudes tastes of jarrah honey,light toffee and lychees dipped in caramel which is very bittersweet and i mean bittersweet and for that i find it really drinkable i mean it starts out extra sweet but the finish of sour sweet here really works well to counteract that sweetness and i could see this brew suited as a nice compliment to a sweet desert such as sticky date pudding or cheesecake but could quite happily drink it all by its own.
782 characters
3.8
/5
rDev
+7%
look: 4 | smell: 4 | taste: 3.5 | feel: 4 | overall: 4
Pours a lovely crystal clear golden amber with fluffy white head.
Smells of breast malts. Some spicy and fruity hops.
Flavour is much as aroma. Except a slight cloying sweetness creeps in.
Despite the slight cloying sweetness, it still finishes rather dry. Right amount of carbonation.
Could drink quite a few of these.
323 characters
3.47
/5
rDev
-2.3%
look: 3 | smell: 3.5 | taste: 3.5 | feel: 3.5 | overall: 3.5
Bottle: Poured a golden color lager with a large foamy head with good retention and minimal lacing. Aroma of lightly sweet malt profile with no adjunct is quite refreshing. Taste is also a drinkable balance between some lightly sweet malt with nice notes of clean cereal. Body is quite full for style with good carbonation. Not the most exciting beer form tis brewer but very refreshing and well done overall.
409 characters
3.88
/5
rDev
+9.3%
look: 4 | smell: 3.5 | taste: 4 | feel: 4 | overall: 4
600 ml bottle, a gift from Tom, thanks! ABV is 5.2%. American-inspired "pre-prohibition" lager, brewed with Cascade hops. Deep golden colour, a slight haziness, moderate but rich head. Cascade, flowers and honey in the aroma. Moderately malty flavour with hints of heather honey and caramel, but not really sweet. Moderate but pleasant hops throughout. Hoppy aftertaste lasts "forever". Not a bad beer this one!
411 characters
3.67
/5
rDev
+3.4%
look: 3.5 | smell: 4 | taste: 3.5 | feel: 3 | overall: 4
On-tap, served in 10-cl., conical sample glass.
Golden amber color. Impressive, full, very inviting aroma. Taste is pleasant, w/ hops and malt in good balance. Pleasant finish. Mouthfeel is a bit thin, but not unpleasant. Good drinkability.
A well-rounded, very drinkable beer that should please most drinkers.
316 characters
New York Lager from Nørrebro Bryghus
3.55
out of
5
based on
37
ratings.