Honey Kölsch
| Okanagan Spring Brewery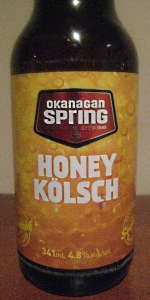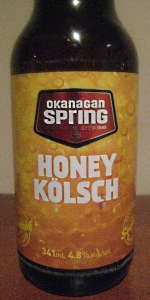 BEER INFO
Brewed by:
Okanagan Spring Brewery
British Columbia
,
Canada
okspring.com
Style:
German Kölsch
Alcohol by volume (ABV):
4.80%
Availability:
Summer
Notes / Commercial Description:
No notes at this time.
Added by biboergosum on 03-27-2016
HISTOGRAM
Ratings: 11 | Reviews: 5
Reviews by Josievan:
3.73
/5
rDev
+7.5%
look: 3.75 | smell: 3.75 | taste: 3.75 | feel: 3.5 | overall: 3.75
Had Friday, 07/15/16
20 characters
More User Reviews:
3.9
/5
rDev
+12.4%
look: 4 | smell: 4 | taste: 3.75 | feel: 4 | overall: 4
3.82
/5
rDev
+10.1%
look: 4 | smell: 3.75 | taste: 3.75 | feel: 3.75 | overall: 4
341ml bottle, OSB's Summer 2016 seasonal, slated for release soon, is all I can say!
This beer pours a clear, bright medium golden yellow colour, with two chubby fingers of puffy, finely foamy, and mildly creamy eggshell white head, which leaves a bit of electrical storm lace around the glass as it gently subsides.
It smells of grainy and crackery pale malt, a certain petrol-like astringency (ahhhh, old-school German!), some subtle apple and underripe pear fruitiness, ethereal floral honey, and plain earthy, leafy, and sort of skunky weedy hops. The taste is bready and doughy pale malt, partially fermented honey, a lesser gasohol thing, muddled light orchard fruit, further dried honey, and more understated leafy, weedy, and grassy hoppiness.
The carbonation is fairly active in its probing fizziness and more laid-back frothiness, the body a so-so middleweight, and generally smooth, with only a bit of that now low-key skunk getting handsy here. It finishes off-dry, the honeyed malt starting to put the hammer down on the various other edgy esters.
Overall, a decent enough version of the style, the guest sweetener clashing with the Teutonic pilsner-like goodness, to make, well, a Kölsch. Whatever - for the first time in a long time, when I popped the cap on this one, and took a customary whiff, all I could think was - that smells like a beer!
1,368 characters
3.94
/5
rDev
+13.5%
look: 3.75 | smell: 3.5 | taste: 4.25 | feel: 3.75 | overall: 4
355ml can poured into a 400ml glass tumbler. Light golden hue, mildly fragrant, medium carbonation level. Clean tasting with a good balance of hops and malt. A reasonable approximation of the delightful Kolsch style. Very refreshing and drinkable. Not cheap though, a 355ml costs the same as a 500ml Carlsberg or Sapporo at B.C. Liquor stores.
343 characters

3.65
/5
rDev
+5.2%
look: 3.25 | smell: 3.75 | taste: 3.75 | feel: 3.5 | overall: 3.5
341ml bottle poured into tulip.
Pours a clear straw yellow with half a finger of short-lived white head that leaves a thin sheet of lace as it recedes.
Smells of honeyed breakfast cereal pale malt, crisp orchard fruit and faint leafy hops.
Tastes of grainy pale malt, honey on toast, more orchard fruit and more mild hoppy bitterness.
Feels light and crisp. Light bodied with fizzy carbonation. Finishes off-sweet.
Verdict: Recommended. Pretty good hot weather beer.
471 characters
3.53
/5
rDev
+1.7%
look: 3.75 | smell: 3.25 | taste: 3.5 | feel: 3.75 | overall: 3.75

3.61
/5
rDev
+4%
look: 3.5 | smell: 3.75 | taste: 3.5 | feel: 3.5 | overall: 3.75
341 mL bottle from TBS, included in their most recent brewmaster's mixed pack. Bottled Jun 8 2016 and served well-chilled.
Pours a clear golden-blonde colour, with roughly one finger of soapy white froth situated on the surface. It weakens and fades within two minutes or so, producing a modest curtain of lacing as it steadily reverts to a bubbly collar and thin cap. Mostly pale malts on the nose - bready and biscuity, with a light grainy sweetness and just a hint of floral hops and honeycomb. Aroma is subtle in magnitude, but pleasant in character.
An approachable variation on a kölsch. Grainy pale malts, along with bready flavours of biscuit and cracker, provide a sturdy backbone scaffolding, while honey sweetness weaves its way throughout. Hints of fruit - apple and white grape - followed by more mead-y honey sweetness, then by a lightly earthy, floral hop finish that fades into the finish. Light in body, with middling carbonation levels that gently prickle the palate with each sip. Sessionable, and not very challenging to drink.
Final Grade: 3.61, a B. OKS Honey Kölsch could become a solid sessioning staple in the near-craft category, with the right marketing push. Better IMO than most of the OKS products available - along the lines of beers like Sleeman Honey Brown, or maybe Lakeport Honey, but much better than either. The heyday of those two beers is probably long past, but this one comes from the same stock - so if you're looking for something simple with just the right touch of sweetness added, consider this one worth a look.
1,564 characters

3.33
/5
rDev
-4%
look: 3.75 | smell: 3.25 | taste: 3.25 | feel: 3.25 | overall: 3.5

3.58
/5
rDev
+3.2%
look: 3.75 | smell: 3.75 | taste: 3.5 | feel: 3.5 | overall: 3.5
2.6
/5
rDev
-25.1%
look: 3.25 | smell: 2.5 | taste: 2.75 | feel: 2.5 | overall: 2.25
2.53
/5
rDev
-27.1%
look: 3.5 | smell: 1 | taste: 3 | feel: 3.25 | overall: 2.75
Had some of this on tap a little while ago, and it was an odd experience.
Visually fine, all as expected. Decent mouthfeel, refreshing and drinkable. Taste was solid. Nothing exceptional, but still pretty good.
The smell however, was awful - somewhere between an old dirty sink and a musky toilet water aroma. Thankfully the aroma didn't carry over to the flavour as along as you didn't sniff as you drank.
Very odd.
420 characters
Honey Kölsch from Okanagan Spring Brewery
Beer rating:
3.47
out of
5
with
11
ratings