Apricot Summer Weizen
| Okanagan Spring Brewery
BA SCORE
80
good
13
Reviews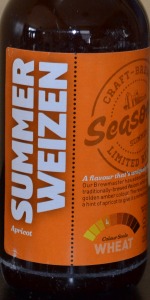 BEER INFO
Brewed by:
Okanagan Spring Brewery
British Columbia
,
Canada
okspring.com
Style:
American Pale Wheat Ale
Alcohol by volume (ABV):
5.00%
Availability:
Summer
Notes / Commercial Description:
Inspired by the bountiful orchards of BC's Southern Interior, our Brewmaster has created this deliciously original recipe. An unfiltered wheat ale with the subtle flavour of apricot, it pairs well with all things summer.
Added by biboergosum on 04-19-2012
Reviews: 13 | Ratings: 46
1.52
/5
rDev
-54.9%
look: 4 | smell: 2 | taste: 1 | feel: 2 | overall: 1
Quite possibly one the the worst beers I have ever had. When I bought it I didn't see the word "Apricot" on the can. It's almost as if they were trying to hide the word. So it was a little misleading and probably why I gave it a low score, as it was a surprise. I didn't like the taste at all and neither did my wife. I found it tasted more like a cooler than a beer. The fruity taste was too much and the beer too sweet.
It was a challenge to finish the can and I still have five more...not sure what to do with them.
520 characters
1.82
/5
rDev
-46%
look: 2 | smell: 1.75 | taste: 1.75 | feel: 1.75 | overall: 2
I opened the bottle, took a sip, i couldn't believe a beer could taste so bad. It's like i had poured a bottle of cologne in my mouth. I didn't feel like being a party pooper so i didn't rate it under 1.75, but it deserve to be banned from the market.
251 characters
2
/5
rDev
-40.7%
look: 3 | smell: 3 | taste: 1.5 | feel: 2 | overall: 1.5
I've hard other apricot flavoured beers which tasted fine, but this Apricot Summer Weizen tasted very artificial and I could barely finish a bottle. My 2 other buddies agreed and I ended dumping 3 other bottles down the drain, I could'nt drink it.
Maybe I got a bad batch or it sat at the liquor store too long, but I was seriously disappointed.
345 characters
2.12
/5
rDev
-37.1%
look: 3 | smell: 2.25 | taste: 1.75 | feel: 3 | overall: 2
I agree with the other review. It is way too fruity - sort of like orange pop beer. I also missed seeing the small apricot on the can it is very misleading.
I would likely not have bought it if I had seen apricot on the can. I drank one and had to give away the other 3 in the mixed case. The best part of the case was thw free glass.
334 characters
2.98
/5
rDev
-11.6%
look: 4 | smell: 2.75 | taste: 2.75 | feel: 3.25 | overall: 3.25
Poured from a 355ml bottle. Pours a cloudy yellowish orange colour. The word "apricot" on the label may be small (almost hidden), but the aroma and taste are pronounced in this hefeweizen. The nose is also very floral and perfumey with none of the classic hefe notes. Taste is similarly strongly redolent of apricot and flowers. A bit unbalanced, but certainly recommended for people who like their fruit beer to taste quite fruity.
432 characters
3.2
/5
rDev
-5%
look: 3.5 | smell: 3.5 | taste: 3 | feel: 3.5 | overall: 3
Poured from a bottle fetched from a "summer" mixed pack into a shaker pint glass. A coppery orange color, close to light brown, with an aggressive billowing white head that broke quickly. Aroma is detectable and fairly strong apricot with some bruised apple and a generic stale peppery spice. Little else for individually identifiable components, smells like a very fruity low hop wheat beer. Tastes like sour peach gummy candies, maybe hints of lime and mango, and some sweet bready malts that combine with the fruit notes to yield something like a apple fritter effect, albeit a subtle one. Rather buttery, coating mouthfeel which is odd considering the aggressive carbonation. Apricots do not taste this obvious when included in a mash or added during fermentation, even when used in large quantities. These guys must have added a ton of juice or flavor extract into the brew at the end of the process. I am not wild about this approach. The result resembles a vaguely beery peach/apricot soda or cooler. Could appeal to diehard fruit beer fans but I shall steer clear.
1,072 characters

3.35
/5
rDev
-0.6%
look: 3.25 | smell: 3.25 | taste: 3.25 | feel: 3.75 | overall: 3.5
341 mL bottle from a sampler 12-pack picked up at The Beer Store; bottled Feb. 24 2014. I remember trying a non-flavoured hefe from these guys many years ago and rather enjoying it, so I'm going into this one with my hopes up. Served well-chilled.
This one pours a hazy golden-orange colour, generating a thin layer of white head that wastes no time fizzling away into nothingness. A thin collar and some wisps on the surface remain. Mild aroma, which immediately tells you what you're in for - wheaty pale malt sweetness, apricot and red berries, with sour fuzzy peach candy also coming through.
I was starting to get a little wary, but after a few sips my worries evaporate - this is a nice, refreshing, light summer fruit beer. While a grainy pale wheat malt sweetness dominates at first, it is soon overtaken by a large dose of apricot flavour. It's obviously an extract of some sort, but it works out about as well as could be hoped. Tangy finish, with some fuzzy peach and cherry vibes. Fairly clean aftertaste. This pale wheat ale is light-bodied and quite fizzy, which is exactly the kind of mouthfeel I want from a lighter summer drink. Very easy to drink quickly; I could see myself easily getting through a sixer of these on a hot afternoon.
Final Grade: 3.35, a B-. Okanagan Springs' Apricot Summer Weizen is one of the better apricot-flavoured fruit beers I've tried, and a passable option for anyone seeking out a fruity, refreshing session beer for the impending summer months. I'm not a big fruit beer drinker, but I'd consider picking this up again if I were in the mood. Not bad; fans of St. Ambroise Apricot Wheat Ale and Kronenbourg White might find this one worth a look or two.
1,704 characters
3.46
/5
rDev
+2.7%
look: 4.5 | smell: 3.5 | taste: 3.5 | feel: 3.5 | overall: 3
The newest offering from this brewery - an ode to the Okanagan's orchard-heavy history, apparently. A 20oz pint at a downtown Edmonchuk 'English' pub that I finally tried out, even though it's only about 3 blocks from my place. Orange slice immediately removed, to be enjoyed later, separately.
This beer appears a very cloudy, medium golden orange hue, with one fat finger of puffy, shiny, and foamy off-white head, which sits there for a surprisingly long time, before slowly seeping away, leaving some consistent tightly webbed lace around the glass. A stately-looking beer, I gotta say!
It smells strongly of sweet peach/apricot fruitiness, a mild wheaty graininess, very faint earthy hops, and a soft edgy warming. The taste is semi-sweet apricot puree, a testy, wheaty doughiness, some further blended orchard fruitiness (though a tad more astringent), with some menthol-esque notes wedging their way in. Any hops register at a hollow leafy echo, at best.
The carbonation is quite reserved, but not totally absent, the body a struggling medium weight, but genially smooth, overall. It finishes a fair bit less sweet, with more of the fleshy, vegetal side of the guest star ingredient becoming evident.
A beer that rides a consistent downwards curve throughout its life-cycle, from tap to the last glug - good thing that it started off at a pretty lofty perch, then, I would suggest. Sweet fruit, middling underlying wheat ale, and then gritty fruit remainders. Too procedural seeming, and not enough blending or integration, so I think the one is enough for me.
1,571 characters

3.5
/5
rDev
+3.9%
look: 3.5 | smell: 3.5 | taste: 3.5 | feel: 3.5 | overall: 3.5
341ml bottle poured into tulip 28/6/14
A cloudy orange liquid, three fingers of foam lasts for a few sips leaving a few polka dots for lace
S apricots, peaches, floral perfume, wheat and Iced tea powder
T more grains, faint banana, a little white pepper of all things, not far from the smell, simple but decent
M lighter side of medium, fluffs up from the bubbles, grainy finish overpowers the fruit somehow
O nothing to write home about but I wouldn't turn one down under a hot sun, keeps my wife drinking beer so that's a plus...I guess
I thought the rating was pretty low on this one, then I noticed all the lowest ratings were by people who rated this beer and nothing else. A strange coincidence? or does a loan rebel have a strange hate on for this beer?
769 characters
3.5
/5
rDev
+3.9%
look: 3.5 | smell: 3.5 | taste: 3.5 | feel: 3.5 | overall: 3.5
On tap at Black Betty Burger & Winebar, pours a clear golden with a small white head. Aroma of wheat, not much of the apricot, and not much else. Flavor is dry, with wheat, subtle dry lemon peel and maybe a hint of apricot. Subtle and drinkable. Decent beer for the summer.
273 characters
3.53
/5
rDev
+4.7%
look: 4 | smell: 3.5 | taste: 3.5 | feel: 3.5 | overall: 3.5
Appearance- Pours a cloudy peach colour with a 1/2 finger width of bubbly white head.
Smell- Apricots, slight peach aroma, cherries. (fruits of the orchard), and something that reminds of a lozenge.
Taste- Apricot and cherries are predominate followed by the wheat to balance this brew out. You get a bit of that lozenge.
Mouthfeel- Medium bodied with light carbonation.
Overall- A summery limited edition by Okanagan. Reminds me of my days spent in the orchard. I don't know why I pick up that lozenge flavour but maybe its from the cherries. Besides the fact, still an enjoyable offering and worth a try.
611 characters
3.63
/5
rDev
+7.7%
look: 3.75 | smell: 3.75 | taste: 3.75 | feel: 3 | overall: 3.5
Found some old notes and thought I'd do a quick review. This poured a hazy copper colour with a thin white head. The apricot is strong on the nose along with some yeast and grass. The flavor is much the same with the apricot lingering for quite a while. This is a beer that needs to be consumed at the proper temperature because as it warmed the apricot went from nicely sweet to syrupy.
391 characters
4.2
/5
rDev
+24.6%
look: 4 | smell: 4 | taste: 4.5 | feel: 4 | overall: 4
A- Pours a beautiful coppery gold color and there is tinges of orange in the background. The head is super white, and starts off around 2 fingers thick before settling down to a nice creamy layer of foam over the brew. The lacing is moderately decent, with only small patches of foam clinging to the side of the glass...it appears to be slightly watery but I won't hold this against the beer seeing as it's meant as a thirst-quencher.
S- The aromas are a great blend of sweet malt, apricot flesh as well as a more bitter smell of the pit itself, and spiciness. I think there is some modest, yet noticeable hints of hop bitterness hiding in the background as well. Overall, a nice natural smelling brew!
T- The flavors follow the aromas quite well....I get an overall sense of the apricot essence, with fresh tastes of the fruit flesh and/or juice. This is balanced well by barley and wheat malt, providing a fresh sweetness that adds richness to the overall flavor. There is some bitterness on the end, but it comes more from the apricot pit than from hop cones....it is more of a drying bitterness. Again, this is a very natural tasting fruit based wheat beer!
M- Thin bodied, which is actually appreciated here, while enjoying this in the hot sun! The carbonation is crisp too, giving my palate a need for more....there is a drying sensation right at the end that quenches my thirst but keeps me coming back for another sip!
O- I find this to be a great summer beer to enjoy! It has just the right amount of fruitiness, sweetness and a dry finish which is what, in my opinion, a hot weather brew should contain! I recommend this one to anybody and am glad I got to try it! I hope this is a yearly seasonal by Okanagan Spring!
1,731 characters
Apricot Summer Weizen from Okanagan Spring Brewery
3.37
out of
5
based on
46
ratings.