Ulele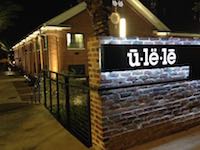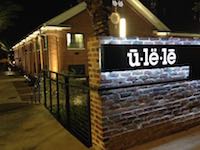 Brewery, Bar, Eatery
1810 N Highland Ave
Tampa
,
Florida
, 33602-2105
United States
(813) 999-4952 |
map
ulele.com
Notes:
Reviews by jbehlar:

jbehlar from Mississippi
4.39
/5
rDev
+16.8%
vibe: 4 | quality: 4.75 | service: 4.75 | selection: 3.5 | food: 5
Oct 29, 2019
More User Reviews:

clayrock81 from Florida
3.54
/5
rDev
-5.9%
vibe: 4 | quality: 3 | service: 4 | selection: 3.5
Went on a busy Saturday afternoon and was lucky to find a couple seats outside. Place was crowded and in fact the whole Heights area was packed so it was a lively atmosphere. Can't complain about the service at the outside bar at all, nor can I comment on food as only stopped here for drinks before continuing the day's debauchery. As for the beer itself, I don't mean to be mean (or redundant) but the three beers I had ranged from okay to just no thanks. Style wise they offer basic styles only as they only have about eight options total, I believe. Worth checking out, especially on a warm day, but this is not the place to go to if you want a craft beer or two.
Jan 23, 2020
MikeM75 from Virginia
3.73
/5
rDev
-0.8%
vibe: 3.75 | quality: 3.5 | service: 3.5 | selection: 4 | food: 4.25
Sep 09, 2019

bradybeer from California
3.18
/5
rDev
-15.4%
vibe: 4.75 | quality: 1.5 | service: 3.75 | selection: 3.25 | food: 5
Beautiful place on in the Heights area of Tampa which is undergoing some development. Though the building is beautiful. I can't say that enough. Had the wedding beer which was actually undrinkable and reminded me of my attempt at a Jamaica ale homebrew. Not one of my brew highlights. Food was great. I mean great
Come here because it is a nice place to eat, but save your BAC for another place
May 17, 2019
slander from New York
3.75
/5
rDev
-0.3%
vibe: 4.5 | quality: 3.25 | service: 4 | selection: 3.5 | food: 4.5
Taunted & harassed 'til I would come to Florida, I find it to be quite a pleasant place to visit. We've 'et and drank well these last couple of days but are lookin' for something a bit different now. And that something is located in the old Tampa water works pump station #3 building, circa 1903 (very cool, but C.H. Evans in Albany did it first); a big ol' building with a sprawling lawn on a body of water where I am sure angry alligators live. The last dinner hurrah, Ulele…
It's just a massive space. Vaulted arched ceiling with white plank horizontals, rafters, & ductwork, and polished concrete block floorings. Big brick walls 3 sides around and cinder block on the 4th with a trio of open vertical accordion window bays with panel windows above. Panel windows on the side wall, framed paintings above, and then another set of windows atop, and more racked smaller prints between the windows. Crazy art large & small throughout. Erik Renssen paintings all over the place, some of them are absurdly Picasso-esque. And then the large laughing horse sculpture in the center of the room, the steel & glass fish sculpture back lit near us, and the seahorses of the same, elsewhere, the rowboat suspended from the ceiling, the 18th century stained glass panels, you know, the uuuuuge.
Center stairs to a double sided mezzanine and it seems the brewery is a separate space out back and to the right I will be exploring both in short order.
Straight white marble topped, panel base and foot bar, seating for upwards of a dozen. 2 towers with 6 taps each on the bar, and a sliding booze shelving barback with glow coolers below. Drop single filament bulbs over the bar. Curvy corner kitchen area of crazy with burners, pans to fry & sear, and a fire in the corner oven like. Busy, busy, lots of activity there. They've got a massive cylinder exhaust piece overhead to vent the awesome.
Round, square, & rectangular tables in rows; 30 or so in all including some booths on the far wall, a shared hightop off the bar, and an 8 chair counter off the kitchen space. Drop disc lights, raised pan lamps, some lanterns mounted, and alt colored seltzer bottle lamps over the off the bar shared table. Shared pew bench along the wall for the waiting, a shorty wine room underneath the stairs, and some potted plants here & there.
Upstairs, a dozen and a half tables across both sides and cushy chairs & tables next to the 2nd floor deck. Stairs to down and out; roughly a dozen and a half roundy tables outside 3 sides around with heaters unnecessary, some of them all awned up. And through to the brewery found open & unattended, so I went inside and issued a lookin' around.
Beer list shows beer name, ABV, IBU, SRM, and a light description. 5 beers up (Ulele Light, 4.1%; Magbee's Honey Lager, 5.05%, done with locally sourced Florida honey, it's okay; Rusty's Red, 5.5%, caramel sweety; Water Works Pale Ale, 5.15%, and kicked; Wedding Beer, Lager with black & red berries, 4.99%, replaced by the Honeymoon Beer, same as the Wedding Beer but the fruit is strawberry here, it's not overly done; the seasonal Dryfall, "hoppy like an Octo", she said, and no other information about it although it is a dry hopped Marzen, and tasty). Beers were served in big frosty fucking mugs (boooo). Rusty's Red & Dryfall were the best of 'em.
I app'd with the Barbacoa whole shrimp, pan seared with butter & Worcester sauce and dealt with toast points. Had to do some work but thems were some tasty jumbo prawns. D had the lobster claw cocktail ("the best ever") and Jed the charbroiled oysters ("could've eaten a plate and a half"). Entrée'd with the Chief Red Eagle Duck because… duck, seared roasted with port wine orange marmalade. Came with asparagus but I vegetable double downed ordering up carrots anyway. D had the Flank Steak and Jed the Muenster Chicken. Wound down with a double espresso sans dessert. That meal was mean, man, mean. Just awesomesauce.
Fantastic setting, great food, okay beer, good times with friends.
Apr 11, 2017

user785335 from Florida
3.81
/5
rDev
+1.3%
vibe: 4 | quality: 4 | service: 4.25 | selection: 3 | food: 4
Mar 13, 2017

PapaGoose03 from Michigan
3.65
/5
rDev
-2.9%
vibe: 3 | quality: 3.5 | service: 4.25 | selection: 3.25 | food: 4.25
This is stop #5 of 14 brewpubs for my wife and I on this one week vacation and pub crawl. We stopped here for dinner and to try their beers. The ambiance here is more applicable for a nice restaurant than it is for a brewpub. But it worked out to our benefit because we were able to be seated on the patio and could watch the sun set on the water.
We chose a sampler flight of the 5 beers that were on the menu, but two additional beers were just made available from the brewer so our server added them to our flight. The sampler glasses are small (2 or 3 ounces) so it becomes more difficult to evaluate beers when two people are trying to taste them, but we did our best to be fair. The beers were all good and are a bit above average, but none stood out. I have to give the brewer credit though because we felt that the Ulele Light was well above average for a light-flavored beer, and that's a tough thing to do.
The food here is outstanding and is well worth the wait if you happen to arrive at a busy time. Our outdoor seating on a very nice evening was glorious, and we'd return here just to experience that.
May 27, 2016

Mounty4Life from Pennsylvania
3.09
/5
rDev
-17.8%
vibe: 4.5 | quality: 2.75 | service: 4.25 | selection: 1 | food: 5
Beautiful place to go eat by the water in downtown Tampa. just dont go looking for great beer. it has beer but nothing like the food you will enjoy!! mediocre beer and selection make this place below par in the beer scheme of things but the food is out of this world!
Feb 25, 2016

DuffDaddy from Florida
3.84
/5
rDev
+2.1%
vibe: 5 | quality: 4 | service: 3.75 | selection: 3 | food: 4.5
Visited with Bro and Sis to celebrate Bessie's birthday. Awesome ambiance inside and out. Food was really good as were the beers we had in the flight - tried all they had, but settled on the honey-lager for follow up pints. Always have an issue with "selection" when nothing darker than a red is offered. No stouts or porters. Also, the seasonal was a rye selection that not listed on this site.
Jul 20, 2015

One1Asterisk from Florida
4.05
/5
rDev
+7.7%
vibe: 4.5 | quality: 4 | service: 4 | selection: 4 | food: 4
Good food, decent beer. The location is beyond beautiful, I could sit out there and drink decent beer all day long. Went on a tour of the brewhouse, it was just our group so we were able to talk a little more at length about everything. I noticed a couple of pilot batches in the corner and pointed them out, the BM got a little excited and had us try a bourbon lager he'd been working on. THAT was some tasty stuff, not nearly as overbearing as it sounds. Just the right hint of bourbon carried that lager right home.
Jun 27, 2015
Lare453 from Florida
3.91
/5
rDev
+4%
vibe: 4 | quality: 4 | service: 4 | selection: 3.25 | food: 5
Mar 24, 2015
gwiedman1 from New York
3.66
/5
rDev
-2.7%
vibe: 3.5 | quality: 3.75 | service: 3.75 | selection: 3.5 | food: 3.75
Mar 23, 2015
Ulele in Tampa, FL
Brewery rating:
3.32
out of
5
with
22
ratings