Mill Street Pilsner
| Mill Street Brew Pub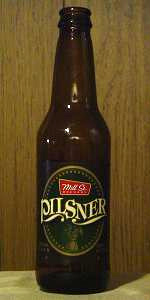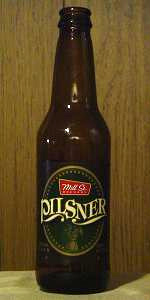 BEER INFO
Brewed by:
Mill Street Brew Pub
Ontario
,
Canada
millstreetbrewpub.ca
Style:
German Pilsener
Alcohol by volume (ABV):
4.80%
Availability:
Rotating
Notes / Commercial Description:
Our organic continental lager has a deep golden hue, a giant rocky white head with a malty sweet nose. The first taste is sweet but leads quickly to a dry hoppy bitter finish. In the German style, Mill Street Pilsner finishes dry and is an excellent accompaniment to food or an excellent thirst quencher on its own.
Added by putnam on 07-28-2004
HISTOGRAM
Ratings: 65 | Reviews: 46
4.06
/5
rDev
+11.8%
look: 4.5 | smell: 3.5 | taste: 4 | feel: 4.5 | overall: 4.5
12oz bottle as part of the mixed pack. Pours a beautiful golden with piles of pillowing head that hang around and leave spotty lacing down the glass.
Nose is bready yet clean, just a hint of grassy hops hiding in there. Could be a little bolder but it hints of an easy drinking experience.
Taste is light and clean but full enough to satisfy. A good sweet, slightly bready malty backbone finished off with a dose of bittering, grassy hops, a hint of floral hops, smooth body and bang on carbonation. Can't ask for much more in a pils. Easy drinking, going great with my stir-fry at the moment. A hit for Mill St., hopefully they bottle this on its own.
655 characters

4.41
/5
rDev
+21.5%
look: 3 | smell: 4.5 | taste: 4.5 | feel: 4.5 | overall: 4.5
Comes out of the bottle with a rusty metal look. Bits of red and yellow mingle throughout. Head is not thick, but it does last. Wow. The first sniff tells me this is not a mass produced, American lager disguised as a pilsner. Plenty of herbs, floral, grass, lemon, grass... A beautiful hoppy aroma that I was not expecting! Their is a bit of a light toast smell as well. The taste starts out bready and lightly sweet, with a hint of caramel. That sweet tastes mingles with plenty of sour, floral, bitter and grassy hops. Wow, is all I can say. Their is a bit of an alcohol presence as well, which seems to aid the beers bittersweet flavour. Smooth, crisp and lightly refreshing mouthfeel. I could drink this all day and not be tired. In fact, I did, and savoured each one. I would highly recommend this to anyone looking for a good pilsner. I think it would also make a good crossover beer for someone who drinks primarily macrobrews. The pilsner label would not scare them, and it has enough flavour to let them know this is how beer is supposed to taste, without it being overpowering and scaring them away.
1,109 characters

4.15
/5
rDev
+14.3%
look: 4.5 | smell: 4.5 | taste: 4 | feel: 4 | overall: 4
Tarnished copper tightly tucked under a blanket of freshly fallen snow. The body is spotlessly clean, its shine rather modest; I inevitably fell in love with this deep, tanned tone after holding it up against the light. The head was initially much bigger, it climbed at least three fingers high, appeared like densely packed cotton balls stacked one atop the other, but is now thin yet remains as adhesive as ever.
I love this aroma so much that I honestly plunked my nose so far into the glass it actually dipped into the beer; when I think 'pilsner' this is exactly the smell that comes to mind. The fragrant, pungent bouquet that combines earthy herbals and bitter, leafy florals is so strongly present that even a light breeze is enough to carry the scent. (Mill Street skipped out none on the hops, good on them, other Ontario brewers take note.)
Giving in and taking a sip was the most relieving, gratifying thing I remember doing in a long time. The taste is sweet and bready; who'd have thought that pale malt could be so full and flavourful? It wouldn't be unlikely to pick up on hints of honey-rolled oats. Of course that's assuming one could look beyond the bitter, leafy, floral taste of (presumably Saaz) hops.
The duality of sweetness/bitterness plays out in the beer like the battle between good and evil in ancient Greek theater or, for the younger generations, the Star Wars saga. Both sweet and bitter components are at natural, reasonable and relatively subtle levels. Both, however, make a pleading case for the tongue's attention. Ultimately, it is the grassy rose petal-like bitterness of the Noble hop that prevails.
I don't know who or what we have to credit for this pilsner, but thank you! The pilsner style has unfortunately been the victim of some rather poor renditions here in the Ontario market; fortunately, Mill Street has righted much of those previous wrongs. Pilsners can be incredibly delectable and refreshing beers, never more so than in the summer months, and I think I've found a new 'go-to' until the Fall.
2,054 characters
3.82
/5
rDev
+5.2%
look: 3.5 | smell: 4 | taste: 4 | feel: 3.5 | overall: 3.5
Thanks to Mill St. for coming out with their six bottle sampler pack in time for Fathers Day, this was the one in the pack I had not yet reviewed. Poured auburn colour, one finger beige head, medium carbonation, ring and a bit of lace. Smells of wet, cut grass and hops. Hop forward in the mouth, bitter malt middle, dry hop finish. Pretty good all around. The label says this is a European style lager but I think it tends more towards American style hoppiness, a bit like an IPA. Good stuff.
493 characters

3.18
/5
rDev
-12.4%
look: 3.5 | smell: 3 | taste: 3 | feel: 3.5 | overall: 3.5
355ml bottle from the Mill Street Seasonal Sampler pack. Pours a golden bronze hue with a fluffy white head and spots of lacing on the pint glass. The hops emit a floral, fresh cut grass aroma while the pils malt smells of sweet cereal grains. Taste is grainy, bread-like malts, tangy biting hops, some grassiness, and a zesty Saaz bitterness to end. Mouthfeel is light bodied, well carbonated, smoothly bitter, parched and drying finish. Damn, Mill Street has crafted an excellent pils here. If the brewery is trying to determine whether they should release this beer on its own, I say start bottling!
EDIT (May 2011): gone is the pronounced floral-grassy Noble bitterness that distinguished this beer from other pilsners on the market. Now it just tastes like a creamy, malty, and biscuity pale lager with no hops. Similar to the macros, though I'm assuming they don't use adjuncts. I won't be bothering with this one anymore.
929 characters

3.94
/5
rDev
+8.5%
look: 3 | smell: 4 | taste: 4 | feel: 4 | overall: 4
Grabbed this as part of Mill Streets seasonal sampler pack.
Looks richer and darker than a typical pilsener, closer to a light amber than the usual straw yellow, with a chunky head and nice spotty lacing.
Smell is lemony citrus with a good dose of grassy floral hops.
Taste is a juicy sweet malt backed by a grassy hop bite in the middle and a lingering spicy saaz hop bitterness in the aftertate. The finish is nicely dry. There's a very good balance here. There's a hint of fruitiness to this which might not be right for a pilsner, but judging it for what it is, not what it isn't, this works well for this beer. Really overall this just tastes like a really well made pilsener It's crisp and thirst quenching.
Yet another solid effort from Mill Street. They've never quite knocked any beer out of the park for me (except maybe Tankhouse) but damn it if they don't come really, really close more times than not.
918 characters

3.98
/5
rDev
+9.6%
look: 4.5 | smell: 4 | taste: 4 | feel: 3.5 | overall: 4
Got this as part of the new variety pack Mill St put out at the LCBO. Picked this one up in Burlington around Maple Ave.
Appearance: Pours with a solid thumb of head that retained extremely well and laced decently. The beer itself has a golden, nearly bronze body and is quite clear. My only complaint is that the carbonation on this one looks like it's a bit excessive.
Smell: The primary scent is dry and spicy herbal hop scent with a sweet roasted grain backdrop and the slightest touch of hazelnut. All in all very nice, however it is a bit subdued, even after it's given some time to warm up.
Taste: Quite good, it starts with a slight sweet malt with a touch of pine and then shifts quite admirably to the dry, spicy and herbal hops that really let this beer shine. It could be a bit more diverse though, and the dryness while good is just a little bit too much for my liking, however it's a minor complaint.
Mouthfeel: The carbonation for this beer is actually perfect, and you wouldn't be able to tell that by looking at it. It transitions very well which impresses me quite a bit. However, I'm not a fan of the fairly dry mouthfeel this beer leaves and the aftertaste, while not that bitter, lingers for a while.
Drinkability: No issues get this beer down as it is quite smooth, although it is medium bodied so you can't really drink this all night. No gas issues with this one, surprisingly and it is exceptionally refreshing for a dryer offering.
Final Thoughts: Mill St is quickly becoming one of my favorite brands of beer, and I think by the time I finish that variety pack, they'll probably be my new brand of choice. Just a little less dryness and a little more sweetness and it would be perfect. You owe it to yourself to give this stuff a shot, either at the pub itself or in the variety pack it came in.
1,828 characters

4.22
/5
rDev
+16.3%
look: 4 | smell: 4.5 | taste: 4 | feel: 4 | overall: 4.5
From the new variety pack. Comes in a 355ml pop off bottle.
Pours a clear golden-amber kind of dark with a nice thin white head, nice lacing.
What a wonderful smelling beer, smells like a very hoppy pilsener, sweet and citrusy, some toasty grains and piney notes.
This really tastes like an IPA, loaded with hops which is balanced nicely by some nice malty sweetness. Some grapefruit, grass, bread, what a complex pilsener.
This is possibly the best pilseners i've ever had, well done mill street! If this is their pilsener, I'd like to see them make a real west coast IPA!!
578 characters
4.1
/5
rDev
+12.9%
look: 4 | smell: 4 | taste: 4 | feel: 4 | overall: 4.5
Newly bottled and available in a mixed six sampler pack.
Clear golden body with a floral white head that died to a film, but gave a lot of very good lace. The aroma is dominated by the grassy spiciness of the saaz, which also has a bit of a floral aspect. There's also the hint of some toasty malt in the background.
The flavour is classic Czech Pilsner all the way, with a huge dose of saaz hops providing a bitterness that many local breweries would shy from, and some quality pils malt underpinning it all. Really its a very simple beer that lets the quality of its ingredients shine, and is the better for it. Its complimented by a nicely balanced body, which does a great job of encapsulating the refreshing and quenching characteristics of a pils.
Right now I'd say this is Ontario's second best pilsner, slotting right in behing King's maltier version. Mill Street have made a simple beer that works, and I'll happily drink it again.
943 characters

4.03
/5
rDev
+11%
look: 4.5 | smell: 4 | taste: 4 | feel: 4 | overall: 4
On-tap at the brewpub.
A: Gold with a white head. Not as much head retention as some continental examples, but it leaves a very pleasant lacing.
S: Spicy, floral, grassy & earthy hop aromas with only hints of malt in the background.
T: Spicy & earthy, but not overly metallic, with a little floral hop flavour. Quality pilsner malt in the background. Good bitterness (not a wimpy new world version). I'm not a huge fan of the earthy hop flavour, but there's plenty of flavour here, and this is a quality brew.
M: Moderate body is impressive for it's weight (pleasant, smooth, malty backbone).
D: Quite good.
622 characters

3.97
/5
rDev
+9.4%
look: 3.5 | smell: 4 | taste: 4 | feel: 4 | overall: 4
I had this on tap at the brewpub.
It pours pale gold, on the lighter side for the style. The crackly head lasts a decent amount of time and leaves the odd meandering lace trail on the glass. The aroma is sharply citric with lots of saaz sea air. The taste nicely hoppy with a lush floral feel. Biscuity pale malts wrestle for control, but the battle is already over. Matellic edges are evident The finish is briskly bitter and long. The mouthfeel is pretty standard for a pilsner with none of the hop oil coating feel of really hoppy ales.
This is a fantastic pilsner and one of Millstreet's best. Definitely worth a try if you like your pilsners on the hoppy side. Similar to King Pilsner, but less delicate.
715 characters

3.65
/5
rDev
+0.6%
look: 4 | smell: 4 | taste: 3.5 | feel: 3.5 | overall: 3.5
Another winner from Mill St. Brewery. Awesome straight foward pilsner. Short foamy head disappeared quickly after pouring out to a darker golden colour. Strong flavors of hops and barely, smooth and light aftertaste. I could drink this brew all day and have no complaints. This is the epitome of what a good pilsner should be. Highly recommended.
346 characters
3.26
/5
rDev
-10.2%
look: 3.5 | smell: 2.5 | taste: 3.5 | feel: 3.5 | overall: 3.5
Decent but not great pils on tap at Fort York Beer Fest. Decent taste, a tad of fruit and medium mouthfeel. Bit of hoppiness. Another middling brew from these brewers. However, that's it, flat in appearance and no aroma. Not bitter, therefore better than their organic pils.
274 characters
4.8
/5
rDev
+32.2%
look: 4.5 | smell: 4.5 | taste: 5 | feel: 4.5 | overall: 5
Orange-striped yellow out of a cute little stubby with a computer designed label. Grassy green hop coated donuts fill your nose as a draught takes you down a maple sap and chicory endive coated stone path that narrows, but never seems to end. A fine beer! As good as any breakfast of oat rings and aged citrus I've had. Reminds me of some of the better offerings over Europe way actually. Elaborate and drainable at the same time, what more could be asked.
Folks who must write that yellow lager is bland and boring are either determined to find them that way or are frightened to open their mind to a beer like Mill Street Pilsener that just might change their perceptions.
678 characters
4.35
/5
rDev
+19.8%
look: 4.5 | smell: 4.5 | taste: 4 | feel: 5 | overall: 4.5
Extraordinarily creamy, molten, buttercream-colored head over amber/yellow, clear liquid.
The aromas are a curious, intense blend of wilted, bitter hops, hot cereal, and raw, cracked grain. Lemon oil and white bread emerge in time.
On the palate it is broad and rich, with remarkable chew. This density provides flavors of boiled greens, pasta, fresh herbs and whole, scalded cream. Savory. I look for sweet flavors and - despite the evidence of serious malt content in the fat, unctuous texture - any honey or sugar flavors are perfectly obscured with the bold, boiled hop tip. A hop-lovers dream of a lager. Why can't more craft lagers be this ambitious?
Stylists may want to parse what category this belongs to.
717 characters
Mill Street Pilsner from Mill Street Brew Pub
Beer rating:
3.63
out of
5
with
65
ratings