Mill Street Walker's Blueberry Wheat
| Mill Street Brew Pub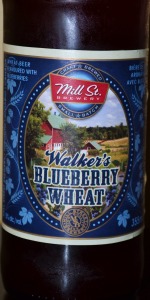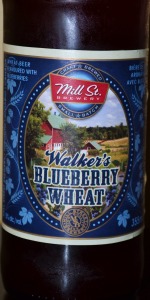 BEER INFO
Brewed by:
Mill Street Brew Pub
Ontario
,
Canada
millstreetbrewpub.ca
Style:
Fruit / Vegetable Beer
Alcohol by volume (ABV):
5.00%
Availability:
Summer
Notes / Commercial Description:
No notes at this time.
Added by bryehn on 07-18-2011
HISTOGRAM
Ratings: 35 | Reviews: 18

2.8
/5
rDev
-10.3%
look: 2.5 | smell: 2.5 | taste: 2.5 | feel: 2.5 | overall: 4
Just to make it clear, this review is for Mill St. Walker's Blueberry Wheat that I got from a Mill St. mix pack. If this ends up being a different brew then Mill St. Blueberry Wheat then feel free to relocate it.
Appearance: The body is a pink grapefruit, which is something I like to see in fruit beers. What I don't like to see is that there is next to no head, so needless to say lacing and retention are mute points.
Smell:There just isn't a lot here, although to be fair blueberries aren't renowned for their smell. I'm getting some faint berry tones and some wheat malt. There just isn't enough to work with.
Taste: Starts with a mild blueberry taste that hits some wheat malt and then calmly ends on a bit of a seltzer note. Much like the smell, it's just so mild that it comes across as lacking.
Mouthfeel: Points get deducted for the lack of head. It's crisp so there isn't a lot of an aftertaste. The carbonation is ok, as is the rather mild transitioning.
Drinkability: Mild in just about every regard, so incredibly easy to put back. It the fact the taste is different that keeps you drinking, but once again it's mild.
Final Thoughts: This beer in one word is "mild" which I wouldn't say is bad, but generally you expect a bit more kick from a pink coloured fruit beer. It's worth drinking, but it won't knock your socks off.
1,344 characters
3
/5
rDev
-3.8%
look: 3 | smell: 3 | taste: 3 | feel: 3 | overall: 3
550ml draught <br>
5.0% ABV <br>
I tried this beer on tap on June 1, 2012 at "C'est What" in Toronto, Ontario, Canada. The beer poured a hazy purplish red with a thin white head. The aroma was weak blueberry, some floral hops, and a weak rainy hint. Ther mouthfeel was medium bodied with medium carbonation. The flavour was sweet and tart blueberry flavours mixed in with some grainy malt tones. Not a lot of wheat (if any) and not a lot of complexity.
464 characters



2.83
/5
rDev
-9.3%
look: 3.5 | smell: 3 | taste: 2.5 | feel: 3 | overall: 3
Pours a grapefruit red colour, decent collar of white head with a little lace. Smell has lots of biscuit and grainy scents, blueberry, jam like fruit qualities, some floral scents as well. Taste is quite bland and offers little in the way of blueberry, mostly grainy malts and some metallic flavours, blueberry becomes a little more present half way through, moderate sweetness. Med-hig carbonation, lightish body. Not a stellar offering and not something to ever come back to but I still finished the bottle on a hot day.
522 characters

3.75
/5
rDev
+20.2%
look: 3.5 | smell: 3.5 | taste: 4 | feel: 4 | overall: 3.5
Now called Walker's Blueberry Wheat , this was from the Spring 2012 sampler pack.
Poured a opaque red colour that reminded me of pink grapefruit. The nose is mostly wheat with little in the way of blueberries. the taste is quite nice with the berries only showing up a little in the finish. The mouthfeel is full and the sweetness is balanced well with the malt. A decent American wheat with only a touch of blueberry flavour. Would buy this again for the summer.
464 characters

2.48
/5
rDev
-20.5%
look: 3 | smell: 2.5 | taste: 2.5 | feel: 2 | overall: 2.5
Appearance: It has a cloudy peach/orange color to it. It has a thin off-white head that dies down somewhat fast and leaves some lacing.
Smell: The aromas give out hints of wheat, light blueberry, woody smell and a bit of rusted metal.
Taste: Like the aromas, it has a wheat and blueberry character with a metallic note.
Mouthfeel: It has a medium carbonation with a thin and watery overall balance and feel.
Drinkability: It's a very smooth drinkable beer accompanied with bland flavors and aromas
503 characters

1.36
/5
rDev
-56.4%
look: 1 | smell: 2.5 | taste: 1 | feel: 1 | overall: 1
Took a recent trip to Toronto to visit a dear friend...he took me and another friend here...this was the second beer I had...served into an odd shaped mug...as the previous reviewer said...no clue to the ABV.
A-yellowish murky...looks like dirty dish water...seriously. Not going well out of the gate.
S-Best part of the beer...could pick up the blueberry scent...wheat as well. As the name suggests.
T-Not very appealing. Bland flavor...could pick up the blueberry but just overall not a very tasty beer...the blueberry standing on its own with the other "flavors" and characteristics (appearance, etc)...just fell flat. Tasted very watery.
M-No carbonation...which is to be expected...but a VERY thin beer...watery. Not plesant.
O-I am a fan of cask beers...I was excited to try an "experimental" beer on cask from a brewpub I had not visited before...unfortunately...I rank this beer as one of the worst craft beers I have had. I respect Mill St. for trying something different would not hold this against them in trying their other offerings (which were quite good).
1,079 characters

3.85
/5
rDev
+23.4%
look: 4 | smell: 4 | taste: 4 | feel: 3.5 | overall: 3.5
One of the first pours from the inaugural cask I believe. From notes taken at the Mill Street Brew Pub on 07/15/2011. Was served in a wide mouth mug, no idea of ABV.
Poured an extremely cloudy peach colour with a small soapy white collar that lasted a while. Looks a lot like unfiltered OJ.
Smells like real blueberries and fresh wheat, mild gum and banana esters as well.
The taste is surprisingly mild, tasting much like a typical sweet witbier at first and I found the blueberry flavour to come in towards the end, creating a nice tartness. It's good and not too sweet.
Mouthfeel is thin and watery, but the sediment gives it life on the tongue. Very little carbonation and a surprisingly bitter finish.
I'm really glad I happened to be at the brew pub at the right time to try this experiment. It worked and I'd like to see it in next year's seasonal sampler.
878 characters
Mill Street Walker's Blueberry Wheat from Mill Street Brew Pub
Beer rating:
3.12
out of
5
with
35
ratings