Mill Street Ambre De La Chaudiere
| Mill Street Brew Pub
BA SCORE
83
good
15
Reviews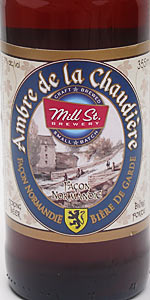 BEER INFO
Brewed by:
Mill Street Brew Pub
Ontario
,
Canada
millstreetbrewpub.ca
Style:
Bière de Garde
Alcohol by volume (ABV):
7.00%
Availability:
Year-round
Notes / Commercial Description:
No notes at this time.
Added by canucklehead on 05-10-2012
This beer is retired; no longer brewed.
Reviews: 15 | Ratings: 32

3.97
/5
rDev
+10.3%
look: 3.5 | smell: 4 | taste: 4 | feel: 4 | overall: 4
a funky new addition to the sampler pack for Spring 2012. A hazy unfiltered beer that seems to have Hefe like bubblegum notes to the nose but tempered with the farmhouse yeasty smell associated with the Biere de Garde style. A well made beer that tastes like a hefe crossed with Saison Dupont. I would love to see this releases in big 22oz bottles.
348 characters

3.84
/5
rDev
+6.7%
look: 4 | smell: 3.75 | taste: 3.75 | feel: 4 | overall: 4
750 ml waxed and resealable bomber purchased from the LCBO for $9.45 CDN. Served fairly cold into a tulip. It appears that Mill Street has reintroduced this classic, as I don't ever recall seeing this before. Given that I've seen it at a few locations I can't imagine that someone has just (re)discovered 3 year old stock. First try of this style.
Appearance - Pours a perfectly copper, hazy beer, that appears low on carbonation. Brilliant two fingers of white head crescendo in the glass although retention is less than spectacular. Not much in the way of lacing although a small thin white residue remains on top for a while.
Smell - Somewhat Belgian with the yeast playing a big role, somewhat champagne like with hints of grapes. There's also a musty funk, not nearly to Orval levels, but something akin to it. Some candy like sweetness too.
Taste - Interesting as it starts a little malty with caramel and Belgian style candi sugar sweetness, but lacks the fruitiness and occasionally harsh booziness of a tripel. Taste, just kind of floats of the tongue and doesn't really linger.
Mouthfeel - Smooth and crisp but with light carbonation and a moderate body. Despite those characteristics it is also slightly creamy.
Overall - Being a newcomer to this style, it's hard for me to judge to style, but Ambre De La Chaudiere seems to tick most of the appropraite boxes and all in all is a rather enjoyable tipple. This maybe be one to share with a freind given the cost, volume and potency, but never the less is a slightly different experience that merits being experience at least once.
1,595 characters

3.84
/5
rDev
+6.7%
look: 3 | smell: 4 | taste: 4 | feel: 4 | overall: 3.5
Hazy amber/orange colour, incredibly light sheet of white head, some white liquid looking yeast collected at the bottom of the glass, no lace at all. Smell is full of fruity yeast and spices, citrusy orange scents, an underlying candy sweetness is present and more than anything has a very belgian nose on a whole. Taste is of spicy yeast with some floral flavours, fruit comes in as well with obvious green apple, orange and more yeastiness mid palate, at points some sweetness is present but finishes quite dry and fruity. Med-hight carbonation, medium body and a nice enough feel. Overall this was rather enjoyable, felt more to me like a belgian pale but this was quite drinkable and something I would purchase again if I didn't have to get this in a mixed pack.
766 characters
3.78
/5
rDev
+5%
look: 4.5 | smell: 4 | taste: 3.5 | feel: 3.5 | overall: 4
Pours a cloudy, maize color. 4/5 inch head of a white color. Great retention and great lacing. Smells of yeast, sweet malt, slight floral notes, alcohol, and clove. Fits the style of a Biere de Garde. Mouth feel is sharp and crisp, with an average carbonation level. There is also a noticeable tartness. Tastes of wheat, yeast, slight pale malt, hops, clove, and slight floral notes. Overall, great blend, appearance, good aroma, and good body.
444 characters

3.77
/5
rDev
+4.7%
look: 3.5 | smell: 4 | taste: 3.5 | feel: 4 | overall: 4
Appearance: It has a nice cloudy orange color to it. It has a nice white head that dies down somewhat fast and leaves some lacing.
Smell: The aromas definitely give out hints of Belgian yeast, spices, bready/grainy malts and light grassy hops.
Taste: Like the aromas, it has some Belgian yeast, a subtle spice character, some bready/grainy malts, a light fruitiness and light hops.
Mouthfeel: It has a medium carbonation with a nice overall balance and feel.
Drinkability: It's a very smooth drinkable beer accompanied with good flavors and aromas.
554 characters

3.72
/5
rDev
+3.3%
look: 3 | smell: 3.5 | taste: 4 | feel: 4 | overall: 3.5
355 mL bottle from a sampler pack. This is my first biere de garde review, and I've only had a few saisons - needless to say, this type of brew is well outside the field of my expertise, but I'm always interested in trying new styles.
Pours a cloudy orange-apricot colour, with a thin white head that fizzles away quickly. Swirling doesn't really bring it back either; the stuff just looks kind of flat. Pleasant aroma with distinctly Belgian yeast and its fruity esters, some light orange citrus and muted coriander spiciness.
Pretty tasty, with lots of Belgian sugar and bubblegum notes mingling with various fruit flavours, including tangerine, sour apple and maybe even some banana toward the finish. The coriander and fennel provide a constant peppery presence that cuts through the sugar. Spicy aftertaste with some yeast and malty sweetness. Medium-bodied, a little slippery on the palate with a smooth mouthfeel that improves as it warms, and moderate carbonation that gently prickles the tongue. The alcohol isn't very detectable.
I tried Mill Street's Betelgeuse last year, and this reminds me of it in several ways. Since BdGs are a style that just isn't very easy to find examples of around here, I can really only compare this to tangentially-related brews - and thinking of this as a saison crossed with a BPA (or even a tripel) seems like a decent compromise to me. Whatever it is, it's good stuff.
Final Grade: 3.72, a B grade. I enjoyed my glass of Ambre de la Chaudiere, and I would say that if you are at all a fan of saisons and other Belgian styles, this is probably worth trying. I usually prefer lighter, sub-6% abv brews in stinking hot weather like this, but this stuff is a rare exception for me because despite the relative heft it's still surprisingly refreshing. Great to see some of the Ottawa brewpub stuff making its way this far, even if it is in sampler pack format - I'd get this again if they offered it in singles.
1,957 characters

3.63
/5
rDev
+0.8%
look: 4 | smell: 3.5 | taste: 3.5 | feel: 3.5 | overall: 4
Draft
Appearance – Hazy amber/copper colour with an above average size fizzy white coloured head. There is an average amount of carbonation and there is some decent lacing. The head lasted for around 3-4 minutes before it was gone.
Smell - Grains/wheat, citrus, coriander/cloves, yeast
Taste & Mouth - The beer has an above average amount of carbonation. I can taste grains/bread mixed with citrus and some faint yeast. There is also some coriander and clove mixed with a peppery spiciness. It finishes with a spicy and lightly sweet aftertaste.
Overall – Probably one of the best Mill Street beers. It's got a nice variety of flavours going on that keeps it interesting. I'd order it again.
699 characters
3.6
/5
rDev 0%
look: 3.5 | smell: 3.5 | taste: 3.5 | feel: 3.5 | overall: 4
Beer is cloudy amber, murky. A bit of white foam, but really minimal.
Smell is malty, with some caramel and bread. Belgian yeast as well.
Taste is primarily focused on bready malt- fairly sweet. Some yeast and caramel malt flavours. Some light fruit: apple. pear.
Medium to full bodied, pretty high carbonation. A bit irritating. Bready.
Overall, not great, but I have to confess that it was better than I expected, as I am not a huge fan of the brewery. I didn't know that Mill Street had opened a pub in Pearson Airport and drinking this was a pretty good way to kill time before a flight.
595 characters
3.55
/5
rDev
-1.4%
look: 3.5 | smell: 3.5 | taste: 3.5 | feel: 4 | overall: 3.5
355ml bottle - a nice foray by this rather play-it-safe (in my experience, anyway) brewery. "Cauldron Falls Amber", I suppose, for we Anglo Westerners.
This beer pours a hazy, frosted window dark golden amber hue, with one very thin finger of wispy off-white head, which predictably wafts away in a near instantaneous manner, leaving damned-near nothing in the way of lace around the glass.
It smells of bready, somewhat yeasty malt, some middling orchard citrus fruitiness, a bit of coriander spice, a twinge of edgy Belgian yeast, and understated earthy, leafy hops. The taste is semi-sweet caramel malt, more moderately rough Belgian yeast, some mild banana and coriander trope notes, further orchard fruitiness, a bit of candy sugar, and very timid earthy hops.
The carbonation is quite understated, the body medium-light in weight, and generally unencumbered in its smoothness. It finishes just a wee bit off-dry, with the fruit and malt the usual suspects, as the whole affair tends to, in the end, a nice spicy, slightly boozy dryness.
Impressed, am I at a Canadian brewery from Ontario, no less, putting up this little number against the greats of Eastern France and lower Belgium. While not quite award-worthy, this is still an agreeable version of the style - drinkable, and worthy, in strength, as well as flavour.
1,329 characters
3.55
/5
rDev
-1.4%
look: 3 | smell: 3 | taste: 4 | feel: 3.5 | overall: 3.5
One of the treats in the summer mixer pack.
A - Pours a hazy copper colour, finger of head with little retention or lacing.
S - Scent is mild with bready malts, wheat and grassy hop notes. Mild fruit notes come through with sour apple and green grapes.
T - Toasted grains, hints of sweet yeast esthers, some mild spicing and citrus notes. The finish is tart with some sour apples and grapefruit with bready notes that linger.
M - Medium bodied ale that goes down smooth and finishes dry.
O - A tasty ale with unique flavours, certainly worth a try, but nothing that will blow your mind. Glad to see Mill Street venturing into these more foreign styles, and definitely glad they're including these new brews in their mixer packs.
733 characters
3.5
/5
rDev
-2.8%
look: 3.5 | smell: 3.5 | taste: 3.5 | feel: 3.5 | overall: 3.5
Spicy nose. Quick dissipating foamy head on medium yellow body. Medium mouthfeel. OK drinkability. Too sweet and yeasty to be really the style, but an acceptable Belgian, with some fruit and sugar, corriander , fennel and other herbs. Fresh.Thanks Pino.
253 characters
3.5
/5
rDev
-2.8%
look: 3.5 | smell: 3.5 | taste: 3.5 | feel: 3.5 | overall: 3.5
Appearance- Pours a cloudy dark amber with a 1/4 finger width of white head that quickly dissipates.
Smell- Yeast, clove, spicy aromas, dark fruits, slight earthy hops, caramel.
Taste- Bready caramel malts followed by sweet dark fruit with yeast character and sweetness in the finish. Very slight earthy hops.
Mouthfeel- Medium bodied with light carbonation. A little thin and sticky.
Overall- For my first Biere de Garde, an enjoyable brew by Mill Street. There are many flavours to be enjoyed and it's nice to see a Canadian brewer have a go at this style.
563 characters
3.03
/5
rDev
-15.8%
look: 3.5 | smell: 3 | taste: 3 | feel: 3 | overall: 3
A: Pours a hazy amber color with a small amount of fizzy off white head. All but a few bubbles dissipates quickly, leaving no lacing.
S: Thickly sweet boozy caramel malt, with a touch of fruit. A bit over the too-sweet line for me; it's very dense and it kind of covers anything else that might be going on.
T: Starts with a lighter version of the sweetness from the aroma, leading into a mild grain middle and a slightly tart fruit finish.
M: Medium body, medium carbonation.
Overall, just OK. The sweetness is kind of overbearing. I wouldn't seek this out again, and Mill St has much better offerings.
607 characters

2.97
/5
rDev
-17.5%
look: 2 | smell: 2.5 | taste: 3 | feel: 3.5 | overall: 3.5
Appearance: A murky unfiltered copper colour with the barest signs of carbonation. The head is practically non-existent even after a fairly aggressive pour.
Smell: Bready malt with a fruity yeast kick with orange and coriander notes with a touch of pear. It's just far too subdued, although warming helped it's case slighty, pronouncing the musty yeast a little bit more.
Taste: The yeast is very reminiscent of a Belgian beer, as it dominates the profile of this beer. It's starts out subdued as mild malt manages to hold it in check, but then quickly hogs the spotlight as it offers a mixture of pear, orange and spice with berry notes, all accompanies by a dry musty yeast taste which then ends with a slight alcohol twang. It begins a bit more balanced when cool, but gets out of hand as it warms.
Mouthfeel: I can't stand a beer without head, but this one makes up for it with leaving only a nice like malt and spiced orange aftertaste. Carbonation is fairly standard stuff, as is the transistioning.
Drinkability: Normally something with that much of a dry yeast character wouldn't do it for me, but the alcohol twang at the end does surprising wonders here. I can see this going good with pork or lamb.
Final Thoughts: Being my second Bier de Garde (the first being Gavroche) I'd like to say they really should have pulled back the yeast and let more malt character in. Sure, it's better then a generic lager, but it just seems to me to be a very occasional drinker. This is a beer that epitomizes seasonal, as it quickly wears out it's welcome.
1,557 characters

2.83
/5
rDev
-21.4%
look: 3 | smell: 3 | taste: 2.75 | feel: 2.75 | overall: 2.75
Dark amber colour. Smell is faint getting barley and molasses - sweet smelling without much complexity. Taste is kind of flat mostly caramel and vegetable/grassy notes that dissipates kind of quickly... wondering if more carbonation would help here to perk up the taste, as well as the feel. I can see this being an almost cloying taste and mouthfeel on a warm day... wouldn't mind this as an after-dinner type beer with cheeses (I think the label suggests pairing with cheese). Not something to pop open at the cottage or by itself- probably best paired with food.
565 characters
Mill Street Ambre De La Chaudiere from Mill Street Brew Pub
3.6
out of
5
based on
32
ratings.