Mill Street Barley Wine
| Mill Street Brew Pub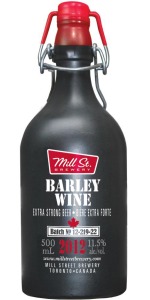 BEER INFO
Brewed by:
Mill Street Brew Pub
Ontario
,
Canada
millstreetbrewpub.ca
Style:
English Barleywine
Alcohol by volume (ABV):
11.50%
Availability:
Fall
Notes / Commercial Description:
2012 vintage is barrel aged 6 months in Jack Daniels Whiskey barrels. Red waxed swing top.
Added by korguy123 on 10-29-2012
Reviews: 8 | Ratings: 27
4.32
/5
rDev
+24.1%
look: 4 | smell: 4.5 | taste: 4.5 | feel: 4 | overall: 4
Black ceramic swing top into snifter. Red waxed top.
Slightly hazed dark copper pour with ruby highlights. Half finger white head. Lacing is minimal.
Short bread, dark stone fruits, brown sugar, some vanilla and oak shining through. The whiskey is there but isn't over powering. Light chocolate and cherry in the mix.
Brown sugar, vanilla, dark stone fruits, strawberries, shirt bread cookies with a touch of oak. Whiskey again is there but very subdued. It's just shy of the perfect amount of whiskey. The alcohol it's very very well hidden.
Medium body with decent carbonation. Sticky on the lips.
My very first experience with the base barley wine was a 2009 and I had no idea what I was getting into. "It's soo sweeet, so much alcohol!" 2011 I tried another bottle and really enjoyed it. NOW fast forward to tonight. My goodness it is amazing what a little barrel aging does. Very good!
905 characters

3.93
/5
rDev
+12.9%
look: 4.5 | smell: 4 | taste: 4 | feel: 3 | overall: 4
Bottle from the LCBO, 500ml ceramic swingtop. Waxing this seems stupid.
Translucent burgundy body, with a cream cap. Decent lacing and fairly decent retention. Nose has some faint caramel and fruit notes, sweet malt,light oak/wood and perhaps a suggestion of butter/vanilla. Whiskey is light. Tastes has alcohol, sweet caramel malt, syrup, vanilla and a bit of oak. Not a lot in terms of whiskey, but I can sense it partially. Metallic notes that I thought were dominant when this was colder disappear as this gets closer to room temp. Sweet, sticky and malty. Low carbonation and smooth feel. Actually turned out to be a nice drink, despite my apprehension for revisiting this beer after many disappointing outcomes in previous years. Still a bit pricey at $13 a bottle for the product, so there's hesitancy to purchase further bottles.
838 characters
3.73
/5
rDev
+7.2%
look: 4 | smell: 3.5 | taste: 3.75 | feel: 4 | overall: 3.75
Thanks to Dezzie for sharing.
A - Poured into a Kate the Great tulip a nice hazy caramel hue with a thin head that fades to leave light wisps.
S - Aromas of nice caramel and toffee, good sweet malts.
T - Taste is similar to the nose, very sweet caramel sauce, light toffee. Rather nice subtle hops.
M - Mouthfeel is lightly carbonated, alcohol hidden very nice.
O - Overall this is a rather solid barley wine, little to caramel forward.
Serving Type: bottle
465 characters

3.64
/5
rDev
+4.6%
look: 3.25 | smell: 3.5 | taste: 3.75 | feel: 4 | overall: 3.5
500 mL ceramic swing-top bottle from the LCBO; Batch No. 15-351-352 (bottled Oct 13 2015). Listed at 11% and served at cellar temperature.
Pours a hazy orange-amber colour, with one half centimetre of loose, soapy, off white-coloured head seated atop. It dissipates quickly, leaving behind a thin, bubbly collar. No cap; minimal lacing. The aroma includes notes of sponge toffee and butterscotch, with fruity hints of nectarine, maraschino cherry, golden raisin and baked apples. I can also detect some floral hoppage and a good whiff of ethanol.
Saccharine and boozy flavour profile; lots of fruity esters. Toffee and caramelized sugar sweetness provide the base, overlain with notes of apricot, cherry, baked apple, plum and raisin. Floral hops and candied citrus on the back end. Finishes resiny, earthy, and with plenty of boozy warmth that carries on into the persistent aftertaste. Full bodied, with light carbonation and a smooth, creamy mouthfeel. This is the sort of beer that makes sense to share: 500 mL isn't a huge serving, but it's still enough to last one person the better part of 3 hours. By that point, I was starting to tire of it.
Final Grade: 3.64, a B. Mill Street's Barley Wine is a brew that I have passed over for years now - mostly because of the price, but also because of its somewhat lukewarm reviews. In all fairness, it's a passable barleywine, but not one that strikes me as particularly memorable - and I still wouldn't say it's worth the 13 or 14 dollars per bottle. Good I suppose, but not that impressive - this brew would likely benefit from a year or two in the cellar, but for the price that a second bottle would ding me, I don't really care enough to find out.
1,704 characters
3.6
/5
rDev
+3.4%
look: 4 | smell: 4 | taste: 3.5 | feel: 3 | overall: 3.5
Hopsolutely saved one of these for me this past summer. Thanks heaps for thinking of me!
From a 50cl ceramic swing-top bottle into a snifter
Batch 13-331-4
Barleywine aged in whisky barrels
APPEARANCE: Pours a one finger, medium looking, creamy, off-white head with good retention. Clear burnt orange with lower levels of carbonation evident. Head slowly fades to a full wisp and clings to the sides of the glass. A swirly wisp remains until the end and leaves some falling dots as the glass empties. Good looking b-wine.
SMELL: Caramel, toffee, red fruits, oak, whisky, and a touch of maple sugar as well. Malty and aromatic for sure, with just enough whisky barrel to add a layer of complexity. Bold and rather nice.
TASTE: Toffee, caramel and red fruit sweetness up front, with some maple syrup notes at the swallow. A bold and boozy finish of oak, maple and caramel sweetness, light whisky flavors and a touch of hop bitterness as balance. Sweet and fruity, but a bit harsh and boozy still.
PALATE: Medium-thinner body and medium levels of carbonation. A bit creamy on the palate, goes down a touch prickly and finishes a bit sticky. Heat lingers. A bit too thin and prickly, but passes for the style.
OVERALL: This is a good brew that started out with a lot of potential. While the look and nose were inviting enough, the flavor was just a touch too boozy to keep pace and the feel a bit too thin and boozy to round off the experience. A good beer but not something worth writing home about just yet. I'd like to try a future batch of this as I think it's just a little bit of tinkering away from being excellent. Cheers again hopsolutely! Enjoyed this one.
1,678 characters
3.25
/5
rDev
-6.6%
A: Dark bronze hazy colour almost red with a 2 finger head that dissipates quickly and a off white colour.
S: Strong Sour cherries and some peach, a very fruity smell, it has some vinous characteristics and a slight booziness in it. It has a very appealing smell, almost inviting.
T: Very disappointing taste, none of the delicious smells is transferred to the flavor. It has some sweetness to it followed by a very tin bitter taste. There are some dark fruits but all this dies in your mouth fast not tasty at all.
M: The mouth feel is just right. Mid body and mid carbonation, has a winey feel in the back which is nice, the alcohol is well hidden but noticeable.
O: Great looking and smelling beer, but that's it, the flavor was very disappointing for a 13$ beer I feel this is unacceptable, I could of buy other good stuff for the 26$ the 2 bottle costed me.
869 characters
2.83
/5
rDev
-18.7%
look: 3.5 | smell: 3 | taste: 2.5 | feel: 3 | overall: 3
Poured in to CBS snifter.
A - Medium amber with a ruby glow around the edges. A thin layer of tan coloured head formed and slowly receded to a few scattered bubbles.
S - Barrel characteristics are fairly subdued, which is odd for a barrel aged barleywine but they are still faintly noticeable in the nose with light oak and whiskey aromas present. Big sweet caramel and toffee aromas dominate with some brown sugar and a big alcohol presence.
T - Barrel comes through at first with whiskey and oak. Sweet caramel, toffee and brown sugar flavours then take over and after a few sips the barrel qualities are barely noticeable, completely fading in to the background. After a few sip this becomes extremely sweet and very boozy and somewhat difficult to drink.
M - Medium body. Somewhat thin at times. Light carbonation.
O - Would love to see the ridiculous ceramic bottle that no doubt impact the price point, become a thing of the past. This is not worth the hefty price tag and is difficult to finish 500 ml of unless you share it.
1,042 characters
2.75
/5
rDev
-21%
look: 4 | smell: 4 | taste: 2 | feel: 3.5 | overall: 2
Bottle from LCBO. Do not buy this expensive barleywine again. Americo did to make our min tasting, and to see if whiskey barreling made a difference. It did. A nice whiskey aroma. But the base taste is as horrible or worse than ever. gelatin mouthfeel. Orange yellow coloured with some lace and a bubbly head. Bitter finish. Very poor for style or anything to drink.
366 characters
Mill Street Barley Wine from Mill Street Brew Pub
3.48
out of
5
based on
27
ratings.