Mill Street Doppel Pils
| Mill Street Brew Pub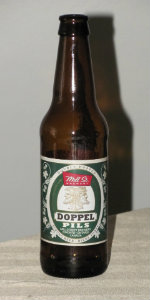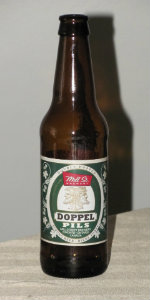 BEER INFO
Brewed by:
Mill Street Brew Pub
Ontario
,
Canada
millstreetbrewpub.ca
Style:
American Double / Imperial Pilsner
Alcohol by volume (ABV):
7.00%
Availability:
Limited (brewed once)
Notes / Commercial Description:
No notes at this time.
Added by TheHammer on 11-04-2012
This beer is retired; no longer brewed.
HISTOGRAM
Ratings: 37 | Reviews: 18

3.6
/5
rDev
+3.2%
look: 4 | smell: 4 | taste: 3.5 | feel: 3 | overall: 3.5
355ml bottle poured into tulip 5/12/12
A clear golden yellow with lots of streams of bubbles going up the sides, thumbs width of foam falls to a thin film after a few sips leaving a single ring of lace
S loads of grassy noble hops, some citrus and honey mixing with biscuit and bread, just a little booze and sweet toffee
T more booze and less of the grassy hops that was working for the smell, a little sweet and just a little cardboard and lemon
M a little foamy and not the smoothest beer going down, just a little booze burn and a strange sweet malt liquor like finish
O looked and smelled solid but didn't quite carry through, decent brew but I was debating 4.5 for the nose but it was a high point in the brew
decent Imperial Pil but there's room for improvement, I like the Noble hops but starts to remind me of corny malt liquor but the time it warmed up
869 characters
3.98
/5
rDev
+14%
look: 4.5 | smell: 4 | taste: 4 | feel: 3.5 | overall: 4
A - Bright clear golden, tall white head went above the rim and retained endlessly
S - Grassy, grainy, light metallic, light bready
T - Dry grassy and metallic hops, significant bready malt backbone, light pepper
M - Medium to light body, has the crispiness of a classic pils with a bit of breadiness
O - A style I've rarely seen around, hoping to find more, this is a good one
381 characters

3.53
/5
rDev
+1.1%
look: 4 | smell: 3.5 | taste: 3.5 | feel: 3.5 | overall: 3.5
Appearance: It has a nice semi-cloudy golden/yellow color to it. It has a nice white head that dies down moderately and leaves some nice lacing.
Smell: The aromas definitely give out hints of grainy malts, grassy hops, some breadiness and some citrus.
Taste: Like the aromas, it has some sweet grainy malts, grassy/floral hops, some breadiness and light citrus.
Mouthfeel: It has a medium carbonation with a nice overall balance and feel.
Drinkability: It's a very smooth drinkable beer accompanied with decent flavors and aromas.
537 characters
3.58
/5
rDev
+2.6%
look: 4 | smell: 3.5 | taste: 3.5 | feel: 4 | overall: 3.5
Crystal clear amber pour. Three finger snow white head. Lacing is glued to the glass.
Sweet pilsener malts, digestive cookies, lemongrass, and light citrus.
Pilsener aroma? Yup. Double hopped? Doesn't seem like it.
Caramel and digestive cookies, crisp, clean pilsner flavors. In the finish I'm getting an interesting popcorn taste.
Light body, decent carbonation, slightly chewy.
384 characters
3.68
/5
rDev
+5.4%
look: 4 | smell: 3.5 | taste: 3.5 | feel: 4 | overall: 4
A - Pours a light copper colour, finger of head with some retention and some nice sporadic lacing.
S - Scent is mild but and is dominated by grainy grassy hop notes, buttered bread and toasted crackers.
T - Again a tad mild, grainy bready malts dominate, hints of grassy hops, citrus zest and a ABV sweetness. A grassy wheat and bready flavour lingers alongside a citrus bitterness.
M - Medium bodied, smooth and wet.
O - A tasty brew that boasts a decent flavour profile. By no means mind blowing, but respectable and easy drinking. The higher ABV is relatively well hidden making this potentially sessionable.
615 characters

3.5
/5
rDev
+0.3%
look: 3.5 | smell: 3.5 | taste: 3.5 | feel: 3.5 | overall: 3.5
Pale golden colour, cap of whiteish head, light lace. Smell is malty with sweeter caramel, grassy and zesty hops, lemon, fruity with some apple and pear, little whiff of alcohol. Taste is of grainy malt, some bitter hops, lemon, apple juice like flavours, fruity sweet finish. Light carbonation, medium bodied, bit of thickness at parts. This was OK but something easily forgetable I would say.
394 characters

3.45
/5
rDev
-1.1%
look: 3.5 | smell: 3.5 | taste: 3.5 | feel: 3 | overall: 3.5
355ml Bottle from the Ottawa LCBO - Part of the winter mix 6 pack for 13$
Appearance - Clear gold colour with an average size fizzy white coloured head. There is an average amount of carbonation showing and there is some faint acing. The head lasted for 2-3 minutes.
Smell - Breads/grains, noble hops, corn
Taste & Mouth - There is an average amount of carbonation and I can taste corn mixed with some malts and grains. There is also some noble hops and some grassy/herbal flavours along with a caramal/cookie sweetness. It ends with a bit of a lingering bitterness.
Overall - Not bad at all.. it just seems to have a little too much sweet malt flavour to it. A decent addition to a mix 6 pack but not something I'd want an entire 6 pack of. Another above average beer fro this brewer.
789 characters


3.79
/5
rDev
+8.6%
look: 4 | smell: 5 | taste: 3.5 | feel: 2.5 | overall: 3.5
Got this from their 10th anniversary Winter Mix pack.
Appearance: Poured with two solid fingers of frothy head with a golden blonde body that boast ample carbonation. Moderate lacing although turned into a mere froth island of head in short order.
Smell: Fruity and floral as health doses of grapefruit, orange and hops compliment a pear and apple malt, which is reigned in by a floral note that reminds me of Azaleas. Didn't take a lot of warming to come out, and given that this is meant to be a double hopped pilsner, I'd say it just squeaks in at a perfect score.
Taste:The floral hops are the dominant flavour throughout the beer, as the mild caramel malt with a pear hint doesn't seem to make much of an appearance, as the floral hops trump it only to rise to meet it's more citrus counterparts, and still come out on top. It's a little bit too hoppy for my liking, but the balance of hops is interesting.
Mouthfeel: The first sip of this beer was crisp and refreshing. Over time though, the hop oil cling begins to set it, leaving a filmy taste and builds an unpleasant sharpness. The mild floral aftertaste somehow manages to remain nice, even though it so dominates during the drinking of the beer. Good carbonation though.
Drinkability: The carbonation gets a little bit out of control on this one, and as stated with the mouthfeel, it be becomes harder to drink, the more of it you have. It manages to stay crisp enough though and refreshing enough though.
Final Thoughts: I'll salute Mill St for brewing a higher hop pilsner well, and if you are a hop head who enjoyed Mill St. Pilsner, this will be a great beer. However, for me the hop character drowns out the malt and mild fruity yeast elements. Still good though.
1,736 characters
Mill Street Doppel Pils from Mill Street Brew Pub
Beer rating:
3.49
out of
5
with
37
ratings