Harry's Wine & Liquor Market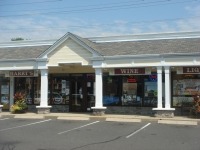 PLACE INFO
Type:
Store
2094 Post Rd
Fairfield
,
Connecticut
, 06824-5674
United States
(203) 259-4692 |
map
harryswine.com
Notes:
No notes at this time.
Added by BeerAdvocate
Reviews: 11 | Ratings: 18

3.5
/5
rDev
-7.7%
Went here on a recent visit to the area. This is a pretty sizeable liquor store that has a decent craft/import beer selection. AS you walk into the establishment, you have a section with local/regional breweries, a walk in cooler at the back wall and to your left hold the belgian and German imports as well as a section of sours. They had a nice selection, including some St Bernardus 4, which I had never seen anyplace. The prices on their beers were very fair considering the location and the service was okay if not spectacular. It is definitely worth a stop if you are in the vicinity.
595 characters

3.99
/5
rDev
+5.3%
vibe: 4 | quality: 3.75 | service: 4 | selection: 4.25
I have been a relatively frequent customer at Harry's for 2 years. It is one of the top three in Fairfield in my opinion (Mo's and Whole Foods are the other two), although pricing seems much higher 20-30% on some of the special/hard to find brews.
-very good selection of regional and international brews
-Renzo (beer guy) seems knowledgable and willing to help or direct people
-The store usually gets at least a case of some of the harder to find special releases but sells out quick like anywhere else
506 characters

4.15
/5
rDev
+9.5%
Went to Harry's to buy some beer and wine before the Thanksgiving Holiday the other night. It was a very nice store located on the Post Road, in a bit of a strip mall looking area. I noticed that they do a craft beer tasting every Friday at the store. We had a lot of various family events going on, so I am unable to report on the quality of the tasting.
When I was searching for beer at Harry's I was pleasantly surprised to find Beer Advocate signs all over the place. Example, Harpoon IPA would have a sign in front that would say Beer Advocate A-, B, or what ever the rating was. Really impressed with that. If there wasn't a BA sign it had the Rate Beer rating.
Although the beer in the coolers wasn't as extensive as I had hoped, the individual bottles near the register was quite nice. Various Trappist Ales, German lagers, Italian micros, plus a nice selection of US crafts. Maybe, I wasn't overly wowed by the selection because they had been picked thin the day before Thanksgiving. All in all, I was happy with my experience at Harry's, and would definitely stop in again.
1,087 characters
2.6
/5
rDev
-31.4%
This is easy to get to from 95 but not worth your time unless you want to get taken advantage of. Mo's is much better and just as close from the highway (also on Post Rd). The selection is good, lots of Belgians and a reasonable choice of USA craft beers.
But anything considered good or difficult to get was priced at GOUGING prices. Black Ops was available for $29.99 (most expensive I've seen) and Imperial Stout Trooper was $19.99 ($5 more than Mo's). I called attention to these extreme prices and was told by the beer guy, one of the great douches of our time, that these were his last few. He made some lame jokes about rarity but truthfully he just hates beer geeks. He wasn't helpful in the least, couldn't care less about his customers. I absolutely recommend to AVOID THIS PLACE!
792 characters

3.7
/5
rDev
-2.4%
Located right along Route One in Fairfield, Connecticut is Harry`s Wine & Liquor which as noted earlier in the comments section here caters mostly to the market purchasing mid to high end priced wine... however they do have a better than average beer selection.
They carry quite a few selections from B. United, which is always nice as well as others from some of the other distributors. I picked up a bottle of Lindeman`s Gueze when I stopped here. I will most certainly stop by when in the area again.
504 characters
3.65
/5
rDev
-3.7%
Harry's is a relatively small liquor store located off post road between exit 21-22 off I-95. It primarily caters to wine enthusiasts, however it has nice beer selection tucked away in the middle of the store. It isn't a very large selection but a good selection at that. It has many of the American micros like dogfish head, victory, etc. It also has a good selection of belgium and belgian style beers like La Choufe, Allagash, Trappists Rocheford 8 &10, Unibroue, etc. German beers can also be found here as well such as Augistiner, Warsteiner, and Paulener.
The beer guy there is also quite knowledgable and often shares his recent tastings and favorites with you. The last time I went in with two of my friends, we maybe bought 20-30 dollars worth a beer each from the import section and he even threw in 3 free Sam Adam's glasses for our purchase.
Overall, it is a good little store that is worth stopping by if you are in the area or driving by. However, I would not travel far distances to get here with stores like Mo's Wine and Spirits right down the road.
1,071 characters

3.7
/5
rDev
-2.4%
My second Post road stop in Fairfield, not all that easy to spot from the road, kind of back a ways and no major signage. Upon entering, I got the immediate impression that this place is trying to cater to the higher end of the wine-booze -beer market, "upscale" comes to mind. Some classical music playing, lots of dark wood wine racks and in the middle a display of beer, with a large sign telling me this was "specialty beer" They have a medium sized selection, sort of hit or miss with if they will have what you like. I seems like they are very selective in what they pick to offer. This is not a place I would go for my everyday beer selections, but it might come through with something harder to find. I'm sure they move a ton of pricey wine here, for beer, I doubt I'd come back.
787 characters
3.85
/5
rDev
+1.6%
visited this shop on my way to norwalk last week. currently they have some roadwork and detours between the 95 s/b exit and the store, so it got a bit confusing. clearly marked once i got there, bigger than i imagined.
mostly dedicated to wine, but refusing to neglect the beer. brew section is in the middle of the store, and mostly wrapped around the center support beam. a very expertly picked selection of imports (not too many, but a great variety) including all the highlights of the current b united line (cassissona, saison d'erpe-mere, uerige dopplesticke).. good micro us selection as well, allagash, southern tier, flying dog and dogfish were on display.
cases stacked on the floor as the display section is big enough only for the big bottles and featured highlights.
when i was there, there was a beer tasting (wheat beers) going on. the beer guy (i forget his name) was answering questions, offering intelligent beer conversation, and making good recommendations. signed up for the email list, and i see these tastings are weekly. if i lived in the area i'd hit them all.
not the biggest selection but they make up for it with care, knowledge, and commitment to good beer. when in the area, i will make it a point to stop here... either for a tasting or to see what limited edition beers they have (rumor has it they were the only store in the area to get allagash 10th.. that's worth a stop now and then!)
1,433 characters
3.8
/5
rDev
+0.3%
I used to live w/in walking distance to Harry's, I regularly gave my credit cards a workout there. It's a small to average sized store with most of the space devoted to wine. Beer selection is definately better than average. They carry Brooklyn, Allagash, Anderson Valley,Ommegang, Magic Hat, Geary's, and the rest of the usual NE brews. They also have a nice selection of Imports, including lots of Brittish brews and Belgians. They always stock a few Fantomes including Black Ghost. They also have La Chouf, Chimay, Orval, Lindemans, and a few others. Service is as good as it gets too. Worth a stop if you are in the area.
625 characters
3.85
/5
rDev
+1.6%
Conveniently located on Rte 1 just off I-95, a stone's throw from the Southport Brewing Co., this is really just a nice wine store with a small but surprisingly tight beer selection. I grabbed a bottle of the Cisco Brewers Moor Porter and an Aventinus Weizen-Eisbock yesterday. You can always get a full array of some American micros like Magic Hat, Brooklyn and Otter Creek, and there's a good collection of Belgians, British, German and Euro's otherwise, plus meads and lambics to be found here. Some nice finds here. Pricey, but not crazy pricey and a helpful staff in-the-know. This is the kind of store I like to hit infrequently on the off chance of finding something different that I won't see elsewhere, and I usually do.
729 characters
3.9
/5
rDev
+2.9%
One of the nicest all-around liquor stores in the area, and their beer selection appeals accordingly. Not a huge selection by any means, but some quite rare gems that are difficult to find elsewhere. Most of the goodies are Belgians and Brits (Bluebird Bitter, N'ice Chouffe, many others); US micros are pretty select (Brooklyn, Allagash, Otter Creek, Anderson Valley) and not tons of Germans, although they do have Einbeck and St Georgenbrau, 2 must-drink classics. Also some interesting items like cider, mead, gueuze and La Chouffe Coffee Liqueur. Prices high but that's in keeping with the area. A very good store, visually appealing and an obscure selection which, although not huge, is tantalizing enough to keep me coming back when I get bored of my local packie. (Increasingly often, these days.)
804 characters
Harry's Wine & Liquor Market in Fairfield, CT
3.79
out of
5
based on
18
ratings.