Puddle Jumper Pale Ale
| Third Street Aleworks
BA SCORE
84
good
11
Reviews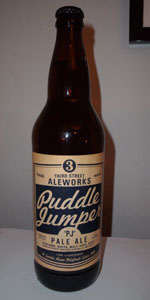 BEER INFO
Brewed by:
Third Street Aleworks
California
,
United States
thirdstreetaleworks.com
Style:
American Pale Ale (APA)
Alcohol by volume (ABV):
5.70%
Availability:
Rotating
Notes / Commercial Description:
No notes at this time.
Added by litheum94 on 09-24-2011
Reviews: 11 | Ratings: 42
3.76
/5
rDev
+3%
look: 3.5 | smell: 3.75 | taste: 3.75 | feel: 4 | overall: 3.75
Bottled 1/19/16.
Pours a hazy honey orange with a foamy khaki head that settles to a partial film on top of the beer. A foamy lattice of lace coats the glass on the drink down. Smell is of citrus fruit, candied citrus zest, caramel, and pine needle aromas. Taste is much the same with caramel, citrus zest, grapefruit juice, and pine needle flavors on the finish. There is a mild amount of bitterness on the palate with each sip. This beer has a good level of carbonation with a crisp mouthfeel. Overall, this is a pretty good beer with a nice caramel presence that works with the hop qualities.
Serving type: bottle.
620 characters

2.91
/5
rDev
-20.3%
look: 4.25 | smell: 3.25 | taste: 2.5 | feel: 3.25 | overall: 2.75
I have to give the look of this beer very high remarks--the simple stylish text label is great, and the beer is mega frothy and quite dark for a pale ale.
This beer tastes like a home brew experimental failure. It's immediately very sweet and watery, and then follows with a strange bitter lagery malt. The finish is a rotten bitter mess. All the wrong flavors at all the wrong times. This 22oz bottle was given to me as a gift, I would have been upset if I bought it myself.
481 characters

3.86
/5
rDev
+5.8%
look: 4.5 | smell: 4 | taste: 3.75 | feel: 3.75 | overall: 3.75
Poured a finger and half of head on a clear, dark straw colored body.
The aroma is grapefruit, through and through.
The taste is strong bitterness, a bit dry and all grapefruit again.
The texture is smooth with moderate carbonation.
It's a strongly bitter pale ale and good for it.
281 characters

3.84
/5
rDev
+5.2%
look: 3.75 | smell: 4 | taste: 3.75 | feel: 3.5 | overall: 4
Handsome golden amber in the Stell glass with plenty of foam. Flowery aroma.Sudsy mouthfeel but fairly coarse.
A thoroughly drinkable Pale Ale that is not overly bitter, and has just enough malt. THe browned biscuit flavor with a touch of the herbal with some flowery hops. Slightly resiny. It's really the classic flavor. Long aftertaste of hops with bready, cereal flavor and bitter finish.
From the 22 oz bottle bought at Coit Liquor in San Francisco.
456 characters

3.85
/5
rDev
+5.5%
look: 4 | smell: 4 | taste: 3.5 | feel: 4.5 | overall: 4
Clear, light orangish yellow - very pale. Thick white head that dissipates pretty quickly leaving moderate lacing.
Mostly hoppy aroma - citrus, a little bit of pine, grapefruity. Not a lot of malt aroma - definitely all about the hops. Smells like a good, fresh IPA mostly, which is fine, but maybe not so true to style. It does smell very nice regardless.
I'm getting most of the hops I smelled in the taste here too, although not quite as much of a punch as the smell suggests. Again, that's fine though, for the style - would expect it to be light. Also like the smell, the malts are pretty much covered up for the most part. I detect a little bit of biscuit, some caramel, lightly toasted backbone - slightly stale, but definitely pretty good. The staleness I'm tasting from the malts seems to linger the longest in the aftertaste though. The balance is good here - just seems to lean more IPA than APA.
Light, crisp, refreshing. Moderate carbonation. Very nice.
Overall not too bad. A basic, yet hoppy APA that leans a little more session IPA to me, but that's fine in my book. I'd definitely get this one again, especially given the low price.
1,153 characters
3.75
/5
rDev
+2.7%
look: 4 | smell: 4 | taste: 3.5 | feel: 3.5 | overall: 4
This was a nice pale.Enjoyed on tap at the brew pub. Light orange coloured with a nice sized head. Good hop aroma, some herbs, IPA level of hops. West Coast hops delivering some grapefruit and orange flavours brewed right and boldly.Some caramel adding to drinkability.
269 characters

2.93
/5
rDev
-19.7%
look: 4 | smell: 3.5 | taste: 2.5 | feel: 2.5 | overall: 3
Deep gold, it has a medium off-white head, creamy, slowly shrinking to thin foamy top, then to foamy ring and wisps, some foamy lace.
Aroma is passionfruit, hint of grapefruit, grapes, hint of caramelized barley – pretty good, bright, clean, but standard West Coast US aroma.
Taste is a thin, one-dimensional, basic and off-balance standard West Coast US pale ale – mostly a spicy grapefruit-rind bitterness with hint of white grape juice and cracker sweetness underneath. It is a bit soapy-perfumy and the bitterness lingers well past its welcome.
554 characters

3.8
/5
rDev
+4.1%
look: 4 | smell: 4 | taste: 3.5 | feel: 4 | overall: 4
Bottle purchased in Santa Rosa for $3.99. Going to give it a try. Poured into a tulip.
A: Nearly clear, sunburst orange with 1 finger thick white head which leaves filagree lacing as the head recedes to the edges of the glass.
N: Grapefruit citrus, onions, floral and faint pine.
T: Mild tinge of citrus hops and mellow malts combined well.
M: Semi-moderate body and medium carbonation. Slightly dry and bitter finish.
O: Not bad, not great. For the price, it's hard to beat. Enjoyed.
489 characters
3.23
/5
rDev
-11.5%
look: 3.5 | smell: 3 | taste: 3.5 | feel: 3 | overall: 3
Puddle Jumper is a Pale Ale made by 3rd St. Aleworks up in Santa Rosa, CA., about 15 minutes from my home. Having realized that I never tried out any of their beers, I decided to grab the cheapest 22 they sold at my work (Oliver's Market, 22oz, $4+CRV/Tax) and give it a try.
First impression of the beer starts with the packaging. It's simple and straightforward. Ingredients are listed right on the front of the bottle: "Water, Malt, Hops, Yeast". Otherwise the packaging doesn't really jump out at you -- it has the name in a cursive kind of script, minimal design, all the information you need and not much else. Not a downside mind you, just minimalist and straightforward.
Upon opening and pouring, things still remain fairly average. It's a little darker than I expected, but still a good amber color. Head was minimal, but then again I'm always careful to minimize the head so take that as you will.
The beer exhibits a strong smell of hops, with a little citrus aroma. Nothing major on the citrus, just mainly hoppy. Again, fairly average.
Upon tasting it however, I was surprised. The beer was far less bitter and hoppy than I expected given the strong hop aromas in the nose. It's smooth without being too thick, hoppy without being too bitter, and overall the flavors are pleasant and well balanced. The hops delay their intro and exit quickly leaving for a short performance that nicely contrasts the otherwise reasonably mellow taste.
Overall the beer is a little better than average but not exceptional. Certainly not a bad drink for $4, and an enjoyable Pale Ale that isn't as powerful as an IPA or as mellow as the golden ales and Hefe-weizens I've been drinking normally. I wouldn't go so far as to recommend it, but I wouldn't advise people steer clear either. If you're holding it in one hand and a five in the other, then sure, why not, right?
1,869 characters
3.85
/5
rDev
+5.5%
look: 3.5 | smell: 3.5 | taste: 4 | feel: 4 | overall: 4
Beer from these guys just started showing up at my work. Had to try it out since I've never heard of 3rd Street Aleworks. Poured from a 22 into a Bruery tulip.
Color is a super bright clear orange with a billowy one-finger head that I imagine will disappear quite quickly.
There's a strong earthy hop smell. Gettin' a bit of orange citrus, but there doesn't seem to be a super strong aroma.
Very strong flavor of candied oranges with a slightly sharp bitterness on the finish. Nice and clean.
Light bodied with medium carbonation, the mouthfeel works well with the clean flavor to make a beer that would be awesome on a hot day in the park. I think I'll have to try out their other two beers that I've seen at the store.
727 characters
4.47
/5
rDev
+22.5%
look: 4 | smell: 4.5 | taste: 4.5 | feel: 4.5 | overall: 4.5
Clear golden body. With a tiny white head. Leaves slight lacing on the glass.
Explosion of fruit: peach, pineapple and grapefruit. Some floral perfume aromas as well. Subtle malt profile, mostly biscuit.
Good punch of bitterness, floral and woody. Juicy grapefruit and peach. Malts are again subtle, with toasted tones. Finish with citrus fruit and a good bitterness.
This is a great beer. I like to refer to it as a session Sculpin. For a brewery that makes mostly average beer, they struck gold on this one.
521 characters
Puddle Jumper Pale Ale from Third Street Aleworks
3.65
out of
5
based on
42
ratings.