Edelmeister
| Browar Van Pur S.A. (Brau Union Polska)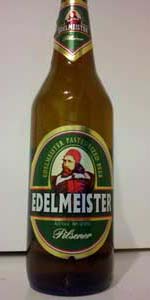 BEER INFO
Brewed by:
Browar Van Pur S.A. (Brau Union Polska)
Poland
vanpur.com.pl
Style:
German Pilsener
Alcohol by volume (ABV):
4.70%
Availability:
Year-round
Notes / Commercial Description:
No notes at this time.
Added by gfreed on 03-01-2010
Reviews: 6 | Ratings: 13
Reviews by stoutman:
2.68
/5
rDev 0%
look: 3 | smell: 2.5 | taste: 2.5 | feel: 3 | overall: 3
Mild lacy white head. Clear thin bright watery yellow straw color. Crisp Polish hop front. Refreshing smooth watery mild butter caramel citrus Pils body. The nose is fairly fresh with a bit of light sweet pale malt. A touch of light noble hoppiness along with a bit of sweetness. It's a simple, but reasonably tasty brew.
Mild tangy crusty clean hop spice balanced crisp refreshing end. Nice mild Polish Pils.
410 characters
More User Reviews:

2.5
/5
rDev
-6.7%
look: 2.5 | smell: 2.5 | taste: 2.5 | feel: 2.5 | overall: 2.5
Clear yellow color with decent head, typical for a pale lager. Nothing much going on in the aroma or taste, just a generic, bland lager. Not bad but very boring.
161 characters

2.86
/5
rDev
+6.7%
look: 3.5 | smell: 2.5 | taste: 3 | feel: 2.5 | overall: 3
Bomber size bottle poured into a pint glass.
Pours very clear golden yellow with brownish tones. Virtually no foam.
Light lager smell with mild hop. Minimal.
Light malty taste with very little hop. Light and clean. Watery close. Very light carbonation in the mouthfeel.
Not spectacular, but not horrible either. Just ok.
324 characters
1.52
/5
rDev
-43.3%
look: 2 | smell: 1.25 | taste: 1.5 | feel: 1.5 | overall: 1.75
3.44
/5
rDev
+28.4%
look: 3.5 | smell: 3.25 | taste: 3.5 | feel: 3.5 | overall: 3.5
1.73
/5
rDev
-35.4%
look: 2.5 | smell: 2 | taste: 1.5 | feel: 2 | overall: 1.5
Edelmeister! Smells like urine and tastes blandly sweet. (It may also taste like urine but, fortunately, I've never had to chance to compare the two.) It's Polish, and that's somewhat exotic. It's got a pretty yellow color and some lively bubbles and a pretty white head, and... uh... hmmm... well, I'll stop there. Keep it away from your gob.
If you are given one, smile and drink it quickly and don't let it get warm or you'll be very sorry.
444 characters

2.88
/5
rDev
+7.5%
look: 3 | smell: 2.5 | taste: 3 | feel: 3 | overall: 3
"I married a German. Every night I dress up as Poland and he invades me."
--Bette Midler
Sun-faded gold with pale lemon borders and a pretty spiffy looking lid of piano key ivory. The cap has acceptable texture for the style (Euro pale lager, not German pilsener) and leaves very little lace in the end.
The mild skunkiness that was appreciated on the pour is gone (for the most part) when it's time for the actual sniff test. The nose includes untoasted grains and grassy-musky hops, with less nastiness than anticipated. Possibly because the 'best by' date is in the future rather than the past.
Edelmeister is pretty inoffensive lager. It's shockingly simple and is pretty well-balanced between gently sweet and gently bitter. The hops are reasonably fresh/bright and the finish is clean and borders on lightly crisp. Even though there's nothing new here, this is decent for what it is.
The mouthfeel fits the style and ABV. It's closer to light than medium, but never descends into frank wateriness. In addition, the bubbles are neither too buzzy nor too quiet.
Edelmeister is better than the other Brower Van Pur beer that I've reviewed (Premium). It's pretty inexpensive (a buck and change), so it might be worth a look. Then again, there are better brews out there... unless you have a hankering for a Polish pale lager and nothing else will do.
1,358 characters
3.2
/5
rDev
+19.4%
look: 3 | smell: 3 | taste: 3.5 | feel: 3 | overall: 3
What can I say about this beer?
Appearance is very average for the style - clean and clear pale golden color, with a pure white head which fades fairly quickly. A good deal of carbonation.
Smell is not much to speak of; mild non roasted grains are present up front, and weak hops and present in the distance.
Taste directly reflects the smell. Effervescent grains are the chief flavor, with mild hops detectable on the finish.
There is absolutely nothing wrong with this beer. Of course it won't taste very good if you try to drink it warm and after is has expired, but nothing else will either.
The only "problem" with this beer is the extreme averages of the entire experience. If you like Euro Lagers, this beer will not disappoint you - but don't expect to be wowed.
775 characters
Edelmeister from Browar Van Pur S.A. (Brau Union Polska)
2.68
out of
5
based on
13
ratings.