James Ready Lager

Moosehead Breweries Ltd.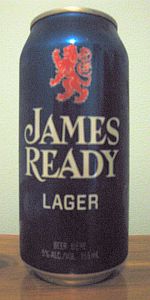 Beer Geek Stats
From:

Style:

ABV:

5%

Score:

Avg:

2.76

| pDev:

25.36%

Reviews:

3

Ratings:

Status:

Active

Rated:

Jan 26, 2016

Added:

Nov 14, 2012

Wants:

Gots:
Recent ratings and reviews.
Reviewed by ghisty from Canada (NB)
2.75
/5
rDev
-0.4%
look: 2.75 | smell: 2.75 | taste: 2.75 | feel: 2.75 | overall: 2.75
appearance:
clear. yellow. small lace. nothing of note. very clear.

smell:
corn. adjuncts. corn. maybe something sweet, may just be corn.

taste:
very minimal, more of just a beer texture, a slight grain, not bitter
not slick. just. normal beer.

mouth:
sharp like a lager, with no notable dryness from hops, nor malts,
just a somewhat crisp, short, average mouthfeel.

overall:
this basic lager is essentially the lower end of what is drinkable
in my books. it isnt bad in any particular way, unlike a few of the more
discounted similar offerings by moosehead. it lacks the offputting metalic taste or overly adjunct and sweet flavour of the other moose products.
its refreshing and serves the purpose of a drinkers lager really quite well.
there isnt any outstanding reason this beer is bad, but the same goes for the opposite, its predictable and drinkable. if its simple drinkable lager you are after, this isnt far off the mark of a party/fishing beer.
Feb 06, 2015
Reviewed by Subliminal64 from Canada (ON)
4.13
/5
rDev
+49.6%
look: 4 | smell: 4 | taste: 4.25 | feel: 4.25 | overall: 4
I have to say that this is going to be my everyday "normal" beer for the next while. I love J.R. 5.5, for the price, and for me this beer is even better.

This beer is brewed in the same brewery as Moosehead which makes perfect sense when you taste it. Very reminiscent of Moosehead Lager, a quality Canadian beer.

Appearence is a more pale golden colour. Lots of carbonation.

Smell is very neutral. Not weak, but not overwhelming.

Taste is awesome. Would rate it better then "the big brands". Strong, but not as strong as J.R. 5.5

Lots of carbonation, and goes down smooth. Little to no aftertaste.

I really enjoyed this beer. It will never be my favourite beer, but it will be my favourite cheap beer, hands down.

Give it a try. I don't think you will be disappointed.

MB
Oct 09, 2013

Reviewed by thehyperduck from Canada (ON)
2.67
/5
rDev
-3.3%
look: 4 | smell: 2 | taste: 3 | feel: 2.5 | overall: 2.5
355 mL can from TBS. I've had plenty of James Ready 5.5 in my day (primarily days where I was much younger and/or poorer), but this version is one I've never actually tried, or even heard of before today. I must be getting poorer, because I had an overwhelming urge to pick it up. Let's make this #8 in my "Lagers I probably wouldn't be desperate enough to bother with if there were better selection in this town" series of reviews.

Pours a clear, pale straw yellow colour, topped at first with two fingers of surprisingly long-lasted, frothy white head. It gradually dies down over the next five minutes, smearing the glass with a fine coat of lacing, and eventually leaving an uneven, foamy cap at the surface. I have to give it some props - this is, if nothing else, a good-looking lager. The aroma, however, will remain prop-less - it is a little grainy, but mostly corny and unappealing. And now that I come to think of it, smells pretty much exactly like the 5.5.

While the appearance and aroma ranged from notably (and respectively) impressive right down to off-putting, I have no real urge to lean toward either end of that spectrum when it comes to the taste. It's corny and bland, obviously, with no real hop presence and very little of anything resembling barley malt - but this is an adjunct lager, so that was a known possibility, if not outright expectation going in. It's not exactly unappealing, and it's definitely lighter/marginally less unappealing than the 5.5. Fairly clean finish. Thin-bodied, watery, with normal carbonation for the style (high). Doesn't seem as filling or bloaty as JR5.5, but maybe I have more space in my abdomen than usual today.

Final Grade: 2.7, a C-. As a pale, fizzy, yellow, lagery beverage, James Ready Lager is probably a little better than its (far more popular) big brother, 5.5 - but not enough to make much of a difference. The problem here is twofold: firstly, JR5.5 has gained so much popularity amongst cheap beer enthusiasts, that the best this brew can really hope for is to 'cannibalize' the sales from a few 5.5 loyalists. Secondly, it's worth pointing out that when your primary target demographic is comprised entirely of broke college kids and 20-somethings, the 5.5 abv beer is always going to win out (assuming identical prices). That's just science, and it presumably explains why I have never heard of this stuff until today - the market has got to be pretty limited. As an Ontario 'value lager', I'd have to give this a marginal thumbs-up - it's not bad for the price, but if you are only buying a pale lager because you want something cheap to drink socially, 5.5 is greater than 5.0. Math can be a cruel mistress - but she is cruel in an objective, absolute sort of way, so I am left unable to truly recommend this beer to anyone that isn't looking for ticks, as value brand lager lovers are honestly best off sticking with the classic.
Nov 14, 2012
James Ready Lager from Moosehead Breweries Ltd.
Beer rating:
2.76
out of
5
with
9
ratings