Black Mammoth Winter Ale
| Fernie Brewing Co.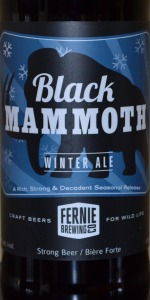 BEER INFO
Brewed by:
Fernie Brewing Co.
British Columbia
,
Canada
ferniebrewing.com
Style:
Winter Warmer
Alcohol by volume (ABV):
8.00%
Availability:
Winter
Notes / Commercial Description:
No notes at this time.
Added by schnarr84 on 01-19-2013
Reviews: 10 | Ratings: 17
3.72
/5
rDev
-5.1%
look: 4 | smell: 3.75 | taste: 3.5 | feel: 3.75 | overall: 4
Much more subtly spiced than I expected from the style and from some of the reviews already posted: there is indeed a touch of a "Terry's Chocolate Orange"-thing going on here, but it's quite subtle, paired with just a touch of hickory and a hint of bitter chocolate. A hint of coffee and marshmallow? But in a lot of ways this is just a really good, subtly spiced porter or stout.
When I think Winter Warmer, I tend to want a bit more (dark, plummy, stone-) fruitiness, but it's hard to complain about this respectable rendition of the style.
544 characters

3.73
/5
rDev
-4.8%
look: 3.75 | smell: 3.75 | taste: 3.75 | feel: 3.5 | overall: 3.75
650ml bomber poured into tulip 19/12/13
A looks almost black, cola edge goes half way to the other side, two fingers of loose mocha foam quickly falls leaving a few random patches of lace
S coco powder, cold coffee, faint licorice, orange pekoe tea, some burnt sugar, faint molasses and booze
T just a little charred wood to go with what I smell, a hint of booze but not much, much like the nose but just a little darker, the cold coffees more like espresso and there's a hint of root beer
M a little thinner then expected from the color but far from thin, a little heat and enough bubbles to give it some life, chocolate and licorice on the finish
O decent beer from Fernie, fairly straightforward but it is what it claims
respectable but nothing to blow you away, easy enough to drink for 8% and its priced well enough but I doubt I'll buy it again with so many others rolling in to Alberta
901 characters

3.75
/5
rDev
-4.3%
look: 4.25 | smell: 3 | taste: 4.25 | feel: 3.75 | overall: 3.5
A: Black, 2 fingers of mocha head which dissipates quickly, leaving nice lacing on the glass
S: Vanilla and chocolate malts, hint of bitter orange and a rich malt background
T: Rich maltiness, chocolate, slight orange notes, quite sweet, not much in terms of bitterness, chocolate malts dominate this brew, with orange peel as a kicker
M: Thick body, very rich and smooth, good amount of carbonation, very enjoyable bitter-sweet finish
O: Very tasty, the chocolate and orange are perfectly balanced by the malt sweetness, leading to a sweet but not too sweet winter warmer, beer is so rich you barely notice the 8% alc, maybe a touch too heavy
643 characters
3.82
/5
rDev
-2.6%
look: 4 | smell: 3.75 | taste: 3.75 | feel: 3.75 | overall: 4
650ml bottle. Another winter ale flavoured with orange and chocolate. Even though I've had enough of that particular combination to last until the end of 2013, as per usual, keep these winter beers a 'comin, I say. And, ok, submitting kiddo, now let the grown-ups have a go at this one.
This beer pours a very dark, chestnut brown hue, with slight cola highlights, and three fingers of puffy and foamy beige head, which leaves some drooping cirrus cloud lace around the glass as it evenly seeps away.
It smells of sharp, bitter orange rind, bittersweet cocoa nibs, lightly roasted, somewhat nutty caramel malt, a bit of Grand Marnier booziness, and tame earthy, leafy hops. The taste is thin chocolate syrup, toasted grainy caramel malt, ethereal fleshy orange citrus, an acrid earthy nuttiness, middling, flinty alcohol, and some struggling wet leafy hops.
The bubbles are pretty soma-esque, and little more, the body a sturdy medium-full weight, and mostly smooth, a slightly pithy essence the pea in this here princess' realm. It finishes off-dry, the cocoa really the only lingering mainstage player facing the dregs of the remaindered quasi-bitter hops.
A brash, relatively big winter ale - in a number of ways, even with one of the guest ingredients bailing out way too early. Thankfully its counterpart easily takes up the slack, and combined with the leavening hops and ABV, make for a tasty, heartening winter tipple, especially as these inhuman temperatures seem to be stuck in for a lengthened spell. Or not, that's part of the so-called fun, I guess.
1,566 characters
3.85
/5
rDev
-1.8%
look: 3.75 | smell: 3.75 | taste: 4 | feel: 3.75 | overall: 3.75
Appearance - Pours a dark cola brown with a finger width of frothy mocha head.
Smell - Cocoa, roasted malts, orange peel.
Taste - You get all the flavours as picked up in the smell. Nice spice palate (I think I detect nutmeg?). Warm flavours.
Mouthfeel - Medium bodied with moderate carbonation. Dry finish.
Overall - A unique twist to a winter ale by Fernie. Steers away from the traditional vanilla/cinnamon repertoire and goes for bolder, warmer flavours.
462 characters
4
/5
rDev
+2%
look: 4 | smell: 4 | taste: 4 | feel: 4 | overall: 4
Winner, winner, chicken dinner! This is an absolutely delicious winter ale. I'm not going to go through all of the recommended steps for reviewing this beer. It has a very rich flavor - think Terry's Chocolate Orange in glass. From smell to taste to finish to high ABV, this beer has plenty to offer. Fernie's seasonal offerings keep getting better, and this is certainly one of my favorites!
392 characters
4.01
/5
rDev
+2.3%
look: 4.25 | smell: 3.75 | taste: 4 | feel: 4 | overall: 4.25
A - tar black, two fingers of mocha head retained its tower very nicely, random spot lacing
S - significant chocolate, some roastiness, grains, and a bit of sour fruit
T - cocoa and mellow citrus give this almost a 'chocolate orange' treat flavour, some burnt and coffee maltiness, mild spice
M - rich and full, creamy with just a hint of a dusty smoky feel, finishes with a bit of a boozy tingle
O - this is big but not abrasive, the cocoa and orange flavours definitely shine through while not taking away from its big malty winter ale backbone, well done
557 characters

4.06
/5
rDev
+3.6%
look: 4.5 | smell: 4 | taste: 4 | feel: 4.25 | overall: 4
A big time winter warmer from the good folks over at Fernie Brewing Co who never seem to disappoint. This is one of their wilder and crazier beers and based on the ingredients and on the name alone, I had to grab a bottle. This winter in Calgary has been more pleasant than almost anywhere else in Canada, however, I never shy away from a big, bold brew. Chilled it in the fridge at maybe a tad too cold for a tad too long, and as such, poured a deep, dark cola colour with little to no head and no lacing whatsoever. Smelled of deep chocolate malts, coffee and toast, with a hint of orange peel. A first sip led me to believe this was a stout, but as it warms and sits a while, it's much more like a porter. A very nice, warming Gran Marnier finish and I trust this is due in part to the higher abv and due to the orange peel. I now wish this beer would have been available before Christmas in Alberta as it would have been awesome with a few chocolates and perhaps some brownies or a nice Christmas pudding! Keep making these big, bold brews FBC, you did a great job!
1,069 characters

4.07
/5
rDev
+3.8%
look: 3.25 | smell: 3.75 | taste: 4.25 | feel: 4.25 | overall: 4.25
Their description of "Rich, strong and decadent" rings true; it's not at all heavy or boozy.
Black with a tan head, no retention or lace. Aroma of pumperknickel bread, though the taste is more of a mole sauce. The cocoa is certainly apparent, and it is supported by a pleasant spice, some dark bitterness and a slight alcohol warmth.
The moderate body has a slightly drying finish.
Overall, this brew really works. This was a perfect apres ski (afternoon at Big White), though it might go well with Mexican food, artisanal cheese or even some deserts.
554 characters

4.18
/5
rDev
+6.6%
look: 4 | smell: 4 | taste: 4.25 | feel: 4.25 | overall: 4.25
great seasonal offering from fernie brewing company. pours a dark brown, with average head retention. smells of spices, caramel and a hint of booziness. great mouthfeel with just the right amount of carbonation and a well balanced bouquet of flavours. ive always been a fan of the winter warmer, and this one definitely fits the bill. great to see canadian breweries doing it right
381 characters
Black Mammoth Winter Ale from Fernie Brewing Co.
3.92
out of
5
based on
17
ratings.