Tesco's Finest French Wheat Beer
| Brasserie Castelain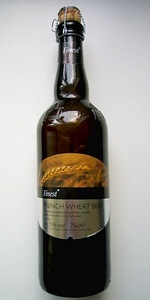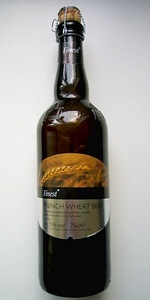 BEER INFO
Brewed by:
Brasserie Castelain
France
brasseriecastelain.com
Style:
Witbier
Alcohol by volume (ABV):
5.00%
Availability:
Year-round
Notes / Commercial Description:
No notes at this time.
Added by Toddv29424 on 06-06-2005
HISTOGRAM
Ratings: 6 | Reviews: 6
None found.
More User Reviews:

3.47
/5
rDev
+13.4%
look: 3.5 | smell: 4 | taste: 3.5 | feel: 3 | overall: 3
Tasted on 3rd July 2005, best by date 31/03/06 a 750ml corked and caged brown bottle. The label said Tesco Finest French Wheat Beer (NEW), brewed and bottled in France.
Nicely presented (except for boring Tesco generic label), it uncorked with an unexpected violence!
Poured into stemmed beer glass a cloudy straw coloured brew with decent white foam head. A lot of noise with bursting bubbles. Head faded fairly quickly, but easily returned with a swirl of the glass.
Taste a little insipid for me, when compared to Bl de Namur, Hoegaarden, Bl de Chambly etc; light hops, some malts, touch of citrus, no cinnamon perceived. Mouthfeel okay (glucose syrup one of the ingredients).
Drinkability; would probably go a couple of these on a nice sunny day, but a little bland.
776 characters
2.88
/5
rDev
-5.9%
look: 3.5 | smell: 3 | taste: 2.5 | feel: 2.5 | overall: 3.5
750ml bottle, poured into a Dolle witbier glass
Pours with cloudy yellow body, some amber hints throughout. Fairly thick and dense white head with good retention. Little bits of patchy lacing up and down the glass
Smell, an odd mix of fresh peach essence, a mix of fresh fruit and a huge whack of clove. Old bubblegum stuck to the floor, some indian spices like coriander and cardamom, little bit of black onion seeds and fresh black pepper too. A few spicy medicinal phenols floating around there too, little bit of alcohol estery vapours coming off with a large whiff. Slight hint of rusty iron oxide, musty presence also, although the bottle is pretty fresh it smells like its been sitting for a long time.
Taste, excessive musty and slightly bitter clove character (Clove can really throw me as far as flavours go, subtly in the background its fine but if it dominates the flavour profile it becomes nasty and phenolic inmo). Mmmmm... the beautiful taste of a fresh bar of soap... Slight hint of lemon and orange zest, wheat and a hint of dry yeasty flavours on the finish. Fruity and slightly estery tinged fresh fruit, lychee and a touch of banana. Cloying floury flavours on the palette, sticky fresh bready flavours clinging to the roof of your mouth.
Hmmmm... someone likes their clove eh? Pretty unbalanced and uninspiring wheat, that and it includes hop extract, wheat starch and glucose syrup in the ingredients. I just wish people would get their heads out of their arses occasionally.... this is obviously aimed at a more discerning palette and accordingly you would think they would at least keep the ingredients as natural and as pure as possible...
1,678 characters

3.01
/5
rDev
-1.6%
look: 4 | smell: 3 | taste: 3 | feel: 2.5 | overall: 3
Pours a cloudy pineapple colour with a cushion of frothy head that gradually diminishes. Good carbonation. Good wit appearance.
Very pungent rotten fruit aroma, with a slight sourness. It's quite appealing, but a bit sickly sweet with slight malty undertones. Not a lot of spice.
Sickly sweet front palate that descends into a bit of a watery flavour; then a very pleasant, diluted fruity aftertaste. It's still a bit too sweet for my taste but is quite pleasant and drinkable. The sweetness is just a sharp pang at the start, but overall is reasonably mild and not so overpowering. Mouthfeel is a bit thin, and obviously I would like more spice, or more kick, to the palate.
Not bad, just a bit too sweet.
710 characters
2.74
/5
rDev
-10.5%
look: 3.5 | smell: 2 | taste: 3 | feel: 3.5 | overall: 2.5
75cl bottle, caged and corked.
Nicely cloudy lemon yellow body with a frothy crown of white foam. Lots of fine carbonation. The look of the beer and the presentation reminds me of a French Champagne. Maybe what they were aiming for.
Oversweet diacetyl nose, makes me think it's off. If you look beyond that, you get a slightly resiny, herby, citrus character, which would be good in isolation, but with the buttery sweetness that's most prominent it just emphasises how wrong it smells.
Still a buttery character on the palate, but not so overpowering. Better balanced flavours of citrus and a good subtle bitterness. Mouthfeel is quite smooth and lends the beer a glisteny feel as it goes down. But there is always that butterscotch overtone there holding this beer back,
It's drinkable enough, and it feels as though it could be a lot better. Too many bad characteristics to it.
892 characters

3.88
/5
rDev
+26.8%
look: 4 | smell: 3.5 | taste: 4 | feel: 4 | overall: 4
Pretty surprising for a TESCO product. Pours a cloudy yellow color with a moderate head. Taste starts off pretty generic, but as it starts to go down it aquires a taste a little like grapes and candied fruit. The carbonation helps this taste down and leaves behind a sweetness of raisins which lingers for a long while. Good for anyone who is looking for an inexpensive quality beer.
383 characters
2.35
/5
rDev
-23.2%
look: 3 | smell: 3 | taste: 2 | feel: 2.5 | overall: 2
Contract-brewed for the British Tesco supermarket chain. Coming in a 750ml slim brown bottle, corked and caged. BB 20/06/07, served lightly-chilled in a broad-rimmed goblet.
A: as murky pale straw as a real lemonade... the foamy white beer head settles fast, leaving a white rim on top of moderate carbonation.
S: stinky edge of musk-fragrance soap and coriander seeds, along with a secondary layer of dried lemon-peels, salty pheonol, and a light input of wheat malts. Very straight forward, yet different from other sweeter and more yeasty interpretations.
T: the soapy wheatish flavour prevails upfront, semi-tangy with a dryish edge of lemon-peels and more artificial taste of soaps and plastics!! leading towards a tangy and rusty finish without much aftertaste lingering in the end apart from residual sour-sweetness of sweet lemons. The whole flavour structure starts and folds within fifteen seconds.
M&D: spritzy, thin-bodied, almost watery. Apart from the slightly tangy, citric mouthfeel the beer shows nothing worth exploring. A bad product, or at least an unimpressive one.
1,092 characters
Tesco's Finest French Wheat Beer from Brasserie Castelain
Beer rating:
3.06
out of
5
with
6
ratings