Abbaye De Lille
| Brasserie Castelain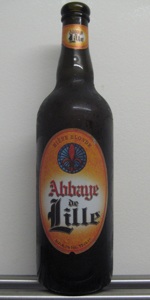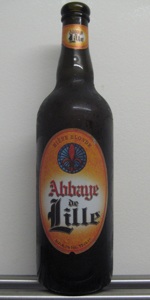 BEER INFO
Brewed by:
Brasserie Castelain
France
brasseriecastelain.com
Style:
Saison / Farmhouse Ale
Alcohol by volume (ABV):
6.10%
Availability:
Year-round
Notes / Commercial Description:
No notes at this time.
Added by BoitSansSoif on 09-23-2009
HISTOGRAM
Ratings: 6 | Reviews: 5
Reviews by BoitSansSoif:

3.77
/5
rDev
+19.7%
look: 3 | smell: 3.5 | taste: 4 | feel: 3.5 | overall: 4
Poured from 75cL bottle.
A-Pours a clear gold w/bits of yellow and orange. White head flared up on pour, but was short-lived. Very active carbonation visible within brew.
S-Tart fruit w/spice and sweet malt--apple, sour cherry, earth tones, white grapes, apricot.
T-Sweet and tarty fruit upfront that gives in to the malty backbone, and the finish introduces slight hop bitterness and a last rush of tart fruit and bits of sour cherry. Aftertaste is fruit w/spice and bits of hops.
M-Light-bodied w/high level of carbonation that is almost over the top, and which puckers up the tartness and fruitiness, but almost seems to make it fall apart in the finish.
D-Very light and refreshing...alcohol is very well-hidden. This is a pleasant drink at a good price that I will buy again.
785 characters
More User Reviews:
3.32
/5
rDev
+5.4%
look: 3 | smell: 3.5 | taste: 3.5 | feel: 3 | overall: 3
Cork and caged 0.75 litre bottle: best before 16 Sept 2012, poured into three pilsner glasses on 10 March 2012.
Yellowy orange body of well carbonated beer: on top sat large heads of white bubbles which left some good lacing as the beer levels dropped.
Smells of citrus hops, metal mops and fresh yeast.
Tastes of fizzy citrus hops, rusting metal mops and old yeast.
The alcohol is well hidden, but overall this isn't a well balanced brew in my eyes: different certainly, but not really interesting or compelling enough to have another bottle.
547 characters
3.35
/5
rDev
+6.3%
look: 3 | smell: 3 | taste: 3.5 | feel: 3.5 | overall: 3.5
With a foam citric head remains in the same conduct by offering emerging citrus nose with a small side pretty cool. These oranges are recalled in the mouth and the short side of alcoholic beverage (probably due to the use of special sugars such as caramelized sugar and glucose syrup from wheat) warms the finish. There is also hops to add a tad of fine beer.
359 characters
3.01
/5
rDev
-4.4%
look: 4 | smell: 3 | taste: 3 | feel: 2.5 | overall: 3
We pour a rich golden colored brew. It holds a one and a half finger head of big white bubbles, sitting atop a mass of microbubbles. Retention is great, leaving a thick sheet of white lacing around the entire glass. There is a slightly chill haze, but no sediment is otherwise noted. This is the most carbonated-appearing beer we've ever seen. The nose is metallic and adjuncty, with a clean background of paler, Belgian, bready malts. There is a distinct coolness of vanilla bean, adding both sweetness, and a curious addition to the metals. Phenols with clove are light, and come through more with warmth. As we sip, bread and thick metals hit hard. There is that cheap, apple fermentation, with adjuncts making the base for the remainder of the tasting. The middle evens out a bit, but the metallics quickly become overwhelming, with further bittering from raw lemon rind. This continues through the finish, where the adjuncts come through with gusto. There is cutting sweetness, to calm the metallics, with some Belgian-style yeast adding to the softer, sweeter finish. There is a lightning quick flash of juicy hops, especially with warmth, but this doesn't last. The aftertaste breathes with copper adjuncts, steely yeast, more grassy malts, and some syrupy brown-sugar sweetness. The body is light to medium, and carbonation is high. This gives a light and airy feel to it, and affords supreme slurp and cream. The mouth is coated, but left with some final dryness and puckering. The booze comes out with warmth, giving a warming feel. The abv is appropriate, and the beer drinks decently.
Overall, what we enjoyed most about this brew was the look. The color was solid, and the head it supported was pretty, and remained for most of the session. Carbonation was pretty extreme in both appearance and feel, so this was a curious point. The flavor lost it some points, as adjuncts and metallics became overwhelming at times, taking about from the ultimate quality and desirability of the brew. With warmth, however, things even out quite a bit, gaining some of these lost points back.
2,095 characters

2.73
/5
rDev
-13.3%
look: 3 | smell: 2.5 | taste: 3 | feel: 2.5 | overall: 2.5
L - Poured a pale yellow with plenty of carbonation causing a large head, which fades fast. A small amount of lacing also appeared.
S - I found the smell to be very zesty (lemon, apples) with hints of spiced hops.
T - The taste was similar to the smell but with a lot more hops to notice.
M&D - With high levels of carbonation and being quite watery i found it below par when it came to its mouthfeel and drinkability.
Overall it was an average beer, a lot better than some of the others beers for its PRICE i found in France.
530 characters
Abbaye De Lille from Brasserie Castelain
Beer rating:
3.15
out of
5
with
6
ratings