Gullifty's Restaurant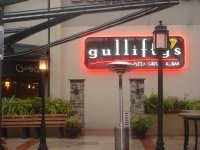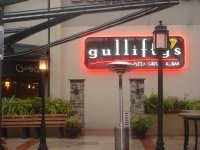 PLACE INFO
Type:
Bar, Eatery
1149 W. Lancaster Ave.
Rosemont
,
Pennsylvania
, 19010
United States
(610) 525-0421 |
map
gulliftys.com
Notes:
No notes at this time.
Added by NeroFiddled
PLACE STATS
Reviews:

11

Ratings:

pDev:

5.54%
HISTOGRAM
View: Place Reviews
Ratings: 13 | Reviews: 11
Reviews by Dennycurr:
4
/5
rDev
+5.5%
vibe: 4 | quality: 4 | service: 4 | selection: 4 | food: 4
For drinkers of fine beer, this place was a stunning find.
It looks like your basic fam restaurant in a very non-descript, small, business mall like, area outside. Inside...there is a bunch of TV's all tuned in to games and a selection of beer that is eyeopening. Maybe, it's more eyeopening because, one doesn't expect to see all the Belgian's they have, in a fam type restaurant.. Right there---it puts Gullifty's into a higher level.
They have pretty good food too. In fact, I think they brag, they won the "Best of Philly", for some of their selections.
Nothing but good things to say about this place.
Den
612 characters
More User Reviews:
3.58
/5
rDev
-5.5%
vibe: 3.75 | quality: 3.5 | service: 3 | selection: 4 | food: 4
The feel is more of a sports bar bit the selection of beer is pretty good. Some local offerings bit also some quality imports and good beers from other states. Some of the food is cooked with beer (Chimay cheesesteaks for example).
231 characters
3.98
/5
rDev
+5%
vibe: 3.5 | quality: 3.75 | service: 3.75 | selection: 4.25 | food: 5

3.66
/5
rDev
-3.4%
vibe: 4 | quality: 3.5 | service: 3.5 | selection: 3.75 | food: 4
This is a pretty nice place right on Rt. 30 in Rosemont (adjacent to Bryn Mawr). Atmosphere is a bit on the hipster side, but the staff is friendly and attentive. They brag approximately 18 beers on tap, keeping hip to seasonals and rotating a rare brew or two, and there's a nice large selection in bottles. Nothing I haven't seen before, in general, but a lot of good stuff to chose from, including Dogfish Head and Delirium and the like. Very good homemade pizza and burgers on the menu as well as a lot of other selections, including a yummy cheesesteak soup. Definitely worth multiple visits.
597 characters
3.48
/5
rDev
-8.2%
vibe: 3.5 | quality: 3.5 | service: 3.5 | selection: 3 | food: 4.5
Stopped by here with Birradr14 and Oglmcdgl, Been meaning to stop by for about a year.
The vibe is that of a decked out chain but with alot more thought put out. Im not even sure if Gullifty's is a chain. The bar is HUGE and upscale looking with wood and marble & a few coolers full of beer. Behind the bar was a dining area that filled up fairly quickly.
While the thought is there beer wise, the execution is something to be desired. Ok, this place has some good beers on tap(kind of), but do they have to be served in a frozen pint glass? My buddy ordered a Delirium nocturrnum(SP?) and while it came in a tulip, the tulip was frozen to the bone. The other bartenderess put my beers in non frozen glasses, so there's that. Other than that the lines were clean and the service was fine. Nothing extrodinary but accomadating.
The selection at least on tap was not that impressive, at least when i was there. Out of, I guess 16 taps nothing really jumped out at me, I don't know, maybe i'm spoiled. All the usual BMC standards plus the harps and the smithwicks and what not. I saw a gluten free Dock Street offering and went for that and than a 60 minute. My buddies got a hop devil plus the delirium. They do have two nice Belgian offerings on tap. The bottle selection is quite impressive but nothing out of the norm for this area. The beer list was well put together with large descriptions of each style.
Gullifty's, while not being a beer mecca has some really good pizza and a impressive menu with a bunch of varying food choices. We went for a pizza with a bunch of toppings and Wow, I was blown away, and that does not happen often. I wanted more. We also got some brusshetta bites and a hummus platter. The food was the best part, plus they have a nice bathroom and this place is clean which is major.
1,814 characters
3.6
/5
rDev
-5%
vibe: 4 | quality: 3.5 | service: 3.5 | selection: 3.5 | food: 4
this place is pretty cool, esp in the summer time
they have a good amount of drafts and over a 100 bottles
the food is pretty good, just reg restraunt food. The pizza is good
it is near villanova so they usually have some pretty cute waitresses and bartenders
Before I really got into beer I thought the selection was amazing, now I realize its just ok better than chain restaunts and most pubs, but nothing worth traveling for
they have a good amount of domestics, and usually a few beers from each brewery they have some belgiams, but nothing to crazy (delirum , chimay, lucifer, and a few others im forgeting) last time I was there no sours or guezes)
maybe the selection has gotten better
worth checking out, although if you want more of a selection and more of a belgian vibe, drive 3 miles west on 30 and go to Teresas in wayne...
844 characters
3.7
/5
rDev
-2.4%
vibe: 3 | quality: 4 | service: 4 | selection: 3 | food: 4.5
When I first started here I wasn't a beer advocate, just a beer lover. When I first started going there I thought the selection was awsome, but the more I learn the more I realize that there selection isn't that good. Regardless of the selection, the food is awsome, and the beer is better than like Chilie's or something like that. Just so you know where I am coming from, I am much more into the craft brews and brewpubs than I am the imports, There were a couple of the good brews, but nothing that was unique or that I was searching for. Don't drink and review.
565 characters

4
/5
rDev
+5.5%
vibe: 4 | quality: 4 | service: 3.5 | selection: 4.5 | food: 4
I have been to Gullifty's a few times for dinner and drinks and can say that the food is pretty good but the focus of my review is the beer. Gullifty's is currently is in the process of a beer related "March Madness" tournament that is pretty cool. They started off with 64 beers and pitted them against each other, broken down by region. I was there tonight and it was Chimay Red v. Duvel which was great. The beers were both $6 each which seems average but is a bit cheaper than their usual price. As for their overall beer selection they boast 130 different beers and I think I believe it. They have about 4 or 5 varieties of Stone, including Vertical Epic that I saw last year. They also have a few beers from Ommegang in large bottles, some local brews like Victory, Lancaster, Legacy and others. Overall I really enjoy their selection and have to say it is one of the better bottles selections on the Main Line.
917 characters

3.9
/5
rDev
+2.9%
vibe: 3.5 | quality: 4 | service: 3.5 | selection: 4.5 | food: 3.5
I stopped by Gullifty's one evening for a gathering with my girlfriend's co-workers. The scope of the meeting was dinner, so I didn't get an opportunity to dive into the beer selection, but I drooled over the beer menu for a while.
The restaurant is set up so that as you walk through the front door, you're confronted by the hostess. She can take you to the right for some spacious casual dining in an open seemingly glass enclosed room, or take you left down the stairs towards a larger dining area and the bar. We had a large party, so we were directed to the left. The tables on the far side of the lower level were free standing and small, so the hostess had enough scooted together to seat our party in no time. I was a bit put off by the decoration of the room. There were these cheesy mirrors (as seen on the front page of their website) that gave the places a really forced artsy look. The color scheme was a sort of a purple/burgundy and pastel yellow and the carpets were dizzying to look at. I wasn't too impressed with this at all. Also, the tables looked like they were rescued from the salvation army as they had so many dings and nicks that let the light woods show through the dark stain. Real classy. Moving on, the smoking bar area near the bottom of the stairs was separated from the dining area by large dark Venetian blinds. The bar itself was attractive, inviting, and well lit, running the length of the wall. Across from the bar was a strip of narrow tables all in a row separated by equally wide, thick pillars that ran to the ceiling. This seemed absolutely ideal for a few people with drinks to sit, enjoy a beer, and have a conversation. So few bars present a specifically "drinks and talking" sort of table, so I was impressed. Next to these drinking tables were a series of regular tables for those who like to smoke while they eat. Over all, the bar area had a very warm tone to it. I wouldn't mind at all coming back just for drinks
Our server was your average run of the mill waiter. He did everything that he should have and none of the things he shouldn't have. If you pointed out a beer on the menu, he brought it. Nothing special here, but nothing to complain about either.
The beer selection was pretty good, I must say. What caught my eye was a bottle of Bell's Special Double Cream Stout. That was nice to see on their rotating bottle selection. Over all, their selection represented a good deal of places and styles. Their website sums this up pretty well. There's enough of a selection where you have to flip through the pages of the beer menu a few times to narrow down your selection. I like that a lot. My big problem was that a chalice of Chimay white was $7.50. That seemed a bit silly to me.
The food was all right. I had a lentil salad with some mushrooms and hummus, and It was actually pretty good. My girlfriend had the asparagus quiche de jour. Both were slightly above average and tasty, but nothing amazing. If you eat a lot of peanut butter sandwiches and mac and cheese, this place will seem absolutely stellar. For desert, we had an awesome chocolate mousse that was really well done and delicious with the Bell's. The food here really wasn't anything special, but its price made it all worth while.
Over all, Gullifty's isn't my ideal place for dinner, but the beer selection and drinking atmosphere just may bring me back again.
3,423 characters
3.83
/5
rDev
+1.1%
vibe: 4 | quality: 4 | service: 3.5 | selection: 4 | food: 3.5
I started going to this place with my wife's family for dinner and was pleasantly surprised with the beer selection. I believe they boast a selection of 130 beers. I know, you're saying, "After you get rid of all the fizzy yellow crap fromt he big 3, what's left!?!" They have very good selection for a restaraunt. The even have Chimay on tap. I've only saddled up at the bar once and was impressed with the tender. The place was slow before the dinner crowd so I was able to inquire about some suggestions to try some new brews. After explaining the types of beer I like the bar tender suggested that I try Maredsous 8, which has become one of my beers of choice. The food is generally pretty good. I've noticed that the food has been steadily getting worse but in general is still pretty good. The service is random as well. It basically depends on which Nova student waits on you. The more simple you keep you food order the better. The Bar-B-Q Pork Sando is very good and it's even better with a Maredsous!
1,010 characters
3.9
/5
rDev
+2.9%
vibe: 4 | quality: 4 | service: 4 | selection: 4 | food: 3
As a Villanova student, I've been going to Gullifty's for quite a while now as it's a stone's throw from campus. And honestly, this is not the place to go for food. There are dozens of places along the main line to go for some really good food, but there are few places that have the beer selection of Gullifty's in the area. About 15 taps with the standard Guinness, Bass, Boddingtons, but they also have a nice rotating selection. I've seen Hoegaarden, Rogue, Young's, SNPA, Flying Fish, etc. Chimay White is also on tap. The bottle selection is pretty extensive, as well as expensive. This place doesn't at all look like they have great beers inside, as it's more of a family place.
Wednesday nights are the best deal, by far. All draught pints are $2 (except Chimay). Rogue beers for $2? Woo hoo!
The service is always friendly, and as Nero said they always know what you're asking for, although I can't imagine many of them know beer, but that's fine. Just bring me my beer with a smile and everything's cool. A good place to stop for lunch if craving some good beer if you happen to be in the Main Line area.
1,122 characters
4.13
/5
rDev
+9%
vibe: 4 | quality: 4 | service: 4 | selection: 4.5 | food: 4
Although Gullifty's is more of a restaurant than a beer bar, I love it because I can take my family there for dinner and have some great brews myself! The food is very good, varied, and reasonably priced; the service is better than might be expected considering it's mainly a college-student waitstaff; the decor is nice and it's quite clean, and the beer selection is excellent! Additionally, I've never had a problem with ordering a beer with dinner... each and every time the server knew exactly what I'd asked for (although I did once get a pint glass delivered with my uncorked 750 ml bottle of Triple Karmeleit). Some servers know even more about the beer (but that is the exception not the rule). There are 8 beers on tap and well over 100 in bottles! It's a great selection that's only lightly tainted by macros/big name imports. It's well worth a try.
860 characters
Gullifty's Restaurant in Rosemont, PA
Place rating:
3.79
out of
5
with
13
ratings