Brauerei Im Füchschen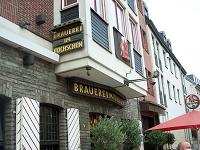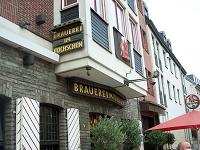 PLACE INFO
Type:
Brewery, Bar, Eatery, Beer-to-go
Ratinger Straße 28
Düsseldorf
, 40213
Germany
+49 211 137470 |
map
fuechschen.de
Notes:
No notes at this time.
Added by Bierman9
HISTOGRAM
View: Beers | Place Reviews
Ratings: 14 | Reviews: 9
Reviews by jneiswender:

5
/5
rDev
+22%
vibe: 5 | quality: 5 | service: 5 | selection: 5 | food: 5
Very nice place located north of the the Altstadt. Nice location with street parking available.
Interior is very old school with the wood and stuffed game.
The beer here is altbier only and very good (see review of beer).
The food is also very well prepared and enormous portions. My wife had the baked potato and salad which she said was good and I had the pork knuckle (highly recommended) with pan fried potatoes and sauerkraut.
The food was well priced at usually under 15 Euros per plate.
Service is excellent, helpful and polite. English menus are available.
This is my favorite place in Dusseldorf and I would go here again.
641 characters
More User Reviews:

4.17
/5
rDev
+1.7%
vibe: 4.25 | quality: 4 | service: 4.25 | selection: 4.25

3.78
/5
rDev
-7.8%
vibe: 3.75 | quality: 4.25 | service: 3.75 | selection: 3.25
The first part is prononuced more like "fox", not "fu-ks". As someone who never learned German, I first thought it was the latter. The locals might forgive you the first time, but you're sure to learn the right way to say it before you leave. Anyhow, another altbrauerei.
The interior is a little dark and somewhat cozy. You can see behind the bar a big barrel of beer being tapped and filled into tiny glasses. While alt is the staple (€1.80 for 250 ml), there is also a wheat ale available in bottles. I drank like a local and stuck with alt, and it was very good. Expect your altbier in Dusseldorf fashion, right on your table as soon as the waiter sees an empty glass until you signal them to stop. Having already been to Uerige, I wasn't in the food for food, but if you were interested, it offers simple beer snacks to full fledged meals.
Fun little merchandise is available for purchase, in particular postcards of the fox in different poses.
It isn't quite in the same realm as Uerige, but on its own, "the fox" is a visit well made.
1,049 characters

3.95
/5
rDev
-3.7%
vibe: 4 | quality: 4.5 | service: 4 | selection: 3 | food: 4.5
The slim selection of beers is the only thing that keeps this place from being ideal.
Great location, great food, amazing staff and historical.
Very affordable food that is of high quality expected in Germany. Everybody who ate or drank or worked here has been awesome every time I have visited.
As far as I can recall, there is only 1 beer to try here (Alt) but there are tons of spirits and wines.
Get the cheese sample plate if you are just stopping in for a ,25l or two, you will not be disappointed.
508 characters
3.66
/5
rDev
-10.7%
vibe: 3.5 | quality: 4 | service: 4 | selection: 3
I hit this place up for some after-dinner beers with 2 colleagues from the UK. It was a good call (mine), as it turned out this was one of my favorite alt biers. Somewhat harder to get to than a few other alt pubs in the Altstadt, just a short walk north. It felt like a slightly more quiet part of the town.
The layout is less old-world than the others, not quite the feeling of a beer hall, more a restaurant. But the beer is served in the correct manner, a waiter passes with a circular tray filled with 0.3L glasses of the beer and replaces yours as they become empty, leaving a hash mark on your coaster to indicate how many to pay for at the end.
I didn't try the food, and didn't really look at food that others ordered so I can't speak to that. But the alt is hoppier than usual and was just what I wanted.
816 characters

4.33
/5
rDev
+5.6%
vibe: 4.5 | quality: 4.5 | service: 4.5 | selection: 4 | food: 4
Located on the busy Ratingerstrasse from the Sclosser Alt outlet.
We visited in on a summer weekend of 09/07/2010
Most drinkers being outside enjoying the warmth in the evening so we ending up having a look inside where there was plenty of seating.
Its in a traditional brewpub style with terracotta floor tiles, white tiled walls and dark wood seating, pine tables.
Kobes are friendly and efficient asking if you want another glass when finishing your current one, and recommending what to eat from the menu.
Albeit we didnt eat here, the menu was traditional rheinland fare. From what we saw, food looked and smelled very tasty!
Of course they only sell their own altbier but when its that delicious, i wouldnt want to drink anything else! Quality of the beer freshness was excellent but it was going down a storm.
I cant quite remember but i remember thinking this was one of the more expensive alts, but only by 5 cents so im not complaining!
One of my favourites when in Dusseldorf!
995 characters
3.5
/5
rDev
-14.6%
vibe: 4 | quality: 4 | service: 3 | selection: 3 | food: 4
Just got back from Dusseldorf. This place was recomended by hotel clerk as a place that they would go.
The seven of us took a taxi to the restruant. It is in olde town and struck me as a place that, if I lived there, I would go to once a month. Atmosphere and food were traditional German. No complaints food and beverage were very good. The waitstaff joined us in drink throughout the evening and were always there with the next round. Food was slower in appearing, but was a secondary thought of the evening.
Give it a try if you are in the area. Much more memorable than any meal that we had in restruant row in the fashion district.
638 characters
4.22
/5
rDev
+2.9%
vibe: 5 | quality: 4.5 | service: 4 | selection: 3.5 | food: 5
Review from notes:
I visited this place on a recent trip to Dusseldorf during the first week in June.
Brauerei Im Füchschen is located in the northern part of the Altstadt (Old Town) area of Dusseldorf. They have a larger selection than most places in the area (two types of beer instead of one), but I stuck with the Alt bier, because I was attempting to try as many different examples of their local specialty as I could while I was there. This place had by far the best authentic German food of any place that I ate at while in Dusseldorf. I had the Rheinish Sauerbraten with rotkohl, kartoffelklössen and apfelmus (beef roast that has been marinated for several days, served with red cabbage, potato dumplings and apple sauce). The atmosphere here was wonderful. I ate at their outdoor cafe area. Apparently it is normal in Germany for strangers to join your table if you have empty spaces. So I ended up eating with some locals. As soon as they found out that I was visiting from America, they switched to English and we talked for a while. They made me feel right at home, even though I was in a strange city, alone, and only knew a limited amount of German. This was the best dinning experience I had while in Dusseldorf. I think that because this place is a little out of the way, it doesn't attract as many tourists as the other breweries.
1,351 characters

4.03
/5
rDev
-1.7%
vibe: 4 | quality: 4.5 | service: 4.5 | selection: 3 | food: 4
I visited Brauerei Im Füchschen on a Friday evening in late November 2004. The air outside was cool, and it was raining a bit, and maybe that was why this place was absolutely jam packed with people. I looked around and made a trip to the restroom, but other than that, I found a spot midway between the bar and the entrance, and just stood my ground, drinking my altbier and waiting for the next waiter to come around with a tray of beers.
As you enter from the street, you are in the room with the bar in front of you and to the right. There are tables for standing on the left, and a few for sitting near the front. Off to the left is a room with tables and seating, and off to the right is a smaller room with tables (with the restrooms in the rear). Above the bar in the main room is inscribed "Hopfen und Malz, Gott erhalt's": Hops and malt, God preserve (them). A fine sentiment, and fitting for this traditional altbier hausbraurerei.
They only have one beer at this brewpub, but if you are only going to brew one beer, brew a good one, and at this they succeed. Their altbier is very drinkable: hoppy but not overly so, with a nice, malty base touched with caramel. I definitely imbibed a few here, as the hash marks on my coaster can attest (luckily these altbier glasses are only 0.3 L or about 10 oz). The only service I experienced was with the waiters squeezing their way through the crowds to and from the bar with trays of glasses held aloft. If you were timid or hesitated, you often lost, as other patrons were not shy about grabbing the last beers off a tray, but soon I had the hang of it (using one hand to take a beer glass while simultaneously holding out my beer coaster so the waiter could add another hash mark), and settled in for some drinking. In this regard the service was great because there was usually a waiter coming by just when you needed another beer. When you want to settle your tab, you show your coaster to a waiter and he tells you how much you owe.
This is one of the four traditional altbier pubs in Düsseldorf, and shouldn't be missed.
Recent visits: 10-10-06. Tried the food, which was very good. More relaxed visits than my previous visit.
2,202 characters

4.28
/5
rDev
+4.4%
vibe: 4 | quality: 4.5 | service: 4.5 | selection: 4 | food: 4
Just" one of the four traditional Altbier Hausbrauerei in and around the Düsseldorf Altstadt (old town) area -- but one of the best.
For me this is actually my second favorite after the infamous Uerige (as far as taverns in concerned and beer-ratings aside... besides, I have found all of the four's Altbiers to be excellent; they simply differ in balance of hops against their maltyness and their dryness). BTW, the other three are: Uerige, Schlüssel and Schumacher.
"At the little fox" as the name and insignia suggest, is a real charm with its dark-wood interiors, old wooden tables and the smell of fresh, hoppy ale spilled about and intermingling with the scurry of servers bringing more and more foodstuffs to a hoard of patrons. And the food here is one of the better locations for the traditional: offering regional, every-day cuisine.
I have been here afternoons and nighttime, and the inside area is often busy, yet with sufficient space to take up a table with little effort. Nice afternoons will also find folks enjoying Stange after Stange (Altbier glasses) of the house brew outside propped up against leaning tables with servers bringing ever more. Just be mindful when you stand straight and even more careful when you finally chose to depart... One woman backed herself up beyond the road curb and fell flat down (most luckily there was no car approaching!).
The Füchschen Alt bier itself in any case I find to be rather hoppy with a sweet ale flavor (though not quite as hoppy-dry as Uerige).
Summation: Just another of the great establishments in the plush and stylish city of Düsseldorf, itself which is certainly one of the top beer-cities there is out there in this great big world, making happy any lucky local or auspicious visitor.
1,775 characters
Brauerei Im Füchschen in Düsseldorf, Germany
Brewery rating:
3.96
out of
5
with
92
ratings