The Skellig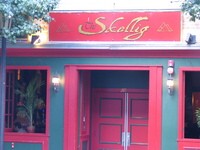 PLACE INFO
Type:
Bar, Eatery
240 Moody Street
Waltham
,
Massachusetts
, 02453
United States
(781) 647-0679
// CLOSED //
Notes:
No notes at this time.
Added by BeerAdvocate
Ratings: 11 | Reviews: 10
Reviews by Jayli:
4
/5
rDev
+18.3%
vibe: 4 | quality: 4 | service: 4 | selection: 4
Visited on a Saturday night 4/11/09
As already mentioned, this bar is located right next door to Watch City Brewery. For what this bar is - an Irish Pub on the outskirts/suburbs of Boston, this is REALLY quite a good place. There are all wooden floors, red walls. To the right is the bar, decent sized with a load of stools. To the right is an oddly mapped out dining area. As you head towards the back of the bar, there are about 4 booths as a pathway to the backroom. On friday and Saturday nights, they have live bands, a decent sized dance floor and another fully loaded bar. As far as bars OUTSIDE of Boston and not in a major city, I was impressed with the offerings of beers (keep in mind, NOT a major city and a local bar). On a chalk board up at the front lists about 20 beers on tap - they have brews from Watch City, Nantucket, Sierra Nevada, Harpoon and several others. There are an additional 20-25 bottles offered as well - your basic staple bar beers, plus Magic Hat, Harpoon, Nantucket, Sams, etc. I think there were a few Belgians but I can't recall at this point. Are we talking the selection of Bukowski's, Sunset or The Publick House? No - but it was a hell of a lot more than I anticipated going in.
The bar tenders were friendly, and $5 drafts (craft beer from Watch City) made this place a nice alternative to Boston - close to home, decent selection and reasonably priced.
1,396 characters
More User Reviews:

3.59
/5
rDev
+6.2%
vibe: 3.75 | quality: 3.5 | service: 3.75 | selection: 3.5 | food: 3.5
3.15
/5
rDev
-6.8%
vibe: 4 | quality: 3 | service: 4 | selection: 2 | food: 3.5
It is what it is.
Limit beer selection. Mostly bar standards. Think old school bar, when people might be impressed that you serve Killians.
BUT -
The staff is super cool and very relaxed. Live shows here are great. Decent food for the price. Their brunch menu is great.
I wouldn't change anything other than the beer menu. With a little bit of work on the selection, The Skellig could be one hell of a bar. It certainly has the space needed to draw a larger crowd than any other bar in Waltham.
If you pour it, they will come...
536 characters
3.38
/5
rDev 0%
vibe: 4 | quality: 3.5 | service: 3.5 | selection: 3 | food: 3
Lots of seating, with stools at the bar, tables, and a decent sized function room in the back. Typical Irish pub that would have been full of smoke years ago. Surprised how loud it got with the few people in the place. Easy to park (lot/garage right behind it -- free after certain hours -- or, essentially free).
Beers were decent. Right temp, saw the Guinness was poured properly, etc. Pints were pints, and mixed drinks were mixed drinks. Asked for a beer on the chalk board and they didn't have it. Asked for another, they didn't have it. Asked for a third, and they found it in the cooler -- age of beers? Who knows.
Pretty average selection. Some crap, some decent, but about20/20 tap-to-bottle.
Food was tasty. I got the Guinness beef stew; the person I was with got the crab cake appetizer (and she got much more food than me for $2 less). I got about 4 chunks of beef and 1 thin slice of bread for a whole lot of gravy. Like their own little version of the Irish famine.
Still, hard to bitch. 3 beers, a meal and an appetizer and it was around $30. Cheap meals, fairly cheap beer. Not a bad stop.
1,109 characters
3.2
/5
rDev
-5.3%
vibe: 3.5 | quality: 3 | service: 3 | selection: 3.5
Located super close to Watch City Brewing is The Skelling. I can't say that I have much to offer that hasn't already been commented on in other reviews. This place has a nice authentic Irish pub feel and clearly a sister bar to The Burren in Somerville.
Wooden floor with the color red being the main theme. The place happened to be pretty well decorated for the upcoming Halloween holiday. You can expect about 20 draft beers with highlights like Harpoon IPA and Sierra Nevada Pale Ale. There were also about another 25 bottles. All the beers are written on a massive chalkboard in the corner of the bar. There is also a good amount of seating to eat or if you were with a large group.
A cool Irish pub with a good atmosphere, but probably not a beer destination.
768 characters
3.25
/5
rDev
-3.8%
vibe: 4 | quality: 3 | service: 2 | selection: 4 | food: 4.5
Went here tonight with some friends. The atmosphere was very good overall. The bar with stools are laid out on the left side of the pub with some very strange table arrangements on the right and in back. It was fairly empty but that was because we arrived early. As we left I noticed the bar stools were completely filled, and since a Yankees/Red Sox game started on the TV there were some rowdy fans.
The food was variety was very good and the prices were very reasonable. I was surprised at how cheap the filet mignon dishes were. We started with a nacho appetizer, typical finger food. I had the curry chicken entree, which was absolutely fabulous. Grilled chicken pieces mixed with vegetables over rice. Just delicious.
Beer selection was very good: about 20 beers on tap and 20 bottled beers. They had a good mix of macros and locals to offer. The service was excellent at pouring...but that's about it. The wait staff was very slow.
I'd come here again, but only when St. Patrick's Day approaches again.
1,012 characters

3
/5
rDev
-11.2%
vibe: 3 | quality: 3 | service: 3 | selection: 3
Went on a Moody Street pub crawl on Saturday 6/30/07 with my wife, and the Skellig was our first stop. This bar has a typical Irish bar feel to it, with the Irish bartender to boot. There were maybe 15 beers on tap and 25 beers in bottles. Overall, a pretty "average" selection of beers. Nothing really special to choose from, just a few odds ones like Rapscallion bottles, and Tremont Ale and Radeberger on tap. This place seems like a decent place to maybe grab a beer, or watch some of the Sox game, or perhaps check out live music (not sure if they do that). But as a beer destination, it's just on par with most average Irish bars around Boston.
650 characters

2.75
/5
rDev
-18.6%
vibe: 4 | quality: 3.5 | service: 1 | selection: 3 | food: 3
"Remember that guy at the Burren last year," I asked Kumar. Jim was at the other end of the bar scanning the whiskeys.
"You mean like that guy from The Preacher, 'Arseface,'" Kumar asked, his jaw working at the gum he'd started chewing on our walk to the Skellig.
"Yeah, that guy." It was hard not to remember him because of our setting. The people who owned the Skellig also ran The Burren. Their interiors were carbon copies of each other, at least the decoration, if not the exact layout. Walking into the Skellig, a long bar ran the length of the left side with about sixteen freestanding swivel stools. The rest of the high-ceilinged front room was made up of booth seating, with some nice nooks and crannies throughout. And just like the Burren, the place was done up in a red and black motif with worn wooden floors.
"Hey, can we have some waters," Kumar asked the bartender as he passed, and then under his breath, "for the third time." It was true; Kumar had already asked the punk twice, to no effect. Finally, the waters came, along with the beers we had ordered. There were about sixteen offerings on the draught list, The Skellig Irish Red brewed down the street at Watch City and Magic Hat #9 the only real ones of interest. Seemed like there were twenty bottles or so, nothing memorable. Jim walked back over to us, three drams of whiskey corralled in his bear paws.
"You guys want anything to eat," I asked, reminding them that we hadn't eaten yet today. We scanned the menu the bartender had given us after we'd asked for one a second time. It was pretty much soup, salads, sandwiches, burgers and the like. We all made up our minds and Jim took things into his own hands.
"Hey pal," Jim bellowed, "we'd like to orda' some fookin' grub, ennit!" We stared at Jim with wide eyes. "Gimme yoor best haggis, wotcher!" The bartender sighed and took our orders, purposely not asking Kumar how he wanted his hamburger cooked.
"I hate this fucking guy," Kumar grated and looked up at the lone television above the bar, a soccer game playing.
"Yeah, he's always been a fucking chooch," Jim added. "And if you don't talk with a wanky accent, he won't give you the time of day, fucking xenophobist."
There was a fair mix of music piping out of the PA: Coldplay, The Killers, Wolfmother, Interpol, and the Raconteurs among them, popular stuff. Music was clearly important to the joint, as there were posters all over the walls with bands on them. Traditional, Irish music was played in the front room, while harder stuff was put on in a second, back room for a nominal cover. As our food arrived, I noticed a months-old Guinness toast poster that should have come down ages ago.
"No fucking oyster crackers," Jim looked at his soup in disbelief. He craned his neck around the bowl as if to see if the crackers were hiding from him on the other side, playing a little culinary hide-n-seek. No crackers. That was definitely going to up the ante between Jim and the bartender. Just then Kumar created a scene that I will not soon forget.
"That was a really bad mistake," he said to himself, not realizing that Jim and I were watching him, enrapt. Kumar had taken his gum out of his mouth with his fingers rather than simply spitting it in to his napkin. He had been masticating on it with such force that the gum had lost its elasticity and was closer to a heavy paste in consistency. As such, when Kumar tried to remove the gum from his fingers with his wet napkin, bits of shredded napkin simply mixed with the pasty gum, creating a massive glob of sticky paper shit all over his right hand, an absolute nightmare for somebody like Kumar. Jim was watching the whole thing with a glee unmatched by anything I had seen from him prior.
"Not good," Kumar said. "I'm going to the bathroom," and he strode off to the back, his right hand held out in front of him, as far away from his body as possible.
"Oh my god, that was frigging classic," Jim chortled, "I wish we had that on tape."
Kumar eventually returned from the bathroom and we finished our food, my chicken sandwich fairly uninspiring. We decided not to waste our time with another drink here, and asked for the bill.
"And if you don't bring it within the next two minutes, you ijjit, we're walking out of here," Jim warned him. Time to hit Bison County.
4,405 characters
3.75
/5
rDev
+10.9%
vibe: 4.5 | quality: 4 | service: 4 | selection: 3 | food: 3.5
There's nothing spectacular about the Skellig, but for some reason, I just love going there.
They have decent beer, the service is good, the food is tasty, but again, it's probably the place I stop at the most in Waltham.
Maybe it's because I just love the Irish feel to it. The crowd is rarely out of control, and they often have decent bands playing.
The location is also good, with plenty of parking in the rear, and is walking distance to several other decent restaurants and bars, incluidng the Watch City Brewery.
528 characters
3.35
/5
rDev
-0.9%
vibe: 4.5 | quality: 3.5 | service: 3.5 | selection: 2.5 | food: 3.5
Sister bar of the Burren in Davis Sq. Pretty much the same set up, except when you walk in the bar is on the other side of the joint and the ceilings are a lot higher and its not as dark as the Burren. Mahogany bar with lots of dark wood high bench/booth type seating. Mirrors and pictures on the wall make this a cozy place for a good bite to eat or a pint of Guiness. Usual selection of beer on tap including Harpoon, I believe Sierra, and a few others. Bangers and mash are very good! Reasonably priced, just like the Burren.
Back area has bands most weekends, usually cover bands. It gets very packed on the weekends and Thursday nights, which I guess is a weekend night to college kids. Bentley and Brandeis definately rule this place on weekends. Service is good, usually smiles on the bar tenders faces, clean environment, and easy to park around the corner in the parking garage. Two thumbs up for the Skellig!
921 characters
4
/5
rDev
+18.3%
vibe: 4 | quality: 4 | service: 4 | selection: 4 | food: 4
I distinctly remember hearing that this place was coming to Waltham. I had recently moved out of Davis Square to Waltham and had been missing everything I loved about the area and BAM!, the owners of the Burren are opening a place right on Moody Street, 2 minutes from my house. Someone up there likes me!
The Burren's ties to the Skelig are quite obvious upon walking in. The only differece being the front bar in the Skelig is on the left side as opposed to the right. Like the Burren there are always a few musicians in the front, with the back bar reserved having the stage and larger bands.
Great selection of beer here, but I keep to the Harpoon IPA and Guinness when I visit. Great fish and chips as well. Cigar smoking is permited in the back room after 10pm.
Always lots of college aged kids here from Bentley and Brandeis, which brings with it all the drama of a college bar, although there is plenty of room for townies and seems to be a haven for folks from Ireland who are looking for a taste of home.
Definitely a fun place to hang out and enjoy mass quantities of good beer.
1,105 characters
The Skellig in Waltham, MA
3.38
out of
5
based on
11
ratings.