Bozone Plum St. Porter
| Bozeman Brewing Company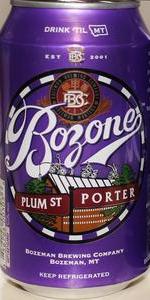 BEER INFO
Brewed by:
Bozeman Brewing Company
Montana
,
United States
bozemanbrewing.com
Style:
American Porter
Alcohol by volume (ABV):
6.00%
Availability:
Year-round
Notes / Commercial Description:
Plum St. Porter is named in honor of the unique Northeast neighborhood section of Bozeman, where the brewery is located. An eclectic and somewhat eccentric mixture of homes, businesses and art studios.
Plum St. Porter is a rich blend of six different malts including wheat, brown and chocolate for a velvety smooth texture. Full malt bodied with a deep dark coffee color and a subtle hop dryness to make this porter extremely enjoyable.
Added by Fabric8r on 10-06-2003
Reviews: 14 | Ratings: 42

3.78
/5
rDev
-2.8%
look: 4.25 | smell: 4.25 | taste: 3.5 | feel: 3.5 | overall: 3.75
Dark red-hued brown, mostly opaque. Creamy sandy/muddy brown head of great retention. Incredibly roasty smelling brew. Touch of chocolate and coffee, but the main thing here is meat, specifically ham or bacon. But not in a way that disgusts, but that genuinely entices. Palate is nuttier and sweeter along the lines of toffee and a little bit of dark fruit, and smoky rather than meaty. Hops are subdued but on the sides of tongue I detect that they are there is a bit of an earthiness, and then there is a leathery and tobacco-like afterbreath. Body is just into full territory, medium level of carbonation, mostly soft and smooth, some tingliness as it is sloshed around. Only moderately astringent.
701 characters

3.82
/5
rDev
-1.8%
look: 3.75 | smell: 3.5 | taste: 3.75 | feel: 4.5 | overall: 4
Solid porter
Malty dry sweet then wet bitter
A good companion to 70s James Brown
J Dilla
Boat tail rivieras
Japanese noir
Wild sheep in the badlands
151 characters
3.91
/5
rDev
+0.5%
look: 3.5 | smell: 3.75 | taste: 4 | feel: 4 | overall: 4
12 ounce can into a tulip.
Appearance is dark, with a small head that quickly disappears. Aroma is roasted malts and cocoa. Taste is similar, with a bit of hoppy bitterness. The body is appropriately light.
Overall, this is a porter that stands out from the crowd. It's got an interesting flavor, with enough character to make me want to drink this again ... and again. If this were available in Seattle, it would become a staple in my fridge.
451 characters

3.26
/5
rDev
-16.2%
look: 4 | smell: 3 | taste: 3 | feel: 4 | overall: 3.5
Undated can at 42 degrees into shaker
From a trade with @JayWhitson
Aroma weak - chocolate
Head large (Six cm, aggressive pour), light brown, creamy with rocks, diminishing to an eight to 17 mm irregular creamy layer
Lacing fair – partial curtains of tiny to small bubbles
Body dark brown/black, opaque
Flavor begins with a big hit of bitter chocolate, no roasted malt, ends bitter; no hops, no alcohol, no diacetyl
Palate medium to full, creamy, lively carbonation
Appearance 4, Aroma 3, Flavor 3, Palate 4, Overall 3.5
523 characters
4.01
/5
rDev
+3.1%
look: 4 | smell: 4.25 | taste: 4 | feel: 3.5 | overall: 4
Can received as an extra in a recent trade.
This one pours a very dark brown, with a nice half inch head, and a little bit of lacing.
This one smells pretty dry, cocoa powder, carob, some light char, and bitter roasted coffee.
This is a pretty tasty that almost feels like a dry stout in it's own way. Very dry, and somewhat bitter, with great char, bitter chocolate, cocoa powder, carob, slight hop bitterness, and roasted coffee grounds. It's nice that the sweetness is kept in check here. Good effort.
This is medium bodied, slightly thin- I wish the body was a little bit beefier, but it's still quite drinkable anyway.
A nice little porter from a brewery I had never heard of- always fun.
698 characters
3.94
/5
rDev
+1.3%
look: 3.75 | smell: 4 | taste: 4 | feel: 3.5 | overall: 4
From BeerAdvocate Magazine #84 (Jan 2014):
While this might not be your typical full-bodied Robust Porter, as it lands on the dry side, it does pack a lot in for a mid-sized brew. The use of debittered-carafa & brown malts are well-showcased and definitely bring something special to the table here, though the firm hop character helps this Porter along.
STYLE: Robust Porter
ABV: 6.0%
AVAILABILITY: Year-round
LOOK: Patchy web-like tan lacing, inviting darkness
SMELL: Semisweet dark chocolate, burnt toast, faint black currants, chicory, mild esters
TASTE: Bold roastiness, carob, mild coffee, soft char, burnt raisins, slight roasted bitterness throughout, balanced hopping, toasted biscuits, mild fruity hoppiness; roasty, drying finish
745 characters
3.99
/5
rDev
+2.6%
look: 3.75 | smell: 4 | taste: 4 | feel: 4 | overall: 4
dang, this is a real good porter. i always love when i have a beer from some tiny little brewery form out of state that i am real unfamiliar with, and it turns out to be amazing. this is one of those great success stories, and i think it would stack up against any of the great american porters in my book, like odells cut throat, or the smuttynose robust porter. this is every bit as good as those, with its own unique styling. its real dark in color, more than dark chocolate, almost blacktop looking, and the head is creamy and dishsoapy in its bubble height. i smell overly intense coffee, self cleaning oven generic char, and a richer middle malt, crystal and sweet. there are some hops too, which makes this american despite the yeast profile. it was real cool to drink this beer at the bullmans pizza place in billings. couldnt ask for a nicer crew of people, more dedicated to the food, and interested in the beer. great recommendation on this one, and honestly one of the better beers i have had from the state of montana. frankly one of the more delicious and drinkable porters i can recall, certainly the best one in a can i can think of at this moment. shocked how good this one is.
1,194 characters
3.84
/5
rDev
-1.3%
look: 3.25 | smell: 3.5 | taste: 4 | feel: 4 | overall: 4
A dark, black body with a bare wisp of a head. The smell combines a woody, chocolate, and faintly smokey aroma to draw you in. Roasted and charred grain flavors; coffee; subtle bitterness. Medium-heavy body; semi dry finish.
Flavor and aroma more than make up for a mediocre appearance. Rich and robust and very enjoyable.
323 characters

3.64
/5
rDev
-6.4%
look: 4 | smell: 4.25 | taste: 3.5 | feel: 2.75 | overall: 3.5
Poured from can into a pint glass
Appearance – The beer pours deep –deep brown color with a huge thick tan colored head. The head has a fantastic level of retention slowly fading to leave a rings of foamy lace on the sides of the glass.
Smell – The aroma of the beer is quite delicious with lots of sweet smells of caramel and toffee as well as a great showing of milk chocolate and roasted malts. Along with these aromas are some very light hints of vanilla and some light dark fruit aromas. Quite chocolaty, sweet, and smooth.
Taste – The taste begins with a roasted malt and caramel flavors with some mild dark fruit flavors of a fig and raisin nature. The fruit and roast flavors remain relatively constant throughout the taste with the caramel gaining a bit of strength as the taste moves on. Along with the increase in the caramel, there is also an arrival of some light coffee and chocolate flavors. The chocolate remains very weak, but the coffee does grow a bit in intensity (although it still remains relatively light overall) with the mix of flavors left on the tongue at the end, leaving a semi-smooth and sweet roasted coffee flavor to linger on the tongue.
Mouthfeel – The body of the beer is on the average side in terms of thickness and creaminess with a carbonation level that is average as well. A bit of a lower carbonation level and a thicker and creamier body would have been better for the brews darker flavors, really accentuating them over the sweeter flavor of the brew better.
Overall – A decent porter overall and very drinkable but nothing really all that extraordinary.
1,615 characters
4.29
/5
rDev
+10.3%
look: 3 | smell: 4 | taste: 4.75 | feel: 3 | overall: 4.75
Reminds me somewhat of Old Rasputin Imperial Russian Stout. I recently moved to Bozeman and had avoided the Bozone beers because they're a couple bucks higher than the usual domestic stuff I drink. But I'm glad I tried this beer, it is exceptionally tasty.
256 characters
3.66
/5
rDev
-5.9%
look: 3.5 | smell: 3 | taste: 4 | feel: 3.75 | overall: 3.75
Looks almost black with a small light brown head. Aroma is faint and smells of iced coffee and coco. Tastes of a light coffee with hints of sweet coco and strong roasted tones. Creamy with good carbonation and a slightly dry bitter finish. overall a decent porter that could be a little more full bodied to compete with others.
327 characters
3.9
/5
rDev
+0.3%
look: 4 | smell: 4 | taste: 4 | feel: 3 | overall: 4
Had on tap at the brewery.
Appearance: Pours a very dark brown, close to pitch black. Only a hint of ruby red shows around the edges. About 1" of light khaki head forms, which has some staying power. Lacing is pretty good too.
Smell: Definitely a good amount of malts in this beer. I get some sweetness initially, followed by quite a bit of roast. Probably more roast than you will smell in most porters. Pretty good.
Taste: Quite a bit of sweetness up front, with some dark chocolate notes. Some good roast notes and coffee bitterness follows. Overall a very flavorful porter. It's sweeter than many you'll have, but there is enough roast and bitterness to balance it out.
Mouthfeel/Overall: Mouthfeel is definitely on the light side, but it does drink smoothly enough. Probably the weak point of the beer. Overall, I liked it and would have it again for sure. Pretty solid.
881 characters
3.73
/5
rDev
-4.1%
look: 4 | smell: 3.5 | taste: 4 | feel: 3.5 | overall: 3.5
Into a pint glass, pours a dark black brown with ok head, lacing is ok. Aroma is weak, hints of chocolate and roasted malt. Tastes kind of sweet actually, a good chocolate thing going on, and I can pick up the roasted malts, but is just more sweet than I was expecting, maybe from the wheat used?, and for a porter thats a bit odd. Mouth seems kind of thin, not too sure about this one. Though a bit on the sweet side, seems kind of average. A good drinker for sure, I might have this again if in the area. Then again, with all the local stuff to drink around here, probably not.
579 characters

4.45
/5
rDev
+14.4%
look: 4 | smell: 4 | taste: 5 | feel: 3.5 | overall: 4.5
I think they have a winner here. Named after the street and area of town in Bozeman, MT the brewery is located. Ordered a pint of this after a meal at a local restaurant, since a nice dark beer serves as my desert while the Wife orders coffee and ice cream. Not as full of a mouth feel as a typical porter, and this one seemed sweeter than most. But absolutely loved it after the meal. The flavor was perfect at the time and the sweetness rounded out a wonderful meal. Still plenty of malt flavors, a hint of chocolate, not much hops, slightly fruity, resulting in the sweetness. I suggest it to others.
603 characters
Bozone Plum St. Porter from Bozeman Brewing Company
3.89
out of
5
based on
42
ratings.