Library Liquor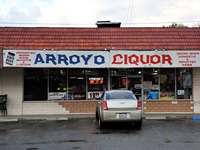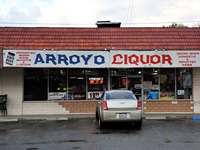 Store
8145 Arroyo Dr
Rosemead
,
California
, 91770-4153
United States
(626) 766-1755 |
map
Notes: Formerly Arroyo Liquor
Reviews by TheLongBeachBum:
TheLongBeachBum from California
4.5
/5
rDev
+12.8%
I have been here a few time with fellow BA's DavidBanner & StoutLove77, and I always walk out with something new to try.
Living in Long Beach, to be honest, if it hadn't been for my fellow BA's, I wouldn't ever get out this way. I do recall that it is very close to both the 10 & 60 Freeways & it is pretty easy to find. I remember signs for Montebello, Monterery Park & Rosemead nearby, so maybe it is at the junction of all three areas!
Set in a smallish Strip-Mall, it looks like many other Convenience Stores from the outside. But bear left when you walk in and the specialist bottled beer starts in the far left Cooler set against the furthest wall, & works its way round about 5 or 6 coolers to the right. After that there are a few more coolers with beer, tends to be the domestic stuff in multiple packs. I would say there are easily in excess of 100 beers worth trying here.
The range is quite astounding given the unassuming nature & the fact that this place does not promote its specialty beers in any explicit manner. Some beers are well know, whilst others are rarely seen, or downright quirky. Beers that caught my eyes were Lindemans Gueuze Cuvee Rene, a range of Samuel Smiths & Unibroue, Marin, lots of Stone & Alesmith including some 75cls, to name but handful. There was a good range of Belgium & German beers in here as well.
This was my second visit, & I noted the very friendly warm & helpful service from the owner whose name I am ashamed to say I forget. He offered assistance immediately & a quick chat with our BA trio revealed that he still had some Stone 6th Ann. Porter left, Amazing!! given the fact that most of this has long gone off of the Shelves in all the So. Cal. beer stores I know of. In addition, some supplies of Old Guardian from 2002 & a bottle of Unibroue 11. After we stocked up, the owner even threw in a free bottle of German Beer for our party, nice touch.
If you are in the area, or just passing by, I strongly recommend "popping in" here & try seeking out those rarities hidden amongst the already good selection of beer in here. Ask the owner politely after stocking up here for any specials he may have in the back & you could be surprised. I walked out with 3 Bombers of Stone 6th Anniversary, 2 of 2002 Old Guardian, as well as a 75cl of Unibroue 11. All for less than $40 – a bargain considering the rarity of the former bottles!
Recommended.
Oct 28, 2003
More User Reviews:

mrcraft from California
4
/5
rDev
+0.3%
vibe: 4 | quality: 4 | service: 4 | selection: 4
Too bad I didn't find this place sooner. I live in Monterey Park, so this place is only a few miles away. My mom periodically buys lottery tickets here and really likes the owners.
It's located in a tiny strip mall and one's initial impression (like mine) might be, well they probably don't sell anything outside of BMC and a few crafty beers. I was wrong. They carry a good selection of West Coast, mainly California craft beers. I was pleasantly surprised at the variety. I bought a bottle of Stone RuinTen IPA and left happy.
It doesn't rival Rameriz or Whittier Liquor Mart in selection, but when I'm in the mood for local brews, I will definitely swing by here. It's a great mom-and-pops store. I've been told they used to own the donut shop in the same strip mall and when this liquor store came up for sale, they bought it and sold the donut shop. I met both of them, and they were really nice.
There's also an awesome Japanese take-out called Bachan's about a 1/4 mile down Arroyo next to the cemetery. Try their teppan chicken, and you'll thank me later. :)
Update (9/6/2017): They changed their name to Library Liquor under new ownership. I believe they carry more craft beers than before. They also have a new walk-in cooler. They are new, so still in the process of organizing their inventory. Has lots of potential.
Aug 22, 2013
DoubleJ from Wisconsin
3.67
/5
rDev
-8%
vibe: 3 | quality: 4 | service: 3.75 | selection: 3.5
I'd rather be at a beer store than stuck in rush hour traffic on the CA-60. If you're like me, Arroyo Liquor provides some medicine to the alternative. The interior is dark and has a little odor, perhaps ifrom age. Seeing old soda labels on some of the shelves took me back to 1996. Soda can be a nice thing, but beer is what brought me here. Much of the beer is refrigerated, as I only saw a handful of brands left at room temperature. The brands which are offered are more than reasonable; Rogue, Epic (Utah), Wynchwood, Unibroue, Delirium, and Stone provides the pillars of a solid base. Pricetags on each of the bottles, another good thing which sometimes gets overlooked. Good thing, as the beers cost a bit more here than other comparable shops; expect to pay an extra dollar for large format bottles. I didn't see any beer glassware for sale, but there is a lot of whiskey glass for sale. An acceptable shop for purchasing beer.
Mar 29, 2013

Gobzilla from California
3.3
/5
rDev
-17.3%
The place is a gem really close to the 60 fwy. I would stop by almost all the time on the way to LA to pick up some tasties for the road. The service is good as long as the asian kat is there cause he's the one in charge of the brew and knows what he has in stock. Pretty good craft selection and a decent selection of imports. This is also one of the places that started me off on my beer adventures. They also carry some over sized arrogant bastard bottles that are great party favors. Over the years it seems as though they are adding more craft beer and imports into stock regardlees of the limited space.
May 04, 2010
snpub540 from California
3.85
/5
rDev
-3.5%
Looks like this place has gone a little down hill since I frequented it a couple years ago, but still a good place to go if you are in the area. Shelves were a little empty and some beers were really dusty.
Still had Old Guardian 2009 and Stone RIS. Also had an 08.08.08 VE. Rogue was well represented as was Avery. Nice selection of Belgians with some of the winter offerings from Petrus and St. Bernardus still available. German and British offerings were also there but I can't remember them all.
Old lady during the day isn't much beer help but she's real nice. Chris the owner who is in the afternoons and evenings can usually point you in the right direction.
Jan 26, 2010
angelo from California
4.35
/5
rDev
+9%
For a small store it packs a large selection of craft beer. From AleSmith to Avery to Port Brewing to Stone, they carry a wide aray of styles. They also have a good selection of Belgian beer like Chimay, Rochfort, and St Feuillien, as well Belgian style beers from The Lost Abbey, Ommegang and Unibrue. You can even find a rare special release or seasonal beer from time to time. They even carry a fair selection of beer class. Best selection in all of Rosemead. I highly recomend stopping by to see for yoursrlf.
Mar 02, 2009
Boilermaker88 from California
4.5
/5
rDev
+12.8%
I finally decided to wander a bit off the beaten path home from work after hearing via the Pacific BA grape (or is that barley?) vine that there were a few bottles of Alesmith's 2001 J.P. Gray's Wee Heavy Scotch Ale to be had at this store. Always on the lookout for some rare Alesmith (I've found their 2000 Grand Cru and 1999 Weizenbock), I made the trip. Turns out it's not that far off the path and worth the trip.
Set in a small strip mall in a somewhat seedy part of town, one wouldn't expect much from Arroyo Liquor. Wrong. On entering and hanging a right, I walked up to a row of fridges, the leftmost housing my quarry. Bottle secured, I cast my gaze around the other coolers and discovered a nice variety of California and West Coast brews. Pretty much the full line of Marin and Moylan's, some Alesmith's (IPA, Old Numbskull, Horny Devil), Bear Republic, Stone (including 2002 & 2004 Old Guardians and 6th Anniversary porter), Ballast Point and Firestone. Also noted were Midnight Sun, Avery, and a lot of Rogue. There was a nice selection of Samuel Smith's, some fine Belgian ales (Lindemans Gueuze Cuvee Rene being the most noteworthy) and a small but high-quality display of German brews. I curbed my excitement and picked up a bottle of Horny Devil for Halloween and a bottle of Weihenstephaner dunkle weissbier (one of my top 5 faves).
The service was quite nice and we chatted about beers and shipping said items for about ten minutes or so before I bid them farewell. Arroyo Liquor has the air of a Mom & Pop run store with a relaxed atmosphere. The prices might have been a bit high (it cost me nearly $30 for the three bottles) but it was worth it in the end.
If you find yourself in the San Gabriel/Rosemead area not too far east of Los Angeles, I seriously recommend Arroyo Liquor. There are so real treasures to be found there.
Oct 09, 2004
BrewMaster from California
4
/5
rDev
+0.3%
Arroyo Liquor has been a well kept local secret for a while now. The son of the owner is the beer buyer and he knows his beers pretty well. They have a reasonable selection of craft beers but nothing that is going to blow you away. They have had a long standing relationship with Stone Brewing Company and that is actually how I found them---I was looking for Stone brews several years back and they were one of the few local shops to have them. There are certainly places with a wider selection, but Arroyo is not bad. As another reviewer said, on the outside it looks like just another liquor store. Their prices have gone up recently and I tend to consider them overpriced now. I tend to only buy there when they have a Stone brew that I can't find anywhere else.
Aug 05, 2004
lou91 from California
3.7
/5
rDev
-7.3%
For those people from LA this place is right up the street from the Montebello Town Center in a typical strip mall with a 7/11. This place looks like any of a thousand liquor stores in LA with bud neon signs, lotto tickets, and calling card posters in the windows. The difference of course is the beer buyer, who I did not meet, has an above average eye for beer. Aside from the usual craft brew, I saw the avery white rascal and left coast milk stout in six packs. In the bombers, marin, moylans, stone and avery were well represented. They had three years of Stone old guardian and the 6th anniversary porter which I have not seen before and it was tasty. I also picked up the Avery salvation and Ballast Point IPA which were also new to me. This place is a pleasant surprise and worth checking out when other places may have run out of certain stone or avery beers.
Jul 29, 2004
twilight from Germany
4
/5
rDev
+0.3%
When we drove up, my brother-in-law, said his family always bought donuts from the shop in the same strip mall. I was more amused by the fact that it sits snugly next to a 7-11, and still kicked its rear in beer selection. With a disarmingly deceptive storefront, we walked in with no real expectations. Me armed with the beeradvocate reviews, and he with a suspicious eye.
The good stuff is in the back, with a small, but quality, selection of brews, Stone Brewery ales, Rogue Brewery, they even had some Chimay in stock. Lots of Samuel Smith as well as local brews I'd never heard of. When we were paying, the owner saw we were purchasing some Shakespeare Stout and informed us he was getting in some I2PA in a few days, so it was nice to chat about beer for a bit.
Overall, a good visit if you're in the neighborhood.
Dec 29, 2003
Library Liquor in Rosemead, CA
Place rating:
3.99
out of
5
with
10
ratings