Drake's Jolly Rodger 2013 Imperial American Black Ale
| Drake's Brewing Co.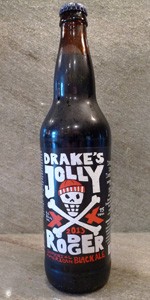 BEER INFO
Brewed by:
Drake's Brewing Co.
California
,
United States
drinkdrakes.com
Style:
American Black Ale
Alcohol by volume (ABV):
11.50%
Availability:
Limited (brewed once)
Notes / Commercial Description:
No notes at this time.
Added by spark3148857 on 11-09-2013
This beer is retired; no longer brewed.
Reviews: 14 | Ratings: 84
3.58
/5
rDev
-12.3%
look: 4 | smell: 3.5 | taste: 3.5 | feel: 3 | overall: 4
650 mL bottle poured into a snifter.
Appearance - Black, some transparency. Big khaki head. Sticky lacing and a thin collar.
Smell - It's pretty boozy. Citrus hops. Orange more than grapefruit. Chocolate malts.
Taste - Citrus hops right up front. Sweet. Dark chocolate. A bit of nuttiness. Boozy and bitter in the finish. Lingering hop flavor.
Mouthfeel - Boozy. Medium heavy body. The aftertaste of booze, chocolate, and hop bitterness makes it a little rough.
Overall - All things considered, this is a very good beer. Too big, in my opinion, but well made for what it is.
579 characters
3.77
/5
rDev
-7.6%
look: 3.75 | smell: 3.5 | taste: 4 | feel: 3.5 | overall: 3.75
On tap pangea cafe ..sacramento, CA
Dark black full bodied looking, tannish-brown head, 1/2" reduced to no head immediately..smells of pine, pear, molasses, honey, grapefruit. Taste is much like an imperial IPA, with some roasted malts and slight coffee undertones. Pine and resin of sour-deiesel is present, with a little warmth on the finish. Smooth for an 11,4%er. Overall good not great.
392 characters

3.91
/5
rDev
-4.2%
look: 4.5 | smell: 4 | taste: 3.75 | feel: 4.25 | overall: 3.75
2013 batch (duh).
A: Dark dark brown pour but not black. Big, tall and effervescent medium brown head. Great head retention and even better lacing. Thick and fluffy chunks and streaks everywhere.
S: Big piney, resinous and garlicky hops up front. Mild roasted malt character with a little chocolate and char. Surprisingly mild beyond the hops, despite the 11.5% ABV.
T: Hoppy up front like the aroma. Again with the resinous pine and some garlic. There is a big, big, BIG sweet roasted malt character here now though and it takes over quickly. Very sweet and very chocolatey. Roasted malt dominates except at the very beginning and very end. Lingering in the aftertaste is a decent wave of bitterness (but obscured mostly by the sweet malts still) and some mild resinous pine. Again with bits of garlic, probably the Mosaic.
M: Heavy and smooth. No booze.
O: Hmph, it's an attempt at a big big black IPA but it falls a bit short. Hops are overshadowed by the huge sweet malts. It tastes more like a mildly hoppy imperial porter. It's not a big hoppy in-your-face IPA and it's also not very balanced either so it falls short everywhere. Pine, resin and garlic hops don't seem to work well with all that sweet chocolate either. It's tasty enough but it's sorta a mess as a result. Just doesn't work for me. Not a bad beer but it's not hitting me quite right. Maybe a lighter malt bill and lower ABV would have worked better.
1,427 characters

3.92
/5
rDev
-3.9%
look: 4.25 | smell: 4 | taste: 4 | feel: 3.5 | overall: 3.75
Poured out of a 22oz bottle into a tulip glass. Split with others. Bottling date was "11/24/13," and this was consumed about a month later.
Pours a pretty darkened black ale - almost opaque, save for the brownish tinges that round up the sides of the glass when held against the light. Contains an off-khaki head that gives this the appearance of some heavily viscous porter, or something similar. The lacing on this is tremendous given the hilariously high ABV, and, perhaps due to the expected dank dry hopping this beer apparently has, leaves behind some sticky foam at the sides of the glass in a pretty remarkable way. This is definitely up there with some of the more memorable looking American black ales I've had to date, to be honest. Then again, it's a relatively untapped style, so it's good to see Drake's try it out exaggeratedly!
Sweet Jesus! This is really intense. Granted, I should have expected nothing less from Drake's at this point, but this is really not your typical black ale, as indicated by the aroma. Huge dank pine, minty notes, coated with caramel, roasted chocolate notes, as well as raisins, figs, molasses, and anise. Contains a spicy, herbal profile here in addition to the pine and anise, containing peppercorns, green pepper, flower stems, black tea, and slightly charred elements that you'd normally find in barrel aged beers, yet still comes through in a similarly tannic manner. Aggressive and unforgiving, and it doesn't help that it's slightly boozy at the nose as well. It's one of the most complex black ales I've ever whiffed upon, but it's really oppressive in the same manner a fresh American barleywine is.
And with one sip, I find my palate battered and numbed with an intense bitterness, roasted character, and intensity of herbal spices that I'm pretty much convinced that this is the very first "black barleywine," if that is to be a style, that I've ever tasted. Huge roasted grainy notes, with charred dark chocolate, coffee, black tea, as well as prunes and molasses coated with licorice, pine, and mint. Peppery at the finish, yet mostly bitter and assertive, with dried orange rinds that are charred and simultaneously caramelized. Finishes spectacularly bitter, with huge grainy notes, as well as tons of heat from the alcohol and a strong prevailing earthiness. This is seriously crazy stuff. Very astringent and intensely flavored - I'm seriously glad that I split this, because more that 6-8oz would seriously be too much.
Wow, this really pushes the boundaries for what Drake's has made in the past - complex, flavorful, but very, very difficult to wade through due to its huge bitterness and booziness. I didn't mind it, and I'll praise it for its unique qualities, but I have no clue what to do with it. It's very bitter, herbal, and soapy as a fresh barleywine, but laying it down may cut off all of the herbal and citrus qualities I'm enjoying it for. Wish I would have gotten an extra bottle to test it out, but I was glad to be part of the experience!
3,021 characters
3.93
/5
rDev
-3.7%
look: 4.25 | smell: 3.75 | taste: 4 | feel: 3.75 | overall: 4
On tap at Field Of Drafts held at The Hanger in Lancaster, CA.
Pours a murky dark brown with a foamy dark khaki head that settles to a small cap on top of the beer. A foamy lattice of lace coats the glass on the drink down. Smell is of dark roasted malt, cocoa, and citrus zest aromas. Taste is much the same with citrus zest and slight cocoa flavors on the finish. There is a mild amount of roasty and hop bitterness on the palate with each sip. This beer has a lower level of carbonation with a slightly crisp and medium bodied mouthfeel. Overall, this is a good beer that is tasty and easy to drink.
603 characters
3.94
/5
rDev
-3.4%
look: 4 | smell: 3.75 | taste: 4 | feel: 4 | overall: 4
A-dark brown color with a light tan head and some lacing
S-dark malt, pine, hint of coffee and citrus
T-Dark roasted malt, light coffee, citrus, hint of molasses, moderate bitter finish
F-medium body with moderate carbonation, smooth
O-decent black ale, old flavor
268 characters
4.18
/5
rDev
+2.5%
look: 4.25 | smell: 4.25 | taste: 4 | feel: 4.5 | overall: 4.25
I must say that this beer shocked me. Drake's have been hit or miss for me. I don't think they're always in balance. This beer poured a thick black with a pillowy brown head in the glass. Very little roast on the nose as the juicy citrus hops took over. Very intrigued already. The taste was so well balanced it was confounding. Still little roast as the darkness converted into a more chocolately taste that was then left to the side as the juicy hops kicked through. The mix of hops sounded delicious and they delivered. Floral, citrus, and a bit grassy. I got the Mosaic in all of its glory and the backbone was so interesting. My only complaint is the booziness. I really enjoyed this beer and only made it through half the bottle due to the ABV. Cheers to this monster of a Black IPA. Well done.
800 characters

4.26
/5
rDev
+4.4%
look: 4 | smell: 4.25 | taste: 4.25 | feel: 4.5 | overall: 4.25
Pours pitch black with a mocha colored head. Aroma is of dark chocolate, cocoa powder, espresso, citrusy hops, dankness, earthy. Taste is all of the roasty characteristics up front, chocolate and coffee followed by hop bitterness in the middle of the palate. Sweet, sticky, and resinous hop bitterness. Citrus and pine with some dank and earthyness. Bitterness is long and lingering. Coats the mouth with a velvety mouthfeel. Alcohol is imperceptible. Could be mentioned in the same sentence as Wookey Jack or SSR. A great ABA or Black IPA.
540 characters

4.28
/5
rDev
+4.9%
look: 4.25 | smell: 4.25 | taste: 4.25 | feel: 4.5 | overall: 4.25
Finally bought this year's version.
Pours a very nice black ale with a foamy beige head with big lacing and ring around the glass with slight film.
The aroma has a big hoppy smell. The late addition hop addition really kick this up a notch. Alcohol is nicely present. Chocolate and roasted malt. Tires/rubber is very present as well. Really good whiffs here each and every time. Pine.
The taste starts out as dark and malty, smooth chocolate and a long bitterness on the swallow. The aftertaste stays for awhile. The booze is definitely present as well but that's to be expected on an 11.5% ale. Some black coffee and orange/grapefruit rind is also noticeable. Much going on here. Spicy.
Smooth and almost creamy mouthfeel.
Overall this is a big-time beer. Boozy and warm but the sips come pretty easy. Flavor does not get tiresome though this beer will catch up with you quickly. Another great Jolly Rodger brew from the San Leandro crew. Can be found pretty easy and not overly heavy on the wallet. Looking for a buzz? Just check the label. Well done.
1,059 characters
4.34
/5
rDev
+6.4%
look: 4 | smell: 4.25 | taste: 4.5 | feel: 4.25 | overall: 4.25
Type: 22-oz. bottle
Glass: Karl Strauss pint glass
From: Whole Foods in Hillcrest (San Diego), Calif.
Price: $6.99
Purchased: Jan. 4, 2014
Consumed: Jan. 11, 2014
Misc.: 2013 batch
Poured a pitch black color with 5-to-6 fingers of frothy tan head. I should have known when I poured it that every Drake's bottled beer I've had the head has been huge. A very good amount of semi-layered foamy lacing along the sides of the glass. Great retention on the top of the glass all the way down.
First smell was spicy dark malts, backed by hops. Got spicy cocoa nibs, toffee, caramel, chocolate fudge brownies, brown sugar, sharp citrus hops and some other unknown hops. Very good.
Tasted even darker than the smell. Spicy cocoa nibs really dominate here. Also chocolate, caramel, toffee, wood fire, citrus hops and dirty hops. Very tasty. Alcohol is well hidden, definitely not 11.5 percent.
Medium body. Creamy-to-sticky texture. Average carbonation. Long, spicy finish.
Just a fantastic black ale. Would love to try it again. Each sip had me wanting more.
1,058 characters

4.35
/5
rDev
+6.6%
look: 4.25 | smell: 4.25 | taste: 4.5 | feel: 4.25 | overall: 4.25
Appearance- black color, nice size tan head, nice lacing
Smell- piney hops, roasted malt
Taste- piney hops, roasted malt, chocolate
Mouthfeel- smooth, full bodied
Drinkability- Very good, definitely like it a lot, I would love to have this one again.
254 characters
4.39
/5
rDev
+7.6%
look: 4.5 | smell: 4.75 | taste: 4.25 | feel: 4.25 | overall: 4.25
wow! this one smells awesome! like that multi-colored plant flower i'll never know the name of but is prevalent here in socal.... but pungent!!! this is a lot like that flower! this bottle must be fresh! on the side, some grapefruit zest, orange zest.... yes! this one is ZESTY!!!
almost black but with nice tan stickiness/oiliness coating the sides. even and level foaming across the top upon pour, with a medium thickness in the viscosity of the head. almost sour taste; but not in the 'brett' sense, sour in the 'bitterness' aspect. after the sip leaves the mouth there lingers a certain fruitiness, like a Fruity Pebbles kind of fruitiness... this is a very unique brew.
I suppose I must mention here, as I have just learned, that this is the 2013 version, an imperial black ale, as opposed to earlier versions which I have only just now also learned, is a winter seasonal which changes each year. so much for consistency.
•2012: American Barleywine
•2011: Imperial Black IPA
•2010: Imperial Red Ale
•2009: Imperial Brown Ale
I hate when sh*t doesn't stay uniform. it messes up the organization and structure in my simplified world. but anyway, subsequent aromas seem to conceal a slight red pepperiness although there is no spice or heat to speak of. similarly, there doesn't appear to be any alcohol to speak of either. for 11.5%, that is quite the feat....
this is a great brew. unique in the pungent aromas I got from it, and the seemingly complex flavors I was getting. it seemed a bit too thick and on the oily side for my preference but that is just nit-picking. this is a very nice brew that, especially for 11.5%, could be one of my 'staples' in the frig, like a Wookey Jack, or an Optimator, or an Eclipse... except aside for the Eclipse (which I stocked up on) the others are NOT seasonals and, hence, available ALL THE TIME...
1,850 characters

4.41
/5
rDev
+8.1%
look: 4.25 | smell: 4.5 | taste: 4.5 | feel: 3.75 | overall: 4.5
Bomber to a snifter, bottle date is smudged but should be close with when the beer was added- ~2 months ago
Pours pitch black with a finger and a half of mocha colored foam. Mild carbonation on the sides, good retention and lacing. Great looking beer
Smell is a hop bomb for sure, strong piney grapefruit and citrus hops, chocolate and coffee notes, and a sweet bready malt finishing with a nice splash of alcohol. Really pungent, reminds me a lot of Stone's SSR
Taste is with the nose for the most part- strong upfront pine, grapefruit, and a bunch of floral citrus undertones, cocoa and espresso nuances with a sweet malt and a nice splash of alcohol. Delish !
Feel is a stick and creamy thick body. Alcohol is definitely present, drinks a little warm. Very bitter and drinkable
Overall one of the better bipas I've ever had. On par and very similar to Sublimely Self Righteous
885 characters
4.69
/5
rDev
+15%
look: 5 | smell: 4.75 | taste: 4.75 | feel: 4.5 | overall: 4.5
:: Pours into Ommegang tulip::
This pours out like motor-oil with a two-finger tight light-brown foam - its beautiful and has darker brown lacing.
Smells of sweet molassas into over-ripe fruit, banana peel, carmel and cocoa. Label says Simcoe, Mosaic and Chinook added but the fruitiness of the nose is tempered by coffee malty happiness.
The 11.5% is dangerously well hidden - pleasant warming zing after only a few sips.
Mouthfeel is very smooth with subtle carbonation
I think this is Drake's at its best with a hop bomb black ale (read: black IPA) that has a smooth malty spine that makes it go down tasty everytime.
If you like Rasputin, Narwhal, Adam etc, you too will gush over this beer.
Thank you sir may I have another.
737 characters
Drake's Jolly Rodger 2013 Imperial American Black Ale from Drake's Brewing Co.
4.08
out of
5
based on
84
ratings.