Drake's Bourbon Barrel Barley Wine (Barrel Aged Series #4)
| Drake's Brewing Co.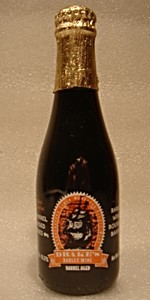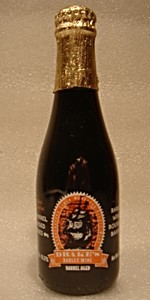 BEER INFO
Brewed by:
Drake's Brewing Co.
California
,
United States
drinkdrakes.com
Style:
American Barleywine
Alcohol by volume (ABV):
10.37%
Availability:
Limited (brewed once)
Notes / Commercial Description:
No notes at this time.
Added by BeerBeing on 03-23-2007
This beer is retired; no longer brewed.
Ratings: 13 | Reviews: 13
Reviews by bradford:
3.09
/5
rDev
-16.7%
look: 2.5 | smell: 3.5 | taste: 3 | feel: 3 | overall: 3
I bought an 8 oz bottle form Monument Wine and Liquor in Concord, CA
Appearance was pretty bad. Muddy brown, slight hint of red and no carbonation whatsoever.
Smelled good. Very sweet and high in alcohol, much like a beer that has fermented but not carbonated.
Taste was okay. Very sweet, lots of alcohol and dark fruits.
Mouthfeel would have been very good if it were carbonated. It is a thick, coating beer that feels good all the way down, but if it were carbonated it would have hit it out of the park
Drinkability is not so high. I think I am being a bit generous here because this beer doesnt really seem like beer because it is flat as water.
Okay, if it were cheaper, I might buy it again. But it's not looking like that will happen
741 characters
More User Reviews:
3.54
/5
rDev
-4.6%
look: 3 | smell: 4 | taste: 4 | feel: 1 | overall: 3.5
I believe I got this from murchmac awhile back. Thanks!
6oz. dark green bottle, gold foil capped, poured into a snifter.
A: Very deep shoe leather pour. No head or lacing.
S: Big time bourbon. Smells a bit raw, but very inviting... like Woodford. Lots of sweet malts and woody/oaky/vanilla scents.
T/M: Again, big time bourbon. Tastes a little like Beam green label and even has a faint sting. Lots of malty sweetness but majorly lacks in any hop presence. Also a huge letdown is the mouthfeel. Beer needs carbonation, period. This could of had some redeeming quality if it would have had any carbonation... nope, none.
D: Alcohol is obviously very present. 6oz. was a smart move. This would be a good alternative to a decent bourbon night cap if you didn't want the big time bite.
786 characters
2.97
/5
rDev
-19.9%
look: 3 | smell: 3.5 | taste: 3 | feel: 2.5 | overall: 2.5
Pours almost pitch black with absolutely no head...just a very faint ring of white.
Aromas of bourbon, oak, and alcohol. Dig for it and you will find dark fruit like prunes and raisins as well. A little farther down and you find some dark brown sugar.
Taste is syurpy sweet dark fruits...mega prunes and raisins. Oak is no longer mellow, but strong. No vanilla in this one. Alcohol burn is heavy as you swallow.
Mouthfeel is extremely thick and syurpy. Aftertaste is dark sweet fruit and of course the alcohol continues to warm.
Don't know yet how much I like this. I would have liked to have gotten more hops on the end (which seemed to be missing completely) and more from the whiskey barrels.
707 characters
4.24
/5
rDev
+14.3%
look: 3 | smell: 4 | taste: 5 | feel: 3 | overall: 4
I received this one as an extra in a trade a while back, but just had never gotten around to trying it. Last night I was looking for a nice nightcap and decided that this one should fit the bill very nicely. The tiny little six ounce bottle, looked very nice and I proceeded to decant it into a Rodenbach chalice and serve it at cellar temp.
Appearance - Rather unremarkable, and average at best. This poured into the glass with little ovation, no carbonation it would seem at all, as it was utterly lifeless and flat looking. A ruddy brown color, it was just not the greatest looking thing in the world. No real head, or lace or anything other then a flat looking dull liquid.
Smell - The aroma started to help it redeem itself a bit, as it really started to put on more of a show. Very rich and sweet, the bourbon smell was unmistakable, even from across the room. Lots of sweet caramel, and toffee like flavors, hints of oak, vanilla and molasses as well s a touch of fig. Very interested I became in this one right away.
Taste - The flavor was a spot on reincarnation of the aroma, but with the exception of the utterly perfect barrel aged flavor. Started out with a deep rush of bourbon filled alcohol, so big that it took a minute to put it in perspective. Though once you did a wonderful balance of flavors and profiles started to come through. Really nice touches of caramel and especially toffee I do not think I have ever picked up so much toffee flavors in a beer before. It was simply wonderful. Rich hints of vanilla and oak, with a touch of molasses in the finish. The finish was quick though it left a long lasting taste of butterscotch in its wake. This stuff was very very good.
Mouthfeel - Very flat here. There was no carbonation to it at all, and an it did feel a touch thin, but otherwise was more then decent in the recovery. Great coating to it, as it simply draped over the tongue and allowed no other flavors to escape, very nicely done, but really would have been much better with a little bit of carbonation.
Drinkability - Here it is a personal opinion, but I really enjoyed this. It was a quintessential sipper, meaning you are not having more then one of these, there was just no way. But taken as it is, it was very, vey good and I would love to try it again.
Overall I thought this one really came off very well. The flavor of bourbon especially was probably the best I had ever had. As for the rest, I cannot really complain about that one either. I think if it had just a touch more life in it, it could be extraordinary, however as it stands I would have no issue at all in having another one of these.
2,643 characters

3.84
/5
rDev
+3.5%
look: 3 | smell: 4 | taste: 4 | feel: 4 | overall: 3.5
Can't quite recall when this bottle came out. 2006, possibly 2007. In any case, it's got a bit of age on it. I tried it fresh and didn't particularly like it, but it seems to have aged nicely.
Appearance: A completely flat pour produces a turbid dark brown tincture with no head or carbonation whatsoever.
Smell: Sherry-like oxidation meets maple syrup and brown sugar. Ultra sweet and rich, this is the sort of beer that treads that fine line between complex and downright cloying. There's a strong fruity undercurrent, reminiscent of figs or prunes, along with a hint of chocolate and cinnamon. It's definitely complex, but the oxidation is a bit stronger than I'd like.
Taste & mouthfeel: Incredibly thick and rich, to such an extreme that I'd have to say that the 6 oz bottle is ideal for two people. Fruity port-like sweetness opens this one up, with notes of maple syrup, molasses, dates and caramel to follow. Bourbon comes out mid-sip, revealing a touch of vanilla and a bit of drying oaky tannins in the finish. If not for the moderate dryness in the finish, this would be very cloying stuff, but as it stands it's got a nice dynamic. While this is by no means the best example of a barrel-aged barleywine, it's not bad either. Worth a try.
1,252 characters
4.14
/5
rDev
+11.6%
look: 3 | smell: 4 | taste: 4.5 | feel: 4 | overall: 4
thanks to fartingdog for sending this brew my way. I continue to be fascinated by Drakes and this bottle is no exception.
A - reddish brown color with no trace of carbonation at all.
S - sweet malts, rich bourbon, vanilla and toffe.
T - everything noted in the aroma with a sharp bourbon note balanced with a nice oaky aspect.
M - full bodied, flat yet with a tingly almost carbonated feel. Weird but it works.
D - a sipper and proud of it.
set aside your preconceived notions and enjoy the experience. a year plus for batch #4 and it's coming along quite nicely. Kudo's if you put a 6 pack or more of this in the cellar to enjoy over time.
643 characters
3.46
/5
rDev
-6.7%
look: 3 | smell: 2 | taste: 4 | feel: 4 | overall: 4
Tasted along side the original version of this brew, Drake's 15th Anniversary.
Pour: 6oz bottle to tulip glass. Thick dark brown color & very cloudy. No head... meh...
Nose: Smell is frightening, of peanut butter, sesame, chocolate, toffee & soy sauce. Complex, yet perhaps a bit old?
Mouth: Much thicker than the older 15th Anniversary. Flavors similar to the aroma, though not as unappealing as I'd expected. Chocolate dominates with notes of soy sauce and peanuts. Flavor is long lasting and body is creamy.
I split this bottle. 3oz was enough. Interesting.
564 characters
4.31
/5
rDev
+16.2%
look: 3 | smell: 4.5 | taste: 4.5 | feel: 3.5 | overall: 4.5
Appearance: Pours a clear coffee color with an amber ring; no carbonation at all
Smell: Figs and raisins dominate the aroma, along with caramel and woody Bourbon/vanilla notes
Taste: The dried dark fruit flavors jump out front and build in an "after dinner drink" intensity, while accompanied by subtle hints of bourbon, vanilla and oak; after the swallow, the bourbon elements build briefly, but the fruit and caramel flavors rise to the challenge and balance the profile
Mouthfeel: Medium to full body but no carbonation
Drinkability: While the lack of carbonation was initially disconcerting, the still flavors grew on me - a poor man's Utopias, perhaps; the beer has aged nicely in my cellar over the last three years or so
731 characters

3.97
/5
rDev
+7%
look: 3.5 | smell: 4 | taste: 4 | feel: 4 | overall: 4
Gold foiled, green glass 6oz bottle. Silk screened 'Barrel Aged Series #4', ABV - 10.37%
Black tea with butterscotch trim and dreadfully murky; both colour and complexion are muddied beyond measure. Some red apple struggles to pierce through when against the light but dense waves of brown are, quite simply, too muddy. Less than zero head but lustrous legs leave a discerning glaze.
The label may be correct in stating that "this was an extremely hoppy barleywine" but it certainly wouldn't be considered one now. A hoppy bourbon maybe - and the "hoppy" part might be a stretch. The aroma consist solely of warming waves of toffee, vanilla, charred oak and heavily bruised fruits - all pleasant but exceedingly bourbon like.
The taste is deep but not as blistering I'd hoped it to be. Sure caramel, chocolate and vanilla are all present, but they are distant and timid. The aroma had led me to anticipate the usual suspects to a little more fierce. Of more worthy note here are hints of candied apples, bruised fruits, and mulled bourbon with honey and maple. Curiously, little barleywine.
That taste of mulled bourbon with honey and maple is definitely foremost. It is a very distinct characteristic, both sweet and kind of spicy.The bitterness sets in a little later, with a sort of puckering sensation accompanied by charred oak. The alcohol is considerably restrained despite being ever present.
The mouthfeel is notably smooth and extremely warming - 12 months in bourbon barrel will do that. To call it smooth is not to say it isn't intense mind you: a 10% beer with that length of stay in the former confinements of an 80 proof spirit will generate something profoundly warming to the senses.
No doubt this turned out to be a worthy experiment - the content is about as unique as the bottle that holds it. That said, this is far far from my what I'd consider the best of barrel aged beers. I was definitely overwhelmed by the disproportionate amount of bourbon early on but really came to enjoy it more as the glass emptied; too bad it was only a six ounce bottle.
2,082 characters
4.01
/5
rDev
+8.1%
look: 3 | smell: 4.5 | taste: 4 | feel: 3.5 | overall: 4
Thanks to CigarCityBrew for this rare treat.
A: Pours a dark chestnut hue with just no head. No noticeable carbonation or lace.
S: Big on the barrel. Nice bourbon aromas mixed with oak and vanilla. Hint of sweetness cut thru with molassess and brown sugar dominating.
T: Matches nose to a T. Wonderful barrel qualities here. Big oaked booze flavors with touches of vanilla. The sweet malt really comes out and you get tons of caramel, molasses, and brown sugar. There is a bit of oxidation and a touch of nuts can be picked up as well.
M: Rather flat, and boozy.
D: It is a sipper, but a real enjoyable one.
Thanks Joey!
626 characters
3.48
/5
rDev
-6.2%
look: 4.5 | smell: 4 | taste: 3.5 | feel: 3.5 | overall: 2.5
6 ounce bottle acquired from tevering99 today in a trade as an extra, which was super cool of him and I am glad to finally try one of Drake's barrel aged beers, never seen them in any stores before, this was my 200th bottle reviewed on the web site
Poured into my Dogfish Head snifter with a medium to dark brown color and absolutely no head and did not leave a spec of lacing
Smell was strong bourbon and some vanilla, seemed very sweet based on the aroma
Taste was extremely strong but good when it is sipped on, appropriately bottled in such a small container, would not be able to drink much more of it, bourbon and more bourbon with hints of oak and vanilla, sweet and sour aftertaste makes this hard to drink, sugar took over this one during the year it aged making the taste so strong, I could really taste it the more warm this beer got
No carbonation what so ever, thick and murky body provided a heavy mouthfeel
Could not drink much of this at all, took me about forty-five minutes to finish this small bottle, heavy heavy stuff
Do not know how much these bottles usually cost, but they are probably not cheap, really glad I got to try this and it was really generous of tevering99 to include this as a bonus in my package, Drake's continues to make some interesting and uncomparable beers, recommended if you are a fan of barrel aged things like myself, even though it was not the best I have had, I am really happy I got the opportunity to try it
1,464 characters
3.92
/5
rDev
+5.7%
look: 3 | smell: 3.5 | taste: 4.5 | feel: 3 | overall: 4
6 ounce bottle. Fairly vibrant bourbon oak and malt nose, fairly nice. Hints of chocolate pudding and chocolate liqueur, with light notes of vanilla, maple and caramel. A great tasting beer, but it was affected by its poor mouthfeel and poor appearence.
253 characters
3.32
/5
rDev
-10.5%
look: 3 | smell: 3.5 | taste: 3.5 | feel: 3 | overall: 3
Miniature 6 oz bottle, the neck wrapped in gold foil.
10.37% abv
Looks like motor oil. Can't see any carbonation, just a still, dark liquid (at least I 'think' it's a liquid).
Dark fruits, bourbon, and woody overtones..very rich..alcohol stands out a bit too much however.
Thick, viscous mouthfeel...the carbonation was virtually non-existent & the alcohol too prevalent.
Not bad, but when I buy something this "high end", I expect a little more in return. I can't blame them for the small serving size (putting this in a 12oz bottle may be ridiculous), but it certainly isn't worth over $1/oz to me.
603 characters
Drake's Bourbon Barrel Barley Wine (Barrel Aged Series #4) from Drake's Brewing Co.
Beer rating:
53.8%
out of
100
with
13
ratings