Drake's Blonde Ale
| Drake's Brewing Co.
BA SCORE
83
good
24
Reviews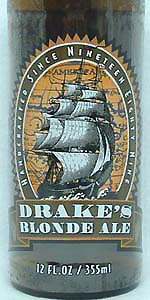 BEER INFO
Brewed by:
Drake's Brewing Co.
California
,
United States
drinkdrakes.com
Style:
Kölsch
Alcohol by volume (ABV):
4.80%
Availability:
Year-round
Notes / Commercial Description:
No notes at this time.
Added by BeerManDan on 02-18-2003
Reviews: 24 | Ratings: 64
3.48
/5
rDev
-3.9%
look: 4 | smell: 3.5 | taste: 3.5 | feel: 3 | overall: 3.5
Pours a cloudy straw color. Somewhat thin, white foamy head dissipates quickly. No lacing al all!
Smells malty, with hints of grass, and citrus.
Clean, crisp taste, some grassy hints and a bit tart up front; a mild sweet finish. Hints of biscuits in the after taste, with a dry finish. No bitterness at all.
Mouthfeel is good. Crisp, not much carbonation.
Not bad. But not what I expected from a Kolsch. Easy drinking, probably best on a hot summer day.
459 characters

3.63
/5
rDev
+0.3%
look: 4 | smell: 3.5 | taste: 3.5 | feel: 3.5 | overall: 4
Pours an almost clear golden straw color with a huge white head that sticks around for a bit. Scent spicy and lemony. Taste is slightly watery with tasty flavors or lemon, pepper, apples, and clove. Mouthfeel is very light and crisp. Drinkability is fairly high. This is a pretty good beer, although it's not one of my favorite styles.
335 characters

3.65
/5
rDev
+0.8%
look: 3.5 | smell: 3.5 | taste: 3.5 | feel: 4 | overall: 4
Big thanks to Kevin for sharing this one!
A-pours a clear golden color with a thin bubbly white head.
S-the nose is rather grainy, hints of slight toasted bread, plenty of lemon, lots of white peppery spice, slightly herbal hop presence.
T-the flavor is similar, hints of toasted bread and a fair bit of grain, sweet lemon but slightly tart, lots of peppery spice in the back to balance.
M-medium body and very creamy and slightly syrupy. low carbonation lacking the crisp finish i wanted to see. still a soft feel and rather thick.
D-this is an easy drink and well balanced with sweetness and peppery spice. the flavors are very blonde ale style. the feel is off for the style with low carbonation and thick creamy texture.
729 characters

3.57
/5
rDev
-1.4%
look: 3 | smell: 3.5 | taste: 3.5 | feel: 3.5 | overall: 4
On tap at the Parish Publick House in Santa Cruz. Poured into a pint glass. Shimmering gold color with a thin wispy white head. Aroma is noble hops and pilsener maltiness. Flavor is grainy pale and pilsener malts with a lemony and grassy noble hop tinge. Mildly sweet and earthy. Body isn't thick by any means but it's a touch too full for the style. Nonetheless this beer is pretty refreshing without tasting like water.
421 characters
3.38
/5
rDev
-6.6%
look: 4 | smell: 3.5 | taste: 3 | feel: 4 | overall: 3.5
Pours a light gold in color with a nice rocky head that quickly disappears. Wish the head would of stuck around a bit longer, it looked really nice. Smell is the said noble hops and some spice. Taste is crisp and spicy. Wish there was a bit more going on in the flavor, but that's the niceness of this beer, it's simplicity. Very nice. Clean, crisp and refreshing.
364 characters
3.03
/5
rDev
-16.3%
look: 3.5 | smell: 3 | taste: 3 | feel: 3 | overall: 3
Poured a pale golden color with a small white head. Nose is light with a dash of hops and a little citrusy. Taste is thin, crisp, citrusy and some straw, grain and honey maybe. Mouthfeel is ok, lightness leaves drinkability good but not the best of this brew type. Worth a try
276 characters
3.42
/5
rDev
-5.5%
look: 3 | smell: 3.5 | taste: 3.5 | feel: 3 | overall: 3.5
Bottle acquired in trade with DarkElf (thanks!).
Poured a lighter and slightly hazy, golden color with a smaller sized white head. Sweet and fruity aromas and tastes with some citrus. Starts of sweet and ends in a spicy and somewhat bitter finish.
Notes from 6/2/05
268 characters
3.68
/5
rDev
+1.7%
look: 4 | smell: 3.5 | taste: 3.5 | feel: 4 | overall: 4
Part of a mix-pack from Cost Plus Market, on to the beer:
Poured into a pint glass, this beer is chill-hazed peach color. The head retnetion is good.The aroma is mildly phenolic (plastic)with some peach and apricot crawling up. The taste is light on the palate with a high carbonation, but not over the top. Soft flavors of apricot and touch-ups of by-products off what one could find in a Belgian pale ale, the letter which I found to be very interesting. An easy drinker with a light bitterness in the aftertaste, this beer was enjoyed with a grilled chicken dinner.
569 characters

3.76
/5
rDev
+3.9%
look: 4.5 | smell: 3.5 | taste: 3.5 | feel: 3.5 | overall: 4.5
A- Clear golden straw hue, head is three fingers of soapy white foam, minimal lacing
S- Mostly light and crisp grain malts, subtle hops
T- Taste is dominated by refreshing pilsner-esque grain malts with a nice accompanying lemon citrus hops, finishes dry
M- Light-bodied, watery texture, high carbonation
D- Pleasantly surprised by this Kolsch style beer, very easy to drink and in the session range, feels like a more balanced and hoppy Heineken, not bad at all
462 characters
3.75
/5
rDev
+3.6%
look: 4 | smell: 4 | taste: 3.5 | feel: 3.5 | overall: 4
Appearance: pours a bright clear yellow color. strong carbination and decent head. looks pretty inviting on this summer's day.
smell: that soft grainy flavor you get from light beers like this. some very nice fruity hops are in here as well. subtle yes, but on par for an americanized kolsch. (thinking this should be under american blonde). some sweet grain here as well. nice
taste: very pilsner like crispness, sharp hops and bitterness up front, burying most of the grain. very clean taste, without too much going on. that's good for a beer like this, i like it, my problem is with mouthfeel....
mouthfeel: a pilsner stuck in an ale's body. you kinda wish the body were more on par with the light, crispiness of a lager, rather than the more full ale body this has. really quite a full bodied beer, which seems out of place with the taste.
drinkablity: the fullness certainly slows you down more than it should. i'm thinking this would hit the spot much better on a cool fall evening, rather than the heat summer. but, a nice beer that I would get again.
1,072 characters
2.56
/5
rDev
-29.3%
look: 3 | smell: 2 | taste: 2.5 | feel: 3 | overall: 3
Drinking this out of our keg right now... I'm just really not impressed with this beer.
It pours a pale golden color. Nothing outstanding. A little too much head for my liking, even after playing with the pressure.
The smell is slightly yeasty and sour. The taste just about the same as well. To be honest, reminds me of somthing you would drink at a high school kegger just to get drunk. I'm trying to see what the hubby see's in this beer, but i'm really not. I guess I'll be making Snakebites out of this keg.
516 characters
4.01
/5
rDev
+10.8%
look: 4.5 | smell: 3.5 | taste: 4 | feel: 4 | overall: 4.5
Presentation: 12 ounce bottle sealed with a very colorful and nicely decorated crown cap. Simple brown glass bottle is covered in one of those plastic shields where the see through parts lend the impression that the bottle has separate front, back and neck labels, when in fact it does not. Standard "Drake's" 12oz design is differentiated only with the words "Blonde Ale" against a brown background. Described as a Kölsch style ale and listed at 4.8% Alc/Vol.
Appearance: Light but shining Golden body, clean presentation with a fascinating almost glowing body. Massive white head on the pour forms a gargantuan cap, rugged and irregular with an appealing Teutonic aspect. Super fine cascading conditioning milks the body on the pour, but soon rises to quickly support the thick cap. Lovely smattered lacing once the deep head collapses, head retention is excellent and the looks are impressive.
Nose: Soft and gentle with a Pilsner like quality to it. Delicate hopping is crisp and refreshing. Light in strength but very nice nonetheless.
Taste: Effervescent start, the conditioning lightens the entrance. Malts start with a gentle lemon hop tickle in the center. Straw-like feel with fresh herb and spices supporting the hop character. Finish is clean and unfettered.
Mouthfeel: The body is light in nature but the depth of flavors and the gorgeously smooth conditioning make for a brew that feels much bigger than its initial impression suggests.
Drinkability: I snaffled a Six-Pack of the Blonde Ale during a recent trip to BevMo and I'm finding that I am pouring top-ups from the next bottle in my fridge rather than the one I started with, I'm well into the second bottle and a third will follow soon no doubt.
Overall: I've had some good brews from Drake's recently, and this one is no exception either. Funny how I did not have much expectation from this, yet as it turned out it was a very nice surprise. Don't let the "Blonde" moniker put you off, this is far from dumb. Subtle, but definitely not boring.
2,048 characters
3.99
/5
rDev
+10.2%
look: 4.5 | smell: 3 | taste: 4 | feel: 4 | overall: 5
This is surprisingly good, actually. Pours a full, but pale gold that catches the light and seems to glow on its own almost. The head is bright white and lingers. The aroma is light, mostly light noble hops. The flavor is bright and crisp, citrusy and straw malt flavors. The hops are very reminiscent of pilsner hops, as is the malt profile. This is light and chuggable but avoids being bland. The quintessential summer beer.
426 characters
4
/5
rDev
+10.5%
look: 4 | smell: 4 | taste: 4 | feel: 4 | overall: 4
It poured a light pale golden color. This is a Kolsch style ale and is light and crisp. The smell is of hops, with an herbal and spicy aroma. The taste is pleasant and not overpowering. The taste is mostly a herbal and spicy in the mouth and has no bitterness on the after taste. This beer is different, but pleasant. The print on the bottle says, "A Pint A Day Keeps Scurvy Away".
381 characters
Drake's Blonde Ale from Drake's Brewing Co.
3.62
out of
5
based on
64
ratings.