Dismiss Notice
Traditional Pale Ale
| New Knoxville Brewing Company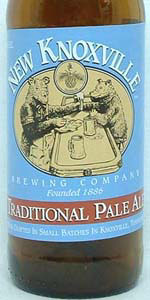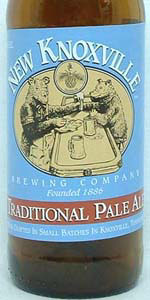 BEER INFO
Brewed by:
New Knoxville Brewing Company
Tennessee
,
United States
Style:
English Pale Ale
Alcohol by volume (ABV):
not listed
Availability:
Year-round
Notes / Commercial Description:
No notes at this time.
Added by KroMagnon on 09-30-2004
This beer is retired; no longer brewed.
HISTOGRAM
Ratings: 10 | Reviews: 10
Reviews by BryanCarey:
3.05
/5
rDev
+8.2%
look: 3 | smell: 3 | taste: 3 | feel: 3.5 | overall: 3
New Knoxville Pale Ale is a decent tasting pale ale brewed in the English style. This beer pours from the bottle with an orange/golden hue and there is very little foam or carbonation. Even an aggressive pour, straight into the middle of the glass, didn't give me much foam. The cloudy body emits an aroma that combines some fruit, bread, and just a touch of herbal spice.
Tastes present in this beer include some toasted, grainy pale malt and some hops that seem more sweet than bitter. There is an earthy flavor to this beer, without much of the citrus taste that is so common with other pale ale. Besides the small amount of citrus, I could detect the flavor of apple. The beer is mostly sweet, even though it bounces back and forth between sweet and bitter. It also matches up nicely with food- especially food preparation.
I did find the body of this beer to be a little thinner than other pale ale and my first impressions were lukewarm. But as I drank a little more, I began to appreciate this beer for being different. I also like it better on tap than in bottled form and it is most satisfying consumed in the tasting room at the New Knoxville Brewing Company, located in Knoxville's Old City. It's not like other pale ale and this could make it less satisfying to those who have grown to expect the strong taste of citrus when they sample an American made pale ale.
1,385 characters
More User Reviews:
3.42
/5
rDev
+21.3%
look: 3 | smell: 3.5 | taste: 3.5 | feel: 3 | overall: 3.5
12 oz bottle purchased as a single at the Leaf and Ale in Knoxville, Tn. I reviewed this beer a few weeks ago, before the recently reopened brewery was in the database, but can't find my notes. The earlier bottle was superior to the one now sampled.
This one pours a slightly hazed, medium orange body with a scant head that quickly disappears, leaving a film and small collar, and minimal patch lace.
Aroma is subdued, with caramel malt and some faint pine and grassy hops.
Mouthfeel is light to medium bodied with low carbonation.
Taste is decent, with a good balance of caramel malt and restrained hops that lend some pine and grassiness.
Drinkability is slightly above average, but this bottle lacks the freshness I recall from the one I sampled a few weeks ago.
774 characters
2.12
/5
rDev
-24.8%
look: 2 | smell: 2.5 | taste: 2 | feel: 2 | overall: 2
Bottle: Poured a strong gold color ale with below average head with minimal retention. Aroma is quite hoppy with what seems to be sweet hops. Taste is a bit of a letdown with mild hops bringing light bitterness and some subtle sweetness also noticeable. I also notice a bit of a watery feeling which I less enjoyed. Overall lack of character won't' make this one a world class beer.
384 characters

3.6
/5
rDev
+27.7%
look: 4 | smell: 4 | taste: 3 | feel: 4 | overall: 4
This beer poured a murky orange and brown, much like a weitzen with a creamy ½ cm of head with brown spots in the middle from the dregs.
Smells of honey, brown sugar and lemons with a musky yeast.
Tastes of banana and oranges with a big creamy yeast flavor that fades to oak and grapefruit rind in the finish.
The mouth feel is creamy with a big, bubbled carbonation.
This one was a little different, but rather enjoyable. It definitely expands my definition of what a pale ale is.
497 characters
1.36
/5
rDev
-51.8%
look: 3 | smell: 2 | taste: 1 | feel: 1 | overall: 1
I reluctantly revisited this beer to give it a fair shake, as the last time I had a New Knoxville product it was a bottle and it was horrendous. Nothing has changed, as the draft is equally disgusting. It tastes of formaldehyde and cleaning solution. In a few words, it absolutely sucks. I really wish we could get a couple of our better local microbreweries to bottle their beers on a large scale instead of being stuck with this swill as our lone local option in stores. Avoid this and all New Knoxville beers at all costs.
525 characters

2.88
/5
rDev
+2.1%
look: 3 | smell: 2.5 | taste: 2.5 | feel: 3 | overall: 4
Purchased this on 7/30/05 and noticed the brewery has updated its packaging so I figured this was a fresh product. It poured an amber color w/very little head and some evidence of lacing down the glass. Almost no aroma, straight-forward" homebrew flavor," no complexity to speak of. Okay faint malty flavor with a little bitterness in the back. Finish was sweet malt. This was okay and did not have the unpleasantness of the IPA but PLEASE when you're paying $7.99/six this would be last pick on my list.
I recommend the brewery go back to brewing the great beers of the previous owners. I would LOVE to support a Knoxville brewery but this effort does not deserve support.
677 characters

3.33
/5
rDev
+18.1%
look: 3.5 | smell: 3 | taste: 3.5 | feel: 3 | overall: 3.5
I had this on tap at the New Knoxville Brewsing company.
After having the Brown Ale (Great) and the India Pale Ale (Almost Great) I tried this brew.
A dark gold in color. The beer was hoppy but a bit muted. This was my least favorite out of the three beers I had tried. Mouthfeel was a bit watery compared to the other two brews that I had. For a pale ale this one was not bad but I kept coming back to the IPA.
On it's own merits, it is a bit above average but there are better PA's out there.
503 characters

2.38
/5
rDev
-15.6%
look: 4 | smell: 3.5 | taste: 1.5 | feel: 3 | overall: 2
Tried this brew on a road trip to Nashville in November.
Friend and I thought we'd try a local brew. Bad mistake.
Mouth feel of a Dr.Pepper. Aroma deceiving (you know, it smelled like it was going to taste good!!)
No head to speak of.
Way too much hops in the flavor. Almost as if the Brewers said" Let's try to make a beer from Tennessee that tastes similar to a Heineken. Blah!!
I did find a good use, however, I took the three bottles that we found undrinkable home and used one to braise a pork roast with (came out quite good actually, and made the pan dripping gravy quite zesty!!)
I'll pour the others into a glass with some Guiness and sample a home made black and tan this weekend.
708 characters
3.86
/5
rDev
+36.9%
look: 4 | smell: 3 | taste: 4 | feel: 4 | overall: 4.5
New Knoxville Brewing Company has re-opened and is brewing with new recipes. Currently they are packaging their 6-packs in boxes, which is great because it cuts down on spoilage from flourescent lights. Hopefully they'll continue this practice. Anyway, this brew was poured fairly aggressively but didn't generate a lot of head; the beer seems less carbonated than you normally get, but I believe that was done intentionally as it is a "Traditional Pale Ale". The aroma is a bit faint but pleasant, featuring mostly malt with a hint of hops. The flavor was rather nice, balanced slightly to the malty side, with hints of caramel and a good hop presence that blends well but doesn't strike you as a very hoppy beer. The mouthfeel was good especially for the style, full, with the carbonation level on the money. Finally, the drinkability was very good - this beer would be very easy to drink as a session beer for many different occaisions. I would have liked stronger aromas but overall I enjoyed this.
[Edited Dec 6 2004] slightly phenolic chemical aroma detected. Odd. Won't change score for now but we'll see...
1,115 characters
2.25
/5
rDev
-20.2%
look: 3 | smell: 3 | taste: 2 | feel: 1.5 | overall: 2
Horrendously overcarbonated beige. No wait, that's the head that's filling my glass, not the beer. The liquid that's beginning to emerge is peachy amber and is clear... or would be if it wasn't nearly opaque from all the bubbles. I'm finding that I need to add beer in one ounce increments to keep the glass from overflowing with foam. Eventually... with a great deal of patience... this isn't a bad looking pale ale.
The nose isn't very hoppy. In fact, it isn't hoppy at all. Fruity, herbal and lightly toasted malty are the extent of things. Calling it an English pale ale is dead-on as far as I'm concerned. I'm not sure what ingredients went into the brewing, but I'm fairly certain that none of the more popular U.S. hops were used.
Not good, not good at all. This beer is a pale ale only in the sense that it's pale and an ale. The first impression is of an extremely annoying fizziness that makes it hard to concentrate on the flavor. And I'm not talking about world-class flavor either. Not country-class, not state-class, not even county-class. I repeat, not good.
The flavor is lightly toasted malty with a hint of English hoppiness. It isn't 'hoppy' bitter exactly; it's more 'tonic water, borderline astringent' bitter. Traditional Pale Ale (if I had to find a silver lining under penalty of death) isn't 'spit it out' awful. In addition, the flavor is gone in a flash. In fact, as soon as the bubbles lose their sting, there's nothing left for the taste buds to grab onto.
This is one of the most carbonated beers that I've ever had the misfortune to drink. It has to have been an error during the bottling process; no brewer would want his product to turn out this way. The body is much closer to light than it is to medium and the mouthfeel is abysmal.
I feel like I haven't been provided with anything like New Knoxville's best effort, but I can only judge the beer that's before me. This is one of the worst APAs that I've had in many a month. For the vast majority of you, none of this really matters since I can't believe that distribution will ever exceed state lines. Especially if they keep brewing beer like Traditional Pale Ale.
2,167 characters
Traditional Pale Ale from New Knoxville Brewing Company
Beer rating:
2.82
out of
5
with
10
ratings