Porter
| Kazbegi-Castel Lilo Brewery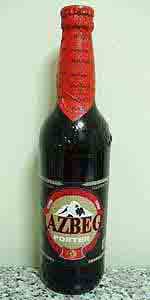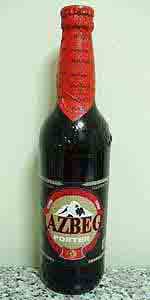 BEER INFO
Brewed by:
Kazbegi-Castel Lilo Brewery
Georgia
kazbegi-castel.com.ge
Style:
Baltic Porter
Alcohol by volume (ABV):
5.00%
Availability:
Year-round
Notes / Commercial Description:
No notes at this time.
Added by RoyalT on 01-12-2004
This beer is retired; no longer brewed.
HISTOGRAM
Ratings: 7 | Reviews: 7
Reviews by Guinness4me:
4.12
/5
rDev
+10.2%
look: 3.5 | smell: 4 | taste: 4.5 | feel: 3.5 | overall: 4
This is a porter? If I hadn't known ahead of time, I would have never guessed this was a porter. It poured a slightly cloudy blood-red color which could be why it was called the "blood of warriors" in it's native country.
Malty caramels filled my nose at first sniff while any hint of hops escaped me. I had hoped the smell would follow through to the taste, which it did.
The taste was hard to pinpoint...was it malted milk balls or maybe the taste of a molasses chew candy in a box of Whitman's chocolates? Either one, it was tasty with sweetness and a slight, almost almond, fruitiness.
The mouthfeel and drinkability are both good and the caramel taste gets stronger as the beer warms. Yummy!
705 characters
More User Reviews:
4
/5
rDev
+7%
look: 4 | smell: 4 | taste: 4 | feel: 4 | overall: 4
Appearance – Orangish-brown in color with a nice, full head that left some decent lacing.
Smell – The roasted malt and chocolate notes are pretty evenly balanced. There's also a significant citrus hop compliment.
Taste – The chocolate comes out big at the taste along with the serious citrus hops. The malt comes in lighter and full of caramel.
Mouthfeel – There's a faint sense of carbonation to this medium to full-bodied Porter. It is chewy in the mouth.
Drinkability – I really enjoyed this offering from Kazbegi, although it was atypical of the style.
575 characters
2.67
/5
rDev
-28.6%
look: 2.5 | smell: 3 | taste: 2.5 | feel: 3 | overall: 2.5
Found in a little grocery kiosk in central Tbilisi, the half-liter green bottle features a red foil wrapping around the neck and a black, red and silver label featuring a mountain above the name. The only non-Georgian language information is "Kazbegi Porter: Georgian Dark Beer." No idea about ingredients. The date stamped on the back is 02/13/2007, which I will hope is the bottling date. I opened it on 03/22/07.
Pours a clear pale copper under a big 2.5 finger beige head that fades quite quickly and leaves no trace of lace. The nose is strong of sweet caramel. The mouth is very prickly and slightly syrupy. The taste opens with sugary sweet caramel and a fairly pronounced spicey hops presence bordering on metallic. The spice morphs into espresso dry in the finish, as the sweetness fades. The aftertaste is quite strongly dry, but fades very quickly. Maybe it's past its prime, but this ain't no porter in my book. It's barely drinkable.
949 characters
3.85
/5
rDev
+2.9%
look: 3.5 | smell: 3.5 | taste: 4 | feel: 4 | overall: 4
I don't know how you got this on here, Royal - I failed in my attempt! I had a similar impression. Reminded me more of a doppel (like Salvator or Moretti). Somewhat sweet and with carmel notes. Nice, biscuity malt flavor. Creamy mouthfeel. Not nearly as dark in color as most porters tend to be. Overall, a good beer, but not very porter-like.
343 characters
4.34
/5
rDev
+16%
look: 3.5 | smell: 4.5 | taste: 4.5 | feel: 4.5 | overall: 4
While not your typical porter, this is a really good beer!
Pours a dark amber reddish brown with a smallish head and no lace.
Smell is sweet roasted malt, caramel, smoke, molasses.
Taste is a perfect follow-up to the smell with the same roasted malt, smoke, molasses, caramel with the addition of a faint hint of anise (licorice) in the aftertaste.
Delicious! Smooth and creamy, full-bodied, warms the throat after it warms up a bit. ABV seems quite high for the style and, while not listed on the bottle, becomes more noticeable as it warms but never becomes a detraction. A truly fine brew, worthy of any porter fan's time.
629 characters

3.77
/5
rDev
+0.8%
look: 3 | smell: 3.5 | taste: 4 | feel: 3.5 | overall: 4
Reminded more of a dunkles than a baltic porter. But baltic porters are a style I have limited experience in, so what do I know? Poured a dark brown/orange, with a small, almost nonexistant head. Looked more like a dunkles to me. I thought baltic porters were darker. Smelled like toast and chocolate. Bit of an odd hop scent in the back. Pleasant, but unusual. Bit, bitter chocolate taste. Bit of a roasted malt background. Hops are weak compared to the overall power of the chocolate and barley hops. Smooth, almost creamy mouthfeel. I'm glad I bought a few of these. I'll be cracking another one soon.
604 characters
3.43
/5
rDev
-8.3%
look: 4 | smell: 3.5 | taste: 3.5 | feel: 3.5 | overall: 3
Toffee-ish brown in color, rich and fairly opaque, with a nice, creamy head o' foam.
Aroma is all sweetness and caramel malt, hints of dark fruit, cherries, plums, akin to brandy or port wine, perhaps, matched with a grainy character, as well.
Taste: sweet stuff ensues once more, with a rich, full mouthfeel, though it borders on cloying...no, to be frank, it crosses over fairly well! Spritzy carbonation on the palate, just a bit of hops, the rest is all treacly malt. Certainly not the sort of thing one is looking for in a Baltic Porter, has the taste, smell, color, everything is wrong. Gotta go with the other boys on this one, it's more of a bock or a dunkel...not a porter, no way.
i will finish the bottle, but not with any enthusiasm.
Maybe porter means something different in Georgian? (Is that a language?)
Thanks to johnnyDuvel for the bottle.
862 characters
Porter from Kazbegi-Castel Lilo Brewery
Beer rating:
3.74
out of
5
with
7
ratings