Dismiss Notice
Old Whiskers Hefeweizen
| Midnight Sun Brewing Co.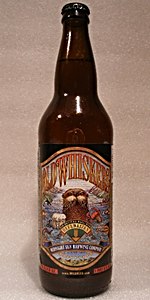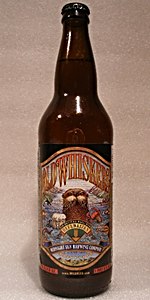 BEER INFO
Brewed by:
Midnight Sun Brewing Co.
Alaska
,
United States
midnightsunbrewing.com
Style:
Hefeweizen
Alcohol by volume (ABV):
5.00%
Availability:
Year-round
Notes / Commercial Description:
Affectionately called "Spunky and Chunky", Old Whiskers Hefeweizen is a traditional Bavarian-style unfiltered wheat beer. Created with equal parts malted wheat and pale two-row malt, Old Whiskers is lightly hopped to style. A unique Bavarian strain of yeast imparts a clove- or banana-like aroma and flavor. (We swear we did not put cloves into the brew. It is the magical powers of The Yeast.) Old Whiskers Hefeweizen is delicious and refeshing--the perfect summer quencher, served with or without a slice of lemon.
20 IBU
Added by BeerAdvocate on 04-20-2005
This beer is retired; no longer brewed.
HISTOGRAM
Ratings: 14 | Reviews: 10
Reviews by megahurts4:
3.85
/5
rDev
-1.3%
look: 4 | smell: 4 | taste: 4 | feel: 3.5 | overall: 3.5
Midnight Sun Old Whiskers Hefeweizen
Appearance: orange, small head, and a little lacing.
Smell: banana, wheat, and apple.
Taste: banana, cloves, and wheat.
Mouthfeel: medium-light.
Overall:
This is a good brew. I think it is best suited for drinking in mass quantities.
277 characters
More User Reviews:
4
/5
rDev
+2.6%
look: 4 | smell: 4 | taste: 4 | feel: 4 | overall: 4
Old whiskers pours hazy and yellow with decent head. The nose has some grain and straw and banana in it with some spice. The first taste is wheaty and creamy, banana, slight clove. some banana notes are in there along with slight citrus. mouthfeel is kind of thin, and stays so as the beer warms. Very drinkable, but it drinks so fast. A good hef so give it a try. A great summer/fall slammer. Defenitely will be sessioning this one.
Edit: Hefs have grown on me, and I have found this to be a very good american made example of the style.
539 characters
3.7
/5
rDev
-5.1%
look: 3.5 | smell: 3.5 | taste: 4 | feel: 3.5 | overall: 3.5
Thanks to TomDecapolis for sharing this one...
Appears a hazy gold with a small white cap that quickly fades into a small cap and collar. Mild traces of spots are left around the glass.
Smell is of sulfer, citrus, lemon, zest, mandarin orange, and spicy yeast.
Taste is of the mentioned aromas, citrus, and doughy yeast.
Mouthfeel is light bodied, citrus, & zesty yeast.
370 characters

4.15
/5
rDev
+6.4%
look: 3.5 | smell: 3.5 | taste: 4.5 | feel: 4 | overall: 4.5
Thanks to timmcd64 for this unexpected gift from Alaska!
Appearance: A slightly cloudy golden color with a mild orange hue. A thick, creamy white head which turns to a sustaining lace after a while.
Aroma: A good citrusy, yeasty aroma, with a bit of clove
Taste and Mouthfeel: Quite spicy; a very pleasant yeast flavor, with strong, citrusy lemon notes. Also some hints of banana and clove. A very mild hop character. A light to medium mouthfeel with tangy carbonation.
This is one of the spiciest hefes I've tried. Overall, quite delicious. Highly recommended.
574 characters
3.42
/5
rDev
-12.3%
look: 3 | smell: 3.5 | taste: 3.5 | feel: 3 | overall: 3.5
22oz bottle shared courtesy of TomDecapolis.
Poured a medium and cloudy yellow color with a small sized white head. Aromas of citrus, spices, and had a doughy/breadiness to it. Tastes of citrus, spices, bready, and some wheat.
Notes from and tasted on 6/27/08
261 characters



4
/5
rDev
+2.6%
look: 4 | smell: 4 | taste: 4 | feel: 4 | overall: 4
Reminds me of a helles lager. Definitely German style, thick & fullfilling, creamy, malty, light. Sweet not bitter on the taste. One of my favorite hefe's to date although my list on that style is short. Smells like a witbier. Clovey and a light spicy citrus, reminds me of a wit, but I like it. Kick it!
304 characters

3.63
/5
rDev
-6.9%
look: 4 | smell: 3.5 | taste: 3.5 | feel: 4.5 | overall: 3.5
On tap at the new MSBC loft, Old Whiskers is a cloudy pale yellow with a nice glow to it, on top of which rest a pillowy white head leaving scattered lace. Looks so much like their wit, I thought they poured me the wrong beer, but on comparison, it's a touch darker. Still a little light for a hefe by my book.
Smell is grainy, some clove and citrus, no banana esters, but a nice sourness from the wheat. Good, but had I not been told, I'd assume I was smelling a wit.
Taste is, again, good, but more wit then hefe. Like the nose, a grainy wheat beer, with very little in the way of Bavarian esters, just some clove really.
nice, clean grains, nicely balance use of coriander/citrus spices, estery without being to robust overall, a hint of soap and a long finish.
Mouthfeel is very creamy, with a full mouthfeel but a dry crispness and medium body.
Drinkability is pretty good. A tasty beer, but not a hefe to me at all.
928 characters
4.05
/5
rDev
+3.8%
look: 4 | smell: 4 | taste: 4 | feel: 3.5 | overall: 4.5
Bottle date of first week of March, 2007.
Pours hazy gold with a fluffy white head.
Two inches of dense foam receded to a quarter inch within several minutes, leaving behind some fairly decent lacework.
Aromatics are mildly spicy with hints of lemon, clove, and bannana.
Fairly mainstream for a hef, and not quite bavarian in nature.
The mouthfeel is somewhat creamy, but lacking some of the effervescense desirable in Hefs.
Pallet is quaffable and crisp. Well balanced, with light peppery notes dusted on bannana and wheat stalks.
Bitterness is mild and allows some light residuals to pull through on the finish.
An easy drinker, with mostly American Hef character, and Bavarian undertones.
Thanks to Timmcd64 for hooking me up once again!
753 characters

3.98
/5
rDev
+2.1%
look: 4 | smell: 3.5 | taste: 4 | feel: 4 | overall: 4.5
Special thanks to OakedCanuck who sent this to me as part of a trade.
I pour the entire 22oz. bottle into a large-stemmed Margaritaville beer glass.
A: Extremely cloudy yellow/orange with a very generous inch to inch.5 head. Superb retention throughout the session.
S: Banana and tons of German wheat filled the nose. Nothing really special, but still good.
T: Refreshing without being too sweet, nice fruit taste, and a slight echo of chamomile hits the palate on the finish. This one is pretty spicy for the style, but I personally dig that about it.
M: Smooth, carbonation is fantastic, and ABV is undetectable (as it really should be in a Hefeweizen).
D: Even though the weather is getting cooler, I enjoyed this one on a pleasant moderately cool day and I would gladly drink this one again. And to think...I used to hate this style! What was I thinking?
865 characters


3.8
/5
rDev
-2.6%
look: 4 | smell: 4 | taste: 3.5 | feel: 4 | overall: 4
Picked this up from the brewery. Great place, by the way. Pours a slightly cloudy, pale golden body with lemony edges and a fluffy cushion of bright white head. Moderately classic hefe nose with tangy yeast, banana, clove, and soapy wheat apple. Taste starts out with crisp, snappy wheat edges. Light fruitiness and faint citrus flavors. Bready middle with banana and clove toward the yeasty finish. Not bad, but not quite as authentically hefe as I like--almost more of an American wheat (albeit a nicely made one). Medium-bodied with a proteiny, creamy feel. Nice summer beer for up here in Alaska.
600 characters
Old Whiskers Hefeweizen from Midnight Sun Brewing Co.
Beer rating:
3.9
out of
5
with
14
ratings