Oak Aged Monk's Mistress Dark Strong Ale
| Midnight Sun Brewing Co.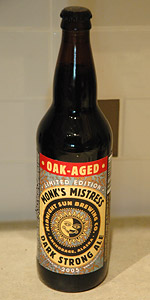 BEER INFO
Brewed by:
Midnight Sun Brewing Co.
Alaska
,
United States
midnightsunbrewing.com
Style:
Belgian Strong Dark Ale
Alcohol by volume (ABV):
11.50%
Availability:
Rotating
Notes / Commercial Description:
This version of Monk's Mistress - aged in American Oak Barrels - takes seduction to the next level. Its dark, daunting flavors become softer, rounder and more fascinating as they meld with toasted oak and its prior tenant. This temptation is beyond irresistible.
Added by BeerAdvocate on 07-04-2005
Reviews: 31 | Ratings: 58
3.45
/5
rDev
-17.1%
look: 3.5 | smell: 3.5 | taste: 3.5 | feel: 3 | overall: 3.5
Appearance: Not totally, but almost opaque, somewhere between really dark brown and black.
Smell: Very british, old ale aromas that forebode a very heavy brew. Cocoa and port, hazelnuts, and a lactic mix of sweet and sour, no doubt from the oak.
Taste: Decent roasted malt, I really didn't pick up much vanilla, vinious or woody flavors I was expecting. Frankly the regular Maîtresse du Moine was fine enough as it is to make this barrel-bastardized version, which did nothing but stole part of the soul of an otherwise very good Beer, only to leave a less complete, less complex, more cloying shadow of it's former self. It's still allright, boasted a surprisingly subdued alcohol finish, but just another example that this barrel-aged craze is taking on way too much proportions.
788 characters

4.15
/5
rDev
-0.2%
look: 4 | smell: 4 | taste: 4.5 | feel: 4.5 | overall: 3.5
Thanks to timmcd64 for getting me this one….
Pours a viscous and nearly opaque black color with deep copper highlights. Malty, dark fruit aromas in the nose. The beer's flavor features a huge, almost over-powering maltiness and besides a robust and complex dark fruit profile (raisins, plum, etc) there are also strong notes of dark rum, some roasty coffee bitterness, chocolate, and tart oakiness. The lingering finish is vinous and fruity. A thick mouthfeel with very mellow carbonation.
Very good but incredibly thick and malty, getting through a bomber of this was a bit too much: had it been a lesser beer I might not have finished it all. Recommended.
665 characters
4.23
/5
rDev
+1.7%
look: 4.5 | smell: 4 | taste: 4.5 | feel: 4 | overall: 4
Thanks to hopdog for breaking this out...
Appears a dark brown with a red hue. It leaves spotty lacing around the glass.
Smell is of vanilla, oak, caramel, chocolate, vinous, along with a touch of something reminding me of nutty peanut butter.
Taste is nutty, chocolatey, and vinous with some notes of dark fruit.
Mouthfeel is just slightly thin with a nice nutty finish.
375 characters
4.72
/5
rDev
+13.5%
look: 4.5 | smell: 5 | taste: 4.5 | feel: 4.5 | overall: 5
One of the best beers I've had in a long time.
Unbelievable chocolate port aroma; a controlled oxidation type nuance of raisins and sherry.
Flavor is more nutty than chocolate. A very distinct toastiness as well, with a smooth almond type nuttiness in the finish. A little bready without being too grainy.
Subdued alcohol lingering under a warming finish. Velvet mouthfeel grabs tongue slightly but is immersed by a cleansing of mild hops.
Squeaky clean aftertaste makes impression fleeting but indellible. A fantastic creation.
542 characters
4.6
/5
rDev
+10.6%
look: 4.5 | smell: 4.5 | taste: 5 | feel: 4.5 | overall: 4
22 oz bomber courtesy of the fair Skyhand. Thanks Kim!
Pours a deep mahogany with orange and slightly tan hues. A small tan head tops this one off. Retention is okay and lacing is the same. The head gives way to a small white collar that is quite nice and just a bit inviting.
Smell is dark chocolate covered cherries, oakiness, and quite a bit of dark fruits (figs, raisins, etc). Slightly wine-like.
Taste is dark fruit (see above), very mild bourbon flavors, chocolate, cherries, and that same wine like character from the nose. Taste is slightly nutty and just a bit off of what I would think an American Strong Ale would be (which in this case is good). All of the flavors seem to be brought together quite well by the oakiness of this beer. Alcohol in this beer is hidden remarkably well.
Mouthfeel is great, sweet but not too sweet, coats the tongue and leaves a pleasant aftertaste.
Overall, a unique and pleasant experiance. I feel honored to be one of the few people to have had a chance to try this. A very good beer.
1,035 characters
4.05
/5
rDev
-2.6%
look: 4 | smell: 4 | taste: 4 | feel: 4.5 | overall: 4
Appearance – This lady came out a nice, deep burgundy in color and lacked a head, which is not uncommon for the American Strong Ale style.
Smell – The deep, winey notes come on strong at the very first whiff. There is also a mild bourbon aroma as well to go with the oaky base.
Taste – The fruits are the highlight at the taste. They are strong, dark, and lusciously ripe. I also enjoyed the strong but tame alcohol flavor.
Mouthfeel – This ale is medium-bodied. The flavors are tiered which makes each sip a roller coaster ride.
Drinkability – This ASA manages to be strong and potent while still maintaining a smooth and satisfying character.
Comments – The illustrious Ms. Skyhand busted out this gem at the first annual Bavarian Betta' Beer Fest and boy were we all surprised . . . and happy : )
821 characters
Oak Aged Monk's Mistress Dark Strong Ale from Midnight Sun Brewing Co.
4.16
out of
5
based on
58
ratings.