Fallen Angel
| Midnight Sun Brewing Co.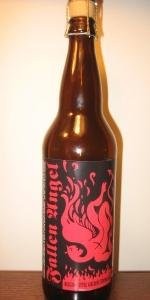 BEER INFO
Brewed by:
Midnight Sun Brewing Co.
Alaska
,
United States
midnightsunbrewing.com
Style:
Belgian Strong Pale Ale
Alcohol by volume (ABV):
8.00%
Availability:
Year-round
Notes / Commercial Description:
Fallen Angel Golden Ale, first brewed on
6-6-6 [JUN 6, 2006], is named in the tradition of Belgian golden strong ales--after the devil himself. We call this beer our "original sin" because it spawned our 2007 Deadly Sin beer series.
Midnight Sun's Fallen Angel Golden Ale is a traditional Belgian-style golden strong ale--deep gold in color with tiny, conniving bubbles forming a very thick, meticulous head. Effervescent and crisp, this delicious ale tempts the palate with apple, pear and a little earthy mustiness. Its beauty and brightness is angel-like in appearance but the devil in is its strength.
35 IBU
Added by brewandbbq on 12-19-2006
Reviews: 60 | Ratings: 124
4.52
/5
rDev
+14.1%
look: 4 | smell: 4.5 | taste: 4.5 | feel: 4 | overall: 5
It pours with a cloudy golden color and some great rolling carbonation. Topped with a large white head that sticks around. It has a nice Belgian yeast and fruit smell. It has a clean a clear flavor flavor that finishes with a small taste of fruit (apples) at the finish. Goes down extremely smooth and feels great going down. It took me longer to write this review than to finish the 22oz bottle you be the judge
412 characters
4.13
/5
rDev
+4.3%
look: 4.5 | smell: 4 | taste: 4 | feel: 4 | overall: 4.5
Big ups to AKABelgianBeast for this,
Big foamy head with a opaque, gold/orage body.
Smell is very yeasty, bready, and pungent of hop. Candi sugar is present in the taste, I would be comfortable calling this an American equivalent to Duval. There is a more pronounced hop punch and more carbonation than a Duval.
Excellent beer and representation of the style. I will shy away from calling this a Duval clone, it is distinct enough to be it's own beer, but since Duval and Orval are two of my favortie beers, this is worthy. Can't wait to get more someday.
558 characters

4.27
/5
rDev
+7.8%
look: 3.5 | smell: 4 | taste: 4.5 | feel: 4 | overall: 4.5
MSBC Fallen Angel
22 ounce bomber, states 8% ABV, 35 IBU.
Appearance: medium straw yellow with a slightly orange tint, off-white fairly dense head leaves almost no lacing. If someone pushed this across a dim bar and told me it was Bud, I might believe them. Until I smelled it.
Aroma: deep peppery estery Belgian yeast, with fruity or slightly sweet sugary notes. Aroma is a LOT like Duvel.
Taste: Again, a lot like Duvel: tangy sweet peppery, very slight banana, a perfect mix between sugar and aromatic estery tanginess. Delicious!
Mouth: Moderately slick, sticks around for a while. Limited alcohol warmth noted.
Overall: Delicious -- perhaps my favorite MSBC Belgian style, outside of the Seven Deadly Sins series. It really does compare favorably with Duvel, and other Belgian golden strong ales.
811 characters
3.85
/5
rDev
-2.8%
look: 3.5 | smell: 3.5 | taste: 4 | feel: 4 | overall: 4
Appearance: Hazy gold brew with a pure white head.
Smell: Yeast, hints of malt and a spicy quality
Taste: Bready with good yeast presence. Good spicy character that livens up the flavor. Finishes with solid malt flavor.
Mouthfeel: Medium body. Waxy smooth.
Drinkablity: Tasty pale, satisfying and enjoyable.
315 characters
4.2
/5
rDev
+6.1%
look: 4 | smell: 4 | taste: 4 | feel: 4 | overall: 5
Earthy!
This beer pours a hazy yellow/gold. decent head at first, holds pretty damn well. smells alot like horny devil but with more belgian yeast tones. Some appley taste toward the finish. estery taste with some yeasty and slightly citrusy aftertaste. mouthfeel is good, perfect carbonation for the style. The drinkability is high, this is close to a true belgian pale. Its quite good, but there are some better. Great brew.
426 characters
4
/5
rDev
+1%
look: 4 | smell: 4 | taste: 4 | feel: 4 | overall: 4
Thanks to hopdog for breaking open this bomber at a tasting...
Appears a hazy, medium gold with a small white head that slowly fades into a mild cap and chunky collar. Scattered spots of lacing are left behind.
Smell is of straw, confectioners sugar, pils malt, light citrus, and doughy bread. It's almost like I inhaled some fresh pastries.
Taste is of the mentioned aromas with some tangerine notes pulling through.
Mouthfeel is medium bodied, sweet up front, earthy, slightly herbal, and floral.
498 characters
4.48
/5
rDev
+13.1%
look: 5 | smell: 4.5 | taste: 4.5 | feel: 4 | overall: 4.5
Thanks to Edgelow for this rare brew. Brewed on 666, and inscribed with the words, "This may not be the reason we all burn in hell, but it's one of them."
A- Looks like Duvel looks in the pictures in the ads. The most perfect, beautiful half glass of pillowy white head that lasts forever and laces all the way down the glass. A cloudy(only because I swirled and poured the yeast) orange/light amber color with constant bubbles riding up the side of my glass. This beer could not be more beautiful.
S- A complex bouquet of spicy phenols, banana, esters of pear and orange, clove, white and black pepper, alcohol, yeast, golden raisin, a hint of grass, honeydew, and honeysuckle. My only complaint about the nose is that it isn't strong enough through all that head.
T- Spicy and peppery up front, especially as the carbonation carries the flavor. The head has a metallic taste to it. A bit of banana, pale malt, clove, tons of yeast, and some noble hops finish it out, as it comes to a very citrusy, spicy, and slightly bitter finish.
M- Very highly carbonated, smooth, medium-full bodied, with a long, slightly astringent and a bit numbing(from the carbonation) finish. Loses just a bit dfor the astringency... not desirable for this style, but it still seems to serve this particular beer quite well.
D- Was originally at a 4, but this really deserves a 4.5. One of the most dangerously drinkable strong ales I've ever tasted. I just downed the whole bomber myself, and could have another, easily and happily. Absolutely wonderful. If you get a chance, get your hands on this brew.
1,598 characters

4.03
/5
rDev
+1.8%
look: 4.5 | smell: 4 | taste: 4 | feel: 4 | overall: 4
22 oz. bottle, served at 45 degrees F.
Pours a turbulent, bubbly golden, burnt orange with paler edges. Tall, rocky, frothy, off-white head with golden highlights. Sweet, honey dough malts with notes of candy sugar, and hay. Funky hop nose of mowed grass and sea air mixes with floral spice. Very Duvel-like. Taste starts Duvel-like as well: Sweetish biscuits and bread dough with light sugar and fruit, but then the huge hop wave comes crashing in. Strong herbal, mint, and sea air hop bitterness dominate and veer this beer off in the direction of Rogue's Imperial Pilsner. Numbing finish, with warming alcohol notes and leftover shades of honey malt. Medium-bodied, with a crisp, sparkling feel. Nice, and not just a Duvel-clone!
735 characters

3.61
/5
rDev
-8.8%
look: 5 | smell: 4 | taste: 3.5 | feel: 3.5 | overall: 3
Unlike the picture, my 22 oz. bomber just had a crown cap, but was otherwise the same, created 6-6-6. It's now over a year later - I forgot I wanted to have this last Wed, on the 6th...oh well!
Poured into my Midnight Sun cervoise, the Fallen Angel looks to be very authentic right off the bat. Huge, dense, bone colored head on top of a hazy, lightly burnt straw colored body with lots of carbonation streaming through out. The head is thick and rocky - I let it sit for a good 5+ mins and it was still in full effect. Really awesome, exactly how I want a BSPA to look.
The smell is also very true to style, lots of Belgian yeast and noble hop spice, with lemon zest, slight pineapple, and a grainy malt background that's only mildly sweet. Not to strong, but very appetizing.
Zesty yeast, husky malt, spicy hop bitterness, dry and powdery with heavy minerals, with soft tropical fruits, just very complex. The only booze is on your breath as an aftertaste, and it's pretty clean, although the rest of the finish is not, and really coats the mouth in fact. Pretty good, but a bit of a let down after the perfect look and very nice aroma. The thing I didn't really love about this one was that it was a bit too chalky/powdery/dusty. I would have liked to tried one fresh or at 6 months to see if it had the same presence originally, or the yeast just got a little too tired with age...
Mouthfeel is pretty light, creamy and effervescent. Still, not the most 'digestible' Belgian...
Drinkablity was ok. This was enjoyable, as I love the style and it was fairly well done, and I always like to try a new one. And while not my favorite, I'm really glad I got to try it. That said, 1 bomber was enough, there are just to many great beers out there! Still, it would easily pass for an authentic Belgian in a blind tasting, but wouldn't be the best.
1,861 characters
4.09
/5
rDev
+3.3%
look: 3.5 | smell: 4.5 | taste: 4 | feel: 4 | overall: 4
Corked and caged 22oz bottle, brewed 6/6/06.. Thats right, a 22oz'r with a cork in it..Hmmm.
Pours with a high level of carbonation, with coarse foam that tries to leap out of the glass. Huge, sponge-like bubbles pop and recede quickly leaving behind some traces of lacework.
Whisps of tiny, white orbs are all that remain on the surface after 2 minutes.
The body of the brew is crystle clear and light gold.
Aromatics are clovey and peppery, with nice tropical notes and some warmth. Spicy and fruity.
Body is thin to medium, with a light bitterness and a zesty yeast bite.
Pallet is warming and peppery. Hints of clove-studded pineapple with some bitter grapefruit pith. The bitterness is a bit astringent, and there are traces of fusels.
Finishes hot-ish on the back of the throat, with lingering pepper dust.
Big props to Timmcd64 for hooking me up. Thanks!
872 characters
Fallen Angel from Midnight Sun Brewing Co.
3.96
out of
5
based on
124
ratings.