Fur Rondy 2008
| Midnight Sun Brewing Co.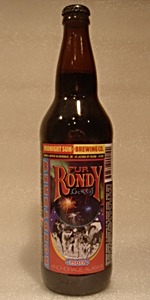 BEER INFO
Brewed by:
Midnight Sun Brewing Co.
Alaska
,
United States
midnightsunbrewing.com
Style:
Winter Warmer
Alcohol by volume (ABV):
6.00%
Availability:
Limited (brewed once)
Notes / Commercial Description:
Official Beer of Fur Rondy RondyBrew is a tawny winter ale that delivers a complex and attractive aroma of sweet malt, dried fruit, and spices balanced with a nice dose of English Hops. Malty flavors caress the palate, finishing dry and bittersweet. Rondybrew adds refreshment and celebration to the festive fare and entertaining events enjoyed during Anchorage's Fur Rondy Festival!
Added by beersabound on 02-03-2007
This beer is retired; no longer brewed.
Ratings: 11 | Reviews: 10

2.71
/5
rDev
-24.9%
look: 1.5 | smell: 3 | taste: 3 | feel: 3 | overall: 2
I bought two bombers of this brew on my last trip to Anchorage. The bottles were stored in my cellar at about 55 degrees.
Poured into a clean glass then a volcanic eruption of foam. The beer was at cellar temp and so was the glass. About half the pour ended up foaming out of the glass. Color was dark ruby with (an obviously) thick off white head.
Smelled very gassy and tasted the same. Sort of metallic with pronounced CO2 and alcohol.
Mouthfeel was not an issue but I found this beer not very drinkable.
The second bottle was chilled to 42 degrees but the same kind of over-carbonated foaming problem took place. Sadly, this is the first bad beer I've ever had from Midnight Sun. Perhaps I got a couple of bottles that were improperly sanitized or stored.
763 characters

2.78
/5
rDev
-23%
look: 3 | smell: 2.5 | taste: 3 | feel: 3 | overall: 2.5
Thanks to Jw347 for this brew.
Exploded out of the cap. Big huge head that wouldnt sit down. Looks a dark amber/ruby red.
Smells like carbonation. Really nothing to this
Tastes like carbonation. Some malts, a little sweetness. When it warms up some hops, tastes more like a red than a winter warmer. Whatever it has is overpowered by bubbles.
Aftertaste of carbonation.
This beer is too carbonated. Its the mazda miata of beers, looks good, but runs like a dog. No pun intended.
486 characters

3.02
/5
rDev
-16.3%
look: 4.5 | smell: 2.5 | taste: 3 | feel: 3.5 | overall: 3
'07 vintage. Deep russet colored reminiscent of an barley wine. A medium tan head sprouts and then and fades just as quickly into a spritzy livel topping.
Aroma is really lacking in this. A slight sour aroma with a bit of dried fruit, tobacco, leather,tea leaves, spent grains, and exhausted hops. A bit herbal as well.
Loads of tea flavors. Crisp on the palate with tingly carbonation and a brisk acidic finish. Dried fruits, loads of tobacco, more leather, earth, burnt toffee, and herbal notes round things out with nothing really stand out in particular. I was expecting much better from this beer but alas they all can't be winners from this great brewery.
663 characters

3.3
/5
rDev
-8.6%
look: 3.5 | smell: 3.5 | taste: 3 | feel: 3.5 | overall: 3.5
22 ounce bomber, $6.89 at Brown Jug Warehouse, Anchorage, AK. Bottle states 6% ABV, 35 IBU, no bottling date indicated, 2008 edition.
Appearance: clear deep red to light brown, with medium beige head, lots of lacing.
Aroma: malty/grainy, brown sugar, and hints of spice. A bit of latex/plastic as it warms up.
Taste: deep maltiness, with a distinct spicy body that almost suggests rauch. Limited hops. Finish is sweet and slightly tangy. Something else that is hard to track down... almost a solvent like taste in the aftertaste. Not necessarily bad, just odd.
Mouth: Moderately slick and full. Limited alcohol warmth.
Overall: Eh. Drinkable, but really nothing special.
680 characters
3.41
/5
rDev
-5.5%
look: 4 | smell: 3 | taste: 3.5 | feel: 3.5 | overall: 3.5
Appearance: Deep brown with a golden brown head.
Smell: Malt with minor traces of tobacco.
Taste: Standard malt flavor that struggles to make a real impression. Slightly bitter finish.
Mouthfeel: Light-medium body
Drinkablity: I expected a little more from a Fur Rondy tribute beer produced by a great brewery. Interesting concept and execution, but the beer is average.
378 characters
3.48
/5
rDev
-3.6%
look: 4 | smell: 3.5 | taste: 3.5 | feel: 3 | overall: 3.5
22oz bottle shared courtesy of TomDecapolis.
Poured a deeper reddish/brown color with a small sized off white head. Aromas of toasted grains, light spices, some raisins, and nutty. Tastes of light spices, toffee, grass, and raisins.
Notes from and tasted on 5/2/08
267 characters
3.73
/5
rDev
+3.3%
look: 4 | smell: 3.5 | taste: 3.5 | feel: 3.5 | overall: 4.5
Appearance: Pours a dark reddish-brown body with a small, off-white head.
Smell: Rich, dare I say, classy maltiness smelling of toasted toffee and raisin paste with a hint of grain.
Taste: Dark caramel with a restrained, even sensible level of sweetness. Raisiny fruit flavor. Light hop spice. Medium bitterness. A light grain astringency on the drying finish.
Mouthfeel: Medium-bodied. Medium carbonation.
Drinkability: Not sure what the Fur Rondy Festival is, perhaps I don't want to know. What I *do* know is that this is a pretty decent English-type ale.
562 characters

4.16
/5
rDev
+15.2%
look: 4.5 | smell: 3.5 | taste: 4.5 | feel: 4.5 | overall: 4
Special thanks to timmcd64 for this extra from our in-person trade.
Served chilled and poured into a Weizen glass.
Appearance is very good. A menacing dark-copper colored beer. You can see through the beer but just barely. Thick, fluffy, almond-colored head forms. Web-like lacing coats the glass.
Smell is above-average. Deep caramel malt fragrance. Faint hop presence. Malts dominate.
Taste is very good. Toasty caramel malts dominate with a toffee-like sweetness in the background. Very nice malt bill in this beer.Detecting a small amount of spices. Finishes semi-sweet and clean.
Mouthfeel is very good. Fluffy in the mouth. Perfect carbonation. Finish is a little tad bit thin but above par for the style.
Drinkability is good. A pleasure to drink although i think one 22oz bomber is enough.
Overall: A nice change of pace beer that is probably more of a Scotch ale due to the malt profile. Either way, a joy to put down. Thanks again, Tim!
Recommended.
984 characters
4.22
/5
rDev
+16.9%
look: 4 | smell: 4.5 | taste: 4 | feel: 4 | overall: 4.5
For 2009 review see new listing (style change) under "Rondy Brew 2009"
2008
This mofo pours a dark mahogany ruby red/brown with great off-white head that retains for a grip. Malts and a suprising amount of hops (but not a lot really) come off in the nose. Taste is a good balance of malt and hops with a nice spice flavor. spices take over in the middle, but malty winter warmer come through most of the time, but there is still some hops to be noticed here. mouthfeel is good and fairly viscous, but not really thick. I could defenitely drink this all night, but I would like to switch to something thinner around pint three or four. good solid standard winter warmer, but nothing too special. I would much rather have a sockeye winterfest! visit rondy when its around, but dont invest in a case til you try it. gotta have at least one to celebrate AK tradition and Fur Rondevous! Go sled dogs go!
900 characters
4.32
/5
rDev
+19.7%
look: 4 | smell: 4.5 | taste: 4.5 | feel: 4 | overall: 4
This tasty concoction was brewed for Anchorage's Fur Rondy Festival. It's a complex old ale with a brownish amber color and a decent head. The aroma is of english hops, caramel, some mildly roasted malts and is well balanced and not overbearing. The flavor, at first, is of sweet malt with a good amount of hop bitterness and is nicely balanced. The finish is somewhat suprisingly dry for an Old Ale. But this makes it pretty easy to drink. The mouthfeel is smooth and dries the mouth. This is also different than other Old Ales I've tried which tend to be slicker on the palate. Overall, this is a yummy Old Ale which I'll buy again.
634 characters
Fur Rondy 2008 from Midnight Sun Brewing Co.
3.61
out of
5
based on
11
ratings.