Sloth - Belgian-Style Imperial Stout
| Midnight Sun Brewing Co.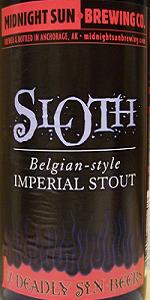 BEER INFO
Brewed by:
Midnight Sun Brewing Co.
Alaska
,
United States
midnightsunbrewing.com
Style:
Russian Imperial Stout
Alcohol by volume (ABV):
10.20%
Availability:
Rotating
Notes / Commercial Description:
SLOTH Belgian-style Imperial Stout is deliberately dark as hell. The pour is slow and sluggish. Its head is menacing, becoming torn and tattered Belgian lace on the sides of the glass as you cautiously consume this brew—sip by insidious sip.
The aroma is sweet from heavy malt and big alcohol with notes of vanilla, coconut and whiskey from the oak. The depth & breadth of roasted malt flavors loiters on the palate while the robust finish lingers, well, forever.
20 IBU
Added by beersabound on 11-03-2007
Reviews: 56 | Ratings: 106
4.28
/5
rDev
-2.3%
look: 4.5 | smell: 4 | taste: 4.5 | feel: 4.5 | overall: 4
Appearance: Pours an onyx black body topped by a tall, dark tan head.
Smell: Aroma heavy on the roast, and boozey, too. Notes of burnt wood, dark caramel, chocolate, a puff of smoke and, once allowed to warm a bit, a medley of dried fruits.
Taste: There's an intense charred, smokey roastiness upfront followed by a sweet dark chocolate taste to make it bearable. Tastes of caramel syrup, fire-scorced marshmallows, and a bit of fruit. Mild oak character. Medium earthy bitterness that recedes as you approach the finish. A touch of oak and yeast (and booze) for the finish.
Mouthfeel: Medium-full body. Medium carbonation.
Drinkability: This stout is top notch, Midnight Sun!
★
680 characters
4.35
/5
rDev
-0.7%
look: 4 | smell: 4 | taste: 4.5 | feel: 4.5 | overall: 4.5
Appearance: Intense black brew with a deep brown head that may be the darkest I have ever seen. The head clings to the glass like a magnet.
Smell: Chocolate with hints of caramel and toffee. Touch of alcohol.
Taste: This brew moves slow and steady and has a pleasant sweetness to it. Subdued malt flavors dominate with some yeast flavors poking through. Very bold flavor, but none of them overpower.
Mouthfeel: Full body. Creamy, with a waxy quality. Alcohol warms it up well.
Drinkablity: Very easy drinking and interesting brew. Not as dense or over the top as many imperial stouts, but still has plenty of character.
★
627 characters
4.31
/5
rDev
-1.6%
look: 5 | smell: 4 | taste: 4.5 | feel: 4.5 | overall: 4
The bottle opens with a rather enthusiastic vent.
Presentation is opaque jet black, with only a half-inch head of brown foam with a stretch-pour.
Absolutely no translucency in the edges when held to a spotlight.
Aromatics are loaded with chocolate cake batter spiked with coffee dust. Heavily roasted, with char and nougat following through.
The mouthfeel is massive. Very thick and chewy, but beyond that there seems to be an elevated carbonation level that allows the brew to somewhat expand on the pallet. Slighty coarse with gummy particulates.
The pallet is full-on, over-the-top Imperial Stout. Rich and lucious dark chocolate, espresso beans, brownie batter, and Hershey's syrup.
Bitterness and hopping in general are restrained, with the bitterness that's present being of the acrid type.
Finishes with a very slow warm up and a hint of dark fruit under the asphault of chocolate and espresso.
A friend and I were lucky enough to do a side by side with Kate the Great.
While the Kate had more finesse, complexity, and drinkabilty, the Sloth was definately a much bigger interpretation of the style.
★
1,108 characters

4.38
/5
rDev 0%
look: 5 | smell: 4.5 | taste: 4.5 | feel: 4 | overall: 4
pours blacker than snipes, shannon sharp, eddie murphy, or even space ghost's mask. the head sparkles almost like there were little diamonds in it, otherwise a toffee coffee color. smells of chocolate, and caramel but more inviting than just a run of the mill stout. the taste is a bit bitter, caramelish with a faint hint of cherry on the finish (though i don't think there is any in the mix). mouth-feel is fantastic, grainy for a stout, perfect level of carbonation, an all around joy to drink. if you want an answer for drinkability see the mouth-feel. damn good beer, period end of story.
★
593 characters
3.99
/5
rDev
-8.9%
look: 5 | smell: 3.5 | taste: 4 | feel: 4.5 | overall: 4
This beer is blacker than wesley snipes. There is absolutely no light through it, It is crude oil black. The head is dark tan with good lace and kind of glitters. Good lace. The nose is semi-weak for an imperial stout, it lacks smoke flavors in the smell and alcohol is present. At first taste it tastes more of espresso than coffee and has some chocolate flavor. Molassesy tones in the middle with some sugar. Thick and chewy, yet smooth going down, but the aftertaste has some excessive alcohol notes, by no means abrasive though. A slight (very) hop flavor in the finish as well. The mouthfeel is quite good. Thick and creamy with chewy texture. sugary residue remains on lips and in the corners of the mouth. Drinkability is high for an imperial stout, but i would rather have more smoke and malt flavor in sacrifice. Great brew from the boys at m sun once again. This one will do very well in the cellar. Get it. Get it now! now!
★
934 characters
3.73
/5
rDev
-14.8%
look: 4.5 | smell: 4 | taste: 3.5 | feel: 4 | overall: 3.5
20 IBUs. Sloth is impenetrable to light. The dark brown head with tan tones lazily rests; seemingly not wanting to go anywhere. Wafts of candi sugar, alcohol, roasted malt and dark cherries slowly rise from the glass. The long lasting flavors of alcohol, dark fruit, molasses and chocolate coat my tongue and seem quite comfortable there. Like fleece PJs on a leather couch, the low carbonation and full body relax and sink into my tongue for a good spell. As it unhurriedly rolls in my mouth's confines neither it nor I seem motivated for it to leave. The aftertaste is eternal. This is a sipper for a cold night without much to do.
A noble effort and big beer with some unique flavors. It's a little sweet and rough around the edges right now but I am interested to see how it ages. Wasn't sure what to style to put it in. But I like RIS was more fitting than American Double stout.
★
886 characters
Sloth - Belgian-Style Imperial Stout from Midnight Sun Brewing Co.
4.38
out of
5
based on
106
ratings.