Venus - Belgian-Style Quadrupel
| Midnight Sun Brewing Co.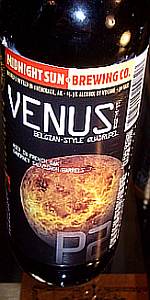 BEER INFO
Brewed by:
Midnight Sun Brewing Co.
Alaska
,
United States
midnightsunbrewing.com
Style:
Quadrupel (Quad)
Alcohol by volume (ABV):
14.30%
Availability:
Limited (brewed once)
Notes / Commercial Description:
Venus—goddess of love and beauty—exudes grace and voluptuousness. Indulgent with lush dark malts and sensuous star anise, VENUS is decadent and divine in body and spirit. Leisure lounging in French oak Cabernet Sauvignon wine casks results in a lovely liquid feast of fabulously luxurious flavors.
30 IBU
Added by AKBelgianBeast on 11-15-2008
This beer is retired; no longer brewed.
Reviews: 36 | Ratings: 47

4.32
/5
rDev
+0.2%
look: 4 | smell: 4.5 | taste: 4.5 | feel: 4 | overall: 4
Dark brown with a good tan head. Aroma is sweet fruit, wood, wine, booze, raisin and roast malt. Flavor is raisin and dark fruit. Big body and smooth beer. Alcohol isn't really apparent. This has all the things a good beer should have and will age nicely.
★
255 characters

4.03
/5
rDev
-6.5%
look: 4 | smell: 3.5 | taste: 4 | feel: 4.5 | overall: 4.5
Bomber fresh from the new brewery, poured into their tall pils glass. Venus is a murky, very dark brown with a big, frothy light tan head leaving scattered lace.
Smell is very strong, a huge punch of anise and alcohol, a bit phenolic.
Taste is robust, but luckily not as strong on the anise, which frankly, on the nose, scared me. But actually it's pretty smooth, big caramel and figs, certainly some anise, no coriander though that I can tell. Also, I was really hoping to get more from the cab barrels, but it's really just a generic vanilla oakiness.
Mouthfeel is typical MSBC creamy, only medium bodied. For a stupid strong beer, it's super digestible.
Drinkability is surprisingly high. I had Mercury first, and this actually went down easier. And it was just because I was already buzzed, Venus was just that much tastier! I can't believe its so damn strong, you'd never guess it from the taste. But the fact is, it's a strong ass, intensely flavored, not cheap bomber.
★
984 characters
4.2
/5
rDev
-2.6%
look: 4 | smell: 4 | taste: 4.5 | feel: 5 | overall: 3.5
These 22 bombers are killing me... this is a must pour into a glass, don't waste this guy from inside the bottle.
Appearance: pours mostly dark and chocolatey, stoutish, with slightly red lights through thinner parts of the glass.
Smells of carmelized fruit, brown sugar.
Tastes like a spicy, butterscotch fruit glazed with brown sugar or some sort of carmelization with strong tones of a sweet sweet wine.
Most remarkable thing about this quad is it's ability to hold taste. The taste stays with you & stays strong for up to a minute after the sip. There are also signs of nuts or sugary/spicy malt that is good with a taste that holds.
Mouthfeel is mild carbonation and the wine surely come out here as the buds feel this for a good long minute after the drink hits your stomach.
Drinkability I rate a bit low just because the guy is strong at 14+ percent and its a brown sugary sweet feeling as well. I don't know about you, but I can drink cases of mild beer all day, but I can't drink 50 oz+ of lemon vodka or jungle juice from the sorority girls, just too much sugar for my liking.
★
1,095 characters

3.9
/5
rDev
-9.5%
look: 4 | smell: 4 | taste: 4 | feel: 4 | overall: 3.5
Burgundy in color with an enormous tan head that lasts and lasts. A bit overcarbonated. Bold chocolate aroma with an undercurrent of red wine; odd but it works rather well. The high ABV is fairly noticeable in the nose, it's a bit solventy. Fruity on the palate, tannic, spicy. Very chocolatey, a bit out of character for a quad but it's not unpleasant. The cabernet barrel shows up most in the tannic, fruity, dry finish. An interesting beer, but not as good as I had hoped.
★
475 characters
4.18
/5
rDev
-3%
look: 4 | smell: 3.5 | taste: 4.5 | feel: 5 | overall: 4
Appearance: Pours a clearish, dark amber body with a small, though creamy-looking, beige-colored head.
Smell: Toasty, biscuity malts with rich, expressive notes of spicy hops, anise oil, a distant red wine barrel, and dried fruits from a trail mix served up with a shot of clean liquor.
Taste: Pale malts along with a maltiness delivering a taste of toasted biscuit tops sweetened with a sprinkling of brown sugar and, why not, some simple table sugar. Touch of dried fruit. Spicy hops display a light, brief bitterness. Add in a full tablespoon of Ouzo. Drying, leathery tannins leech in, as does a lesser hint of red wine. Pinch of chocolate shavings. The strong alcohol presence is definitely evident, but the heavy, dense layers of flavor and complexities help to turn your attention away from it. Return of the anise liqueur for the sweetish, very warming finish.
Mouthfeel: Medium-full body. Moderate carbonation, which thoughtfully helps to prevent any cloying syrupiness.
Drinkability: Surprisingly drinkable considering the ABV percentage. Though Venus is an inhospitable, downright hellish place, it's namesake beer is one to soak in and savor.
★
1,158 characters

4.92
/5
rDev
+14.2%
look: 4.5 | smell: 5 | taste: 5 | feel: 4.5 | overall: 5
From notes. Bomber into Midnight Sun goblet. So grateful for the opportunity to try this one, as the brewery is distributing some of its special ales outside of Anchorage now. Thanks to Specialty Imports and the manager of our one local liquor store, Robert, for helping get a case of this precious nectar to our remote little town.
Pours deep brown with a lightness at the edges. Deep mahogany when held to light, with reddish/brown highlights. Thick head lasts and lasts. Lacing fades quickly. SMELL is initially pleasant but not strong. It smells of raisins and other dark fruit, rich malty aroma including sweetness, boozy, rich and complex. Later getting some faint woody notes, Belgian yeast character, spicy anise and some long legs. Later it gains some more prominence and boldness. By the end the nose is strong and dominated by dark fruit, spices, caramel maltiness and boozy aromas. Still very balanced and complex. TASTE is Super rich and complex flavors hit quickly and forcefully: sweet caramel malty, bitter hop backup, cherry and raisin fruity, woody and boozy. These flavors change composition as they generally increase throughout the middle and into the finish. Some bitter dryness in the finish. Wicked bold and complex! FEEL Perfectly moderate carbonation. Thick, full, rich and viscous texture and body. Bit of a drying sensation, with a mild bitterness, in the finish. Luxurious.
OVERALL, as sensuous sipper if ever there was one. Bold size and price (both 14+) buttress the sipping sentiment. But drop for drop, the flavor explosion rivals the all time greats. As well it should, considering the price! And I say that as a huge Midnight Sun fan. The cost of this one is roughly equal that of Pannepot, and is more than Chimay and Koninghoeven. Quad is a bit of an enigmatic style, but I tend to like ales that call themselves quads (Kongings, Samaranth, Pannepot, Boulevard, Four, Westy 12 (only twice), and even the Rev). Now I'm not saying Venus isn't a quad, but I am suggesting here that perhaps it leans a bit toward the similarly amorphous styles Dark Strong Ale or even American Strong Ale? What do you say Frank (AKBelgianBeast)? It clearly has Belgian character, but it also has one huge, strong, bold extroverted personality (assuming a beer can have a personality).
★
2,304 characters

4.37
/5
rDev
+1.4%
look: 4 | smell: 4.5 | taste: 4.5 | feel: 4.5 | overall: 4
22oz bomber courtesy of a very generous Alaska trader poured into a snifter.
This one pours a deep mahogany out of the bottle and settles in almost black in the glass with a rocky tan head that lingers as a small cap for the duration.
The aroma is huge on this one with tons of sweet dark malts, oak tannins, and candied dark fruit, like raisins soaked in booze and covered in brown sugar. There is a dry red wine character that balances the huge sweetness and leaves a bit of alcohol burn in the nose.
The taste is very sweet as well up front with lots of candi sugar and caramel malts. The dark fruits are present as well, but the alcohol really makes its presence felt in the finish with a massive burn in the throat going down. The red wine dryness is barely detectable in the finish with a bit of the barrel presence trying to peak out behind the alcohol burn.
The mouthfeel is crazy smooth and velvety with lots of carbonation which, for me, helps ease the boozy presence a little bit.
This is one helluva big beer from MSBC and despite being fantastic, it's a little on the hot side. I have a feeling that after a year or two, this one will be world class. That said, it's already a seriously great beer and another original brew from the boys in Anchorage.
★
1,269 characters
4.73
/5
rDev
+9.7%
look: 5 | smell: 4.5 | taste: 5 | feel: 4.5 | overall: 4.5
Poured from a bomber at 48 degrees into a 1L snifter... thats right 1L!!
A: Pours from bottle almost black with very little light showing through, has deep ruby/ garnet hues where light does pass through. Massive fluffy beige colored head that was a little over 3 fingers. then very slowly drops to a 1/4" cap then a 1/8" film. Oddly, for such a head, it left not a hint of lacing.
S: Sweet, first thing to hit the nose. sort of a candied fruit mingled with the sweetness, maybe a little rum or bourbon smell. towards end, a strong oak and red wine bite prominent. As beer warms up, the alcohol becomes less hidden and mingles with the oaky smell.
T: EXQUISITE! Very much like the smell. Darkly sweet fruits (I guess that would be bittersweet then), some hints of a licorice/ star anise flavor. Mild... very mild notes of maybe dark chocolate, something like 80% dark. Kind of a carmel like smoothness. All of that is promptly followed by a very strong oak bite that also tastes of a very high quality hearty red wine. The effects of the barrel aging are very pronounced in the aftertaste... which lingers for a couple of minutes. While at cellar temp. this flavor is almost too overpowering but mellows as it warms. Alcohol is well hidden at cellar temp. but it sneaks out there as the beer warms and creates a very complex, intriguing, and pallet befuddling taste; as the alcohol warmth only adds to the oak.
M: Thick, rich, and very smooth. maybe a little too thinly carbonated. only slightly coats the inside of the mouth, just enough to allow the taste to linger.
O: A very well done quad. I think that with a year or two in the cellar the oak bite would mellow and the beer would be more balanced. without the bottle telling you that there is star anise in it, it would be easy to miss. This is one beer to be feared... only AFTER drinking 3/4 of the bomber did I examine the bottle closely.( to find out why it felt like I got thoroughly thumped by someone) In tiny print it says 14.3%ABV. This beer hit the spot on a very cold day, the alcohol left a very nice warmth w/o burning.
★
2,093 characters

3.81
/5
rDev
-11.6%
look: 4.5 | smell: 3.5 | taste: 4 | feel: 4 | overall: 3.5
22 ounce bomber, was approximately $14 at Brown Jug Warehouse, Anchorage, AK.
Appearance: using a beer-clean wide-bowl red wine glass, pours a deep brown, with a solid, dense, medium brown head. Huge lacing -- nearly complete. Head sticks around, very impressive for a 14.3% beer.
Aroma: candied cherries, brown sugar, hints of licorice. Kind of muted for such a big beer.
Taste: strong brown sugar, licorice / star anise, stonefruit, candy sugar. Huge malt backbone, minimal hop presence. None of the oak barrel flavors some through, even when I'm looking for them.
Mouth: Bright and slightly sharp carbonation.
Overall: A very tasty beer. Immensely similar to The Viking. (Ms. Warmstorage thought that was what I'd opened.) While I'm enjoying it and will happily drink it, dollar for dollar, I'm probably as disappointed in this beer as any beer I've ever purchased. I mean, c'mon, $14? Bah. Humbug.
★
911 characters
4.53
/5
rDev
+5.1%
look: 5 | smell: 4.5 | taste: 4.5 | feel: 4.5 | overall: 4.5
22oz bottle at 55 degrees.
Pours with a full three inch-plus head of dense tan froth, and a dark, clear ruby body when held to the light. The whipped foam settled slowly to a solid quarter inch on the surface, with ripped rings of thick lacework.
A hump in the middle of the surface is evident from the etching in the bottom of the Duvel tulip.
Aromatics lead off with lush malts, ripe fruit, spicey phenols, and rich Cabernet tannins.
Grape jam, raisins, nougat, black licorice, and red wine. Some mild, boozy fusels follow through.
The mouthfeel is rich and creamy with the body being on the thick side of medium. Slightly chewy and quite velvety.
Sweet, fresh malt, rum-soaked raisins, red grapes, and anise lead off the palate. Caramel, peppered figs, earthy tannins, and a building boozy component step forward. Hints of Schezuan peppercorns, vanilla, toffee, and cocoa follow through.
Finishes with a lingering warmth, shades of brown sugar, and a bit of tart, oaky red wine.
Wowza. This one should be called Bonanza. Think of an Imperialized Pannepot aged in Cabernet barrels. The Anise is a bit heavy now, and the brew could a bit of drying up in the cellar. Give this one a few years and I'm thinking straight fives.
Redonkulous gratitude going out to Tim in Alaska for such a tasty one.
★
1,304 characters
4.35
/5
rDev
+0.9%
look: 4 | smell: 4 | taste: 4.5 | feel: 4.5 | overall: 4.5
Venus. Belgian Style Quadrupel brewed with star anise and aged in french cabernet sauvignon barrels. 14.3%. Here goes...
Pours a very dark brown with deep deep ruby color and brown tints. Head hangs around good at first, but all in all dissipates fairly quickly leaving behind fairly minimal lacing.
The nose is not as strong as i would have expected. The anise is apparent, dark malts, some alcohol. A bit of dark fruit and some slight cherry.
Taste is quite interesting. Starts off with a nice rich malt character, some caramelized dark fruit, the star anise then rears its head, not as strong as it is in The Viking, I like that the anise is a bit less in your face in this one. The normal caramel, butteriness of a Quad is slightly lacking here, but it is defenitely there. The alcohol makes its presence known at this point, especially on the finish as it really coats the stomach and warms. Anise and dark fruit linger in the aftertaste. The cab sauv comes through just a bit at this point, right before the finish. This reminds me alot of a Gouden Carolus Noel. Sort of that licoricey anise flavor. A very complex beer. I will certainly be altering this review again, probably during my next lesson with a bottle of this one (likely tomorrow)
Mouthfeel is right where it should be for a belgian quad, nice and viscous, carbonation is where it should be. A tiny bit dry on the finish (cab sauv?) but really very nice.
For the style and the abv, the drinkability in this brew gets high marks, although this one is certainly not a summertime slammer. But as i have said in the past, if you bought a 14.3% bottle of beer thinking you were gonna shotgun some at the company picnic, well then your just a goddamn idiot.
Overall a very complex and interesting beer. This one pushes the limits of a quad, both in abv and in innovation. Very unique barrel aging and the addition of anise give this one some added character, and added complexity. I was expecting a solid quad base, ala St Bernie's, Westy, Urthel, Koeningshoeven, etc. but this one is more of something you would see from any of those breweries, but with "Noel" slapped on the label. This really reminds me of many big belgian christmas offerings (probably the anise). A very complex and contemplateable beer. I suspect this one will do extaordinarily well with some age. A very fun, complex, and tasty beer that you will learn from. This beer is not for sessioning, but it is a class session in its own right. Great brew.
★
2,493 characters
Venus - Belgian-Style Quadrupel from Midnight Sun Brewing Co.
4.31
out of
5
based on
47
ratings.