Son Of A Berserker!
| Midnight Sun Brewing Co.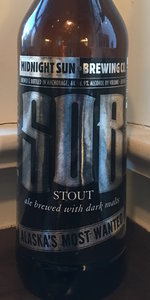 BEER INFO
Brewed by:
Midnight Sun Brewing Co.
Alaska
,
United States
midnightsunbrewing.com
Style:
American Double / Imperial Stout
Alcohol by volume (ABV):
8.50%
Availability:
Rotating
Notes / Commercial Description:
"Small" Imperial Stout. This is a malt-centric beer so hops are not the feature. This is "Son of Berserker" - second runnings, usually called "small beer", of Berserker Imperial Stout. So at 8% ABV, "small" is relative--literally, as this little guy is the son of a great beer. No oak aging. But taste iT. This beer is completely incredible.
Added by AKBelgianBeast on 12-31-2008
Reviews: 10 | Ratings: 58
3.83
/5
rDev
-4.7%
look: 3.75 | smell: 3.75 | taste: 3.75 | feel: 4 | overall: 4
Just OK stout, so-so drinkability. Good black colour with bubbly head. Roast aroma. Bottle from Decicco's. Nothing outstanding in a World of Good Stouts.Second time much more enjoyed.
186 characters
3.83
/5
rDev
-4.7%
look: 4 | smell: 4 | taste: 3.75 | feel: 3.75 | overall: 3.75
L- daaark brown. Tan head.
S- Rich coffee, dark chocolate, and booze
T- bittersweet chocolate, bitter coffee finish. Some dark fruit poking around as it warms up.
F- not as thick as I'd like. Nice and creamy.
O- Good stuff, I'd love to try it on nitro.
262 characters
3.88
/5
rDev
-3.5%
look: 3.5 | smell: 3 | taste: 4.5 | feel: 3.5 | overall: 4
6oz stubby pint pour at MS.
A - Served a dark brown with a few dark tan bubbles clinging on the edge.
S - Oak, wood, malt, pretty mild.
T - Smokey dark burnt malts. Wired, but I like it.
D - Lighter, thin body with good carbonation.
O - Light, smokey, bring on the big brother.
287 characters
3.88
/5
rDev
-3.5%
look: 4.25 | smell: 3.75 | taste: 4 | feel: 3.75 | overall: 3.75
hadn't heard about this, but thus must've just hit town...grabbed a bottle earlier in the day, enjoyed from a midnight sun snifter. bottle was a black label with silver metallic writing that said SOB...look to the description to see it is son of a berserker brewed from the 2nd runnings of berserker.
a - deep, lush, black as sin...like all midnight sun stouts...oil. the head was a bit softer though with more of an off white instead of the deep tan brown one might expect.
s - nose is fairly char, but you definitely get the berserker. smells like an alaskan winter.
t/m/o - berserker lite. no barrel aging, and amp up the roast and amp up the char. soft...winter. light, almost porter-like. all the lush flavors of bersker but in a sessionable? format. good beer, but ill stick to berserker.
805 characters
3.92
/5
rDev
-2.5%
look: 4 | smell: 3.75 | taste: 4 | feel: 3.75 | overall: 4
A: The beer is jet black in color. It poured with a quarter finger high tan head that died down, leaving wisps of bubbles that mostly covered the surface and a collar around the edge of the glass.
S: Light to moderate aromas of burnt and roasted malts are present in the nose.
T: The taste follows the smell, but has stronger flavors of burnt and roasted malts and a slight amount of bitterness.
M: It feels a bit more than medium-bodied on the palate and has a moderate amount of carbonation.
O: This is a nice stout if you like roasted and charred flavors of malts. At 6.9% abv, it's on the lighter side compared to other beers in the style, including its big daddy, the Berserker.
Serving type: bottle
707 characters

4.05
/5
rDev
+0.7%
look: 4.25 | smell: 4.25 | taste: 4 | feel: 3.75 | overall: 4
Poured from a 22 oz bottle. The ABV is 6.9% per the bottle, not the 8.5% listed in the BA description. This is a nice second runnings beer - a simple, straightforward roasty stout, with lots of flavor for 6.9% ABV.
214 characters
4.1
/5
rDev
+2%
look: 4 | smell: 4 | taste: 4 | feel: 4 | overall: 4.5
SonofaBerserker is a small beer (8.5% small beer. haha) made from the runoff of the 2008 batch of Berserker.
Pours a deep pitch black with a nice tan head that dissipates fairly quickly leaving moderate lacing.
Nose is very roasty, with some deep dark malt flavor, some chocolate and vanilla, and a bit of grain.
Taste pretty much follows. A very smooth chococreamy stout, with some vanilla flavors, dark roasted malt, suprisingly roasty. A bit of metallic alchohol in there, but not much. Drinks insanely smooth for a beer that weighs in at the same abv as many imperial stouts. Finish is nice and slick, lingering roast and chocolate.
Mouthfeel is pretty good here, a bit slick, and slightly undercarbonated Id say, just slightly, but this one is hard to knock.
Drinkability is defenitely where this one shines. A ton of flavor packed into an 8% package that feels like a 6% package. Goes down slick and easy, and is quite sessionable for the abv.
Overall a nice, not so in your face, version of Berserker, for those days that you just dont feel like commiting to a bomber of 13%. (Although I have yet to have one of those! haha) Suprisingly roasty for being a runoff brew. A very cool take on a neglected method of brewing. Good stout.
1,257 characters

4.13
/5
rDev
+2.7%
look: 4 | smell: 4 | taste: 4.25 | feel: 3.75 | overall: 4.25
Decanted into a conical pint glass. No production date evident. Pours an almost black brown with a decent, bronze colored head. Bouquet of roasted malts evident with hints of sweet fresh biscuits and coffee grounds; tastes of rich dark malts with notes of dark, unsweetened chocolate. Medium body with reasonable retention of effervescence. Solid representative of the style.
380 characters
4.17
/5
rDev
+3.7%
look: 4.25 | smell: 4.75 | taste: 4 | feel: 3.75 | overall: 4
This is surprisingly good! Incredible aroma with coffee and roasted malts. The taste is light, but the mouthfeel is sticky-sweet anise and cocoa-chocolate. This is an imperial stout through and through. But "only" 6.9%!
219 characters

4.62
/5
rDev
+14.9%
look: 4 | smell: 4.5 | taste: 5 | feel: 4 | overall: 4.5
On draught at the MSBC loft, SonofaBerserker is black with a small tan head that leaves scattered, sticky lace.
Smell is like super dark chocolate, sweetening as it opens up, with a little herbal hops as well. Intense but appealing.
Taste is very robust, big bitter dark chocolate and char, but with just enough caramel providing balance. None of the intense caramel and maple sweetness I recall from Berserker, it's nevertheless a really nice RIS. It blows my mind this is a 2nd running beer, so big, it really puts Berserker in perspective!
Mouthfeel is on the lighter side for the size, lacking the super creaminess I expect from MSBC, almost a bit cask like, although the foamy rises on a swish.
Drinkability is really good, this brings to me the perfect balance intense roast and sweetness, enough alcohol to get my ears glowing without knocking me out. Loving this, very dangerous.
895 characters
Son Of A Berserker! from Midnight Sun Brewing Co.
4.02
out of
5
based on
58
ratings.