Jupiter - Champagne Tripel
| Midnight Sun Brewing Co.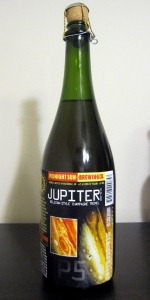 BEER INFO
Brewed by:
Midnight Sun Brewing Co.
Alaska
,
United States
midnightsunbrewing.com
Style:
Bière de Champagne / Bière Brut
Alcohol by volume (ABV):
10.00%
Availability:
Limited (brewed once)
Notes / Commercial Description:
Brewed as a Belgian-style tripel. Fermented with Belgian and Champagne yeasts. Aged in stainless. Filtered. Injected with sugar and Belgian/Champagne yeasts then hand-bottled and hand-capped with the usual beer crowns. Underwent a secondary fermentation in bottles to create carbonation and a little more alcohol. Turned "bottom up" to begin riddling process: bottles were hand-turned or vibrated on a metal table once a day to encourage the lees [yeast] to settle into the neck of the bottle. Almost a year and a half later, the final process was completed: freeze neck of bottle in dry ice chips, uncap bottle, encourage yeast plug to pop with warm water, dose the bottle with "clear beer" to replace loss -- in our case we used OB6 [Obliteration VI Double IPA], cork and wire-cage the bottle. Hand-label it. SeLL iT.
40 IBU
Added by AKBelgianBeast on 12-02-2009
This beer is retired; no longer brewed.
Reviews: 8 | Ratings: 18

4.21
/5
rDev
+13.8%
look: 5 | smell: 4 | taste: 4 | feel: 4.5 | overall: 4.5
Thanks to akbeerfiend for sending me a bottle of this unusual brew - probably the only American-brewed champagne tripel out there. Shared with friends at dinner, after handing in my dissertation. Served in a champagne flute.
A - The cork comes out with a loud pop, and the brew starts creeping up the neck of the bottle - looks like champagne to me! Pours with two fingers of creamy light tan/ecru foam that has excellent retention and leaves splotchy lacing. The body is a transparent deep golden color that reveals tons of bubbly action. It looks exactly like the idealized Bière de Champagne I had in my mind's eye.
S - Fruity, tropical, estery Belgian yeast. Some notes of wheat and a touch of spice, but fairly restrained compared to many tripels I have had. There's some light floral and grassy noble hop character. It's a little muted, but quite pleasant, and the alcohol is reasonably well hidden.
T - This is surprisingly hoppy - all 40 IBUs are present and accounted for as there isn't much to obscure them. The noble hop bitterness shows up and lingers into the finish, while contributing some grass and pale fruitiness. Again there is the obligatory Belgian yeast character providing fruity esters, some light malted wheat, and a touch of spice. The alcohol is only lightly perceptible.
M - Very dry finish! Light, spritzy yet soft carbonation, medium body, and a touch of flushing warmth after 2-3 flutes worth. Pretty consistent with most champagnes I've had.
D - Compared to Frank's observations below, the four months of age seem to have blunted some of the alcohol character he observed. I was sad when the bottled emptied, and 750ml was too little for three in my opinion. I'd drink a whole bottle on my own, even though it would get me seriously krunk. My only knocks are the high price and limited distribution, although when compared to other quality champagne the price begins to seem more reasonable.
1,929 characters
3.88
/5
rDev
+4.9%
look: 4 | smell: 3.5 | taste: 4 | feel: 4 | overall: 4
Thanks to Masterski for the share.
A: Pours a nice brillant orange hue with a nice white head. Pretty good retention but no lace.
S: Aromas of sparkling grape juice, citrus, yeast, and earth.
T: Citric and yeasty up front. Musty and earthy middle. Hints of sweet fruit and a bit of funk.
M: Medium in body, the champagne yeast give a nice zippy quality.
D: Not the most drinkable, but I did enjoy this one. Huge thanks to Alex for bringing this one to Florida.
465 characters
3.82
/5
rDev
+3.2%
look: 4 | smell: 3.75 | taste: 3.75 | feel: 4.25 | overall: 3.75
Bottle opened on 1.22.13
A - Pours a cloudy dark orange with a foamy cream-colored head with a good retention and lacing.
S - Belgian yeast, lemons, bready.
T - Strong Belgian yeast, lemon citrus, sour dough bread, spices.
D - Still some good carbonation with a lighter body.
O - Base is still there, flavors are ampted up. Not sure in a good way.
352 characters
3.65
/5
rDev
-1.4%
look: 4 | smell: 4 | taste: 3.5 | feel: 4.5 | overall: 3
Glad to see this finally released, and in time for new years. Belgian-Style Champagne Tripel. Released in 750ml and 1.5L bottles. $30 and $60 respectively. 10% abv, 40 IBUs.
Beware upon opening of foam climbing the bottleneck. Pours a light orange color with ever so slight haze and yellow hints. A large stark white head forms easily and stays there in a big cauliflowery cloud-like pillow and leaves great lacing. Oh yeah, and its bubbly!
Nose is pretty complex. Lots of estery tropical fruit. A little bit of hay and a distinct dryness seem apparent in the nose, with some slight spice like notes as well.
Starts of how you would expect, a nice tripel-like profile, esters, belgian yeast, nice and dry, some dry grass and a touch of spice. However, shortly through the middle there is a dirty kind of bitterness that takes over. Almost soapy. Shortly after that, the alcohol becomes very apparent, definitely moreso than i prefer in a Tripel. The finish is distinctively dry, and has a pretty profound bitterness for the likes of a tripel. Some nearly harsh metallic notes for a quick spell as well but really just for a quick moment. The aftertaste is full of dry grass and booze. Still a bit hot this beer, hopefully that will round out with some age.
Mouthfeel is pretty much right where it should be for this one. Nice high carbonation and relatively low viscosity. The dry bitterness is a bit too high for my tastes in the style, but who the fuck am I.
Drinkability is ok, but taking down this whole 750 will be tough alone. Although busting this kind of beer out alone is pretty rare. You pretty much have to be a sad geek with nothing to do like I am for that scenario to play out.
Overall, I have to say I am certainly not blown away with this one. It's a decent drinkable beer, but I'd prefer their classic fallen angel or even panty peeler to this beer, or damn near any belgian golden they've made, and they are less than 1/3 of the price. (because they are much cheaper to make, but despite the reason a fact is a fact)
It's an interesting style, and certainly educational, and i'm glad to see midnight sun doing what they do, and pushing the boundaries on the forefront of brewing innovation. If you really want to try a champagne tripel though, they will all cost you the same ridiculous amount of money, and this is the best i've had of the ones available.
Still enjoyed it, i just still cannot justify the cost/enjoyment ratio for this or any other champagne-style tripel. I understand why they cost so much, its just a matter of personal taste i guess. If you like them though, this one surely will not dissappoint.
2,645 characters

3.61
/5
rDev
-2.4%
look: 4.5 | smell: 3.5 | taste: 3.5 | feel: 4 | overall: 3.5
Big thanks to Jeremiah for this 750ml cork and caged bottle.
Pours a clear golden with a fluffy white head fed by a steady stream of bubbles from the bottom which leads to a solid cap on top with some sticky lacing.
The aroma is dominated by spicy yeast and earthy hops. There is a hint of sweet fruits but it's a low-key aroma for sure with nothing really standing out.
The taste is more of the same with the spicy yeast and hay dominating with light fruit and hop bitterness showing through. the finish is dry, bubbly and a little boozy.
The mouthfeel is lively though I wouldn't say it was extremely effervescent, like other champagne tripels I've had.
This is a solid beer but not one that stands up to most of the other beers I've had from MSBC. To be fair, that's a seriously high hurdle for me, so I blame the boys from Anchorage for raising my expectations so damn high.
883 characters

3.58
/5
rDev
-3.2%
look: 4 | smell: 3.5 | taste: 3.5 | feel: 4 | overall: 3.5
Thanks for this one, Bobby.
A slightly cloudy golden orange color with a big white head. A slightly funky aroma to this. Quite yeasty with some hints of spice and bready malt. Maybe some hints of sugar. The flavor is nicely sweet with a definite yeasty quality. Some hints of spice and maybe a bit of oxidation. Very bready, too. Medium and medium.
349 characters
3.51
/5
rDev
-5.1%
look: 4.5 | smell: 3.5 | taste: 3.5 | feel: 3 | overall: 3.5
a huge pour from this one, i mean amazingly huge and really light golden in color with loads of carbonation and a huge foam head that settles down lightly and leaves a touch of lacing on the sides.
aroma is far too light, small citrus hops,light grain, and that was about it. it seems to really just not have the direction i was looking for. it was just light on the palate and super carbonation, but the flavor just did not seem to match up with my hopes. a very expensive beer that just does not live up to anything.
519 characters

3.32
/5
rDev
-10.3%
look: 5 | smell: 3 | taste: 3 | feel: 4 | overall: 3.5
750 ml bottle (the date label date is 12.01.2009, but I think they released it later then that) poured into my MSBC cervoise, which is pretty flute like. Jupiter is a clear gold with lots of very small bubbles that don't quit, forming a large, rocky off-white head that leaves chunks of foamy lace as it slowly settles. Perfect!
Smell is a little stale to be quite honest. I've cellared lots of Belgian blondes, some of which too long, and it reminds me of that, a kind of overripe banana sweet maltiness. I've recently been working through an accidentally cellared case of Lagunitas Triple (We're Only In It For The Money), which has not held up well, and this smells almost the exact same. The Lagunitas had lots of floaties though. Otherwise, it's a bit phenolic, a little heat, but clean, maybe a hint of herbal hops.
Taste is similar. Only 6 months or so after release (although I know they aged it for a long time at the brewery as part of the disgorgement), and I'm thinking this should be drunk now. If held, I'd go for a really long time and hope it comes out interesting on the other side, but would be expected to have wasted what was a lot of money, $25 IIRC. A tough call for MSBC, they obviously invested a lot of time and money in this beer, and hoped it would turn, before it ultimately turned too far and their hand was called.
Mouthfeel is dry, finely carbonated, medium light bodied.
Drinkability is OK. Honestly, all the effort in aging this thing was for the appearence. And while it's pretty, that doesn't effect the drinkability. This has not aged well, bummer. Still a good effort at a rarely tried style. Although, to be quite honest, most bottle conditioned Belgians will settle enough that they're basically clear and look just as good as long as you're careful with the pour, without the riddling of the champagne style process. Factor in the fact that this was so expensive, hard to get if you're not travelling to Alaska (which I did, but still), and made once, this one is pretty much as far from a guzzler as it gets. The ABV was pretty well hidden though.
2,095 characters
Jupiter - Champagne Tripel from Midnight Sun Brewing Co.
3.7
out of
5
based on
18
ratings.