Obliteration VII
| Midnight Sun Brewing Co.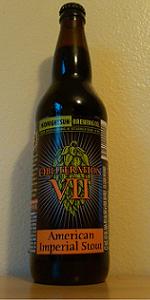 BEER INFO
Brewed by:
Midnight Sun Brewing Co.
Alaska
,
United States
midnightsunbrewing.com
Style:
American Double / Imperial Stout
Alcohol by volume (ABV):
8.50%
Availability:
Limited (brewed once)
Notes / Commercial Description:
100 IBU
Added by BarrytheBear on 10-16-2010
This beer is retired; no longer brewed.
Ratings: 88 | Reviews: 57

2.35
/5
rDev
-34.7%
look: 3.5 | smell: 3.5 | taste: 2 | feel: 2 | overall: 1.5
Poured into a chalice.
Pours 1 finger of head. Good retention with some new lace. Color is pretty much black.
Aroma: Extremely hoppy. Grassy and floral with a hint of pine. Roasted malts with some dark chocolate. Some caramel and dark fruits. Reminds me a bit of fresh darkness 2009. Extremely hoppy.
Taste: Mega roast. Roasted malts and coffee. Waayyyy too much roast. It has some hop resin bitterness. Floral and pine. Chocolate and roasted malts. Wow. Not for me.
Mouthfeel: Roasted and bitter... and then some. Full bodied with a medium amount of carbonation. Ends extremely bitter and roasted.
Overall, this really wasn't for me. It was extremely roasted and extremely bitter. It just wasn't good. I couldn't drink very much of this. A big letdown.
758 characters

3.38
/5
rDev
-6.1%
look: 4.5 | smell: 4 | taste: 3 | feel: 3.5 | overall: 3
Bomber into a Birra del Borgo tulip. Thanks to Chris for opening this at a tasting.
A: Absolutely opaque black body with a finger of fine chocolate-hued foam. Dark and rich.
S: Hugely hoppy, with piney and herbal notes dominating. Generically roasted malts behind. Super, super hoppy stout.
T: Rather muddled blend of dark chocolate malts and resinous, piney hops. Ridiculously dry, bitter finish. Crazy bitter, and not the best for the style.
M: Full-bodied with moderate, spiky carbonation. OK.
D: No, not really. Too bitter/astringent to be drinkable.
Notes: This was my first encounter with a Midnight Sun offering, and it was a little bit of a let-down. I love a good hoppy stout (Nightstalker is one of my all-time favorite beers), but this one really doesn't do the trick. It's too roasty for a Black IPA, too hoppy for a stout, and too astringent for a good beer.
Cheers!
886 characters
3.65
/5
rDev
+1.4%
look: 4 | smell: 4 | taste: 3.5 | feel: 3.5 | overall: 3.5
On-tap at Beachwood BBQ,
A: Pours black with a medium white head, leaving very good lace along with a solid head retention.
S: Roasted malt, dark chocolate, nice notes of dark fruit/fig, molasses, good complexity.
T: Dark chocolate malt and roast is considerable, light bitter hint of hops. Good flavour, not a lot of complexity.
M: Smooth, full-bodied, a bit chalky at times.
D: Solid imperial stout, but nothing wowing.
426 characters

3.86
/5
rDev
+7.2%
look: 4.5 | smell: 3.5 | taste: 4 | feel: 3.5 | overall: 4
Bottled the first week of December, 2010. 8.5% ABV for this batch. Poured from a 22oz bomber into my Dogfish Head shaped pint glass (probably should have used a tulip - oh well). Served lightly chilled.
Opaque bistre body with a tall stand of tan soft peaks. Recedes slowly but steadily. Good retention once it settles. Thick crystaline lacing that isn't able to maintain a foothold amidst the glossy tears.
Bitter roast coffee and some fresh/pale malt notes as well. A touch of caramel, licorice (or maybe fennel pollen), and a brief blast of herbal hops in the nose.
Dark roast, balanced by some turbinado sugar and light spice. The hops contribute some bitterness, but not especially high for the style. This bleeds over with some bittersweet chocolate notes. Lightly spicy, earthy finish with black pepper and a touch of citrus and cherry pits in the finish. Fairly gentle profile really - not as bitter or hop-forward as I was expecting. Well balanced.
Velvety, medium-full bodied, with uniform moderate carbonation.
We live in an era of monster stouts, so a solid middle-weight entry like this can easily get lost in the crowd, but it is a well executed example of the style with some subtle originality. Worth a try.
1,229 characters

3.68
/5
rDev
+2.2%
look: 4 | smell: 3.5 | taste: 4 | feel: 4 | overall: 3
Draft at Gourmet Haus Staudt.
Opaque black topped by a small but lingering tan head. Hops almost overwhelm the dark malts on the nose. Resiny, sappy, orange oil-like hop notes hover over dark chocolate and burnt bread. The palate is slightly more balanced, roasted malt and chocolate flavors are just as prominent and the citrusy, resiny hops. It's a fairly light and dry beer, sticky and bitter in the finish but not particularly obliterating. Not their best effort, but pretty good.
485 characters

3.98
/5
rDev
+10.6%
look: 4.5 | smell: 4 | taste: 4 | feel: 3.5 | overall: 4
The spurs just beat the lakers at the buzzer - as a lakers hater I had to celebrate. Poured an opaque oily black, with lots of light tan lacy head.
Aroma is unique, with the scent quickly moving from pungent, bitter hops to toasty, coffee malt. It isn't two distinct smells, it's more like one blended up mishmash which is really nice.
Tastes initially of a rubbery (in a good way) coffee malt, then moves on to bitter hoppy astringent flavor enhanced by the slight booze heat. Finish is a blend of coffee and a hoppy dry finish - and along with the alcohol taste, combines to leave the palate absolutely parched after every sip. Not the most pleasant sensation, but I can appreciate something different.
Texture is very well balanced, with plenty of creaminess to go with a smooth fluidity. Drinkability is also actually pretty high because that parched finish makes you want to have more. Really solid offering from midnight sun, they just crank out world class beers.
976 characters
3.97
/5
rDev
+10.3%
look: 3.5 | smell: 4 | taste: 4 | feel: 4 | overall: 4
Poured into 10oz glass. Poured a solid black, no translucence, With about 1/4 inch of dark brown head that had medium retention and good retention.
The aroma was a nicely solid roast that still didn't cover up the base grains. There was just a trace of hops in the background. On the tongue the story was pretty much the same, just more well defined and focused. The bold roast notes were solid but not overpowering.
The body was very good, solid, full and even without being heavy. Drinkability was very good for a brew of this size and strength.
Overall, a good brew that's worth seeking out.
597 characters
3.79
/5
rDev
+5.3%
look: 3.5 | smell: 4.5 | taste: 4 | feel: 4 | overall: 2.5
New Ulcerate album and an old 5ive album up for music. AWESOME!!!
This beer pours pitch black. Wonderful, creamy dark tan head that leaves nice lacing. Strong roasted chocolate malt dominates the nose. Hints of espresson, dark chocolate, and black licorice in there. Nothing groundbreaking but nice none-the-less. This is like Jennifer Aniston: all the pieces by themselves don't seem to superior, but all together the entire package is gorgeous. Flavor is a being unto itself. Roasted chocolate malt blasts you in the face. Super tangy malt and espresso just pummeling your tongue. While the aroma and pour are the latter day Aniston (more refined and less filled out), the flavor profile is early Friends era Jennifer Aniston: all filled out curves and nicely rounded. It's astonishing, really. Anyone ever see that picture of Aniston in the waterfall?? The flavor is that "WHOA!!"...It's almost an abomination of excess, but it's excellent. It's almost too much, and will be for some. The front, with all its malt fury, gives way to a middle crammed full of hop bitterness. It's really a blast furnace of flavor. I would say the flaws in here are the excessive hop bitterness and noticeable alcohol in the finish. Oh, did I mention the blue-balling price of $11.99/bomber??!! This is like Freinds-era Aniston getting to your house after a nice dinner, taking off her clothes and then saying, "you know what, I'm just gonna take a bath and go home"...WHAT!! ABV is 8.5% which is promising but not excessive. The fact that it's noticeable in the drink is a drawback.
What I like most: The crazy, almost to excess, flavor profile and the refined aroma profile.
What I like least: The crazy bitterness in the finish and the PRICE!!
Verdict: A novelty that you'll try and brag to your friends that you enjoyed it, even if you really didn't.
1,842 characters
4.25
/5
rDev
+18.1%
look: 4 | smell: 4 | taste: 4.5 | feel: 4.5 | overall: 4
A: Poured a jet black with good carbination and tannish head
S: Roasted malt, chocolate and cocoa in pure domination
T: Booze, toasted malt, coffee, cocoa and a light bitter aftertaste. Very tasty from start to finish
M: Bitter cocoa, booze, big body and plenty of flavor. Nice tasty, warming feel
D: Good indeed, easy to drink and the draft version really unleashed alot of muted flavors hidden in the bottle
413 characters
4.23
/5
rDev
+17.5%
look: 5 | smell: 4.5 | taste: 4 | feel: 3.5 | overall: 4.5
poured into a Brooklyn Brewery Chalice
Perhaps the prettiest Imperial Stout I've ever seen, jet black, thick mocha colored foam and even lace as the beer comes down the glass, I can't think of anyway you could make it prettier.
Wild mix of smells, big part chocolate milk, quite a bit of dark rummy aromas, big part of it is roasted coffee aromas, a smaller part is just a bit of grapefruit and lemon peel. Nice stuff.
Starts like an Imperial Stout and finishes sort of like an IPA. Opens with chocolate, espresso a bit of rummy liquor that then gets overridden by heavy flavors of lime bitterness a bit of pineyness. Very interesting
Very smooth and oily mouth feel, medium to low carbonation, the after taste is sticky, the whole mouth gets coated with the odd convergence of the sweet, malty, dark roasted goodness of a Russian Stout and the astringent, slightly sour hop character.
This beer is a very interesting twist on one of my favorite styles, I'm quite interested to see how it ages because even though they were shooting for a hop bomb, I wonder how much better the malt character would be and what the faded hops would taste like in a year or two. I wonder how it would compare to a barleywine that is brewed with a huge quantity of hops. It should also be noted that it's hard to judge a beer like this, it's certainly not trying to be the same all of those other Russian Stouts.
1,399 characters
4.13
/5
rDev
+14.7%
look: 4.5 | smell: 4 | taste: 4 | feel: 4 | overall: 4.5
Picked up this tonight at Brewforia for $15... gahh!! Beautiful brown head... 2 fingers and sits steady for probably 5 minutes until it drops back leaving very nice lacing.
The nose is seriously hoppy... no joke. Boatloads of citrus and resinous pine hops coat the inside of your nose and barely let the rich chocolate and roasty notes break through.
Flavor is very reminiscent of a thicker ... maltier (only slightly) ... Black IPA. Despite the nose, this is not obnoxiously slammed with hop bitterness... instead the hops are actually mainly mid to late on the palate and seem surprisingly restrained. Good cocoa and dark malt are held together by a nice yet minor maltiness mid palate... the hops combine with the roasted malt and make for a lingering finish..
Body seems lite for a big stout, but I have to remind myself that it is only 8.5% and not 13 like the GI stouts... nice carbonation maybe a touch too high, but it is small bubble and lends toward a pretty smooth mouthfeel... dangerously drinkable.
I would love to see one of the Obliteration series done the same way with a little bit more body and sweetness and then spiked with a spicy Belgian yeast.... hint hint hint... come on... I dare you.
I will certainly be buying more of these, but the price tag is gonna be cost prohibitive. Also, I don't think cellaring this brew is going to add anything to the overall picture. This was made hoppy and is supposed to be enjoyed hoppy. My bottles will stay in the fridge.
4.5/4/4/4/4.5
1,503 characters

4.23
/5
rDev
+17.5%
look: 4.5 | smell: 4 | taste: 4.5 | feel: 4 | overall: 4
A - Dark brown appearance with brown coffee-like foam head. Head retains well especially considering the high alcohol content.
S - Nice aroma - coffee, coacoa, citrus.
T - IBUs 100? You would never know it. Not that it's not a hop bomb, it clearly is. But it's not overpoweringly hoppy. Malt / Hop balance makes for a totally pleasant experience. Best of both worlds carefully blended: Blurs the lines between a Stout and a Dark IPA.
M - Smooth. No dry feeling to speak of. A 100 IBU beer would normally leave me feeling numb but not this one. Some bitter notes in the aftertaste.
D - In spite of the 8.5 ABV it is not overpowering and well hidden making this a very drinkable beer.
Update 09/23/11 Just grabbed another from the cellar to see if it improved at all with a little age.
Not much. Second impression is good but not great so knocking my score down a little.
Note: Worth seeking out. Give it a try while you can if you can.
943 characters
4.2
/5
rDev
+16.7%
look: 4.5 | smell: 4.5 | taste: 4 | feel: 4.5 | overall: 4
Super dark with ruby highlights and a monstrous billowy head. Courtesy of Delta Airlines, where growlers fly free due to milwaukeeclassic's silver medallion status.
Scents of black anise jelly beans and some vegetative hops. There's some dirty porter here too.
Tastes like Storm King on steroids. Earthy, hoppy, and very chalky. Finishes very abrupt and drying, which leads to further drinking.
Carbonation here is through the roof. This growler traveled in luxury and arrived in ideal shape.
Thanks Duane. A nice treat indeed.
534 characters
Obliteration VII from Midnight Sun Brewing Co.
3.6
out of
5
based on
88
ratings.