Moscow
| Midnight Sun Brewing Co.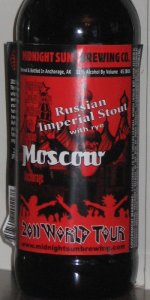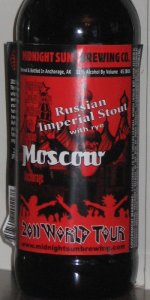 BEER INFO
Brewed by:
Midnight Sun Brewing Co.
Alaska
,
United States
midnightsunbrewing.com
Style:
Russian Imperial Stout
Alcohol by volume (ABV):
11.00%
Availability:
Rotating
Notes / Commercial Description:
First brewed as part of our 2011 World Tour series, MOSCOW Rye Russian Imperial Stout is a hefty, opaque black liquid that pours slowly and soulfully into your snifter. A high percentage of spicy rye and roasted dark malts create a dense, chewy yet elegant winter wonderland of flavors. And from AK we say: Let it Snow…in Moscow.
Added by Rifugium on 12-31-2011
HISTOGRAM
Ratings: 289 | Reviews: 66

4.47
/5
rDev
+9%
look: 4 | smell: 4.5 | taste: 4.5 | feel: 4.5 | overall: 4.5
Dark with a super dark tan head, thick and creamy.
Smell is super dank and deep dark malts, nice roast, chocolate. Really grows in appeal as it warms, without getting too sweet, extracty. Maybe a flutter of lactose, but if so, it's executed with a deft hand.
Taste is also super rich and chocolatey, this is a really nice RIS. The rye provides a really nice touch of spice. The roast is not overly strong, but lingers very pleasantly.
Mouthfeel is super thick, creamy and soft, like an RIS milkshake. The extreme viscosity is well served here.
Drinkability is very god. It's an excellent RIS, with the rye providing a nice little punch of extra. Do I want another? Hell yes. Today? No way. And that's alright.
717 characters

3.91
/5
rDev
-4.6%
look: 4.5 | smell: 3.5 | taste: 4 | feel: 4 | overall: 4
Big thanks to mulder1010 for sharing with MrKennedy and myself. Reviewed from notes.
Absolute jet-black with a brooding deep-brown head that falls silently to a slightly raised ring. Serious legs upon swirling.
Dark fruits, burnt tires and vegetal yeast with slight medicinal notes creeping in. Bugger all chocolate or 'conventional' stouty character.
Whoa. Burnt toast, charcoal, pumpernickel bread. Rough and dirty, and uncompromisingly full-on. Dig it more and more with each sip.
Rich, luscious, but not exceptionally thick for its 11%. Counters the unrelenting dryness of the flavours nicely.
Crazy brute of a stout which has no interest in being sweet. The rye works so well in this - I'm amazed it's use in stouts is not more widespread.
749 characters

4.28
/5
rDev
+4.4%
look: 4.5 | smell: 4 | taste: 4.5 | feel: 4.5 | overall: 4
Thanks to Tnudish for the share. Served in a Kuhnhenn goblet.
A - Dark mocha foam settles to wisps, a collar, and a glass-coating brown film. Very dark, opaque and solid, black body.
S - The rye is front and center, and it's supported by charred malts, bitter dark chocolate, smoke, yeasty bread, and a hint of booze.
T - The taste is quite similar, with a heavy doses of char, rye, roast, dark chocolate, and so forth - very little residual sugar. There's a mildly fruity yeast character that combined with the intense roast is evocative of Scandinavian stouts. Wrong side of the Baltic Sea, I know, but much closer to European stouts than American ones.
M - Smooth body, melted chocolate, texture, viscous and chewy finish, and lower carbonation. Some moderate warming alcohol, so this is definitely a sipper.
D - A very nice RIS, and completely different from Midnight Sun's other offerings. It's like they made a very nice Mikkeller beer, but without the oppressive burnt flavors in the finish. This should age quite gracefully.
1,037 characters

4.38
/5
rDev
+6.8%
look: 4.5 | smell: 4 | taste: 4.5 | feel: 4.5 | overall: 4.5
Huge thanks to Tnudish for this rare Midnight Sun tick. 22 oz. bottle served in a Portsmouth tulip.
A: Pours a dark dark black. Did I mention it's dark? Light wouldn't even go through a thimble of this stuff. A very deep brown head forms on the pour and it recedes to a thick dark ring that leaves sheets of lace on the glass.
S: Light rye spice up front with toasted malts, raisins and figs and deep dark chocolate.
T: Nice rye and wheaty spice up front with heavily roasted malts, some anise, and heavy dark fruit with raisins and fig in the mid palate. As it warms more of the dark chocolate comes out with just the slightest bit of char as well.
M: Heavy and chewy with an oily and viscous mouthfeel. The carbonation is medium to low, but it has enough to keep you the beer interesting on the palate.
O: This beer was delicious. Heavy and viscous just like an IRS should be with a incredibly complex flavor profile. I really enjoyed this beer and would drink it regularly if it wasn't so rare! Chalk up another winner to MS.
1,033 characters
4.14
/5
rDev
+1%
look: 4.5 | smell: 3 | taste: 4.5 | feel: 4.5 | overall: 4.5
Bomber poured into a tulip
Thanks to Nicks6217 for the bottle
A-- Poured black. Ink black, motor oil black, whatever, it was black as heck. Under a half inch of dark chocolate head. Great retention for what was there as a layer of film stuck around through drinking. Lots of lacing and a thick oily substance left through drinking. Great looking and evil looking at the same time.
S-- A bit nondescript at first. Soft roast, burnt tires, dry chcolate and molasses. Once it warmed up a lot got some spiciness from the rye. Very dry nose.
T-- Lots of roast, chocolate, molasses, big dark fruits, burnt tires, char and ash. Just not as oppressive as European RIS can be. Far more restrained in that aspect.
M-- Thick, rich, and dry. Quite dry. Just enough carbonation to carry this and do it well. Full on body but just enough touches of sweetness to make this work. Like a big, massive wine in a lot of ways. Alcohol is well hidden and I guess the best comparison is some of the DeMolen stouts out there.
O-- Dry as heck RIS. If you like sweet RIS then do not try to get this. Full on and big but it works as the dryness really helps this. More like a European RIS but not the massive char and ash that Mikkeller or DeMolen have. Big sipper and excellent beer. Very different US style stout
1,297 characters



4.18
/5
rDev
+2%
look: 4.5 | smell: 4 | taste: 4 | feel: 4.5 | overall: 4.5
Inky, oily black with a smudge of short lived chocolaty looking head. Somehow there is still quite a bit of lacing stuck to the tulip as I head for the home stretch. Not the faintest bit of light penetrates it when backlit.
I was underwhelmed with the aroma when I first poured it, but it improved. Still not amazing, but good and respectable. I am mostly getting cost, licorice/molasses, and some booze. I'm not getting caramel exactly, but there is some sort of malty sweetness in the background. And there is something else that is less familiar and hard to identify. Could it be the rye? But what is there, whatever it is, is balanced nicely and is plenty potent after warming.
Rich malty sweetness some sort of bitterness from either hops or roast or both, a bit of booze, and a molasses/licorice influence. The elements play well together. This is a really good, very smooth RIS. I'm glad I had my friend score me more than a couple when he was in Anchorage.
Modest but adequate carbonation, rich full body, medium viscosity, and a roasty finish.
Yum. Good. My first go at this one, so perhaps I'll change my opinion, but it strikes me as just a wee nip below the elite of the elite. The "Russian" part of the Imperial Stout comes through loud and clear, and it didn't make any claims about using coffee, chocolate, bourbon barrel or any such thing. So it seems they have pretty much hit their target here. I'm satisfied, and glad I have several more for the future.
1,480 characters

4.4
/5
rDev
+7.3%
look: 4 | smell: 4 | taste: 4.5 | feel: 5 | overall: 4.5
22oz bomber. From the label: 11% ABV, 45 IBUs. A Russian Imperial Stout with rye. Part of the 2011 World Tour series. Poured like motor oil--pitch black, viscous, and with minimal carbonation. Only a thin cap of foam covering the beer. Completely opaque, like looking into a black hole. I don't think I have ever seen a beer as completely pitch black as this one.
The smell consists of some chocolate or caramel malt, dark fruit, and some alcohol heat. I'm also picking up roasted malts and or coffee beans. Also, something that reminds me of charred wood.
Taste up front is a mix of roasted/chocolate/caramel malts and dark fruit flavors such as plum, raison, fig. Black licorice. Moves to a bit of an alcohol burn as it goes down. Very earthy with some leather and oak towards the back end. Tobacco flavor lingers towards the end as well. Very complex flavor profile.
Mouthfeel is very thick and substantial. Yes, you can chew on this one as you contemplate the different flavors. Light carbonation and smooth as velvet.
Overall, this is one heck of a substantial brew. Heavy, potent, and packed with a broad spectrum of RIS flavor. Very tasty and nourishing. Don't plan on doing anything productive after you down a bomber of this beer. Have a nice afternoon nap.
1,271 characters


4.01
/5
rDev
-2.2%
look: 4.5 | smell: 3.5 | taste: 4 | feel: 4.5 | overall: 4.25
First had: bottle share at Beermongers, Portland, OR
Thanks to whoever shared this bottle (don't know your username). This is a RIS/rye beer.
The beer poured a thick black, like spent engine oil, a small, creamy, dark chocolaty head forming quickly and retaining quite well. Lots and lots of roast in the aroma. Taste of big, dark, roasty malts, with a heavy rye profile and licorice spice that combined very well; obvious alcohol taste comes in after the taste buds adjust to the roastiness. Full-bodied and chewy, lingers in the mouth with a roasty bitterness. Very good overall.
583 characters
Moscow from Midnight Sun Brewing Co.
Beer rating:
4.1
out of
5
with
289
ratings