Operation Hay
| Midnight Sun Brewing Co.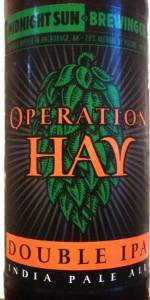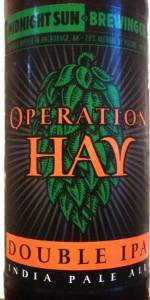 BEER INFO
Brewed by:
Midnight Sun Brewing Co.
Alaska
,
United States
midnightsunbrewing.com
Style:
American Double / Imperial IPA
Alcohol by volume (ABV):
7.80%
Availability:
Limited (brewed once)
Notes / Commercial Description:
No notes at this time.
Added by JohnnyP3 on 09-16-2012
This beer is retired; no longer brewed.
HISTOGRAM
Ratings: 14 | Reviews: 6
None found.
More User Reviews:

4.2
/5
rDev
+18%
look: 4 | smell: 4 | taste: 4.5 | feel: 4 | overall: 4
Bottle received in a trade. Pours copper with a nice foamy, white head. Decent lacing left in glass; good head retention as well. Aroma is nice and spicy with pine and grapefruit. A bit of sweet malt and grass also. Flavor shines with pine, grapefruit, light malt and a has a bit of dry cracker. Medium bodied and smooth. Finishes fairly dry. Very nice beer from one of my favorite breweries.
392 characters


2.91
/5
rDev
-18.3%
look: 4 | smell: 3 | taste: 3 | feel: 2.5 | overall: 2.5
Bottle from Belmont Station. $8, IIRC.
A deep amber with a dense, off-white head with good retention and nice lacing, this is a good looking beer. The nose is, eh, strange. I don't think i've had another beer with the Falconer's Flight blend, and this beer isn't motivating me to seek out another. A blend of onion and cat pee are immediately noticeable, both quickly dissipating leaving a blend of pine and candied grapefruit. As it warms up, floral and more citrusy notes appear. Unfortunately, a LOT of crystal malt is noticeable on the nose, lending a big sweetness. Meh.
The palate isn't better. Opening with an aggressive pine hop flavor and bitterness, there is also some onion-like flavor. Again, the malt sweetness is distracting and unwelcome, adding heft to the palate and reducing the potency of the hop oils. The crystal malt sweetness is not one i care for. That said, the blend of hop flavors is quite nice, with the blend of citrus, pine and floral notes being enjoyable. The label claims 108 IBU's, but they aren't particularly noticeable. Sweet on the finish with some pine hop bitterness, this beer is medium light in body and moderately carbonated. The mid-palate also does seem a bit thin. Disappointing, a little bit kitchen sink-like.
1,259 characters


3.73
/5
rDev
+4.8%
look: 4 | smell: 3.5 | taste: 4 | feel: 3.5 | overall: 3.5
A: Pours a medium amber with perfect clarity, a nice white head of mid and small sized bubbles. Minor lacing.
S: Aroma is a sweet malt presence followed with some citrus. Not too much pine in aroma, a very peach centered aroma really that is mild with some crystal sweetness.
T: Similar to the aroma, peach flavors are exploding in here. This is my first Falconer Flight focused Hop IPA and its pretty pleasant overall. Tons of peach , light citrus and pine. A very nice mildly flavored hop with complexity if you can notice it. Rather than be all pine or all citrus, it really a blend of peach, a doughy like blend of malt flavors and a lot of caramelization of sugars in the backend that consolidate to a barleywine like bitterness once it warms.
M: Light body and a mild carbaonation.
O: This is an interesting hop and while I usually prefer others that are more citrus forward or aromatic, I enjoyed this one a bit just for the mildness and the less than off the shelf type of flavors that are inside. Recommended overall!
1,031 characters

3.28
/5
rDev
-7.9%
look: 4.25 | smell: 3.75 | taste: 3.25 | feel: 3.25 | overall: 2.5
The taste immediately was of a stale IPA. Seeing the last review was 6 months ago, I'm really suprised I just bought this from the coller of my local beer geek bottle shop. Malty, a bit gritty, some hop resin, very woody. Sweet orange marmelade before a dry, acrid finish.
272 characters
3.91
/5
rDev
+9.8%
look: 4.5 | smell: 3.5 | taste: 4 | feel: 4 | overall: 4
Big thanks to Lakersfan for the trade for a ton of Midnight Sun. Poured into my Duvel tulip.
A - Pours a crystal clear dark copper with a big, thick creamy two finger off white super light tan head that takes forever to fade and leaves lots of big sticky side lacing. Thick, thick lacing. Quite nice. With some solid retention as well.
S - Aromas are good for a DIPA. Got a chuckle out of it, its almost like a much weaker Heady Topper, just with a bit more bread/malt. Theres nice light citrus with emphasis on the bread and sweet malts.
T - Taste isnt too bad. Lighter orange citrus, not much pine which I'm fine with. The malts arent nearly as sweet as on the nose. The citrus hops aren't too too bitter, but are definitely noticeable. Alcohol is hidden nicely. Its tough, this isnt a malt bomb nor a bitter hoppy DIPA. Dare I say, this is balanced?!
M - Mouthfeel is really, really solid. The light sweetness offsets that lingering bitter finish. Carbonation is on the low end with small gentle bubbles moving along the tongue preventing it from being a creamy DIPA. That said with how well this alcohol is hidden this is very drinkable, and sneaky.
O - Overall this was an enjoyable beer. The low reviews made me skeptical but yah, its really not that bad at all. The appearance on this was really good along with how well the ABV is hidden. Nose was definitely lackluster but the taste made up for it. Its not one of best DIPAs out there, but its not middle of the road either.
1,488 characters




3.86
/5
rDev
+8.4%
look: 4.5 | smell: 3.5 | taste: 4 | feel: 3.5 | overall: 4
22oz bottle pours a burnt orange with a thick, pillowy head and lots of lacing. Very good head retention and well carbonated.
Piney hop aroma with some grassy and floral notes in the nose as well.
Taste is lots of pine with some mint and herbal notes. Decent amount of malt helps to balance to a certain extent the 108 IBUs. This is a palate wrecker along the lines of Ruination.
Mouthfeel is crisp from the carbonation with some slickness from the hop resins.
Overall, a sold DIPA from MS. If you are a hophead looking for a strong pine flavored DIPA, this one is for you.
586 characters
Operation Hay from Midnight Sun Brewing Co.
Beer rating:
3.56
out of
5
with
14
ratings