Midnight Sun / Black Raven Sun Of A Beak
| Midnight Sun Brewing Co.
BA SCORE
84
good
14
Reviews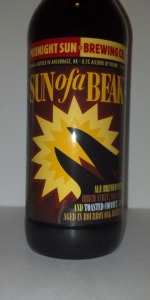 BEER INFO
Brewed by:
Midnight Sun Brewing Co.
Alaska
,
United States
midnightsunbrewing.com
Style:
American Porter
Alcohol by volume (ABV):
8.30%
Availability:
Limited (brewed once)
Notes / Commercial Description:
Imperial Porter brewed with birch syrup, molasses and toasted coconut, aged in bourbon oak barrels.
Added by OakedCanuck on 05-13-2013
This beer is retired; no longer brewed.
Reviews: 14 | Ratings: 57

4.29
/5
rDev
+15%
look: 4.25 | smell: 4.5 | taste: 4.25 | feel: 4 | overall: 4.25
Poured into an Elysian snifter. Pours pitch black with one finger of fine light brown head. Great aroma of dark toasted malt, bourbon, vanilla and chocolate with hints of oak. Unusual flavor of charred black coffee, chocolate, bourbon and coconut. The coconut lightens the darker malt and coffee flavors in an interesting way. Finish of creamy chocolate and coconut with faint hop bitterness. Medium bodied with some creaminess. A very unusual American porter; the strength of the coconut flavor almost seems to verge on dominating the taste, but the rich malt component keeps everything balanced. A very interesting experiment that worked very nicely. The richness of the flavor profile gives the impression of a much higher ABV porter. Very limited, but I hope to find another bottle of this before it's gone. I liked this a lot. Two favorite breweries worked quite well together.
882 characters
4.23
/5
rDev
+13.4%
look: 4.25 | smell: 4.25 | taste: 4.25 | feel: 4 | overall: 4.25
Had on tap at Black Raven during release party on May 11th, 2013. Served into tulip.
A - Pours a dark black, brown edging shows when held up to the light. Creamy tan head with very small bubbles. Horizontal lacing remained through the whole pour.
S - Lots of chocolate with a bit of char. Vanilla and oak was present and the bourbon wasn't too in your face.
T - The bourbon hits the palate first, offering a slight heat of oak, vanilla, caramel. Next was a wave of milk chocolate and molasses. Now here is the fun part, I let it warm for a bit as as it did, I got hit with a LOT of coconut. I had suspected that the coconut was hiding behind the dominant bourbon and chocolate. Very complex beer once it warms, great coconut-chocolate.
M - It was creamy and balanced. It was a touch thin for my liking but seemed to 'thicken' as it warmed. Good.
O - A solid beer between two very solid breweries. Black Raven is doing some awesome stuff and MS has a proven track record. Great beer.
998 characters
4.08
/5
rDev
+9.4%
look: 3.75 | smell: 4.5 | taste: 4 | feel: 3.75 | overall: 4
This one just recently hit my area, and being a lover of so many Midnight Sun beers, I just had to try it. Poured in a snifter around cellar temperature.
The appearance is pretty stout-like. A two-finger khaki head on a nearly black body that's transparent brown around the edges.
The smell is GREAT. I get a lotta milk chocolate, some molasses and vanilla, all melded awesomely with a buttery, roasted coconut aroma. Some cherries too.
The taste has everything the smell has and more, but to me, it's somehow unbalanced. Anyway, there's chocolate, birch syrup (which is a little more bitter than maple, I think), some tart cherries, sort of a roasty, woody, leathery, tobacco aftertaste (maybe from the bourbon oak barrels?), and subtle coconut. Coconut MILK, to be precise, which tastes a little weird to me... BUT, this beer is pretty true to the ingredients on the label, and it's an interesting blend for sure. Midnight Sun and Black Raven deserve some praise for doing something unique here.
The mouthfeel is thick and syrupy, which is good, but the carbonation feels too high to me. I think this kind of carbonation should be saved for Belgian ales.
There might be a little too much going on here with so many flavors pulling in different directions, but this is still really good. Worth trying at least once. The crazy complexity might really appeal to some.
1,371 characters

4
/5
rDev
+7.2%
look: 4 | smell: 4 | taste: 4 | feel: 4 | overall: 4
Shard a bottle with my wife. I pulled this from my cellar fride. Upon inspection both my wife and I agreed this needed to warm u
The appearance of this beer is black with a dense head with a nice lace. The bubbles are small and plentiful.
The nose is complex to start. The nose is classic imperial stout/baltic porter. There is a big chocolate coconut and vanilla. The bourbon is present but very much a back seat, nice to see among most overly burboned beers
The taste starts sweet and moves to a chocolate and coconut and an almost earthth berry much like raisin.
Overall I ike this beer not for everyday but very nice A dry imperial stout meets a dessert stout
667 characters

3.89
/5
rDev
+4.3%
look: 4.25 | smell: 4 | taste: 3.75 | feel: 4.25 | overall: 3.75
Bottle shared by Alistair. Served in a tulip.
A - Generous tan foam settles to a thick collar, wisps, and a few specks of lace. Very dark brown body that's a tad lighter at the edges.
S - The toasted coconut dominates the aroma, although there's a sharp woody note than I can only attribute to the birch. Molasses, dark breads, and light notes of bourbon and rye malt. There's also a mild mint note that is evocative of Perennial 17, and I have no idea which of the adjuncts is contributing it. Interesting and complex, but I'm not convince it's wholly integrated.
T - The taste isn't quite as good. More astringent birch, yeasty bread, hints of vanilla, roasted malts, faint coconut, and a lightly charry and bitter finish.
M - Dry, roasty, medium body, with a dry and tannic finish. Lower carbonation, and reasonably well-hidden alcohol.
D - Not bad, but seems less than the sum of its parts. Nice to see a uninfected barrel-aged offering from Midnight Sun. I'd drink this again if offered but wouldn't actively seek it out.
1,031 characters

3.86
/5
rDev
+3.5%
look: 3.75 | smell: 4 | taste: 3.75 | feel: 3.75 | overall: 4
22oz into a snifter. Pours a deep dark chocolate brown w/ a thin tan head that settles out to a narrow collar and a wisp of foam.
Aroma is dark roasted malt, molasses, syrup (although I'd think it was maple if I didn't know it was birch), vanilla, bourbon, coconut, and chocolate.
Taste is dark fruit, molasses, root beer, and brown sugar. Lots of residual sugars mixed up here. Just a hint of oak, and no bourbon to speak of.
Mouthfeel is moderately heavy while simultaneously feeling oddly thin, w/ slightly fizzy/prickly carbonation.
Overall a rich, complex beer that didn't quite live up to what it might have been. It's good and I like it, I just don't love it.
670 characters
3.79
/5
rDev
+1.6%
look: 4 | smell: 3.75 | taste: 3.75 | feel: 4 | overall: 3.75
Bottle opened on 6.4.13
A - Pours a very dark brown with a soapy, big bubbled brown head that fades pretty quickly to the edges.
S - Some coffee, touch of malt, slight smoke, bourbon, a tiny hint of coconut.
T - Wood-toasted and smokey, subtle bourbon and very, very faint coconut. A bit more as it warmed, but not much.
D - Medium carbonation with a medium body.
O - I wish there was more bourbon and coconut. I think the molasses just over powered it.
458 characters
3.77
/5
rDev
+1.1%
look: 4 | smell: 3.75 | taste: 3.75 | feel: 3.75 | overall: 3.75
22oz bottle, thanks to hoppypocket for the trade!
This beer pours a rather opaque, russet brown-tinged black, with basic basal cola highlights, and a teeming tower of puffy, rocky, and bloated marshmallow beige head, which leaves an array of approaching Space Invaders lace around the glass as it genially dissolves.
It smells of moderately toasted, grainy pale and caramel malts, weak cocoa, understated woody maple syrup, pithy coconut husk, vanilla, wood plank, and softly alcoholic Bourbon notes, subdued brown sugar, and an unaccounted for hoppy bitterness. The taste is more grainy, red wine-tinted caramel malt, a certain sotted breadiness, innocuous fleshy coconut, a mild smokiness, with very subtle bourbon booze overtones, plain molasses, and softly weedy, earthy hops rounding things out.
The carbonation is fairly fizzy, in a somewhat overwrought, pervasive manner (rather bottle-conditioned in nature, IMHO), the body a steady medium weight, no less, and no more, with an appropriately negated smoothness. It finishes off-dry, the caramel malt, multifaceted brown sugar essences, lingering pithy coconut, and woody vanillan notes facing little that says otherwise.
Once again, just because you toss a whole shitload of disparate ingredients into the process, doesn't guarantee success, and that is duly evident here - as an overarching sour element kind of takes a good deal of the potential fun out of this offering. So, despite all the wood syrup, coconut, and Kentucky's finest (?) wood, is this porter really all that better off? Hard to say, but I'm going to say no, even though I've not yet sampled the underlying beer itself.
1,650 characters
3.75
/5
rDev
+0.5%
look: 3.75 | smell: 3.75 | taste: 3.75 | feel: 3.75 | overall: 3.75
on-tap, chucks
Due to a variety of factors (location, other events, etc), I missed out on the bottle/draft releases of this beer during SBW. When I saw it was on at Chuck's, I quickly made it over for a half-pint.
I got very little coconut, and not a whole lot of barrel either. Charred malt, chocolate, molasses, some artificial coconut flavor. Pretty pedestrian.
367 characters

3.53
/5
rDev
-5.4%
look: 3.5 | smell: 3.5 | taste: 3.5 | feel: 3.75 | overall: 3.5
Appearance is murky brownish black with a small tan collar leaving very light, foamy lace.
Smell is sweet ethanol, a little woody, toasty.
Taste is pretty strong on the coconut, the barrel presumably amplifies it, as the bourbon is on the aftertaste. There's a weird, almost minty note to this, maybe the birch and molasses, but some fusels as well I think. This just doesn't come together for me. The coconut is extract tasting.
Mouthfeel is sticky, not as soft as usual per MSBC.
Drinkability is ok. It's got some interest to it, but it's also rather robust, the coconut was a bit too much.
599 characters
3.46
/5
rDev
-7.2%
look: 3.5 | smell: 3.75 | taste: 3.25 | feel: 3.5 | overall: 3.5
Bottle to snifter.
A - Poured dark brown, settled black with a thin layer of light brown head that immediately reduced to a ring around the edges of the glass.
S - Sweet bourbon and vanilla with char from the oak barrels. The barrel notes really stand out in the nose. Some chocolate and sweet syrup. Not getting any coconut at all.
T - Huge oak/wood flavour is dominant with sweet bourbon, vanilla and molasses notes. Some chocolate and roast flavours throughout. The finish is somewhat astringent, which isn't off-putting but becomes distracting after a while. There is a very light coconut flavour in the background but the coconut is not as prevalent as I would have liked.
M - Medium body. Moderate carbonation.
O - I have high hopes for this beer and it really disappointed. It seems like the beer didn't stand up to the barrel aging and the overall flavour profile was extremely sweet.
899 characters
3.34
/5
rDev
-10.5%
look: 3.75 | smell: 3.5 | taste: 3.25 | feel: 3.25 | overall: 3.25
A: Poured a deep brown, black even, with a short lived tannish head which left a nice ring of bubbles clinging to the edges of the glass
S: Coconut, bakers powder cocoa, sordove "grainy" lack of barrel influence and some wood. I really did not pick up any bourbon, vanilla or molasses here
T: Initial feeling was "meh". A roasty, grainy presence upfront with coconuts and some wood. A cheap bakers pwder like cocoa shows up to party but this party is a bit bland. Some bitterness is present and a lingering bitterness on the end with a cheap chocolate mouthfeel. No bourbon, little vanilla.
M: Medium bodied, A bit thin feeling, perhaps overcarbonated, nothing really bad here but not what I was expecting. Nothing creamy or decadent about this beer. Some bitterness,
O: Not bad but not great either.
805 characters

3.23
/5
rDev
-13.4%
look: 4 | smell: 2.75 | taste: 3.5 | feel: 2.75 | overall: 3.25
Pours a pitch black with a bit of brown head around the edge. The nose has a strong aroma of booziness paired with assertive roasted malts. Beneath that is some mellow coconut with notes of carob, cacao, and dark fruits. There is something harsh going on too. The taste starts with some coconut and malty sweetness in the form of dark cherries followed by heavy dark chocolate notes. The different components of the flavor profile compete and make for a very forgettable taste. The mouthfeel is way hotter than a 8.3% beer should be. Carbonation is light but still feels a bit prickly. Overall, I am very underwhelmed by this beer. I was looking forward to this after reading its description, but it seems that the execution of flavors just didn't happen.
755 characters
3.16
/5
rDev
-15.3%
look: 3.5 | smell: 3 | taste: 3.25 | feel: 3.25 | overall: 3
650 mL bottle poured into a snifter.
Appearance - Pours mostly black. Dark brown, really. Leggy. Small off white head.
Smell - Smells a lot like molasses. I'm not familiar with birch syrup. A little fruity. Some bourbon, but no real barrel character.
Taste - Much nuttier. Lots of dark chocolate malt and nutty malts. Bitter and chocolatey in the back. Definite bourbon flavor, but still no barrel.
Mouthfeel - Medium body. Actually, kinda light for the style. Bitter.
Overall - Looked promising, but it isn't anything special. And where's the barrel?
556 characters
Midnight Sun / Black Raven Sun Of A Beak from Midnight Sun Brewing Co.
3.73
out of
5
based on
57
ratings.