Brookline Liquor Mart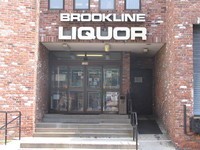 PLACE INFO
Type:
Store
1354 Commonwealth Ave
Allston
,
Massachusetts
, 02134-3809
United States
(617) 734-7700 |
map
blmwine.com
Notes:
No notes at this time.
Added by scottum
Reviews: 8 | Ratings: 13
3.86
/5
rDev
-0.3%
vibe: 4 | quality: 4 | service: 3.5 | selection: 4
disclaimer: review based on beer. establishment boasts a relatively extensive wine selection that would likely be impressive if I, you know, drank wine.
if you're looking for hard-to-find craft gems, this isn't the place to do it. on the other hand, if you want basic good stuff, some staples, they will very likely have something to suffice. one of my main stops when I lived in Allston, and I still drop by from time to time. locals were pretty much confined to Sam Adams, Harpoon, BBC, and Pretty Things the last time i was in, but they regularly stock many of the big regional and national craft breweries like Southern Tier, Stone, Founders, DFH, Lagunitas, Avery, Ballast point, Goose Island... a decent handful of Belgians... some stuff like Rogue, Boulder Beer, and Brooklyn... last time I was in the beer manager had changed and the new guy was working to improve the selection, especially when it came to bombers and limited releases, so it would appear more good things to come. you also have all your standard spirits, including an great range of scotches and bourbons. prices are moderate - not many deals, but you won't get ripped off either, at least in my experience. worth a visit if you're in the area and an asset if you live nearby.
*Update (6/11/13): BLM continues to improve from a craft standpoint, and I have become a more regular shopper because of it. not only has the selection improved in terms of number, but a few times I've nabbed some stuff that you don't always see. most recently picked up barrel-aged old Rasputin, Goose Island Big John and also Madame Rose.
original review on: 06-25-2010
★
1,628 characters
4
/5
rDev
+3.4%
visiting my sister in Boston and this store is just a block away. didn't see much unique in the selection, but there was plenty of quality beer. i was asked politely if i needed help by several unannoying staff members, which is super rare nowadays. good finds for me were Pretty Things Saison and Port Brewing High Fresh Hop IPA. most of the local stuff seemed represented as well as some ithaca and other ny breweries. prices were fair as well. overall, not a store to make a trek too, but as long as they keep stocking pretty things and port I'll keep supporting.
★
566 characters
3.55
/5
rDev
-8.3%
When you come further west in Allston sometimes you don't want to walk to Marty's or Blanchards. That leaves Hurley's (a dive if packies had dives) and Brookline. Brookline is dominated by hard liquor and wine. The beer is at the back of the store surrounding the fridge chests. A much smaller selection than Marty's or Blanchards. Also it seems like everything is a dollar more there. Single availability is a plus. I've broken up many a 4 or 6 pack and never been yelled at. The redemption center is less grimy than Marty's but smaller than Blanchards. I always preferred to pick up at Marty's rather than here unless it was raining.
★
635 characters
3
/5
rDev
-22.5%
They do a decent enough job at Brookline, but with all the other options in the area, I do not see much of a reason to shop here. The selection is vast, with a large cooler that has ample space for both micros and macros. There is also a rack with a large selection of Amcerican craft and imported bombers. The beer is all the way in the back of a very large store, and it just seems to me that the only reason they carry that they do is to compete with Marty's and Blanchard's down the street. I have never been offered help; the store just seems to be focussed on its wine. Also, the pricing tends to be on the high side.
★
623 characters
4
/5
rDev
+3.4%
Hard to miss the giant liquor sign in front of the building, but beyond that, the beer selection is quite good. A vast store with most of the beer on the center -right side the store, they offer craft selections from many American Breweries and an assortment of beer from else where around the world as well. Was there during a tasting and the staff was very friendly and attentive. Prices are reasonable and there did not seem to be any freshness issues at the time of my visit. Not as vast a selection as Marty's down the road, but better IMO than blanchards in just about all respects.
★
588 characters
3.85
/5
rDev
-0.5%
not a bad store at all if you live further down comm ave from marty's and blanchard's. it's not as good as those two but holds it's own. the warm selection is minimal to nonexistent at times, but your bound to find something you'll enjoy amongst the cold stuff. new england is represented well here along with a decent import selection. prices are a tad high, but no worse than the two previosuly mentioned establishments (although they do seem to have the cheapest geary's pale ale, a personal favourite, in the area). while this is a wine store first (and a great one at that), this is not a beer store that should be overlooked.
★
631 characters
3.15
/5
rDev
-18.6%
#3 on my list of liquor stores in Allston, right behind Marty's and Blanchards.
The place is a huge werehouse style liquor store carrying a vast selection of beers, wines and liquor. The beer selection is decent. All of your standard macro and more popular micro selections, with a limeted single bottle selection including some belgians and other local favorites.
Basically this place is really all about the wine. That's really their focus and they don't come up short. They have weekly wine tastings open to all on Saturday and the staff can be very helpful when it comes to that. Not to mention I've found some more obscure wines at rather decent prices.
If you're looking for a good wine store. Brookline Liquor mart is the way to go. But when it comes to beer variety you're probably better off going a few blocks down the street.
★
845 characters
5
/5
rDev
+29.2%
I moved to the area when I was still 20. This store called out to me every time I went by. So many lights makes you think it's Vegas for a second until you come out of the transe and find yourself in 20 degree weather. My name for the store is the "Festive Festive Festive Liquor Liquor Liquor Store Store Store." The lights outside had caused me to imagine some sort of liquor themepark inside. The day I turned 21, actually the day after because of MA's stupid blue laws, I showed up at 9am to check it out. I was a bit dissapointed because I had hyped it up so much, but that was my own fault. Anywho, this is a wine store first. These guys have so much wine and apparently some really rare stuff too. Also there is a bargin basement which may have some real good finds in it, however it gets cleaned out annually when the kids come back to school.
On to the beer... These folks have a great beer selection. Many many microbrews and awesome imports are available. These guys even pull apart the Magichat 9packs to make mixed Magichat 6packs . There is great service to help a brother out too.
Visit the Festive Festive Festive Liquor Liquor Liquor Store Store Store!
★
1,175 characters
Brookline Liquor Mart in Allston, MA
3.87
out of
5
based on
13
ratings.