French Toast Stout

WeldWerks Brewing Co.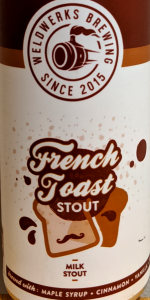 Write a Review
Beer Geek Stats:
| Print Shelf Talker
Style:

ABV:

7.2%

Score:

Avg:

4.2

| pDev:

5.48%

Reviews:

12

Ratings:

From:

Avail:

Rotating/Seasonal

Wants

Gots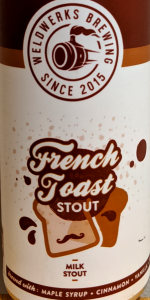 Notes: French Toast Stout, our latest #pastrystout, is a Milk Stout brewed with lactose, cinnamon sticks, vanilla beans and nearly a gallon of maple syrup per barrel. Decidedly sweet, yet surprisingly drinkable, French Toast Stout opens with a huge burst of maple syrup, lending way to caramel malt sweetness, a hint of bittersweet chocolate and coffee from the roasted malts, subtle, yet rich cinnamon spice from the Vietnamese cinnamon sticks, and just a hint of vanilla in the finish to round it all out. It's breakfast in a glass, no fork needed.
metter98 from New York
4.21
/5
rDev
+0.2%
look: 4 | smell: 4.25 | taste: 4.25 | feel: 4 | overall: 4.25
A: The beer is essentially jet black in color; only traces of dark brown are visible near the corners of the glass when it is held up to a bright light. It poured with a quarter finger high tan head that died down, leaving a narrow collar around the edge of the glass.
S: Light to moderate aromas of maple syrup are present in the nose along with hints of cinnamon; these intensify as the beer warms up.
T: The taste is a little sweet and has lots of flavors of maple syrup with bits of cinnamon and vanilla.
M: It feels medium-bodied and a bit smooth on the palate with a moderate amount of carbonation.
O: I really enjoyed the taste of this beer, which tasted like French toast that is drenched with maple syrup. It is very drinkable as it wasn't too sweet.
Serving type: can
Jan 12, 2020
sjdevel from Utah
4.5
/5
rDev
+7.1%
look: 4.5 | smell: 4.5 | taste: 4.5 | feel: 4.5 | overall: 4.5
Very dark brown with a decent head at first but it quickly dissipates.
Quite aromatic with cinnamon, syrup, and french toast.
Very flavorful and like breakfast in can. French toast is very apparent with syrup and cinnamon. Rich with slight chocolate and toffee.
Feel is where it needs to be - full bodied but on the lower end - maybe could be a bit thicker as it's a milk stout.
Overall a very good beer that really tastes like they stuffed bucketloads of french toast in the mash tun and then boiled it with tons of maple syrup. I prefer the coffee version of this one just a bit more but this one is really good.
Dec 23, 2019
GreesyFizeek from New York
2.96
/5
rDev
-29.5%
look: 3.5 | smell: 3 | taste: 3 | feel: 2.75 | overall: 2.75
This one pours a darkish brown/black color, with a big head, and a good amount of lacing.
This smells like dusty cinnamon, light bittersweet maple, chocolate, and a kind of weird staleness on the aroma.
This isn't all that good, unfortunately. It feels flat and slick, with a stale coffee type flavor. There's not enough maple here, to add some sweetness to block out the stale astringency. The cinnamon flavor is at least subtle - that's often overdone.
This is light bodied, thin, slick, and flat, with not a ton of carbonation. It's not all that drinkable.
This needs a lot of work to make it good. It has some potential, but the base beer itself is just so flabby and underthought.
Dec 12, 2019
BEERchitect from Kentucky
4.12
/5
rDev
-1.9%
look: 3.75 | smell: 4.25 | taste: 4.25 | feel: 3.75 | overall: 4
Lush but drinkable, the WeldWerks team bring the character of french toast to pastry stout, but without the viscosity that we're accustomed to in these "pastry" stouts. But with maple, cinnamon, vanilla, chocolate and coffee, the surprisingly quaffable beer doesn't disappoint on depth of flavor.
Very dark brown, the stout shows a foggy, tawny bronze thread near its margins. Simply called French Toast Stout, the scant froth swirls like coffee creme while bringing a strong and caramelized nose of maple, coffee, chocolate, cinnamon and cream. Equally as savory, the taste opens with a burst of maple that seems to be slighted in scent. Toffee, caramel, pecan, praline and sweet cream roll onto the early palate with dessert-like effects.
A gradual shift to drinkability and dryness transpires over the middle palate. Its sweetness and density slowly lift and the beer's more coffee, pecan and toasted edges eventually overtake the sweetness. Cinnamon, nutmeg and vanilla offer its own spice and soothing flavors that bring balance to a taste of sweet cream and maple. Seeming like eggnog at times, the late palate turns slightly bitter with the char of coffee and campfire lingering slowly behind.
Full bodied but not nearly as lavish as imperial stout, a soft kahlua finish comes with the culmination of the most toasted edges of french toast for a taste that sells its promises well. Moderate enough to be drinkable, the beer extends onto the finish with coffee, cocoa and toasted maple and a strong breakfast-like afterglow.
May 10, 2018

smares1 from Colorado
4.25
/5
rDev
+1.2%
look: 4.5 | smell: 4.5 | taste: 4.25 | feel: 3.5 | overall: 4.25
Look: deep brownish black warns you that a high flavor, high alcohol beer is contained within. The head dissapates quickly to just a smattering.
Smell: maple and cinnamon forward, and then the full "french toast" concept hits once you bury your nose in while taking a sip.
Feel: a bit of an odd combo of syrupy thick and still feeling the carbonation.
Taste: I like the flavor. It is not a calm beer; the flavor punches hard. As far as a french toast taste, because of the alcohol level and a little bit of roast character, it tastes like slightly burnt french toast, with the cinnamon reminding me more of horchata cinnamon more than the cinnamon flavor that cooks into french toast.
Overall: I like Weldwerks, but to be honest a lot of their crazy stouts have been a bit too much. And I like audacious stouts and porters. But this one sits in a good zone if you're in the mood for a punchy sipping beer.
May 04, 2018
SpeedwayJim from New York
4.25
/5
rDev
+1.2%
look: 3.25 | smell: 3.75 | taste: 4.5 | feel: 4.5 | overall: 4.5
Big thanks to Jeff for this one. 16oz. can into Night Shift stemware. Shared with schen9303.
Nose is chocolate, maple, lactose and cocoa powder. The maple is prominent but I don't even know how you could get the aroma of bread into a stout. Beer opens cinnamon, maple syrup, chocolate and roasted malt. Holy crap... this actually tastes like French Toast... pretty amazing. Some brown sugar and more maple in the middle with a sweet, soft and rich end. Body is medium with moderate to low carbonation. Smooth and rich in the mouth and goes down easy with a messy, sticky aftertaste.
This beer impresses the heck out of me. It really tastes like French Toast with stout flavors drizzled over it. Super drinkable too. Wish I had more of this to show others!
Nov 18, 2017

Stevedore from Oregon
4.24
/5
rDev
+1%
look: 4 | smell: 4.25 | taste: 4.25 | feel: 4.25 | overall: 4.25
16oz can, served in a snifter about two weeks after canning. Pours a dark black body, one finger thick mocha head, good retention, splotches of lacing all over. Smell is roasted barley evoking coffee beans and french toast, fair bit of sweet and sticky maple, light spices, caramel and a touch of lactose sweetness. I don't get so much vanilla, whether its marshmallow or darker fruit. Flavour is smooth caramel and maple sweetness, tempered by a nice toasted malt that evokes french toast, sort of that minimally burnt toast flavour; a bit of cinnamon and allspice, a bit of that slick vanilla sweetness that I could almost imagine to be butter, but not in a diacetyl manner at all. Mouthfeel is medium bodied, appropriate for 7% and the style. Lots of flavour, but a balanced breakfast in a glass. It's got a lot of flavour that comes together like.. surprise, a nicely fried french toast covered in maple syrup and given a dab of cinnamon would.
Nov 12, 2017

Chuckdiesel24 from Illinois
4.54
/5
rDev
+8.1%
look: 4.25 | smell: 4.5 | taste: 4.75 | feel: 4 | overall: 4.5
Wow, very unique, which is saying something for a maple-flavored stout in today's world.
L: Fairly dark brown, though definitely not black like some other stouts.
S: Smells like maple sugar.
T: Tastes wonderul; I've had a lot of great maple stouts, most with coffee, but this one was amazing. Somehow they got a powdered sugar tasted added to this beer!
F: Medium body.
O: Like I said, to get the specific taste of powdered sugar is what sets this brew apart!
Oct 23, 2017
StonedTrippin from Colorado
4.25
/5
rDev
+1.2%
look: 4.25 | smell: 4.25 | taste: 4.25 | feel: 4.25 | overall: 4.25
i am a lush for all things maple, no denying it, so while i have been critical of these dessert stouts with too much flavoring in the past, i found myself eating my words with this one, as heavy maple syrup did its thing to me again, and i ended up really digging it, even though like all the others, small doses still seem most appropriate for this one. there are other elements than maple to this of course, the cinnamon is earthy and wintery and warming and pleasantly dosed, and the vanilla is sweet and natural tasting, making this finish very long, but for me, its all about the maple. it sweetens the beer like crazy for one, i would go so far as to say the lactose is unnecessary with this much maple, but the flavor of it too is so forward, quality, and not all the way fermented out like so many other before it. the maple syrup also has a huge impact on the texture of it, it literally is as thick and sticky as maple syrup itself, slowly sliding down my throat, coating my entire palate and then throat and then stomach, super syrupy texture, but its refined in a way some of their others havent been, and i really liked this. tons and tons of maple, maybe the most ever in a beer for me. weldwerks is on the edge of overdoing it with this many dessert stouts, but this one is a keeper.
Aug 29, 2017

jzeilinger from Pennsylvania
4.31
/5
rDev
+2.6%
look: 4 | smell: 4.25 | taste: 4.5 | feel: 4 | overall: 4.25
Many thanks to tacosandbeer for this crowler.
A - Dark brown/black colored pour with a micro-thin lacing, nice viscosity on the sides of the glass.
S - Maple, chocolate, some cinnamon.
T - Follows the nose: maple, chocolate, some cinnamon, a little bit of breadiness.
M - Big medium body.
O - This is a fantastic beer. Underrated IMO.
Aug 26, 2017

Sabtos from Ohio
3.78
/5
rDev
-10%
look: 3.75 | smell: 3.75 | taste: 3.75 | feel: 3.5 | overall: 4
Black with a creamy, light tan thin blanket.
This one's more like a brown, with nuts, cola, cinnamon, toasted bread, maple, and even butter to round out the breakfast notes. Dry, light and effervescent, I also get some toasty char.
Aug 24, 2017

spoony from Colorado
4.19
/5
rDev
-0.2%
look: 4 | smell: 4.25 | taste: 4.25 | feel: 3.75 | overall: 4.25
On tap at the brewery into a snifter.
A-The beer is deep brown in color with a short tan head. Retention is OK and the foam hangs around for a while. Some stray lacing clings to the glass as I drink.
S-Whoa...high levels of sugar happening here, but...it does smell a lot like french toast. I sniff syrup, vanilla, cinnamon, sugar, sweet bread dough, hints of chocolate, and sugar.
T-Did I mention this was sweet? The taste, like the smell, is a good imitation of french toast. Cinnamon is subdued beneath the flavor of syrup and lightly burnt sugar. A little bit of doughy flavor is there too. Dessert in a glass.
M-The feel is slightly underweight and watery. Not overly sticky or boozy, which is surprising since the beer smells and tastes so sweet.
O-This beer is not for everyone, but if you want a sweet and tasty stout that mimics french toast, this will fit the bill.
Jul 29, 2017
French Toast Stout from WeldWerks Brewing Co.
Beer rating:
92
out of
100
with
61
ratings