Triangle Home Brewing Supply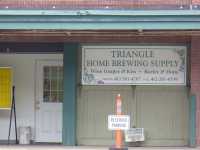 PLACE INFO
Type:
Homebrew
2100 Smallman St
Pittsburgh
,
Pennsylvania
, 15222-4440
United States
(412) 261-4707
// CLOSED //
Notes:
No notes at this time.
Added by aaronh
Ratings: 8 | Reviews: 8
2.3
/5
rDev
-29.4%
everytime i go down there he says its wine season,thats why theres know beer stuff.just basic things like carboys,buckets, and corn sugar if your looking for beer canned kits dont waist your time.but stop in you never know,plus i just started all-grain brewing and he may have more stuff for that.the man knows his stuff and wont try to get you to spend money on things you dont need when starting out.i think since its in the strip district i was thinking of something big with everything you can think of like a walmart for beer but its more like you friendly corner store
574 characters

2.3
/5
rDev
-29.4%
Not sure what to say about this place. Bags of grain all over the place, smacked packs of yeast on and in the fridge, clutter abounds. I walked in for 10lbs of Vienna malt and I walked out with exactly that. I paid a fair price and I got some decent advice while I was in there.
If you are headed to the strip and need to pick up some homebrew supplies, definitely check this place out. All grains appear to be bulk and are weighed out when you buy. The offer was made to crush the grain for me but I didn't need it done.
Friendly enough service, and if I could stay to chat I would have.
***
EDIT (one year later): Avoid. Cannot be sure of quality, open sacks of grain everywhere, evidence of mice. No attempt made to tidy or organize. I would not go back to this place now if he was giving stuff away. All scores lowered accordingly.
839 characters

3
/5
rDev
-8%
The access of this place on the strip is a bit difficult, but along with that come other perks. While visiting triangle, you also can browse the many other shops in the Strip District.
Triangle itself is rather unimpressive. I expected a lot more being centrally located in a larger city. The set up of the store is rather drap. Boxes are laid about the place with hardly any shelf space for display. You have to ask for everything you need, and that gets a bit cumbersome.
The owner is quite knowledgable about his trade, and that was rather refreshing. The prices of his supplies were also pretty good, although it was rather difficult to see what was available through the boxes.
All in all an o.k. place although I always felt like I was being a nuisanse having to keep asking him to locate what it was I needed.
825 characters
3.5
/5
rDev
+7.4%
I stopped in on a Friday afternoon while assessing the tap selection across the street at Kaya in the strip district. The owner Del was helpful as I browsed around the shop, however he said the beer supplies were lacking a bit due to the busiest part of wine season had just ended. Hops are on hand and dated in the freezer along with pitchable yeast in the fridge not a ton of specialty grains on hand but enough to get you started. Equipment wise this place has it all you could definitely come here and snatch up a starter kit for homebrewing without any problems. In addition to all of that alot of good beer literature located in the shop, and Dell had a North Country Brewing Embalmer Barleywine shirt lying on the counter that somebody gave to him as a gift...if it would have been a little bigger I would have threw down an offer for it. Overall a decent homebrewing shop, although I know there's better in the Pittsburgh area.
935 characters
4
/5
rDev
+22.7%
Located in the Strip District of Pittsburgh, in the Produce Building on Smallman St. The store is about halfway down, just keep walking along the upper platform and you'll find it eventually. The shop is pretty small and not much to look at, with some equipment on a pallet in the middle of the floor and shelves along one wall and behind the register.
Prices are fairly reasonable. All the common equipment you might need is available, and there's a small selection of dry and liquid extracts - it's never a guarantee that anything other than extra-light DME will be in stock, although amber, dark, and wheat are usually available in at least one form. A few hopped extract kits are available, but I'd avoid those - spend a few bucks more on some unhopped extract, fresh hops, and liquid yeast. The loose grains aren't visible from the customer area, but if you ask, there's a fairly good selection available, and you can get them milled in the store if necessary. There's also a surprisingly good selection of flavorings and additives for beers. The freezer has just about every variety of pellet hops, and the fridge has most Wyeast strains in smack-packs, always fresh. There is also winemaking equipment (bottles, corks, etc), and probably about a dozen different wine concentrate kits available, although I don't know enough about winemaking to offer much insight there.
The owner is extremely helpful, and will answer any questions you might have about your brews. There's a decent selection of books, with refrence copies of a few homebrew manuals you can use if you need help formulating a recipe.
Overall, it's convenient if you live in the city (especially if you rely on public transportation), but the selection may be lacking for your needs.
1,765 characters
4.5
/5
rDev
+38%
If your a home brewer or want to get into home brewing this is a great place to go. The store itself is located in the strip dist of Pittsburgh in the consumer produce warehouse docks. its not a pretty place but you can get what you're looking for and not feel like you getting jabbed on the price. I wish there were more stores like this everywhere. I like the no BullS**t warehouse feel.
The owner Del, is a great help with recipes and info. I've done my shopping there for my ingredients. The help I received in making sure I had the proper amounts and measurements of stuff is invaluable.
Triangle is stocked with beer and wine making supplies.
Beer supplies range from the easy hopped syrup kits to grains, hops, and varied yeast strains for all type of beer making. fomenters, racking tubes, and all the necessities needed for brewing can be found. he seems stock well for wine making too. bottles and all.
Like I said, if your just starting out this is the place to go. Del is a pretty friendly guy and he'll ask what you have and tell you what you need to produce a good beer. If there is one thing missing. I have never noticed beer bottles. But I never asked either.
1,183 characters

3.5
/5
rDev
+7.4%
Located in "The Strip" near the river in Pittsburgh. The Strip is a market area with lots of fresh food, ethnic restaurants and artisans. Plenty of parking either on the street or in one of the pay lots at either end.
Triangle is located in the line of warehouse entryways right along the main drag. It is kind of hard to spot if you are looking for it because all of the signage among these storefronts is similar. There is a winemakers shop right next door too.
There really isn't much to look at inside. Upon entering you find yourself almost at the counter. The surroundings definitely have a slightly dingy warehouse feel. There are shelves that seemed pretty well-stocked with supplies although the space is very small. There was also a good sized collection of manuals/books/magazines on homebrewing. Plus there is a refridgerator that I was dying to look in but I didn't.
The owner Del was very friendly and interested in helping the small number of customers who were there. Being that I don't homebrew though, there wasn't much he could help me with.
Overall this place might be worth a look if you are in the area and looking for something for your homebrewing needs.
1,190 characters

3
/5
rDev
-8%
Small warehouse style homebrew and wine making shop located in the heart of the Pittsburgh Strip district. Proprioter of shop seemed to know his stuff, though the slection was miserable. No loose grains, no liquid malt extract to choose from, though he said he could get whatever you wanted, and had to order it. Decent selection of bottles and fermenting equipment. Very sparce. Not much too it.
396 characters
Triangle Home Brewing Supply in Pittsburgh, PA
3.26
out of
5
based on
8
ratings.