Dismiss Notice
Dismiss Notice
Cantillon Pinot D'Aunis
| Brasserie Cantillon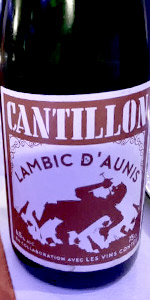 BEER INFO
Brewed by:
Brasserie Cantillon
Belgium
|
website
Style:
Lambic - Fruit
Alcohol by volume (ABV):
6.00%
Availability:
Rotating
Notes / Commercial Description:
No notes at this time.
Added by DefenCorps on 06-10-2010
Reviews: 88 | Ratings: 181
4.2
/5
rDev
-3.7%
look: 4 | smell: 4 | taste: 4 | feel: 5 | overall: 4.5
750ml bottle purchased at the brewery, poured into a Cantillon tulip...Pours a clearish medium pink, very similar to a cherry 7up. A bright white head with good retention and lacing. This was carbonated nicely...The aroma is complex with a lot going, oak, spices and grapes combine nicely...The taste is very vinous, not as grapey as the Don Q but still a very vinous beer. Again oak, with black pepper, and flowers. Comes mostly across as sweet red wine. The feel is super dry, tannic and superb on the palate, rough, sticky, and full...Easy to drink as this crushed by the girlfriend and I in about 15 minutes.
This is a unique taste, easy to drink and well worth trying, especially if you are a red wine fan.
Had this a second time thanks to Jeppe. Not nearly as impressed, this one was still and drinking it at Cantillon gave me some rose color glasses.
★
860 characters
4.18
/5
rDev
-4.1%
look: 4.5 | smell: 4 | taste: 4 | feel: 4.5 | overall: 4.5
Pretty sure you can only get this at the cafe. It was one of the few that they wouldn't let us leave with. I think it's probably a legal issue with the label (i.e., no X-ed out pregnant women means not street legal). Still, this one is worth a visit if you're close, but in my opinion is not up to par with most of Cantillon's other fine offerings.
Pours light reddish brown, with a thin head, and reasonably clear for a lambic (as compared to the relatively cloudy kriek and framboise). I wonder: is this a sign of less fruit?
Flavor is vinous, with tannins, peppery notes on the finish, all of which make for a tasty beer. This one is a bit more reserved than many of the other offerings of Cantillon. Perhaps the grape is a bit shier than the Merlot or Muscat grapes from the excellent St. Lamvinus and Vigneronne. I think it was an experiment that went well but will probably not make it into their regular offerings without a bit more work.
★
947 characters
4.62
/5
rDev
+6%
look: 4 | smell: 4.5 | taste: 5 | feel: 4 | overall: 4.5
I had this bottle at Cantillon, 10 euros. Jean told me that one half the bottles were still and the other half had carbonation. Only the still bottles were available at this time, so that's what I had. I was also told that only 200 bottles were made, which surprises me as there were still some all these months later when I visited. Lucky me.
The beer has a light rosy hue, in terms of color it's halfway between wit and kriek, very clear with no head at all. Just a ring of small bubbles around the glass. It smells mildy sour and tart, hard to get classic grape aromas, but the pepper from these grapes comes through brilliantly. Really peppery, almost as if the spice itself were added. It comes through in the flavor as well, peppery grape juice without any spicy bite. Stunning and unique, almost cedar aged flavors.
The mouthfeel matched the flavors and made it feel more like a wine. I'd have personally liked to have the carbonated version but I'll take what I can get. Overall this was really good, I could have finished the whole thing myself but wanted to share it with some other people who took the tour (but only small pours for them!).
★
1,153 characters
4.17
/5
rDev
-4.4%
look: 3.5 | smell: 4 | taste: 4.5 | feel: 4 | overall: 4
Tap version of Zwanze 2011:
Cross between blood orange and pink grapefruit color. Vinious grapefruit aroma. Peppery red grape flavor. Pencil lead and lemon acidity. Slightly sweet grape finish.
Bottle review of original Pinot d'Aunis:
White head on top of a light mahogany-orange body. Good carbonation. Smell has a sharp lemon acidity blended with red grape. A little spicy from the grapes and straightforward bretty funk. Some bandaid and perfume-esque qualities as well. Flavor is blended very well with the grapes. Peppery spice and subtle sweetness rolling into a lemon accented acidity and a clean musty brett flavor. I'm almost getting a pencil flavor I believe from the grapes. Finish is like a moderately dry red wine. Not over the top. This beer's flavor shows restraint and pure craftsmanship rather than something heavy handed.
★
842 characters

3.58
/5
rDev
-17.9%
look: 4.5 | smell: 4 | taste: 3.5 | feel: 2.5 | overall: 3.5
Bottled in 2009.
Two of three bottles were still, looking and pouring like crimson-colored, unblended lambic. One was carbonated, looking and pouring like moderately-carbed, crimson-colored unblended lambic.
Underripe red grapes, rose-hips, minerals, wood, and black pepper comprise the odor and taste. It's tart, but not yet sour. Gene is reminded of his grandmother's perfume; evidently he is descended from winos.
The mouthfeel is where Pinot d'Aunis falters; with the grape juice, it lends the beer the sensation of watered-down wine. Some age might improve the balance of the fruit and sourness.
★
604 characters

4.58
/5
rDev
+5%
look: 5 | smell: 4.5 | taste: 4.5 | feel: 5 | overall: 4.5
Small pour at lambic summit event. Peach-pink hue, soft white ring and lacing. Lemon rind, red grape skin, of course typical Cantillon barnyard on the nose, but a bit more refined and subtle than the gueuze and some others. Extremely dry, mouth focused on dry, sour red grape skins. Very short finish. Some green melon flavors shone. Light and vibrant, very dry and short. Enjoyable and interesting; I'd like to see this one again. ***EDIT - Split a bottle with Justin at the brewery. No notes, just the memory that this was amazing, endlessly soft and almost airy. Flavors were subtle, playful, amazing. Round in the mouth and totally unlike any other Cantillon. Not very sour but just wild enough to finish this beautiful tapestry of flavors. Perfume-like. Score gets knock way up here.
★
788 characters

4.45
/5
rDev
+2.1%
look: 4.5 | smell: 4.5 | taste: 4.5 | feel: 5 | overall: 4
750ml bottled November 2009, sampled at Cantillon tasting cafe; July 2010
Wow, I feel quite lucky that this was available for on-site drinking when I came in to purchase some other Lambics to take home with me to the states. I felt a bit guilty quaffing a whole 750ml bottle to myself, but what else are you going to do :-)
The beer pours with a pretty, lightly hazed, pingk-red color that shows the same colors, but a touch of gold too, when held up to the light. The beer is topped by a frothy, three-finger thick, pink tinged, light tan colored head that would have been perfect if it didn't disappear so quickly. The aroma has a large, tannic oak woodiness to it up front; really this smells like fresh cut oak, just through the mill. There is an underlying tartness and fruitiness that reminds me of lemons at first, but then more of tart berries, especially if you really dig around in the nose. The nose gets musty, reminding me of damp clay, as well as having an earthy Brettanomyces character, some slight medicinal notes and a definite lactic presence. As the beer warms more berry notes become noticeable; in fact a general fruitiness really becomes quite apparent as this beer sits in my glass.
A peppery, fizzy carbonation leads into a lactic slickness and oak derived, tannic structure that lingers on the tongue for quite some time before an astringent oak character seems to scrub the palate clean and demand that you take another sip lest you become overly parched. The oak character definitely has quite a bite to it that is much more noticeable than in you typical Lambic; it makes me wonder if this got a few "fresh" oak barrels in the mix (almost as a homage to the wine grapes perhaps). This is nicely sour tasting (all Lactic for the most part), though I wouldn't quite say it was bracing or a "hard" Lambic. The beer bone dry, effervescent and quaffable just like a carbonated Lambic should be.
When paired with a lightly smoky Gueuze-aged sausage, more of the grape derived berry like flavors become noticeable in this tart Lambic; though even this still remains fairly subtle. Hints of percieved sweetness come out with the sausage at times too and this helps to accentuate the berry and red-table-grape like flavors that are in this beer. Musty notes become quite apparent as well and are joined by notes of urea that adds sharpness, a mushroom character as well as some medicinal touches and even a hint of plastic like flavors.
This really needs to warm to allow the grape influence to become more noticeable; it is still subtle, but at least it plays a contributing role. I definitely like that the grape notes where subtly introduced in the end. This ends up being quite nice, it is quite tannic / woody for a Lambic, though still balanced between the lactic character, fruit notes, funk and wood. I almost wonder if the specific grape varietal has contributed to the woody character here as the brewer said that this didn't get any special oak treatment.
★
2,990 characters

4.22
/5
rDev
-3.2%
look: 4 | smell: 4.5 | taste: 4 | feel: 4 | overall: 4.5
The Great Lambic Summit
Pours a purply pink lemonade color with spritzy carbonation. Scent is of watery white wine grapes filled with peppery spice. Id hate to say it, but smells sort of like a sugary sweet wine akin to Boones Farm. The taste brings the watery sour grapes and pink grapefruit with an herbal, peppery spice background. Very mild funk to it. Light bodied, spritzy. An interesting offering to say the least.
★
422 characters
Cantillon Pinot D'Aunis from Brasserie Cantillon
96
out of
100
based on
88
ratings.