Cantillon Brabantiae
| Brasserie Cantillon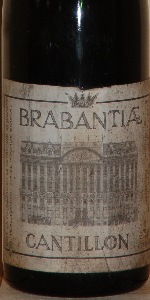 BEER INFO
Brewed by:
Brasserie Cantillon
Belgium
cantillon.be
Style:
Gueuze
Alcohol by volume (ABV):
5.00%
Availability:
Limited (brewed once)
Notes / Commercial Description:
No notes at this time.
Added by fewa on 04-11-2011
This beer is retired; no longer brewed.
Reviews: 34 | Ratings: 67

3.5
/5
rDev
-16.9%
look: 3.5 | smell: 3.5 | taste: 3.5 | feel: 3.5 | overall: 3.5
Thanks to the ever-generous nerd for sharing this last night.
Cloudy, turbid orange-amber. The head is thin and fleeting. Quite a bit of sediment.
Interesting nose, though perhaps dulled a bit by age. A lot of woody, earthy funk; a forest floor sort of aroma with soil, mushrooms and damp wood. There are citrus notes as well, reminiscent of grapefruit and a slight vinous quality that could be from the port barrels, though it makes me think of white wine more than port.
The palate is oak-heavy and earthy, though tannins are mild at this point. Nice mushroom/soil funkiness. Very sour, surprisingly so, with grapefruit and lemon acidity. Pretty sharp. Lightly carbonated, which isn't a huge surprise from a bottle this old. The balance of sourness, oak and funk is really nice, but I think the beer is somewhat over the hill at this point. It was probably great when it was younger. Still awesome to try, thanks Mike.
923 characters

4.47
/5
rDev
+6.2%
look: 4 | smell: 4.5 | taste: 4.5 | feel: 4.5 | overall: 4.5
8/12/2011
Big thanks to Mike for opening this beer I never expected to try. The bottle was somewhat difficult to open, with the cork breaking in half before success was achieved.
A: Hazy orange with a huge white head. Nice color. 
S: Horsey notes are pronounced, blending with cheese and earth. Fruit is aromatic, redolent of apple, white grape, and pear. Musty barnyard melds with horse blanket. Light lemon. Smells great.
T: Cheese and lemon with a moderate citric acidity. Earthy and musty, with ample barnyard notes. Really dry, with evident oak. Finishes with a pronounced horsey funk and lingering citric acidity. 
M: Light body and high in carbonation. The mouthfeel is dry and lightly tannic.
Overall: Surprisingly excellent, A pleasure to drink. I can't believe how well this has held up.
805 characters

5
/5
rDev
+18.8%
look: 5 | smell: 5 | taste: 5 | feel: 5 | overall: 5
Opened this bottle with Channan and rvdoorn during a great evening of beer cuisine and beer tasting.
A: Opened the bottle and was surprised by the liveliness in this 20+ years old cantillon geuze. The pouring in the glass was almost like a champagne sensation. Very strong carbonation, resulting in a white head that doesn't last long. Nice golden-brown hazy color.
S: Citrus, grapes, apple, wood and some funkiness.
T: Really incredible how fresh this beer tastes! Lemon sourness, sour apple, pleasant peppery, very oaky like you can find in a well-aged tawny porto or sercial madeira. Wine like towards the aftertaste and at the end it is oak wood and a pleasant bitterness.
M: Sparkling like a champagne, soft mouth feel with a nice bite.
O: Hugely impressed how a geuze this age can stay so lively. Very well balanced and so full of taste. Needless to say that it leaves you wanting more. A great evening with a great beer!
931 characters

4.82
/5
rDev
+14.5%
look: 4 | smell: 4.5 | taste: 5 | feel: 5 | overall: 5
A huge thanks to PapaEugene for trading this unique bottle of Cantillon beer with me. As was told to me by Jean van Roy himself, the Branbantiae is a geuze produced on the basis of lambic that was aged on porto barrels (at these days, the first time Cantillon used different barrels in their history). The production process can be mostly compared to the production of 50°N-4°E (that was based on Lambic from cognac barrels). This beer was produced on request of Brabant (a province in Belgium) to celebrate the tripel anniversary of the late king Boudewijn. The beer was bottled in season 88-89.
L: the beer poured a hazy golden-orange body with a nice whit head, which disappeared quickly leaving a thin ring around the inside of my glass.
S: Very funky with grass, wet straw, tart lemon, fresh apples, wooden oak notes and in the background some very well hidden wine-like sweetness that I cannot really define (maybe some influence of the porto barrels?). The trademark Cantillon smell with just a little bit of extra bite. Very nice.
T: Wow, a beautiful balance of flavors back and forth. Tart, refreshing flowers, apples and lemon peel, back to tart again and a dry nice wooden bitterness in the aftertaste. The porto barrels result into a fruity suppleness that provides an exceptional balance of ripe fruits to tartness, a bit wine like. Also, I really love the wooden notes in the aftertaste. this beer has more oak influence than a typical geuze-lambic. The oak contributes more towards the end and brings some pleasant spicy-oak bitterness in the beer, which suggests that Tawney port was aged in these barrels previously.
M: Almost hard to believe this is a 22 year old beer, the carbonation is incredibly lively, amazing! Body is silky smooth and the beer tickles the tongue. Very well balanced and very drinkable.
O: This beer is even better than I could hope for. The porto barrels resulted in a very special taste and smell, making this beer quite wine-like. The tartness and funk are increased by age, like only a Cantillon can, and so amazingly balanced. This is easily one of the best Cantillon beers I ever had. I just wish I could drink more of this one.
2,183 characters
Cantillon Brabantiae from Brasserie Cantillon
4.21
out of
5
based on
67
ratings.