Feestbier
| Brasserie Cantillon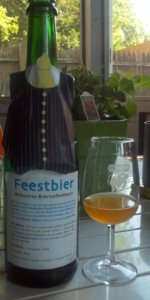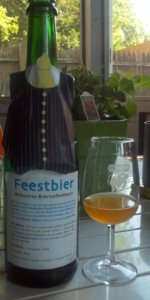 BEER INFO
Brewed by:
Brasserie Cantillon
Belgium
cantillon.be
Style:
Lambic - Fruit
Alcohol by volume (ABV):
5.00%
Availability:
Limited (brewed once)
Notes / Commercial Description:
No notes at this time.
Added by yourefragile on 06-09-2012
This beer is retired; no longer brewed.
HISTOGRAM
Ratings: 15 | Reviews: 9


4.17
/5
rDev
+9.4%
look: 4 | smell: 4.5 | taste: 4 | feel: 4.5 | overall: 4
Served in a Cantillon wine glass. Pours a clear golden color with a short white head. Not too much in terms of lacing. The nose carries some nice woody notes -- not quite oak, but more of a dusty, earthy wood character. Slight to moderate acidity with some green grapes and a touch of stone fruit. Flavor has nice woody notes alongside green grapes and the obligatory gooseberry character. Body is light with moderate acidity and a smooth, dry finish. Not the best Cantillon I've had, but very interesting and well worth a try.
529 characters

4.42
/5
rDev
+16%
look: 4 | smell: 4.5 | taste: 4.5 | feel: 4 | overall: 4.5
Review #1500.
750 mL bottle
2006 vintage
Bonus appearance points for dressing the beer up in a tuxedo.
The beer is golden orange with a subtle haze and 1/4" white head. The aroma offers gooseberries (yes I know what gooseberries smell/taste like), mushrooms, melons, earth. The flavor offers a lot of oak. Sour, tart, earthy, notes of pepper, subtle vegetables. Notes of white wine. Very interesting, intriguing, and enjoyable. Delicious, but at a steep price.
463 characters

3.8
/5
rDev
-0.3%
look: 4.5 | smell: 3.25 | taste: 4 | feel: 4.5 | overall: 3.5
Bottle with 2006 cork. Served in Hill Farmstead stemware.
A - Big white foam settles to a near-complete cap, thick collar. Hazy peach body.
S - Gooseberries, fresh-cut grass, peppery spices, soil, hint of tobacco (cigarette butts?). Vegetal and quite strange.
T - Quite sour, with green gooseberry flavors, lemon tartness, light mineral and gypsum. More enjoyable than the aroma.
M - Super-dry, moisture-obliterating, medium body, with medium-low carbonation, and tooth-hurting acidity. There's almost a peppery spice burn in the finish.
D - Very unusual beer, although it's pretty much what you'd expect from a gooseberry lambic, other than the cigarette note in the aroma. That being said, I'm not convinced this is a totally successful experiment. The intense acidity would make this tough to drink in large quantities.
827 characters

4.16
/5
rDev
+9.2%
look: 4.5 | smell: 3.5 | taste: 4.5 | feel: 4.5 | overall: 4
Bottle shared by everyone, served in a gueuze tumbler. Beer is yellow with a mild haze, a nice huge white head of small and medium bubbles, some lacing, moderate carbonation, good retention, no lacing but otherwise it looks really nice.
The aroma is odd, smells a little like potting soil, oak, funk, and some fruitiness, almost vinous.
Beer is super tart on the end. The more I drink the more my mouth waters and puckers as the glass is raised to my mouth, the beer is woody and spicy, a little white grape, some fruit, a lot of oak and earth. A nice dry finish, carbonation also burns, an interesting beer.
611 characters
3.93
/5
rDev
+3.1%
look: 4 | smell: 3.5 | taste: 4 | feel: 4.5 | overall: 4
750 mL bottle shared with some friends from DC, CO and CA.
Pours a cloudy amber golden color with a fleeting off white head fading to a trace ring of bubbles and no lace. Earthy and woody nose, notes of dirt, fresh mushrooms, and light berry. Flavor is much more enjoyable than the nose, very tart, bracing and crisp with much less earth and dirt than the nose with more white grape, pepper and lemon acidity. Crisp puckering body, active carbonation, bottle has held up in good condition. Not worth the $$$, but a nice one time sample.
538 characters


3.61
/5
rDev
-5.2%
look: 4.5 | smell: 3.5 | taste: 3.5 | feel: 4 | overall: 3.5
Bottle at Epic Tres...
Feestbier pours golden yellow, frothy white head, spotty lace. Very...odd? Spicy, pickles, some citrus, and pine (not in a hoppy way). I am the person to say this beer tastes like giardiniera, and it was almost impossible to ignore that from then on out. There's a mix of citrus, pickle, giardiniera, peppery spice, and oak. Not sure if I could even smell or taste the gooseberries, oh well.
A really "interesting" beer that really threw us all for a loop. Not sure I'd go crazy to have again, but hey, it was a cool beer to try and who knows if there's any left floating out there.
607 characters

3.63
/5
rDev
-4.7%
look: 4 | smell: 3.5 | taste: 3.5 | feel: 4.5 | overall: 3.5
Appearance: lightly colored clear golden pour, small head and lacing
Smell: Very, very woody, not so much oak as some other hardwood that is slightly bitter and more pronounced than american or french oak. Very green, almost sappy. I suppose gooseberries.
Taste: Again, the green woodiness that is not oak really dominates with some green apples and gooseberries.
Mouthfeel: light body and mouthfeel; very dry
Overall: Not really my favorite Cantillon but interesting and a treat to try, particularly right after having had 1999 and 2011 Framboos. Very odd bottle.
568 characters

4.1
/5
rDev
+7.6%
look: 4 | smell: 4 | taste: 4 | feel: 5 | overall: 4
750mL 2006 Bottle. Tuxedo bottle. Bright low haze gold pour. Higher carbonation. Acid cut head. Nose is wet mushroom and some dirt. Heavy earth and soil moving to some heavy papaya and jackfruit. Nice though. Taste is bright cantaloupe and mango. Palate is massively lactic and super intense. No acetic. Sharp and tangy. Delicious overall. Really funky and different. Taste is bracing acidity. Super lactic and mouth watering. Spicy acidity. Nice. Refreshing. Bracing. Lemon juice heavy. Super leathery with big lemon. I like it. The nose requires ignoring dirt and wet mushroom in order to discover tropical fruitiness. 6/23/2012 8/4/8/5/16=4.1
645 characters
3.88
/5
rDev
+1.8%
look: 4 | smell: 3.5 | taste: 4 | feel: 4 | overall: 4
Yet ANOTHER beer I didn't think I would ever try. Shit, I thought this was beyond extinct.
A-Pours a cloudy cantaloupe color with a small amount of off-white head on the pour.
S-What the hell? The nose on this beer is bizarre, as someone else at our tasting picked out, there are some very prominent pepper and giardiniera notes to it. Wow that's weird...not bad by any means, just very unique.
T-Flavor actually mirrors the nose quite a bit, only it is exceptionally tart. There is lemon and a somewhat "green" flavor there as well.
M-Light mouthfeel, gentle carbonation, and heavy acidity...almost stomach churning.
O-Glad to have the opportunity to try this. It's a polarizing beer I think, but I happen to like it quite a bit because of how unique it is. Nonetheless, I don't know that I could drink more than my pour.
840 characters
Feestbier from Brasserie Cantillon
Beer rating:
3.81
out of
5
with
15
ratings