Lambic D'Haute Densité

Brasserie Cantillon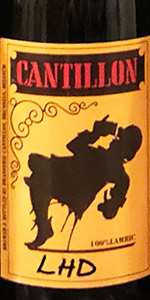 Write a Review
Beer Geek Stats:
| Print Shelf Talker
Style:

ABV:

9.7%

Score:

Avg:

3.63

| pDev:

16.8%

Reviews:

15

Ratings:

From:

Avail:

Rotating

Wants

Gots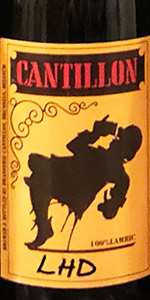 Notes:
3.38
/5
rDev
-6.9%
look: 4 | smell: 3.5 | taste: 3.25 | feel: 3.5 | overall: 3.25
At the brewery.
A hazy copper with a thin head. The nose is caramelized and funky, earthy with sherry, honey, a little acetic note, rotting lemon. The palate opens sour and mildly Felmish red like with an earthy, meaty, mildly cooked portobella like, with notes of caramelized balsalmic. Still, medium full in body and very lightly carbonated, this is a little dusty and earthy on the finish. Alcohol is mildly noticeable, and notes of vanilla are present too. I'm not entirely sure what to make of this.
507 characters
4.09
/5
rDev
+12.7%
look: 3.75 | smell: 4 | taste: 4.25 | feel: 4 | overall: 4
Pour at the brewery. They told me it is exactly the same as the regular, but they simply boil off more liquid to get this to the max ABV for the yeast. You'd expect a 9.5% version of a normally 5% beer to be more powerful in most ways, but that simply isn't true here. My first thought was that is wasn't as acidic as most Cantillon beers. Also, the funk is subdued. In some ways it is well rounded, with some oxidised sherry flavors mixing in. Probably most surprising, there is no alcohol on this at all. I could never have guessed it was nearly double the normal ABV. I get why some folks have given this a lower rating, as it probably wasn't what they were looking for in a Cantillon beer. However, taken on its own, it is quite enjoyable.
752 characters

4.49
/5
rDev
+23.7%
look: 4.25 | smell: 4.5 | taste: 4.5 | feel: 4.5 | overall: 4.5
Bottle pour at the brewery.
Pours a murky reddish orange.
Smell is powerful, with some grape fruit and quite a bit of cloudberry. Smell is more perfumey than sours usually are.
Taste is massive, with the grape fruit and cloudberries joined by oak, and some earthy bitterness. Finish is long and dry.
Mouthfeel is medium, thicker than other Cantillons.
Overall, a bit of an odd bird for Cantillon. Tastes like almost nothing else I've had, but I really, really liked it.
474 characters

4.18
/5
rDev
+15.2%
look: 4.5 | smell: 4 | taste: 4.25 | feel: 4 | overall: 4.25
Poured warm from bottle at the brewery. Color is dark orange, a bit murky. Nose is funk, grape peel, and some lemon. Taste is crazy. Getting grapefruit - like taking a bit off of one directly from the tree. Orange peel, huge bitter presence, skunk. I actually like the boldness and complexity on this one. Mouthfeel is very dry and funky.
338 characters

3.7
/5
rDev
+1.9%
look: 3.75 | smell: 3.75 | taste: 3.75 | feel: 3.75 | overall: 3.5
Hazy amber brownish color with some big bubbles. Really pungent old wood barrel on the aroma, dusty and musty. Taste follows with the dusty wood and earthy bitterness. A bit of acidity but it's more astringent, not sour. Flat, medium body.
239 characters

4.5
/5
rDev
+24%
look: 4.5 | smell: 4.5 | taste: 4.5 | feel: 4.5 | overall: 4.5
I had this Cantillon Lambic d'Haute Densite at the Cantillon Brewery. Unique, boozy, flat and absolutely phenomenal, my favorite of all the Cantillon brews I tried that day.
173 characters

3.54
/5
rDev
-2.5%
look: 3.75 | smell: 3.5 | taste: 3.5 | feel: 3.75 | overall: 3.5
Bottle from the brewery
Copper Ruby color. Very little white head.
One of the odder cantillons I have tried. Grape like flavors. Oaky. Tanins. Kind of boozy. Herbal and earthy with some fruity zest. Not to sour or tart. A touch of vinegar. Maybe a bit of caramel sweetness as well. No carbonation here.
Very interesting offering. Worth a try but one and done.
363 characters

3.27
/5
rDev
-9.9%
look: 2.75 | smell: 3.25 | taste: 3.25 | feel: 2.75 | overall: 3.75
9% ABV. Served from the bottle at Cantillon. 3 euro/20cl pour.
HEAD: None whatsoever.
BODY: Murky and dull, but translucent. Muted orange-amber, but not at all vibrant. I see no yeast within.
Appears only slightly carbonated.
Frankly, appearance is quite poor. Maybe the bottle Sat a couple nights with the stopper in it or something, but this is how Cantillon themselves has opted to serve it, and there is no option for a full sealed bottle.
AROMA: Nice acetic character, with the beginnings of vinegar alongside reticent oak. A hint of Rodenbach-esque cherry pie filling (possibly just an ester; I doubt any actual cherry was used). Acidity, faint bacterial intangibles, slightly sour lambicus yeast....maybe a 2/10 in terms of aromatic intensity. None of the 9% is present here, which seems miraculous in a Lambic.
Sherry wine comes to mind; it's quite an oxidized neutral Lambic.
Aromatic intensity is below average.
TASTE & TEXTURE: Like a neutral sherry, but with lambicus yeast/bacterial sourness. Granted, the mikd sourness is maybe a 2/10 in terms of intensity.
Not boozy at all; I've no idea how they accomplished that with only mild wheat and malted barley as the grain bill.
It's thicker than most lambics. Still acidic, but only a bit smacky on the palate. More of a bacterial pucker would be nice.
Sherry, faint caramel, rich oak, indistinct fruit, light vanilla, barleywine-like oxidation, grape, must, treacle. Balance is rough, to be honest. Its depleted raw taste combined with its undercaebonation and oxidation make it an acquired taste. The mouthfeel is the bigger issue, coming off light and flat yet thick and acidic. Smooth, wet, unrefreshing.
There's no harmony of texture and taste here. Not a gestalt build.
OVERALL: Barring an emperor's new clothes phenomenon, even diehard Lambic enthusiasts will shy away from calling this world class. I do like it for what it is, but it leaves a lot to be desired, especially in terms of sourness and carbonation. Wine-like in many ways, few of which are to its benefit.
But at 3 euros a pour? Worth every cent.
Low B- (3.27) / WORTHY
2,116 characters
3.23
/5
rDev
-11%
look: 4 | smell: 3.5 | taste: 3 | feel: 3 | overall: 3.25
Novice review: Poured at the brewery at the Public Brewing Session into their stemmed tasting glass. This one was 9% ABV, I think the highest one on the tap list. In the glass it is leaning towards brown but with a sunlight hue to it. Difficult to detect any cloudiness in it. No head or carbonation. I can't pin it down but I don't like the smell or the taste on this one. Did not taste like the other ones I had that day. No sourness to it, seemed like an un-traditional one from them. Mouthfeel is thicker, dry, and again, zero carbonation. Semi unpleasant. Overall, I wouldn't order this again, but I am thankful I got to try it, as it looks to be a hard one to find.
671 characters

3.72
/5
rDev
+2.5%
look: 4.25 | smell: 3.5 | taste: 3.75 | feel: 3.75 | overall: 3.75
Enjoyed at the brewery on 11/14/2015. Poured a caramel hue with a translucent clarity and a thin tight band around the shoulders. Not much to the nose - caramel malt notes and a light medicinal quality. Not much to the flavor profile either - again, some caramel as well as toasted oak and medicinal notes. Mouthfeel is light-medium in body (but closer to light) with a still carbonation and lightly acidic. Overall, an interesting experiment. Smooth and easy drinking but not much flavor or general character.
516 characters

3.38
/5
rDev
-6.9%
look: 2 | smell: 4 | taste: 3.5 | feel: 2.5 | overall: 3.25
Very grateful to get this one from a friend. Had never heard of it, and now realizing why. The bottle is lovely, a wonderful old fellow with sexy curves, more like a champagne bottle than anything.
Appearance- Vigorous pour produces virtually no head. Thick, golden brown in color. Like a slightly lighter apple cider.
Smell- Lovely, barnyard and funky. Cidery, Just a real deep funkiness.
Taste- Follows the nose. Funky, a little sour apple, pepper. A little vegetal. Maybe some grape. Definitely maltier than anticipated. Some lemon zest.
Feel- This is a little tough. It's just flat, sitting there on the tongue, clingy.
Overall- Disappointing. It's been awhile since I've had any Cantillon, and I can't say this one was worth the wait. Very glad to have tried it. They make so much wonderful stuff, but it's always going to be hit and miss. Well, this is a miss. Not even a particularly interesting miss. That said, it's got some nice things to recommend it.
971 characters
2.06
/5
rDev
-43.3%
look: 3 | smell: 2 | taste: 2 | feel: 2 | overall: 2
Bottle shared at Moeder Lambic at the yearly tasting last weekend. Always a good time gents!
From a 750ml, hand marked bottle into a tasting glass.
APPEARANCE: Pours out flat with no head at all. Deep, hazy safety orange in color with no carbonation evident. Flat and unremarkable.
SMELL: This is pretty rough. Rotten vegetables with some caramel notes and light funk initially. Very musty with notes of what can only be described as dried mother's milk. Not appealing.
TASTE: Also rather challenging in the flavor as well. Quite sweet up front with caramel and toffee mixing in with rotten vegetables and cabbage at the swallow. Some funky notes with mold and musty flavors try to cut through the foul fruit and rotten vegetables, but fail. Some old, dried milk lingers on the palate as well. This is tough.
PALATE: Thicker and syrupy body with no carbonation. Flat and slick going down, finishing slightly sticky on the palate.
OVERALL: This was an option for Zwanze 2012 but got scrapped. Apparently it was then sold off to a festival in the US... I appreciate the effort and the attempt to make something different. The guys at Cantillon don't shy away from the unknown, which makes them a fun brewery to support. Unfortunately they can't all be winners, and this one just doesn't work for me. Thanks for the share gents. Always good times.
1,356 characters

2.92
/5
rDev
-19.6%
look: 3 | smell: 3.5 | taste: 2.5 | feel: 3 | overall: 3
Bottle thanks to Eric.
Pours a orange color, bubbles here and there. Sweet malts, caramel, booze, some oak. Taste is harsh medicinal, some sweetness, oak, malts. Medium body, very light carbonation, harsh finish.
Very unique beer and not something I'd go after again.
271 characters

3.17
/5
rDev
-12.7%
look: 3 | smell: 3.5 | taste: 3 | feel: 3 | overall: 3.25
First pour at the Festival. From the decanter, clear gold brown pour with zero head. Weird grape aroma, lots of wood, cherries ketchup, strangely acetic for a lambic, really woody. Flavor of sour cherries, lots of oak, light boozy notes, slightly acrid wood finish. Palate is med bodied with low carbonation. Usually I'm a big fan of Cantillon, but this one was disappointing.
377 characters

4.5
/5
rDev
+24%
look: 4 | smell: 4.5 | taste: 4.5 | feel: 4.75 | overall: 4.5
~4-6 oz. pour at Brasserie Cantillon. October 2012. Review from notes. After conversing with Jean for a couple hours, he disappeared to get "something very special." I was intrigued, to say the least.
The beer is a bit darker than the standard lambic. A few bubbles, but the beer is essentially still. The nose brings grape skins, musky funk, white wine, oak, light floral notes, earthy scents, mushrooms.
When Jean brought this to me, he did not tell me what was in the glass. I sniffed and savored for approximately a half hour before finally succumbing to curiosity. Me: "I've never had this before." Jean: "I know" He then explained the lambic and the process by which it came to be.
Alcohol content was masked so elegantly, I had no idea this weighed in at 9.7% abv. This drinks like an elegant French wine paired with all that is fabulous about Cantillon, what an experience. This was perhaps the highlight of my trip to Belgium.
943 characters
Lambic D'Haute Densité from Brasserie Cantillon
Beer rating:
86
out of
100
with
90
ratings