The Heidelberg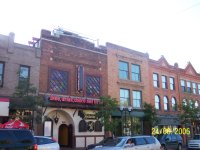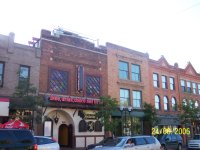 PLACE INFO
Type:
Bar, Eatery
215 N Main St
Ann Arbor
,
Michigan
, 48104-1412
United States
(734) 663-7758 |
map
heidelbergannarbor.com
Notes:
None provided.
PLACE STATS
Reviews:

13

Ratings:

pDev:

12.04%
Reviews: 13 | Ratings: 26
4.5
/5
rDev
+17.8%
vibe: 4.5 | quality: 4.5 | service: 4.5 | selection: 4.5 | food: 4.5
Back in the day, this was an old German place with jars of giant pickled sausages on the bar. Its evolved in a good way with a respectable beer selection and a convivial vibe.
175 characters

3.83
/5
rDev
+0.3%
vibe: 5 | quality: 3.5 | service: 4 | selection: 3.5
When I visited: March 2012.
What I had: Bell's Two Hearted Ale (draught), Flying Dog Road Dog Porter (bottle), some of my friend's Spaten Optimator (draught).
What I liked: Raucus and dingy dive bar vibe, quirky German beer hall decor, hilarious servers with lots of attitude, respectable tap list, 1L boots of draught beer, out-of-place Wolverines memorabilia.
What I disliked: Beer selection and cleanliness could improve, but this place is really fun.
Would I go back? Yes.
Overall Rating: 76
509 characters

3.06
/5
rDev
-19.9%
vibe: 3.5 | quality: 3 | service: 3 | selection: 3
The Heidelberg is a fun place to head to when visiting Ann Arbor. If you want something different, get a big boot while you're there. There's a big deposit, but it's always fun to pass around the giant glass of beer. The atmosphere is only okay. It is very loud downstairs and gets awfully crowded. Not a place to go if you don't have a table. The beer selection isn't great, and I haven't really tried the food. Head upstairs for dinner, or all the way upstairs for some blackjack and poker (it used to be more of a dance club or place for bands to play). All in all, there are much better places to go in Ann Arbor. But if you want the German pub experience, this place does the trick.
699 characters
4.18
/5
rDev
+9.4%
vibe: 4.5 | quality: 4.5 | service: 4 | selection: 3.5 | food: 5
This is probably the most consistently best food I've ever had. The veal was perfect with slight undertones of lemon in the breading.
The cordon bleu was insane: get it if you're ever there.
My only beef with this place is the Juke Box. It has terrible music (Uhhh Journey is on there) and it's loud when people request music.
My friends and I started going here just for dinner and subsequently made this our bar. Certainly has a great atmosphere. They also have a dunkle weise on tap which is out of this world. I'm shooting to have it at my wedding.
555 characters
3.45
/5
rDev
-9.7%
vibe: 3.5 | quality: 3 | service: 4 | selection: 3 | food: 4.5
Mixed feelings about this place as a visiting "beer tourist" to Ann Arbor. It felt like an authentic German bierstube that had been usurped and turned into a jeckyll & hyde sportsbar and German restaurant. If you are coming here for a liter of German bier with a traditional dinner, stay upstairs. If you want to endure blasting music in the dark with drunken coeds, go downstairs to the rathskeller.
Atmosphere upstairs was worn in and had the authentic German bierhalle vibe going on. Heavy, ornately carved wooden support beams, white stucco walls with very detailed murals of regional sites of Germany. There was a porcelain Warsteiner tap tower on the bar that was a nice touch.
The selection here was admittedly limited. Really the only quality beers of note from the 10 taps were Weihenstephaner Hefe Dunkel, Optimator, and Franziskaner. Liter boots were available. The 20 bottles were all macros except Magic Hat #9 and Schneider Weisse. Downstairs the selection was basically the same (they also had 4 Flying Dog bottles, whoo). Where's the Michigan beer? None to be found sadly (ok, Bells Winter White, that was it). Oh, and they have hookah rentals...
Service at the bar upstairs was great, the bartender was truly salt-of-the-earth and friendly to us. The Kaese spätzle dish was really great, some of the best spätzle i've had, served with cheese and sliced knackwurst. I'd recommend stopping in for an early dinner and move on elsewhere for the beer.
1,469 characters
3.93
/5
rDev
+2.9%
vibe: 4 | quality: 4 | service: 4 | selection: 3.5 | food: 4.5
The heidleberg is an interesting place. It is comprised of three floors, the main floor restaurant, the downstairs bar, and the upstairs club. The food here is really good. The schnitzel, spaetzel and various sausages are all ace. Also their apple sauce on the side is really good. In terms of beer, they have a good selection of german beers on tap (franziskaner light and dark, warsteiner, spaten and spaten optimater) and a rotating non-german tap. They also have a good selection of bottled german beer. The real steal here, however, is the bottled arcadia stuff which they sell for something ridiculously cheap like 2 or 3 dollars a bottle. All in all, the food and atmosphere make up for a relatively limited beer selection.
730 characters
3.98
/5
rDev
+4.2%
vibe: 5 | quality: 4 | service: 4 | selection: 3.5 | food: 4
I love the Heidelberg. It is a great hide away in the basement alley bar. I used to drink here on Thursday nights when they had free Mexican food and $7 pitchers of Bell's Amber. Oh those were the days. Four of us would play Euchre and we'd rotate who bought the beer. After a couple of hours and ten or twelve bucks, we'd stumble out full, drunk and blissful.
Oh the memories. Basically, the basement bar is a great place to step out of the college town atmosphere, relax and have a beer. They also have a great cheese and sausage platter.
542 characters

3.55
/5
rDev
-7.1%
vibe: 3.5 | quality: 3.5 | service: 3 | selection: 4 | food: 4
The Heidelberg is one of the more interesting places in town. It is really the one bar I can think of that draws the just 21 crowd of undergraduates alongside the 45 year old, plaid-shirted, goateed townies. An interesting mix to say the least. Calling it one bar is not totally accurate. There are two floors upstairs that serve as nightclubs, dance floors, and a karaoke bar on various nights. Those areas always require a cover charge and do not specialize in beer selection. So I won't refer to them in this review. On the ground level is a decent, well-kept, clean, and moderately priced restaurant. Food is German fare, and there are some damn good entrees and sandwiches relatively cheap. Atmosphere is good. A bar at the side, serves 5 draft beers. A decent five it is. Bells products, Spaten Optimator and Franz. Hefe as well.
The Rathskelter, or cellar floor, is the real beer bar area. A somewhat dank, dark and very smoky area the atmosphere is decent if not great. There are several long tables, and some raised small booths along the back wall. The back room has dart boards and a few video games. A jukebox by the entryway spouts out loud, mostly classic rock music. On a busy night this is a loud place. The bar runs along the front wall. It is relatively long and spacious. Service is decent, though not great. They are timely but not terribly informative. Almost a 'what do you want...here you go...I'll be way over there if you need me...' attitude. Sometimes it's what you're in the mood for, sometimes not. Not the best place to chat about brews with bartenders.
Selection is very nice. There are about twelve or fifteen taps. All micros and imports are served in 20 oz. glasses and run approx. $5 a piece. Quite a few German brews are available. Regulars like Spaten Optimator, Franzie, Weihenstephaner, etc... are available. Also a few Bell's brews (Two Hearted, Seasonal...) are there. When I was in they had Arrogant Bastard as a rotating tap. A rare find around here. Heavy on micros overall. Bottle choices are great. Most enticing are Arcadia Ales for $2 a piece. But there are many other unique and reasonably priced entries. On the whole, this is a good beer bar. What it lacks in atmosphere and service it gains in selection and pricing. A very good option in Ann Arbor.
2,308 characters

4
/5
rDev
+4.7%
vibe: 4 | quality: 4 | service: 4.5 | selection: 3.5
I entered through a short vestibule, followed by a short passageway and a display case of vintage mugs and glasses. Beyond that was a corridor with elegant banquet seating to the left and restaurant tables and chairs to the right. Continuing aft was the rough wooden bar with its nine (nien, Fraulein, I said nine) taps of a combination of Spaten, Franziskaner, and Dinkel Acher. I really found myself wishing that I had worn my monk's robes at this place, but alas, the heat was too much. The back bar was right out of alt Deutschland – shelf after shelf of bottles; neatly starched, folded, and stacked napkins and tablecloths; glasses; bottles; wine; liquors; ad infinitum. Everything was just so. Nothing out of order at all. They had a deer's head mounted above the server's doorway and the Damen und Herren were a button-hook right, just inside the entryway. The painted panels, the hanging lanterns, and the wooden beams on the first floor were all evocative of Old World Germany.
I was on my way out when my server asked if I had seen the other two floors. I was starting to feel the effects of a day-long sampling session, but I allowed her to escort me up to the third-floor dance area and down to the basement Rathskeller. The third floor was not much, but the basement was long and dark with a jukebox and English darts and if I had been in better shape, I might have lingered.
1,397 characters
4
/5
rDev
+4.7%
vibe: 4 | quality: 4 | service: 4 | selection: 4 | food: 4
The Heidelberg is a one-of-a-kind piece of Ann Arbor. It took me awhile to warm to this place but I would blame myself for that - they've been doing things their own way for decades and that's that. Kudos to them, for that and more...
Its three floors, each a bit different than the next. On top is a dance floor spinning a mix of things, busiest on the weekend during the school, and Friday is typically Salsa/Latin night. Sounds strange at first, but its pretty cool to walk into a German bar and hear those beats bumpin' upstairs - again, the Heidelberg doesn't care, they're doing their own thing.
First floor is restaurant seating with a bar. Food is good German grub - prices vary from simple and economical wurst plates to more garnished and pricey specialties. Basement is the Rathskeller, a cave of a place with long wooden tables made for groups. Good jukebox and some darts at the end of the long way. Pretty dark and dank looking, which still kinda throws me off, but when the winter is long in Michigan what difference does it make?
Beer selection is heavy on the Germans, all served in 0.5L glasses, though. Fairly ordinary, common brands like Franziskaner make up most of the draught list, and the bottles carry the typical but solid selections like Aventinus. Also, they typically run a $2 special on Arcadia bottled beers which is short of criminal - my wallet says thanks.
Service is good and the mix of people passing through is wide. I tend to see more undergrads here than many other Downtown Ann Arbor bars but during the week its a lot of office and team groups in the basement. Its cheap and well accomodating to that kinda party.
1,668 characters
4.18
/5
rDev
+9.4%
vibe: 5 | quality: 4.5 | service: 3.5 | selection: 4 | food: 4.5
This is definatly a nice diversion from the typical American-style bar that we're so used to in Michigan. This place makes a decent attempt at being an authentic German beer hall and does so admirably. Seven beers on tap, including two wheat beers and a single local, Bell's Oberon, which is a solid local seasonal many of your finer establishments carry. Food was excellent, extensive tradional German fare, spaetzle, weiner-schnitzel, sauerbraten, bratwurst, you get the idea, but also some typical American food for the less adventurous. All very good. Service was a bit slow, but friendly and quite helpful. Some of the dishes were a bit pricey, but being specialities, it's understandable. They also offer a cheese and sausage plate which went quite well with my dunkel weizen, delicious!
Overall a great place and an Ann Arbor tradition, located at the end of the main street drag, the crowd tends to be varied but thankfully mostly local, avoiding the touristy element is kind of nice. The atmosphere is very distinctive and homey, definatly worth a stop just for that.
Slàinte!
1,092 characters

3.93
/5
rDev
+2.9%
vibe: 4.5 | quality: 4 | service: 3.5 | selection: 4
From what I gather, this place is an Ann Arbor tradition and landmark. I visited on a recent sat. afternoon, up stairs was a traditional german style restaurant, down stairs was the Rathskeller. I didnt make it upstairs to the third floor. You are either gonna love or hate this place, its old fashioned, sorta cheesy, looks like it needs a real good cleaning, but some folks call that "character". German food o' pleanty, German Beer galore. If I was local, I'd spend more time here so soak up the athmosphere and eat some tasty German food.
542 characters
4.28
/5
rDev
+12%
vibe: 5 | quality: 4 | service: 4 | selection: 4.5 | food: 4.5
[re-review: Aug 27 2003] They just installed 6 new tap lines basement. So today, I found Newcastle, Amstel Light, Battle Creek Spec Res, Reissdorf Kolsch, and more. I had to bump the selection rating up .5. With his big selection of bottled German beers, like 11-12 taps, $2 micro specials, free chow on Thurs and Fri, and half-priced chow Mon-Wed how the hell can you go wrong?
[orig. review: Feb 03 2003] This is hands-down my favorite A2 area bar. I tried to temper my atmosphere, quality, etc... rankings with a dose of "reality" and hope I succeeded. Onto the details...
The bar features 3 different floors -- separate bars really. I'll save the best for last, so keep reading. The top floor is more of a dance club abd features a Mexican and Latino night where they have about 4 Mexican beers in bottles in addition to several other generic, macroswill bottles. The main floor is a dining room with a small bar that's generally full just after dinner. The food is superb, and they've got the same big beer selection as downstairs...
And the real gem of the Heidelberg is it's authentic German-style Rathskeller. The long, slender seating area seats a couple hundred people and has a real cave-like, somewhat dark atmosphere. But it's truely the last townie bar in Ann Arbor. It's remarkably easy to go to the Heidelberg and meet all sorts of new and interesting people. The juke box in loaded with classic rock tunes, and people are often singing along. The owner bartends down there most nights, and his wife handles most of the other nights. Exceptionally nice people.
Onto the beer selection. They've got about 7 beers on tap and they change somewhat frequently. Warsteiner, Warsteiner Dunkel, Weiestephaner Hefe-Weizen are staples. Hacker-Pschorr Weisse is replaced by the Oktoberfest for September and October. Bottled selection is good too. All the Schneider & Sohn beers are available in bottles as well as some other German standards -- Warsteiner, Ayinger beers, Hacker Pschorr Weisse Bock, etc... -- and the somewhat mandatory swill-in-a-bottle.
The bar food is a little pricey, but where else in Ann Arbor has a 6 dollar Westphalia ham plate, pickled herring, or German potato skins as bar chow? Free hot wings on Friday during happy hour too.
All in all, it's a great spot for conversation, meeting people, and a big night out on the town. Not too expensive on the whole, good beer selection, and a club upstairs if you get bored with your friends. ;)
2,487 characters
The Heidelberg in Ann Arbor, MI
Place rating:
3.82
out of
5
with
26
ratings