Cask & Cutler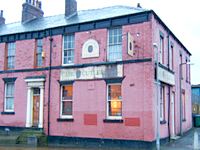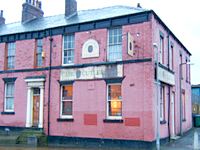 Bar
1 Henry Street, Shalesmoor
Sheffield
,
England
United Kingdom
+44 (0)114 249 2295 |
map
Notes:
ladnewton from England
4.86
/5
rDev
+9.2%
vibe: 5 | quality: 5 | service: 4.5 | selection: 5
Called at the Wellington on 23rd February for the first time under its new name. Remains a premier pub for excellent value and choice of beers - between £1.90 and 2.10 a pint mainly. Noted Jever Pils (imported from Germany) was available on DRAUGHT for £2.80/pint - believe me that's cheap for the UK.
Friendly and humorous staff at the bar make your visit a memorable one, where else can you expect cheap ale and a laugh a minute?
"Scoopers" should note that the range is now a bit more mainstream since the change of ownership, but there's still something for everyone here. The Portmahon brewery is still out of action and the latest estimate is 6 months before it resumes.
Still worthy of its top marking - will spend longer next time!
Apr 17, 2008
wl0307 from England
4.2
/5
rDev
-5.6%
vibe: 4.5 | quality: 4 | service: 4.5 | selection: 4
04/08/07 Review
This latest visit reveals that the pub's name had been changed to "The Wellington", as the previous publicans had retired. As before, the range of real ales was great, and the smoking ban now was a huge plus for non-smokers like me to enjoy the goodies of this pub to the full. Alas, the beer quality, judging by the first drink, apparently was slightly inconsistent (and the staff were in pains to admit it was semi-off); while the service was friendly, it lacked the "cosy feel" created by the ex-landlord. Fortunately from the second drink onwards, the beer condition caught up. All in all, this is still a great real ale haunt and a necessary stop on the Golden Mile Real Ale Walk.
14/12/06 Review (At 4.5 Qua 4.5 Ser 4.5 Sel 4.5 Overall 4.5)
This is THE most impressive freehouse on my real ale trip in Sheffield two weeks ago, although I did not know why I should arrange it as the last port of call...?!
Looking a bit "odd" from the outside (to me, anyway), and being unable to explore through the Art Deco-ish mosaic windows, I gathered this was either a very good pub or very "local" and private, for better or worse. Steping inside, the pub is opened up with separate rooms on both sides (weird: the non-smoking area comes with a door while the smoking room hasn't got one?!), with the main bar facing the entrance. The interior deco, posters, and memorabilia are all nostalgic to resemble (in my foreigner's eyes) the kind of local pub atmosphere in 1950s or 60s. So far so good.
My GF and I were seated in the cosy non-smoking room, and found ourselves the only non-locals there. Indeed this is the kind of place with tremendous charms to keep customers coming back. The publicans are a lovely couple, the cool landlady Sheila and the amiable husband Neil, providing patient and friendly service in the most professional manner (yes, LBB, I did bring your regards to Neil~~). The punters were genuinely friendly as well, several of whom even said hello to us as a way of welcoming newbies, while the music-free air allowed laughters from different groups of punters to interact to its best effect.
The most precious gift from this place for real ale lovers, of course, is the wide range of well-kept real ales rotating non-stoppingly since the pub was taken over by Neil and Sheila 13 years ago (in 1993). "5191" real ales had been served, as stated on the black board on my visit (and Neil insisted he had to change the figure later that day to be more honest--5200 exactly). In total 9 handpumps served great quality real ales from mostly Yorkshire and neighbouring counties, while one real cider and Budvar were also on tap. The price was smart, too, with all real ales under 2 quid a pint. A separate black board displayed around 20 different Belgian beers stored in the cellar, many of which are well-selected gems and served in correct glasswares on display behind the bar.
After two-hour chat, laughter, and naively overhearing the locals' gossips with six superbly-kept real ales to boot, we left Sheffield with the most remarkable memory during the whole real ale trip. Having a feeling that I wisely saved the best for the last, however, next time I'll be sure to spend a couple of afternoons there. A great pub!!
Dec 14, 2006
TheLongBeachBum from California
4.3
/5
rDev
-3.4%
vibe: 4 | quality: 4.5 | service: 4 | selection: 4.5
The 3rd port of call on my '03 Pub Crawl of Sheffield. I know Neil & Sheila Clarke quite well, they lived very near me when I resided in England. Both were early, now long standing, members of the Campaign for Real Ale which was formed in the UK in 1974. Having been prominent in the local Wakefield CAMRA Branch, & after several years of planning & looking, they moved from West to South Yorkshire in 1993. Finally realizing their dream, they purchased an old, rather run down, Whitbread Pub. Many years, a conversion from Keg to Cask beer, & much hard work later, they are now the proud owners of one of the best genuine Free-Houses in Sheffield. Since purchasing the Pub & renaming it the Cask & Cutler (a reference to Sheffield's heritage of fine stainless utensils), the SuperTram network has been installed in Sheffield & very fortunately runs right by, & stops almost in front of, the Pub.
Inside you will note that there is a room to the left, a smaller room to the right & the rather small 2 person bar is right of front of you. The small but perfectly formed interior instantly gives a homely happening atmosphere when it is busy.
The beer range constantly changes, a feature of this Pub since Day 1. Seven Handpumps serve an ever changing & thoughtful range of independent cask beers, always on form & nearly all from Firkins, so turnover is high. In fact, since it opened, it has served well over 3,000 different cask beers! Always has a real Cider & Perry. It can get very busy at weekends when access to the Bar can be hindered by the crowds. No food, just snacks, but they do sell a good range of flavored Seabrook Crisps ('chips' in US) which are the Crisp equivalent of Real Ale. It now also serves one beer brewed at the Port Mahon Brewery located at the rear of the Pub.
One of my last walks was around South Yorkshire just before I left England in the Summer of 2001, & we ended up here. Sitting in the small well-hidden beer Garden at the rear of the Pub drinking fine Real Ales, I began to wonder what I was giving up!
Winner of many Sheffield CAMRA Awards as well as Regional & National Ones, this Pub forms a staple part of the Northern Sheffield Pub Crawl (see BeerFlys). A very nice "down to earth" Real Ale Pub.
If you get here, pass on my warmest regards to my old friends & fellow CAMRA members Neil & Sheila.
Closest SuperTram Station is Shalesmoor.
Last Visit: 12th April 2003.
Feb 08, 2003
Cask & Cutler in Sheffield, GB2, United Kingdom
Place rating:
4.45
out of
5
with
3
ratings