Ayinger Privatbrauerei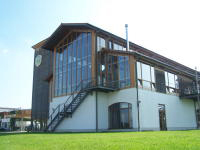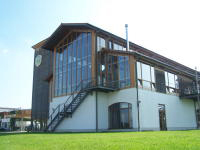 Brewery, Bar, Eatery
Münchener Straße 21
Aying
, 85653
Germany
08095-90650 |
map
ayinger-bier.de
Notes:

vfgccp from New York
3.86
/5
rDev
-9.8%
vibe: 4.25 | quality: 4 | service: 3.75 | selection: 3.5 | food: 4.25
The brew pub is a short distance away and is worth the trip of you're in the area. Classic regional cuisine (including some hyper-regional dishes) and of course tons of fresh Ayinger on tap.
Dec 06, 2015

chinchill from South Carolina
3.89
/5
rDev
-9.1%
vibe: 3.5 | quality: 4 | service: 3.75 | selection: 4 | food: 4
Located in a very small town, parking nonetheless proved a bit challenging for this tourist.
Upscale, as Bavarian brewpubs go, this brewpub has the reputation for attracting a relatively well-to-do clientele, as was apparent on my visit. A fine selection of brews is available along with Bavarian pub and more upscale food offerings. Certainly worth visiting if in the area.
Dec 28, 2014
DOCRW from Washington
4.25
/5
rDev
-0.7%
Didn't like:
Brewery and check in – My husband is a long time brewer and looked forward to our visit to Aying as a pilgrimage to the Mecca of beer in Germany. When we checked in at the hotel (owned by the same family as the brewery) we were told that a German-language tour of the brewery would cost 10 euro each, but that if we wanted an English-language tour, it would be 60 euro each. This seemed kind of greedy, I came down later and explained to the desk clerk how important this was to my husband, and couldn't something else be arranged, she said her hands were tied, it was all arranged by the brewery and had nothing to do with the hotel, when later we found out otherwise. They did call the brewery after, and the brewery arranged for a free tour, but for us it reflected on the hotel as a very poor impression of customer service, Stefan at the brewery made things right in the long run. Thank you Stefan!
The Good –
The beer is probably the finest in all of Germany! The tour is long 2 hours, easily they could cut off 1 hour. The brewery itself is fantastic if you're a brewer and can appreciate that aspect. I like our guide but his English was a little rough and wrot, tasting room was very nice and well the beer made it all worth it.
The desk personnel were pleasant and helpful, with good attitudes overall. The lobby was nicely appointed, with lots of memorabilia.
Oct 26, 2014
Wobbly from Missouri
5
/5
rDev
+16.8%
As good as a brewery gets, this small business is situated in a lovely town outside of Munich. I have yet to have an Ayinger beer I did not like, and their best beers are world class. Their Celebrator Doppelbock is probably the best of its class in the world.
Aug 17, 2014
Slynger from Illinois
5
/5
rDev
+16.8%
vibe: 5 | quality: 5 | service: 5 | selection: 5
So I'm Driving through Germany right, and I'm outside of Munich on my way to Salzburg, when I see the road sign for Aying. I decide to gamble and Bee-Line-it over there (already knowing that English tours have to be scheduled and, besides that, there were no regularly scheduled tours that day). The drive into town is as quaint as can be, absolutely beautiful.
The woman at the reception informed us that there was a private tour later that afternoon but we could set one up for the next day. We were on our way out of town and could not do this, so we thanked her and were going to head out when she offered to show us around herself though she did not know much English.
She was extremely helpful and new more than enough English to show us the lay of the land, allowing me to fill in the brewing process gaps to my friends.
The brewery was sparkling clean and just as beautiful as the surrounding town. The staircase was very cool as it displayed landscaped motif's of of the ingredients used as it winds upwards. Also some nice paintings of the beer logo's spread around. Upstairs is a shop and pub area looking out big glass windows at the Aying countryside.
She didn't charge us for the tour so I spent some dough in the shop. The pleasant lady even gave me a free stack of 50 or so coasters.
Definitely worth a stop if you are in the area. I'm sure it would be even better if you set up an official tour.
Jul 30, 2009
SerieDNo3 from District of Columbia
4.72
/5
rDev
+10.3%
vibe: 5 | quality: 5 | service: 4.5 | selection: 4.5
I would have added a review sooner, but I'm terrible with technology and didn't know how to review places. My wife and I visited the Ayinger Brewery on our honeymoon in May. It's a 20 minute S-Bahn ride outside of Munich, located in the picturesque town of Aying. All around one can see some rolling fields and coniferous forests. The town is very small, and has a very traditional atmosphere and feel to it. The brewery itself is very modern; our guide informed us that they had renovated it several years ago with tours specifically in mind. The tour of the brewery cost 7 EUR, and had we booked in advance, we could have had an English language tour. It wasn't an issue, as my wife and I speak German. The people were very friendly and informative, and the beer was excellent. During the tour, we got to try unfiltered Jahrhundertbier straight from the lagering tanks. The tour itself takes about two hours, and brings you through the whole brewery and the bottling plant, and finishes in the tasting room. They have six different beers on tap, and the servings are full glasses (not just 2 oz. pours). They even gave everyone on the tour a bottle of Ayinger Weizenbock! The gift shop had a lot of merchandise, as well as some beers Ayinger doesn't export to the States. In all, a wonderful experience, and worth a trip to Bavaria!
Dec 18, 2008
RobertDwight from Iowa
4.55
/5
rDev
+6.3%
vibe: 4.5 | quality: 5 | service: 4 | selection: 5 | food: 3.5
I loved the Ayinger Brewery! I was fortunate enough to get a full tour with my class I am studying abroad with. The first part of the tour they show all the family memebers and people who have owned the brewery since its start. Then it moves on to explaining the main components in beer. It was very instuctional and hands on, they let us taste the water the use to brew with and try some of the malts and smell the hops they use as well. The tour then moved on to the actual brewery where the explained the brewing process. At the end of that they let us taste some of their unfiltered keller bier straight from the tank which was ready to be bottled, that was a tasty treat. We moved on to the bottling plant, and then a short film about the brewery. After the tour they let us taste a wide selection of their brews, as much as we wanted too! I was lucky to taste their celebrator doppelbock and their Ur-weisse on tap. Then after tasting their wonderful beers we ate dinner at a hotel that carried their beers, which was nice but not exceptional. Overall the Ayinger brewery is definintely worth the trip out of Munchen and definitely one of the best tours I've been on!
Sep 11, 2006
dedrinker from Kansas
4.2
/5
rDev
-1.9%
vibe: 4.5 | quality: 4.5 | service: 4 | selection: 4 | food: 4
We got off the S-Bahn and just walked around untill we found the place - not hard given the size of Aying. We had a beautiful day outside in the biergarten, and we tried everything currently available at the time. The food was good, but pricey or not I'm only here for the day, and I want to taste! The elitism I have read about must not have been in evidence that day, because all I could percieve were locals regaling themselves in the calm, peacefull afternoon of a rural Bavarian summer. Perhaps the times have changed?
Jun 01, 2006

heinekenike from New York
4.3
/5
rDev
+0.5%
vibe: 4 | quality: 4.5 | service: 4 | selection: 4.5
Went on the brewery tour for my last day in Bavaria. The typical couple of hours of "This is the barley, these are the hops", except that the tours are in German only. My wife and her cousin translated for me as the guide spoke simultaneously, but that wasn't a big deal.
During the tour the group got a sample of the hundred year (if memory serves me correctly) before filtering, and then a couple of beers at the end. I had Celebrator which was excellent as usual, and the (filtered) hundred year anniversary.
A nice half day outside of the city.
Oct 15, 2004
Sudmissle from Michigan
4.45
/5
rDev
+4%
vibe: 4.5 | quality: 5 | service: 5 | selection: 3 | food: 5
Went to Germany primarily to visit this brewery. The food was outstanding, better than any food I've had in Germany, Austria or Switzerland. I agree with the Bierman's comment about the "touch of elitism." I saw more $100,000 cars in one place than anywhere I've been in the world: AMG Benzs, M5 BMWs, Porsche 911 Turbos, etc...And this was a small establishment! Hate to say it, but the Altbairisch Dunkel tasted watered down on tap, which is half the reason I went there. The Jahrhundert also lacked the hops taste it has in the bottle. The weisse beer tasted the same on tap as in the bottle. The brewery tour was outstanding. I would go again in a minute, but unfortunately, they had a limited selection on tap; they didn't even have the highly-rated Celebrator in any form except in a bottle! Now that is a crime. I flew 5000 miles and they have the same bottled Celebrator I can buy 5 miles away in Roseville, Michigan! Also, what they had on tap didn't have the strength of flavor as it does in the bottle. A good place to go if you want to avoid the trendy tourist trap style beergardens often frequented by tourists. I got the feeling it is a place where Germans go and it is probably not a regular event to see an American there. However, I think I'll bring my own beer over the Atlantic next time.
Sep 14, 2003
Bierman9 from New Hampshire
4.46
/5
rDev
+4.2%
vibe: 4 | quality: 5 | service: 4.5 | selection: 4
This is a high-quality brewery/brewpub/hotel in a very small, quiet, rural village south-east of Munich... Easily accessible from downtown Munchen on the S-Bahn and a 10 minute walk past houses offering "Zimmer Frei". Quality of the bier is without question, with pretty good service. Atmosphere is good, and typically Bayerische, but the place does have a touch of elitism about it.... didn't try any food because the menu prices were a bit on the high side, though. For the same A-1 bier, with better "everyman" atmosphere, and a great, reasonably priced menu, go right across the street to Liebhard's Braustuberl.... Zum Wohl!!
overall: 4.46
atmosphere: 4 | quality: 5 | service: 4.5 | selection: 4 | food: n/a | $$$
4
Apr 06, 2002
Ayinger Privatbrauerei in Aying, Germany
Brewery rating:
4.19
out of
5
with
17488
ratings