O'Neill's Pizza Pub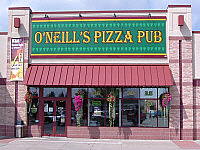 PLACE INFO
Type:
Bar, Eatery
1201 S Broadway
Ste 24
Rochester
,
Minnesota
, 55904-3862
United States
(507) 529-1200 |
map
oneillspizzapub.com
Notes:
No notes at this time.
Added by BeerAdvocate
Ratings: 7 | Reviews: 6
Reviews by slyke:
4.25
/5
rDev
-1.4%
vibe: 4 | quality: 4 | service: 5 | selection: 4 | food: 4
O'Neill's is well respected pizza place in Rochester. Formerly located in the downtown area, it recently moved to a strip mall to the south. The abundant free parking has only made me visit more often. A good sized dining room with a small bar area in the back, this is a place that attracts families and adults alike.
Pizza is thin crust at O'Neill's and a good value - my favorite is their house pizza with a variety of meats and veggies. This is a family-run place so no territorial servers here; on my most recent visit, four different employees checked on my table repeatedly.
Beer selection is pretty good with most of the 8-10 taps occupied by craft brews - my favorite is the Mojo IPA which is hard to find on tap in these parts. There are several other craft brews available in bottles. Prices are comparable to most places around town.
One of those places that rarely gets a no vote when proposing a meal-site to a group, I recommend you give O'Neill's a try.
978 characters
More User Reviews:
4.2
/5
rDev
-2.6%
vibe: 3 | quality: 4 | service: 4.5 | selection: 4.5 | food: 4.5
Located in the Crossroads mini-mall between a franchise work out gym and now closed drug store, O'Neill's Pizza Pub has a hard atmosphere to shake. Once inside it's difficult to forget you're eating and drinking at a mini-mall restaurant. Those that remember when O'Neill's was in the old bank building downtown will be disappointed by the move to Crossroads almost 5 years ago. That said O'Neill's has made a valiant effort.
The pub is sectioned off and has an amazing, hand-made bar top. The restaurant half is usually noisy and teaming with children running in and out of the arcade (which is actually a great collection of vintage games). The restaurant half and the pub half reenforce the general theme of O'Neill's: a place constantly unsure whether it wants to be a high-class gourmet pizza restuarant and extensive beer bar and a family pizza joint designed for children's baseball teams and light beer pitcher specials.
Despite all this, O'Neill's is among the few Rochester establishments which carry micro-brews, Belgian ales. Save only Whistle Binkies and Newt's, O'Neill's probably has the most taps in town (an embarrassing eight, but that's a lot for Rochester). O'Neill's makes an effort to change their taps often and support local breweries. Most notable City Brewing Company of La Crosse, WI.
Pizza is also some of the best in town, though not priced according to quantity or quality. A bit pricey, but a fun and cheap happy hour on the weekdays.
1,468 characters
4.47
/5
rDev
+3.7%
vibe: 4.5 | quality: 4 | service: 5 | selection: 4.5
I was at andy's beer store and i looked across the parking lot to see this place, after having read many great reviews on ba i had to stop in being so close, it wasnt a meal time but still it seemed a great time for a beer. I had mojo ipa, i loved that the tap list had the breweries listed and a brief description of the beers. the sevice was very friendly, the atmosphere was very nice a bunch of irish decor seemed like a beer/whiskey bar. there was a lot of beers available both on tap and in bottle
503 characters
4.58
/5
rDev
+6.3%
vibe: 4.5 | quality: 4.5 | service: 5 | selection: 4.5 | food: 4
After reading a review on BA about O'Niell's I was moved to give it a try. Friendly, fun staff....the beer selection is above average. I have returned a few times since that first visit and have not been disappointed. I just love sitting in the bar area. It is a nice quiet room. Displayed prominently is a great back bar. The folks here also make it a point to serve your beer in the appropriate glassware. This gives me the confidence that I am amongst fellow beer lovers. This is a great choice in a town with a very few options.
532 characters

4.78
/5
rDev
+10.9%
vibe: 4.5 | quality: 5 | service: 5 | selection: 4.5 | food: 4.5
My nephew Dan was in Rochester waiting for a heat transplant for a year and a half. My wife and I traveled from the Twin Cities to see him every Wednesday during that time, and for about nine months of it we went to O'Neill's for pizza, beer, and edited Dan's poetry (now a self published collection). With that said, I think O'Neill's is one of the most unique restaurants I've ever been and, obviously, one of my favorites. I rarely miss the opportunity to have beer and pizza at O'Neill's when in Rochester.
Here's why. The beer list is excellent. Not as big as either Whistle Binkies in down, but well chosen and fresh. I've never once had a stale beer, bottle or draft, in the times I've visited. On my last visit, there were eight drafts ranging from Kul Lite to Mojo IPA, and, as an Irish Pub, Guinness, Bass, and Smithwick's are par for the course. Always a onsistent range of bottles including Victory Golden Monkey, Sleeman, several Rogue, Hazed and Infused, Murphy's, Wexford Irish Creme, Kostritzer, Weihenstephaner, Erdinger, Wittekerke, Kwak, Orval, Tilburg Brown Ale, Lindemans Framboise, Belhaven's Twisted Thistle and a few others. The list doesn't change much, but sometimes the bottled beers will show up on tap. It's a carefully crafted selection of beers that sell well with few changes over time.
Now the food. The first pizza here we had was a Greek pizza with feta, tomatoes, and black olives. In the original location (moved recently), Irish and Greek flags flew in the rafters. And it is probably the only Irish Pub that you can have baklava for dessert. Evidently, one (or more?) of the daughters married into Greek cuisine. Our "usual" is a Golden Monkey for myself, a Kostritzer for my wife, a Triple-Double (our name, not O'Nei'll's, for double crust, double sauce, double cheese) and baklava for dessert. The pizza sauce is the heart of it, sweet and tasty, very different than an Italian style oregano and basil sauce. Not sure what it is, but it is very unique and good. We enjoy our multi-continent meal several times a year when we visit my nephew, who lives and goes to school in Rochester now and is doing well with his new heart
Even wrote an ode. Irish for Pizza is a T-shirt slogan of O'Neill's that I borrowed for the title. Allison no longer works there (graduated and joined the service), but we've kept some contact and we were still recognized when we had a Greek pizza yesterday for lunch.
Irish for Pizza
O'Neill's Pizza Pub, family run, marked only
by a small yellow neon sign, an Irish pub with
Greek food (both flags fly from the rafters) and
an Irish/German/American beer list worthy of
Slainte! Prosit! and Cheers!
A daughter's marriage, we were told, changed the
menu so that ordering baklava with Guinness or a
hefeweizen as dessert to a feta cheese pizza with
tomatoes and olives, somehow, makes great sense.
Every Wednesday night, our ill-formed group
(get it—Dan's sick, illness formed…never mind)
picks the center booth, puts quarters quickly in
the jukebox, and then, we wait not-so-patiently for
Johnny Cash to rumble out Ring of Fire.
Allison, our Supergirl waitress, as much a part
of Wednesdays with Dan as we are, takes our
high maintenance order:
a Schwarzbier for Aunt Gloria, triple-double pizza
(double crust—double cheese—and always double
of their Oh! so sweet Greek pizza sauce), best beer
on this week's list for Uncle Cal, soda and poetry
for Dan, and whatever conversation that's on tap.
When Dan went back in the hospital, briefly, we
even ordered a pizza to-go, an excuse to tell Allison
that Dan's ok, just couldn't make it that week, tied
up with hospital tubing and an infection.
We came for pizza and a pub, and stayed for a big
booth with quiet nights to write and laugh and cry
(some tears happy, some sad) with great food and
fine drink and people who care—a sense of home
in a very hard time.
3,981 characters

3.78
/5
rDev
-12.3%
vibe: 3 | quality: 4 | service: 4 | selection: 3.5 | food: 4
So I finally got around to visiting O'neill's, and wasn't disappionted. I was there on a Monday night. The place was damn near empty, so they were setting everyone in the small bar area. There are four booths, a half dozen tables and the bar sets ten to twelve. The place is well lit, perhaps too well lit for a bar. The walls are covered with the usual guinness and murphy's signs. The bar itself was the only interesting part of the decor. It looked to be stone (maybe granite) with celtic art on it. There were maybe 8-10 beers on tap. I had a Mojo IPA, and a Saw Tooth ESB. Both were very good, and fresh. The bartender was friendly and attentive, and had an impressive knowledge of craft beer. The pizza was good, but not great. There are better places to go for pizza in Rochester. O'neill's is the place to come if you want a great beer with good pizza.
860 characters
O'Neill's Pizza Pub in Rochester, MN
4.31
out of
5
based on
7
ratings.