Big Rock McNally's Reserve
| Big Rock Brewery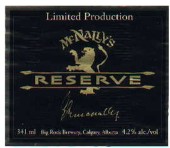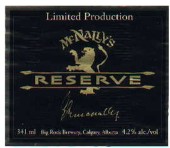 BEER INFO
Brewed by:
Big Rock Brewery
Alberta
,
Canada
bigrockbeer.com
Style:
Irish Dry Stout
Alcohol by volume (ABV):
4.20%
Availability:
Rotating
Notes / Commercial Description:
No notes at this time.
Added by IronDjinn on 05-28-2003
This beer is retired; no longer brewed.
HISTOGRAM
Ratings: 12 | Reviews: 8
Reviews by presario:
2.71
/5
rDev
-23%
look: 2.5 | smell: 4 | taste: 2 | feel: 2 | overall: 3
Poured vigourously into a Duvel glass. Still almost no head. Very nice aroma that made me want to like this beer. Dark colour is appropriate. Flavour is very sad. Thin and not very complex. Some light smokiness but very little in the way of interesting stout flavours. The best comment might be that it is a nice starter stout for novice stout drinkers. I have been told this beer comes across better in draft.
410 characters
More User Reviews:
3.58
/5
rDev
+1.7%
look: 4 | smell: 3.5 | taste: 3.5 | feel: 4 | overall: 3.5
I'd only ever heard of this offering from Big Rock, who was my first serious beer relationship, and since we still keep in touch, I try to pay at least a little attention when I see an unfamiliar member of their large family. This must be a once in a while brew, or specialty contract brew, because I was mildly surprised to see it on tap at Moxie's in Edmonton.
This beer arrives at my table in a standard American pint glass, and appears a deep black colour, with reddish edges when held to the light, and two fingers of very creamy beige head, that leaves light lacing around the glass. It smells of lightly roasted malt, kind of nutty. The taste is floral hops, roasted chestnuts, and light bitter malt. The mouthfeel is very creamy and smooth, the carbonation is quite mild, the body adequately weighty, and the finish dry and clean. This is an enjoyable dry stout, though it could be a wee bit heavier (an obvious backhand comparison to Guinness), with a bit more flavour intensity, but overall, it's very easy to drink.
1,028 characters
2.16
/5
rDev
-38.6%
look: 3.5 | smell: 2.5 | taste: 2 | feel: 1.5 | overall: 2
This is not retired, this Guiness clone was freshly available at Drop In in Calgary, where I had drinks with Presario. Stout style, coffee, pepper, with sour finish. Slightly better than the draft Guiness. Could not drink much of it. Not a good beer.
250 characters

3.6
/5
rDev
+2.3%
look: 4 | smell: 4 | taste: 3 | feel: 4 | overall: 4
Following IronDjinn's review, I poured the bottle into my glass with reckless abandon. A decently creamy and tan coloured head formed and lingered for a bit, eventually dimming to a creamy ring. The colour is quite black, and nearly opaque but for some hints of ruby around the edges.
The aroma contained roasted barley, some licorice, and chocolate. It was quite inviting.
The flavour is very light and up-front. A touch of burned, a little pepper, a good dose of barley, some coffee, the slightest bit of bitter in the middle, and a very empty finish. Overall, the flavour is a bit watery.
The body is on the lighter end, and the carbonation is minimal (but present) but I think it's safely within its style. It is extremely easy to drink.
It has a much different feel from the Black Amber, but in the same way it's quite a mild and inoffensive stout.
867 characters

3.91
/5
rDev
+11.1%
look: 4.5 | smell: 3.5 | taste: 4 | feel: 4 | overall: 4
Fortunately on tap this limited edition stout comes with a healthy tan head that lasts a while, unlike out of the bottle. Still just as black, if not denser (only held it up to the sunlight briefly until my drinking companion started giving me odd looks). Nose is more robust than the bottled version, roasted malt, a bit of peppery spice, brewed coffee, and the extra undeniable highlight of chocolate as well. The chocolate also carries into the flavour, adding a more complex taste that rolls on the tongue. Great balanced mouthfeel, but not too thick, it goes down nicely. A perfect session brew for overcast weather. A hot day today, so I only stuck to one.
662 characters

3.88
/5
rDev
+10.2%
look: 4 | smell: 3.5 | taste: 4 | feel: 4 | overall: 4
First appearance is black - almost guiness like, hold it up to the light and it is dark amber-redish color. Full head with nice lacing, but foam doesn't seem to last. Goog mouthfell - thin enough to go down smooth, but still enough heavyness for the flavor to hang around, but not watery. Clean and crisp like a lager, but more flavorful. A good introduction to a dark beer for the uninitiated, which is what I think they were going for.
437 characters

3.88
/5
rDev
+10.2%
look: 4 | smell: 3.5 | taste: 4 | feel: 4 | overall: 4
On tap at the Penny Farthing in Victoria.
Nice ruby-black colour with a slightly off-white head that is almost exactly two fingers thick.
The scent is coffee, roasted malt and hints of chocolate and smooth toffee. The taste is similar, but a lot more powerful than the scent lets on. Big malt flavour, with a definite coffee taste in the background.
A well presented, smooth stout with a big flavour.
410 characters
4.02
/5
rDev
+14.2%
look: 4 | smell: 3.75 | taste: 4.25 | feel: 3.75 | overall: 4
This beer should not be classified as retired, as it seems to be brewed periodically, only to disappear again. Most recent sighting at Beer Revolution in Calgary, served in a standard pint glass. Nearly pitch black with just the odd hint of red where the light strikes a certain way, with maybe an inch of tan head. Aroma is roasted and dry, with some faint caramel and fruit notes. Smells sweet for an Irish dry but not lacking in the roasted barley department either. Taste corresponds quite closely, with an initial fruity hit like red grapes followed immediately by semisweet chocolate, medium roast coffee, a whisper of butterscotch, doughy licorice candy, and an interesting raspberry fruitiness that becomes more salient over time. The fruity yeast esters are working some magic over top of the dark bread malts and roasted barley, but things remain suitably dry and chalky, moderate bodied with a smooth, near-creamy mouthfeel. Finishes rather dry, mellow roasted husk and a whiff of earthy hops. This may rank as Big Rock's best "to style" brew, no obvious faults and really does drink like a craft brewed Irish dry, complex and multifaceted yet balanced and eminently drinkable. All kinds of win. Wish it was a regular.
1,229 characters

Big Rock McNally's Reserve from Big Rock Brewery
Beer rating:
3.52
out of
5
with
12
ratings